Adobe Express is still new, but it's a great Canva competitor. It has tools that we don't find in other graphic designing programs.
What are those? Here are the features better in Adobe Express than in Canva.
Quick tools
One of the best things about Adobe Express is its quick features. If you want a specific editing feature, you can choose one and edit quickly.
For example, if you want to remove the background, click on the "Background remover," upload your image and download the removed background.
Here is the list of some of those tools:
Background remove
Resize images
Convert to GIF
Convert to MP4
Trim and resize the video
Merge videos and change the speed
Convert to and from PDF
In Canva, you must open the editing workspace to make any edits.
Customizable shapes
While comparing Adobe Express with Canva, I realized that shapes in Adobe Express are more customizable.
First, shapes come with a fill option. You can also change the fill color. Second, each shape has a border feature with thickness.
Lastly, the tool has more premium-looking shapes. In Canva, just the basic ones are free, whereas Adobe Express offers more shapes for free users.
Better layer management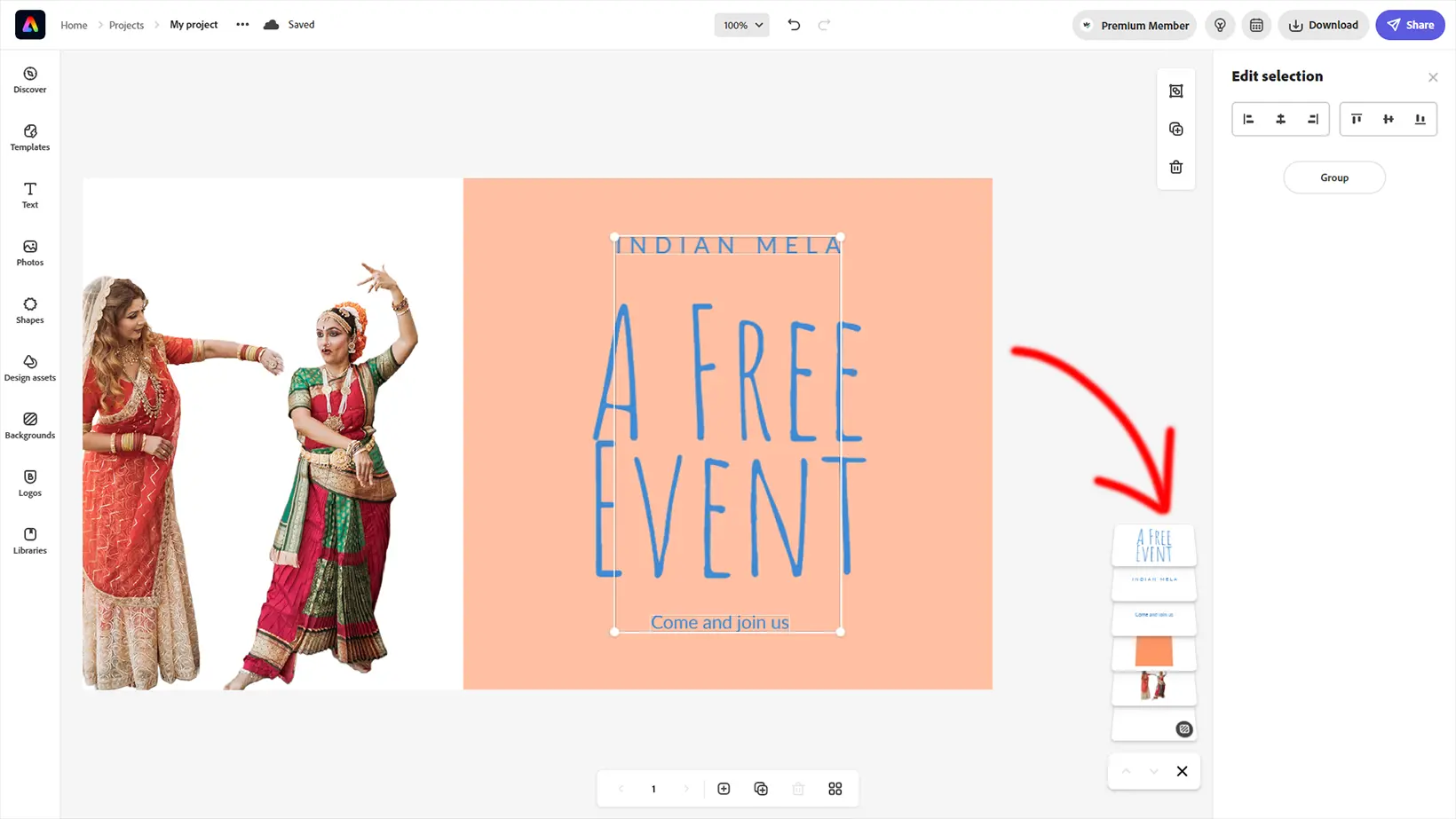 Adobe Express has a better layer management option than Canva. Canva has a new layer system, but Adobe's still better.
Each element you add is placed on a new layer. A layer icon is visible next to the design all the time. Clicking on it opens the layer panel showing you all.
Editing layers and changing positions is possible without right-clicking on each layer. The program also displays a tiny icon on the background layer to separate it from the rest.
Free background remove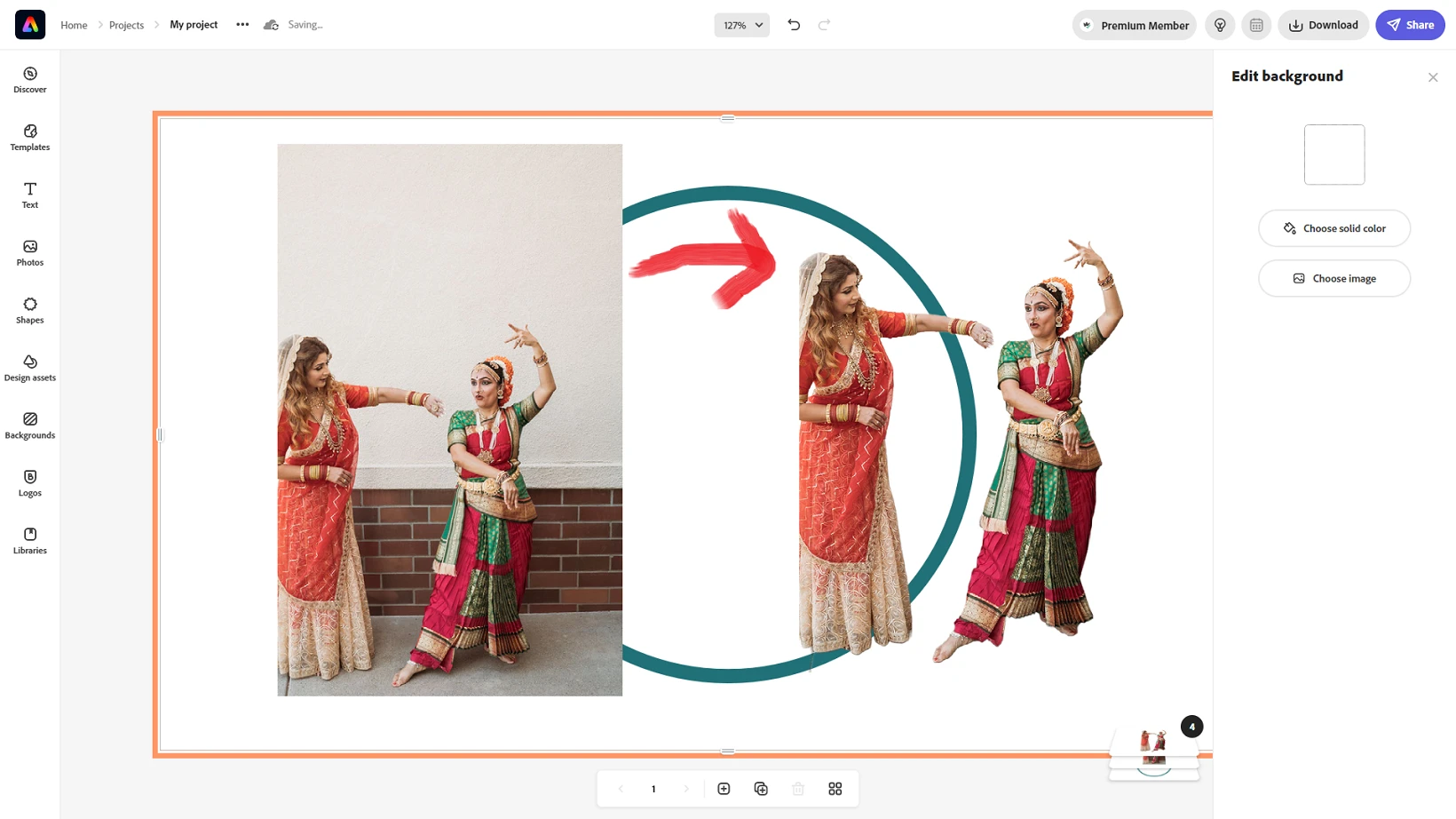 One of the features better in Adobe Express over Canva is that you can remove the background of any image for free.
Adobe has been in this technology for a long time, so the tool does a great job without too much effort.
In canva, you must have the Pro plan to remove backgrounds or download images without the background.
Image blur option
The images you upload or elements you use come with a blur option. It does not blur out the specific regions of an image, but it's something there to give some motion to your designs.
Blending options
Thanks to Adobe's Photoshop technology, Adobe Express has blending options for images, shapes, and graphics. You find three blending options: Normal, Multiply, and Screen.
Canva supports other apps but does not offer image blending on its own.
Border
This tiny quick feature lets you add a border to the whole design. You can adjust the color and thickness.
You can get the same thing in Canva by adding a rectangle, but the feature is built-in in its opponent.
Element replace
Another feature that makes Adobe Express better than Canva is replacing elements with others.
Suppose there is an image you want to change. You can replace it with something else without changing the position.
Font recommendations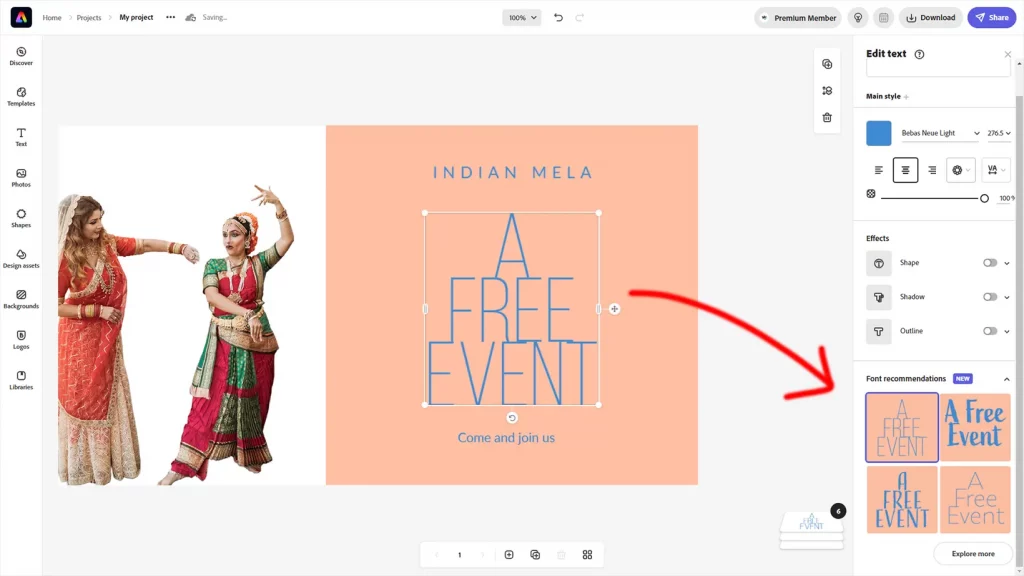 When you select a text, the tool shows some recommended fonts and their previews on the right side. You can choose one and apply it to the text.
Conclusion
So, these were the 9 features of Adobe Express we don't see in Canva. Canva is still dominant, with over 100 million users and lots of additional tools, and it will take a lot of time to catch up.
But, if you want some particular options that Adobe Express has, you can save some design time.