In recent years, amidst all the transformations that the business world has endured, many companies have struggled to adapt their operating models to the new paradigm of remote work and the surge of digital workplaces.
Archbee and Notion were created to help teams build better documents. These software products allow users to build fast wikis and spaces with organized project documents to streamline teamwork.
In this article, we'll compare Archbee vs Notion, focusing on the main aspects to help readers choose the product that best fits their organizations' goals.
Ease of use
As we'll see shortly, Notion has a plethora of features, but the onboarding process can be challenging, owing precisely to this fact, resulting in a more convoluted user experience.
Whereas Archbee might not have such a long feature list, it is markedly much more intuitive and user-friendly since the learning curve is far less steep. This trait makes Archbee an excellent choice for startups.
Verdict: Archbee wins this round, hands down.
Tools
Both are block-based tools to build documentation, notes, wiki pages and so on. Notion offers over 50 types of blocks to add to the page. Those make it a great application to build any kind of page.
Archbee does not support many, but it offers the basic ones out of the box. There are a few things that you don't find in Notion. Those are:
Reusable content allows you to use a value multiple times (names, IDs etc.)
Knowledge graph, which creates a linked graph based on the pages
Publish pages to your domain. You can verify your site's domain and create a domain link to open the page from anywhere.
Verdict: This round is a tie because both have their own set of options.
Features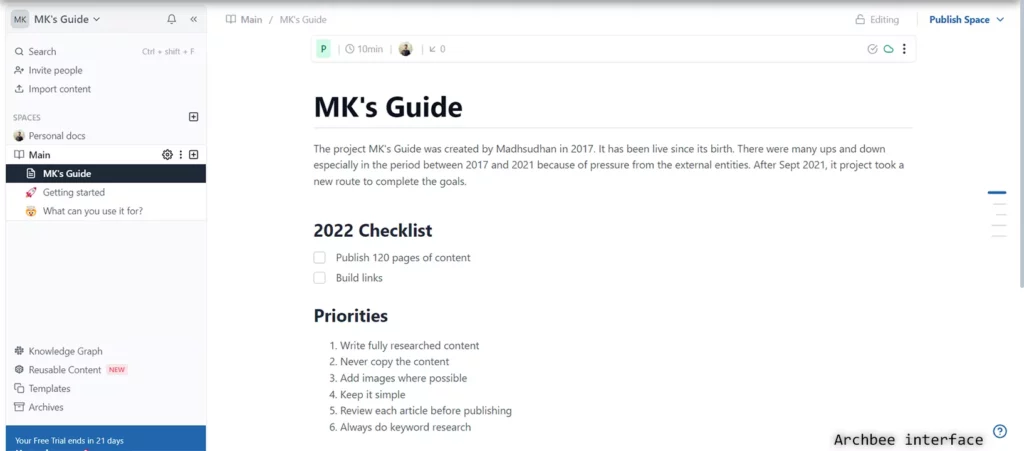 Both products have slightly different priorities. Archbee is catered more toward developers, operating as a documentation platform wherein you can create knowledge bases, API references, and internal wikis, among many others.
On the other hand, Notion is an all-in-one digital workspace that performs as a central hub for managing, monitoring, and optimizing your team's workflow.
Notion, apart from excelling at task management and workout calendar functionalities, also presents itself as a decent team wiki software. The number of features and productivity perks this software carries is almost intimidating.
Archbee, on the flip side, is a tad more limited in terms of task management and assignments, at least in comparison to Notion. Perhaps in an attempt to remain simple and intuitive, the developers were a bit held back.
Verdict: I believe Notion clearly wins this section.
Related: Slite vs. Notion
Templates
Both also support templates to create proper pages. Archbee has fewer templates than Notion, but all are free since you already pay for the service (pricing).
Notion has more, but among all, more are created by the community, and yes, most are free, but sometimes you find the perfect template, and there is a price tag underneath it. Another reason for more Notion templates is that it is more powerful, and there are more use cases than Archbee.
Verdict: The round is a draw considering a few factors.
Related: 6 Free Habit Tracker Templates for Notion
Integrations
Yes, both support integrations in this Archbee vs Notion battle. As of writing this, Archbee supports 20 third-party tools. Some of those apps are:
Google Sheets
Trello
Typeform
Slack
Jira
Notion, on the contrary, supports more than 20. Some of the integrations are:
Automate.io
Asana
Typeform
Zapier
Slack
Verdict: Notion gets this round.
Platforms
Archbee is available for use in browsers, as well as macOS, Windows, and Linux operating systems. As of this writing, no mobile app has been launched, which is a significant downside.
Although you may still use your phone's web browser, it becomes a bit more cumbersome when it's time to perform and manage tasks while on the road.
Notion can be installed on Windows, Mac, and mobile phones (Android/iOS). We don't get a Linux option this time around, which, for advocates of free, open-source operating systems, is a bit of a letdown, yet most casual users could possibly forgive this omission.
Verdict: We're tempted to choose Notion as the ultimate winner here, but we still feel the urge to praise AiurLabs's decision to include an Archbee version for Linux, which we believe is a bold move to support those who, for one reason or another, cannot afford a Windows license.
Pricing
When it comes to pricing, the comparison can get a bit more nuanced and casuistic.
Pricing plans for both offerings follow totally different approaches. Archbee leaned more towards a "bundle pricing" strategy (for 5 users, 10 users, etc.), while Notion decided to adopt a price-per-user model.
Depending on the size of your venture, you would probably opt for the more versatile pricing options that Notion offers or Archbee's all-or-nothing alternatives.
If you have teams comprised of exactly 5 or 10 members, you'll definitely benefit from Archbee's discounted package rates. But smaller teams would fare better with Notion's plans.
Verdict: We'll call it a draw in this instance.
Which one is for you?
While, at first glance, Notion seems to have the upper hand in this comparison, we really ought to stress the importance of usability in modern-day software applications, especially those that deal with productivity. This fact alone could tilt the scales in Archbee's favour.
In the end, though, it all boils down to what your venture really needs. If you crave the feature-packed nature of Notion over the time-saving user experience Archbee delivers, or if your team works heavily from their mobile devices, you'll undoubtedly get better returns with Notion.
However, if you prefer a toned-down and less convoluted medium to manage your organization's documentation, you can't go wrong with Archbee.
Archbee vs Notion: Links
Conclusion
The Archbee vs Notion battle discussed many factors, including the pricing, templates and tools. Did it help you to decide? Which program did you select? Please share your decision in the comments to be sure that the post helped someone decide.