Whether you're working from home or in an office, managing communications, files, and documents may be just as tricky as planning your team's schedule and assigning responsibilities. Thanks to the great project management tools, the process has been made easier.
To assist you in selecting an app for project management, we take a ride and cover Basecamp vs. ClickUp.
What are both
Basecamp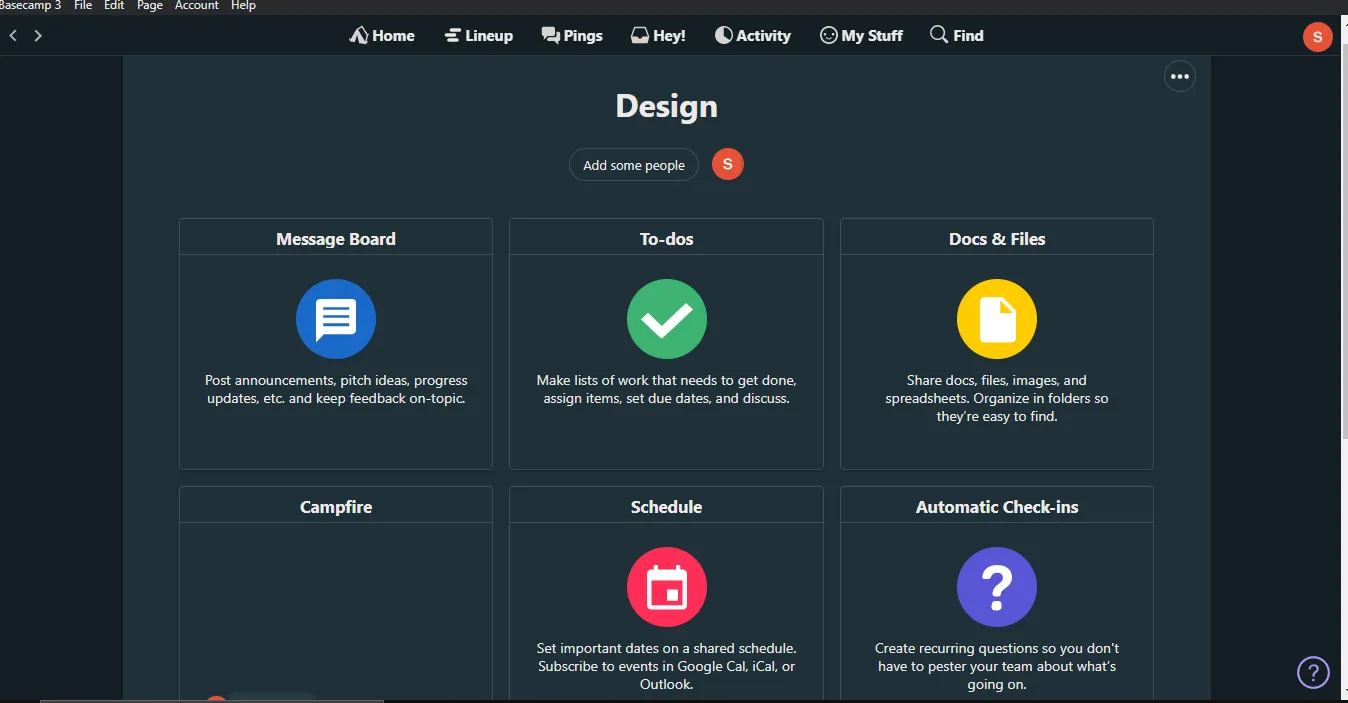 Basecamp is a collaborative project management tool. With all the resources you would like in one place, it helps organize a team with members around the globe.
Basecamp assists teams in working effectively in a variety of ways, including task creation and allocation, progress tracking, and deadline setting.
You can quickly browse through many features offered by Basecamp, owing to its extreme simplicity and clarity. Basecamp is ideal for freelancers, small enterprises, and medium-sized businesses.
ClickUp
ClickUp is a productivity and collaboration tool that organizes all your work in a single location. It is one of the most commonly used project management apps, and we must agree.
ClickUp has a user-friendly interface with a wide variety of available views, chat rooms, custom dashboards, and whiteboards.
The fact that ClickUp is primarily free, unlike some other project management apps, and that the free edition includes many things required to speed the process, and the abundance of customization options, set it apart from other project management tools.
ClickUp is perfect for freelancers, small businesses, mid-size businesses, and large enterprises.
Features
Basecamp
Message boards: You can post announcements, ideas, and queries on message boards to your team without having to email or notify each team member.
You can also create unique post types, respond to comments and posts, upload files or documents, and even create custom sharing settings with message boards.
To-Dos: Using Basecamp's To-Dos tool is equivalent to creating tasks and task descriptions in ClickUp. With To-Dos, you can split tasks into projects, projects into stages, give due dates, assign one or more users, add comments and notes, and even attach files.
Docs & files: Basecamp includes a dedicated function for storing all your documents and files in one location, so you never have to search through the clutter to get what you need. The ideal location for storing and sharing crucial files and papers with your team is here.
Campfire: As the name implies, Campfire is your go-to location for team communication in real-time. Campfire has the standard chatroom functionalities.
Integrated calendar: You can sync all of your calendars into Basecamp's calendar to ensure you never miss a deadline. Your Google Calendars, iCal, and Outlook calendars can also be synced.
Automatic check-ins: Automatic check-ins are quite similar to ClickUp's Status tool, which lets you monitor the progress of your team members.
Managers can make custom questions for team members to respond to on a predetermined timeline. Daily, weekly, and monthly check-in options are available.
ClickUp
Tasks, subtasks, and task descriptions: The standard task creation features, such as adding task descriptions and subtasks, are available on both.
ClickUp gives you a lot of freedom by letting you add additional columns for text, dates, files, formulae, labels, locations, and much more.
Multiple views: You can select from 15+ views (above video) in ClickUp to fit your preferred interface. Here is the list:
List
Board
Box
Calendar
Gantt
Mind Map
Timeline
Workload
Table
Activity
Map
Doc
Chat
Embed
Form
Dashboards: Dashboards provide great flexibility as you can design your widgets, select your preferred themes, and arrange your workspace any way you see fit.
Widget options include time monitoring, milestone widgets, and even the ability to embed other tools. Dashboards are an excellent tool for taking a close look at the entire process.
Targets and goals: To assist you in reaching the intended project performance, ClickUp lets you create targets and goals. Goals can easily be divided into further smaller targets to make the process smoother.
Privacy and sharing: With the greatest standards of security and privacy offered by ClickUp, you have total control over who sees what and what rights they have.
Time tracking: You can check how much time the team has spent working on a particular task or project using the Track Time function.
Whiteboards: Teams can brainstorm ideas on digital whiteboards while working together in real-time, using drawings and other tools.
Templates: If you're unsure where to begin, ClickUp offers many customizable templates. A variety of templates with various use cases are available for your selection. All these templates are fully customizable.
Similar features
Client portal
Collaboration tools
Idea management
Customizable templates
Milestone tracking
Prioritization
Project planning/scheduling
Task management
Related: nTask vs. ClickUp
Interface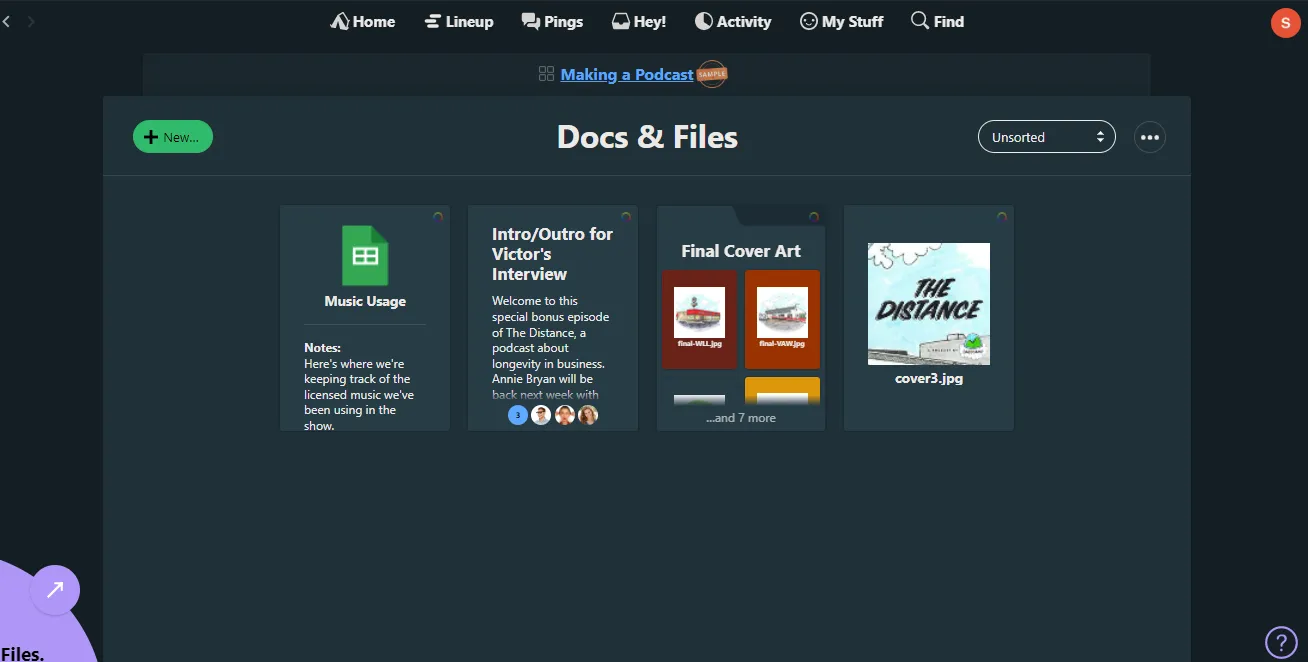 Everything is streamlined and organized with Basecamp. Basecamp offers a straightforward user interface with a clear dashboard. Utilizing Basecamp's many practical features is a simple process.
It has a similar selection of customizable starter templates as ClickUp. However, because it lacks several typical features, its UI can occasionally be a little confusing when serving the demands of businesses.
You may customize ClickUp's interface and design a digital workspace that works for you and your work style. There are three different interface views available in ClickUp: Core, Advanced, and Page views.
Core views offer to view content as a list, board, or calendar. Advanced views offer a variety of choices, including the ability to see the process as a map, a Gantt chart, a timeline, and more.
Finally, the embed view, doc view, form view, and chat view are additional options for page views.
Platforms
Both Basecamp and ClickUp are available on iOS, Android, Mac, and PC. In addition, ClickUp is compatible with Apple Watch, Android Wear, and browser extensions.
Task reminding
Yes, both support reminding users, and ClickUp has more options in its bag. Reminder alerts from Basecamp are sent by email, browser pop-up windows, and mobile device notifications.
ClickUp sends reminders through desktop, email, mobile device, Alexa, and Google Home notifications.
Related: Slack vs. ClickUp
Integrations
Basecamp supports many third-party integrations, such as:
Zapier
Twitter
Unito.io
Project Buddy
Pleexy
Automate.io
TaskClone
Calamari
MinterApp
You can check out the whole range of Basecamp Integrations on the website. ClickUp supports more than 1,000 integrations, including:
Slack
Dropbox
Figma
YouTube
Zoom
Amazon Alexa
You can check out the whole range of ClickUp Integrations on the website.
Collaboration
Basecamp allows you to have up to 20 users for free. The program makes team collaboration easy and effective.
You can check in with your team members in the Campfire chat room, associated process documents, and files, track project status, and assess team effectiveness using Basecamp.
Teams may collaborate in real-time while everyone can discuss, edit, and work on projects simultaneously, owing to ClickUp's collaboration features.
ClickUp only supports inviting guests on its free plan. You can't manage their permissions for free. Guests can be invited to tasks, lists, folders, individual docs, and more, but they can't create or manage Spaces. Here is a guide that covers guests on ClickUp.
Pricing
Since Basecamp offers just two plans, the price structure is quite simple.
Personal plan
Basecamp's Personal plan is ideal for casual use, personal projects, students, freelancers, etc. It includes
Three projects
20 users
1GB Storage space
Business plan
Starting with a free 30-day trial version and then billed at $99/month flat, Basecamp's Business plan includes
Unlimited projects
Unlimited users
500GB storage space
Unlimited clients
Advanced client access
Project templates
Priority support
ClickUp offers a variety of plans from which you may select the one that best suits your needs.
Free plan
100MB storage
Unlimited tasks and free plan members
Collaborative docs
Whiteboards
Real-Time chat
Email in ClickUp
Kanban boards
Sprint management
Native time tracking
In-app video recording
Unlimited plan
Unlimited storage, integrations, and dashboards
Teams (user groups)
Form view
Guests with permissions
Unlimited Gantt charts
Unlimited custom fields
Goals & portfolios
Resource management
Agile reporting
Business plan
Unlimited teams
Custom exporting
Advanced public sharing
Advanced dashboard features
Advanced time tracking
Granular time estimates
Workload management
Timelines & mind maps
Goal folders
Business Plus plan:
Team sharing
Subtasks in multiple lists
Custom role creation
Custom permissions
Custom capacity in workload
Increased automation
API
Admin training webinar
Priority support
Enterprise plan:
White labeling
Advanced permissions
Enterprise API
Unlimited custom roles
Default personal views
MSA & HIPAA compliance available
Single sign-on (SSO)
Live onboarding training
Dedicated success manager
Access to managed services
Basecamp vs. ClickUp
Summary
With its features, Basecamp is a good fit for several smaller businesses. It is equipped with every tool required to enhance workflows and streamline operations for your project.
However, ClickUp has more sophisticated project management features. Choose your pick!