In a world where digital products are becoming increasingly important, you need tools that will enable you to get the best outcomes. For example, recording and editing videos carry a great deal of significance in the current digital age, where content is a massively valuable product. But, the big question to content creators is whether they know the right tools to use.
Well, Camtasia and Filmora are common tools of the trade in the content creation space. It's for this reason that the Camtasia vs. Filmora debate happens to be a significant one. In this article, we compare Camtasia and Filmora to see which one you would consider.
Features
Both video editing software tools have features that define their individual functionalities. The features in each of them operate differently and produce unique results depending on their levels of advancement.
This is an excellent way of comparing them to allow users to choose the one that fits their needs and preferences the best. Here are some of the features contained in Camtasia and Filmora.
Transitions
The first feature that both software have is transitions. Essentially, transitions are the animations that bridge the gap between video clips. Camtasia has a total of 31 transitions, while Filmora has a total of 233 transitions.
So, certainly, in terms of the numbers, Filmora emerges as the winner here. Moreover, the quality of transitions in Filmora is higher than the one in Camtasia.
Video Effects
Video effects are important because they increase the value of videos by making them look better. Well, in regards to video effects, Camtasia has 10 video effects. Some of the video effects contained in Camtasia include colour adjustment and clip speed.
Related: Adobe Premiere Pro vs. HitFilm Express
Filmora contains 287 video effects. Clearly, the number of video effects in Filmora is higher than the one in Camtasia. The advantage of using software with many video effects is that you have a wide spectrum to choose from to improve the appearance of your videos.
If you're looking for video editing software with a wide variety of video effects, then your choice should be Filmora.
Audio Effects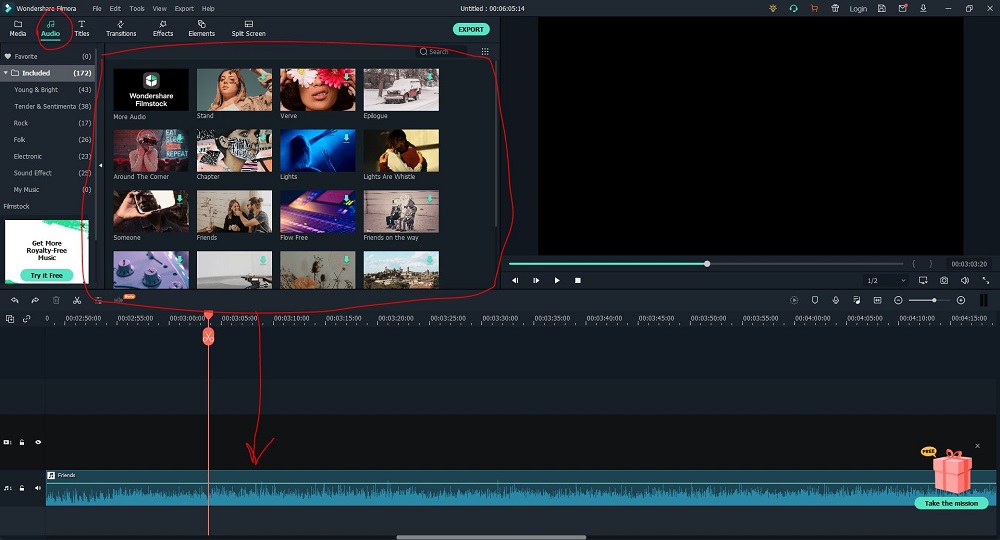 How do audio effects compare in Camtasia vs Filmora comparison? Both Camtasia and Filmora can edit audio files. Additionally, they can get rid of unnecessary background noise, which affects the quality of your content. However, Filmora has better and advanced capabilities for audio editing when it comes to individual capabilities than Camtasia.
It is possible to fine-tune the pitch of audio recordings for both of them in the same vein. The bottom line here is that Filmora has more features for editing audio compared to Camtasia.
Cursor Effects
Camtasia has 16 cursor effects that you can apply. Some of the effects include: highlight, spotlight, magnify, and cursor smoothing. On the contrary, Filmora has fewer cursor effects compared to Camtasia. If you're looking for editing software with a wide variety of cursor effects, Camtasia is the better option.
Screen Recorders
Both Camtasia and Filmora have good screen recording abilities. While they have different options for screen recording, they definitely have commendable screen recorders.
Ease of Use
Ease of use is a major consideration that software users factor in when choosing the tool to use. Given that there are beginners in content creation, they would rather opt for easy to use software compared to the complicated one.
Anyway, it all depends on the needs of a user and their level of skill in usage. When you compare Camtasia and Filmora, you'll find that both are easy to use to a great extent. None of them is complicated.
Related: Adobe Premiere Pro vs. Corel VideoStudio
However, Filmora happens to have advanced features. It is also worth pointing out that Filmora has features that help to boost its productivity, which encourages users to use it. Ultimately, with some bit of training, you'll be in a position to use these software tools with a lot of ease.
Pricing
One of the factors that many content creators consider when considering video editing software is price. Basically, both Camtasia and Filmora have different pricing plans that users can choose from.
For this article, let's compare their one-time price plan. For Camtasia, the one-time price plan costs $249.99 for a single license. Users who would like to have access to future versions of the software should buy the Maintenance plan at $49.75 annually.
The one-time cost for Filmora is $79.99. If you would like to have access to the latest versions of the video editing software, you can do so by paying $49.99 annually. Clearly, the cheaper video editing software is Filmora.
The price of a software tool depends on multiple aspects, including the features and others. These are the things you consider when settling on the one you'll opt for.
Related: Adobe Premiere Rush vs. Elements 2021
System Requirements for Functionality
The best advice that software experts advise users is that they should have the best hardware to produce superior quality videos. That being said, you can still use minimum system requirements and achieve good outcomes.
Both software tools have different system requirements for their operations. For Windows systems, Camtasia can use a minimum system requirement of Windows 10, while in Filmora, you can use a minimum of Windows 7.
For the processor, a minimum of 2.8GHz is fine for Camtasia, while Filmora can do well with 2 GHz. The minimum RAM specification for Camtasia is 8GB, while that for Filmora is 4GB. In terms of disk space, the minimum for Camtasia is 4GB, while that for Filmora is 10GB.
Which one is for you?
From all the features compared, I suggest going with Filmora. It requires less RAM, it's cost-effective, and it offers additional functionalities. Unless you have a specific option that you like in Camtasia, Filmora is the way to go.
Links: Camtasia vs. Filmora
Wind up
Now, having compared Camtasia vs Filmora, you're able to settle for the one that best fits you. It all comes down to what you want for your video editing projects. Your tastes, preferences, and needs are imperative when deciding to use either Camtasia or Filmora.
For example, if you're looking for an editing software tool with more advanced features, you can opt for Filmora. Also, if you want more cursor effects applications, Camtasia is the option to go for. The takeaway here is that both are great options depending on one's needs and preferences.