There are so many screen recorders globally, but not all are good. Some are slow, while some add come with a complex pricing system. Two popular screen recorders are Camtasia and Screencast-O-Matic. How do both compare? The article covers Camtasia vs. Screencast-O-Matic.
Quick comparison
| Feature | Camtasia | Screencast-O-Matic |
| --- | --- | --- |
| Screen recording | ✔ | ✔ |
| Video editing | ✔ (multi-track) | ✔ (easy to use) |
| Ease of use | A bit complicated | Easy to use |
| Pricing | One time fee | Yearly |
| Website | Camtasia | Screencast-O-Matic |
Quick comparison
Screen recording
Screencast-O-Matic is a screen recorder by itself, while Camtasia is an editor with an integrated screen recorder. Both support:
Full-screen recording
Region recording
Microphone recording
Computer sound recording
Webcam recording
The free version of Screencast-O-Matic does not offer to record the computer sound.
Video editing
Another significant part of Camtasia and Screencast-O-Matic is video editing. The former comes with a multi-track video editor capable of adding external media. The latter also offers a rich editing tool that does not support multi-track editing but some easy-to-use tools.
Related: Screencast-O-Matic vs. Screencastify
Screencast-O-Matic (premium)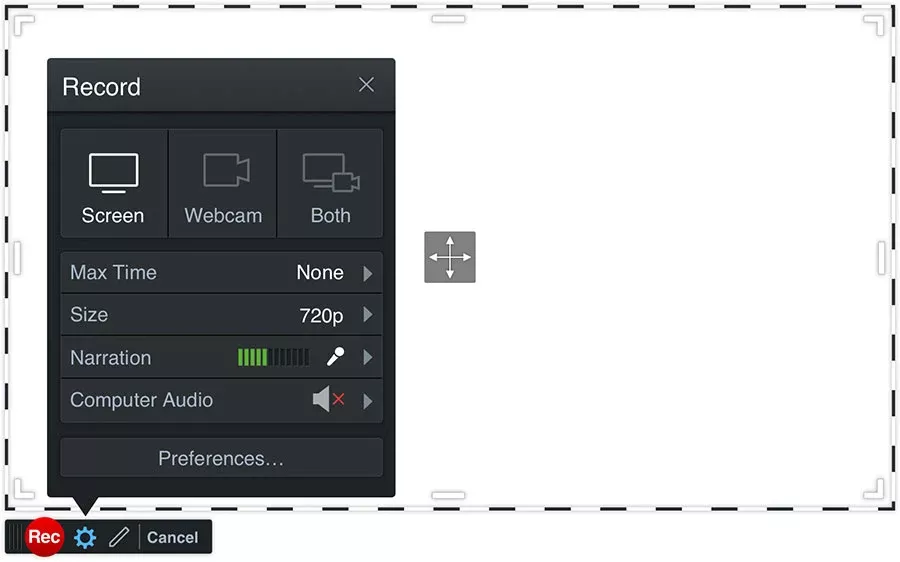 The editor is only available in premium plans. The free tool comes with several options, such as trimming the video, but the full video editor is available in paid plans. The tool offers to:
Insert a video or an image (picture in picture, but no multi-track editor)
Narrate over the video
Blur a part of the video
Add a shape (arrow, box, circle, etc.)
Add text
Highlight a part of the video
Replace video or freeze frame
Adjust video speed
Adjust sound volume
Add transitions
Add music from the Screencast-O-Matic library
Resize video resolution
Add captions (speech-to-text)
Remove cursor or its effect
Create scripted videos (premium)
The scripted video option allows to write a script and record the voice-over first, then the screen by following the recorded voice.
Camtasia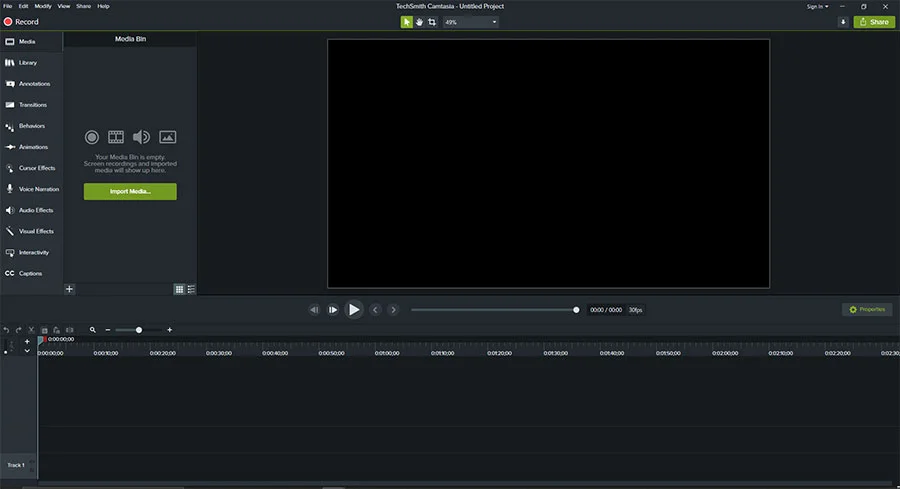 Camtasia, on the other hand, comes with many professional tools to add details to the video. You can expect:
Annotations
Transitions
Behaviors (animated text titles)
Animations
Cursor effects
Voice narration
Audio effects
Visual (video) effects
Interactivity (quizzes)
Captions
Video size test
Gameplay
To make this Screencast-O-Matic vs. Camtasia a fair comparison, I recorded a couple of videos (video game and browser). In this round, we check the video gameplay size. I recorded the same game on the same volume for 25 seconds and then exported both tools on 1080p quality.
The exported video in Camtasia took more storage (47.6 MB) than the video exported with Screencast-O-Matic (28.9 MB).
Basic screen recording
Recording and exporting videos other than gaming take less storage. I recorded a 3-minute and 20-second video while using the Google Chrome browser, and here are the results.
Camtasia video took 17.9 MB of storage, 5.5 MB less than Screencast-O-Matic's (22.4 MB).
Camtasia vs. Screencast-O-Matic: Mobile
Screencast-O-Matic comes with a freemium mobile app. It works with your Screencast-O-Matic account. Depending on your desktop plan, you get the app features. For example, you can automatically transfer videos from your Android or iPhone phone to the desktop editor on the Premier plan.
Ease of use
I believe that Screencast-O-Matic is easier to use. The workflow is easy to follow compared to Camtasia.
Camtasia, on the contrary, is a fully-featured video editor with many great options, but to become a pro, one has to go through the learning curve. The tool also is sluggish sometimes and may not properly work on older computers.
Related: Screencast-O-Matic vs. Loom
Pricing
Here is another interesting topic. Camtasia is not free. The company offers a thirty-day free trial, which exports videos with Camtasia watermark, and the video can't be used for commercial purposes.
Related: Camtasia vs. Filmora
If you go with Camtasia, you will be paying a one-time fee of $250 with an option for a free upgrade for $50 extra. You also get a 30-day money-back guarantee on the purchase.
Screencast-O-Matic comes in free and the paid plans. The free plan, as mentioned, provides limited recording features, and most of the editing options are blocked. The Deluxe plan costs $1.65 per month and is paid yearly. It gives you access to:
video editor
computer sound recording
importing narration and music
more sound effects
drawing and zooming while recording
An automatic captions generation tool
Green screen filter
The Deluxe plan is pretty much all you need if you want a cost-effective screen recorder and editor. The upper hand plan called Premier costs $4 per month, which includes Deluxe features, and offers access to:
Stock library (images, audios, and videos)
Custom controls and video player
Video hosting on their website
100GB monthly bandwidth
Connection with Zoom recordings
The tool also comes with the same plans for teams with at least 10 members with reduced cost.
Which one is for you?
You can use either to get things done, but I believe that there are some specific things that both suit. Camtasia is for creating and editing videos for YouTube, while Screencast-O-Matic has many online options to easily share videos with other people, especially with students or group members.
You can also use Screencast-O-Matic for simple YouTube videos such as tutorials and gaming videos.
What's next?
The next thing is to download your choice from below. The tools mentioned in this article are pretty much all you will get, so at this point, it should be reasonably clear on what to choose.
Wrap up
The article Camtasia vs. Screencast-O-Matic covered the essential topics. I hope it helped you decide between the two. Let me know if you have any questions or suggestions down below so we can discuss more.