Canva and InDesign are two great design apps. For a regular designer, either is fine, but for those savvy people, using the right program can help tremendously. So here is an article covering Canva vs. InDesign to help you choose the best tool to use.
What are both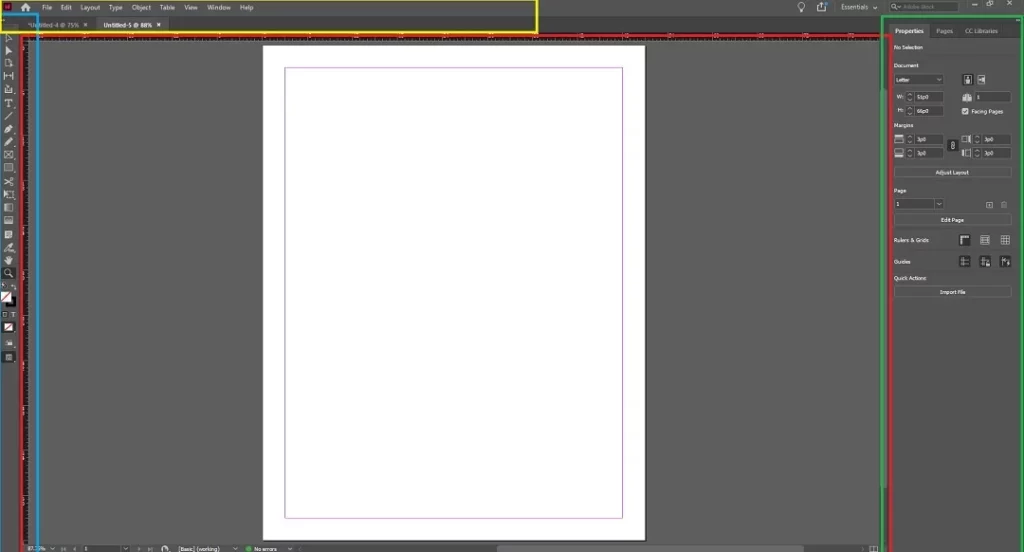 Canva is a freemium web-based visual designing application offering to create visuals, posters, infographics, presentations, and more.
InDesign is an advanced visual designing desktop application. The software is used to plan, produce, publish, and print digital and physical print media designs.
Features
Canva
Collaborate on design projects with Canva Teams, irrespective of your location and your teammates.
Add stellar effects to your photo with effects.
Design and express your thoughts better through content with thousands of free elements, including shapes and objects.
Thousands of free images and backgrounds for designing.
Offers design grids to make your design crisp and appealing.
Add stickers to your images and add a quirky touch to them.
Animate image elements and text to a video.
Adobe InDesign
Readjust the size of elements in your design with a single click as you change the size of your design.
See the images highlighted to see them in focus through its machine learning Adobe Sensei.
Add frequently used texts and paragraphs like descriptions and taglines of your business to the libraries with the text management feature of Adobe Creative Cloud.
Add footnotes in the tables or import them from your Word files.
Preview the font styles without activating them in your designs.
Auto activates the required fonts from Adobe Fonts.
Send designs to others for review.
Platforms
Canva is available on major desktop browsers, and you can install an app on Android and iOS to create and sync designs on mobile phones.
Adobe InDesign, in comparison, is available on various platforms like Windows, Linux, Android, iPhone/iPad, macOS, and web-based platforms.
Related: Canva vs. Photoshop
Templates
Canva offers various templates for various designs like posters, social media posts, visiting cards, resumes, and so on. The templates are straightforward to edit and customize according to your needs.
You can either use the same template to make some edits here and there or build your design from scratch.
Adobe InDesign offers various templates as well. It also allows you to download additional third-party templates, but Adobe InDesign is mainly grounded. It encourages graphic designers to build their designs on a clean slate.
Font packages
Canva has a large bundle of font styles in the free version. With the pro version, you can access more than 1000+ font styles to make your digital content stand out from the crowd.
In contrast, Adobe InDesign provides you with the font collection of Adobe. In addition to this, you can download and use third-party font packages as well.
Access to stock images
The next section of Canva vs. InDesign is looking at the stock images. Both apps offer stock photos directly added to your design.
Canva free comes with thousands of free photos to add to designs, while you can extend the library by getting the pro plan.
Adobe InDesign contrarily uses Adobe Stock to offer images. Compared to Canva, Adobe Stock is expensive, but you can expect to find more images on Adobe Stock than on Canva.
Interface
The interface of Canva is straightforward and user-friendly. If you build the first design of your life, you can quickly build it using Canva.
Even if you find any difficulties working on the software, you can watch some on-site tutorials, and you are good to go.
On the other hand, the user interface of Adobe InDesign can be a little bit confusing for first-time users.
The workspace on InDesign is packed with options to edit your design, and you can't know about their functions without using them at least once.
Related: Affinity Publisher vs. Adobe InDesign
Pricing
Besides the free plan, Canva offers two paid plans: Pro and Enterprise. The Pro version costs $119.99 per year or $12.99 per month, whereas Enterprise costs $150.06 per month for five users.
In the pro plan, you get:
Over 100 million stock images and videos
Resize designs before downloading
Remove image background
100 GB of cloud storage
Over 610,000 templates
Upload custom fonts and brand logos
Background music
The enterprise plan offers some extra features along with some more brand-focused tools.
Adobe InDesign, on the contrary, costs $20.99 per month on an annual contract. You can also get some discount by paying annually.
The app is also a part of the Adobe Creative Cloud collection. The package comes with over 20 apps, costing $52.99 per month on the yearly contract, while you can subscribe to the yearly plan and pay $599.88 beforehand. Students and teachers can save up to 70% discount on the Adobe website.
Videos
Creating a poster in Canva
Creating a poster in InDesign
Which one is for you?
Here is the deal: Canva is free and easy to use, but it can be limited. Adobe InDesign is complicated and challenging to learn, but you can create great prints and posters once you get the hang of it.
If your requirements are creating simple designs in a short time, Canva is the ideal choice.
If you want something more and don't hesitate to spend some money, go with Adobe InDesign. One last thing, Adobe InDesign is a designing app, and to get premium images and stuff, you will need to pay extra.
Canva vs. InDesign: Links
The bottom line
For beginners, I can quickly write that Canva is the way to go in Canva vs. Adobe InDesign because of several factors such as pricing, user interface, ease of use, time requirements, etc.
Adobe InDesign is more suited for professionals with a long way to go as graphic designers.
What is your opinion? If you have any comments or suggestions, please share them with me using the comments feature below.