Online communication has become very popular, and we use different apps for different needs. Two great communication apps are Discord and WhatsApp. What would the comparison of Discord vs. WhatsApp look like? The article is all about those two.
How do both work
This section covers the basic workflow if you don't know how both apps work.
Discord
Discord is a communication platform, which began for gamers to connect, but it has grown to be considered for anything. On Discord, you find servers. Those servers are specific locations where users can chat.
You can think of servers as projects. For example, if there is a game, you find a server for that game, and users will be on that server to talk about the game. You can create your own servers and request people to join.
With that being cleared, let's discuss channels. On each server, the admin creates channels so that the users can chat on the particular channel topic. For example, in a game, the channels can be:
Single-player
Multiplayer
Support
Q&A
Updates
Announcements
Rules
Discord offers advanced channel customization where everyone (admins, moderators, and users) gets specific permissions to modify the server, post in channels, and change others' permissions.
WhatsApp
WhatsApp is a bit different. It is a one-to-one and group communication tool. It's more like an SMS app, but it's more advanced and uses the internet.
It verifies your phone number to can send messages to your contacts. You can also create groups and add people to talk about specific issues. For example, if an event is coming up and one of the organizers, you can create a group and add all the organizers to discuss the event.
Related: Telegram vs. Discord
Platforms
Discord initially started as a desktop app, while WhatsApp began on mobile. Today, both are available on desktop and mobile platforms. You can also access both on your favorite browser.
Supported file attachments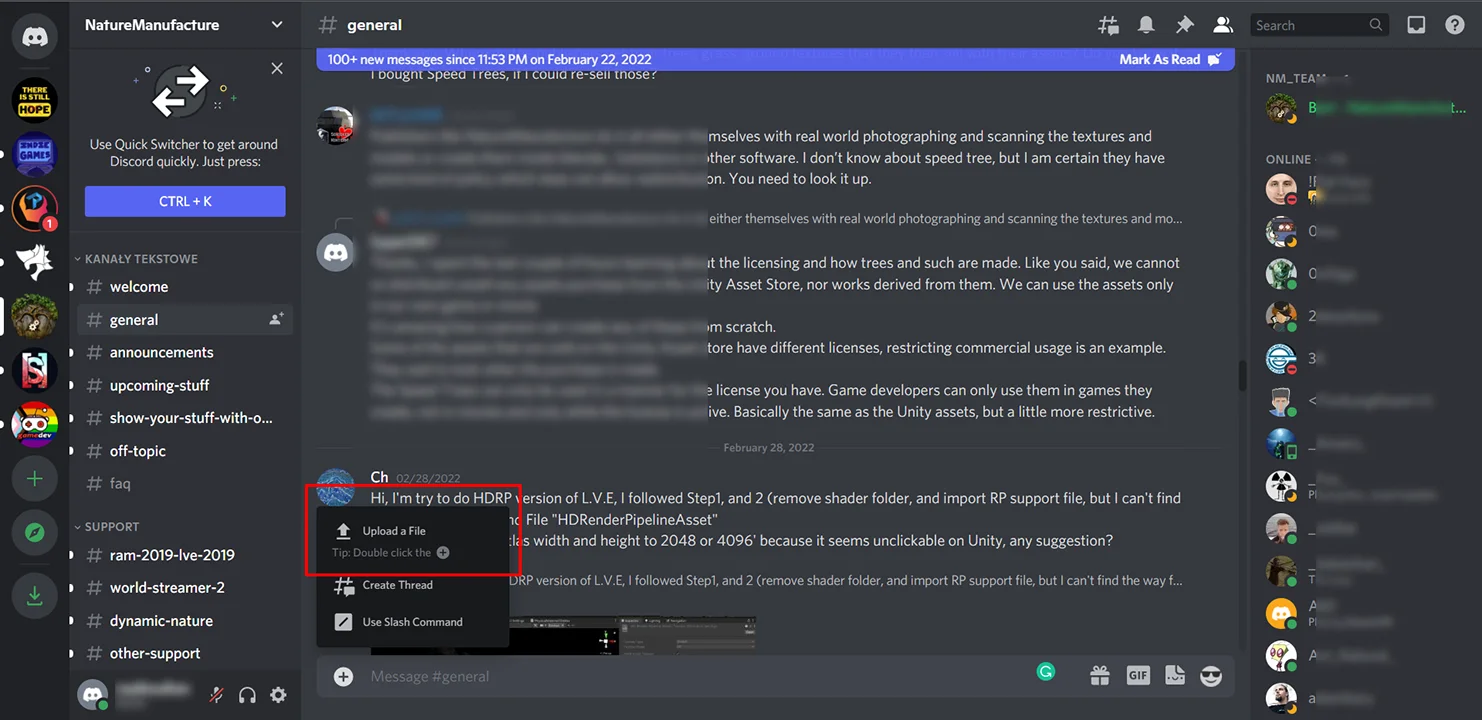 Discord on the desktop supports all kinds of files, from images to EXE files (if allowed on the server or channel). You can tap the plus sign in the type box and click on the upload file option. The mobile app of Discord support:
images
videos
audio files
documents (PDF)
WhatsApp mobile and web, on the other hand, support quite a few formats. Here is the list:
images
videos
audio
device location
documents (PDF)
contact info
Other than that, both also support emojis, stickers, GIFs, YouTube videos, and Twitter tweets.
So, Discord desktop is the winner, while on mobile, WhatsApp takes the cake.
Voice and video calls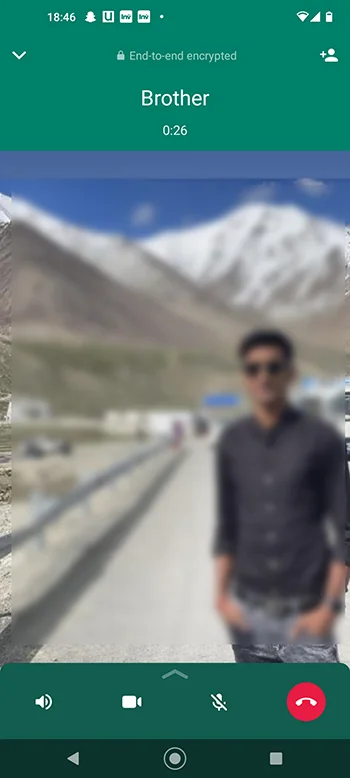 Discord supports both voice and video calls. You can call someone in the direct message (DM) area or join others in voice-only channels. On some servers, you find voice channels to have voice and video chats with other online users.
WhatsApp mobile contrarily supports one-to-one and group voice and video calls. It supports switching the camera, adding participants, and muting call options.
Related: Slack vs. WhatsApp
Discord vs. WhatsApp: Integrations
Being a powerful chatting app, Discord supports many integrations. By default, it has a handful of apps, including Webhooks, YouTube, Twitch, and channel following systems, but you can connect Discord with Zapier, which supports hundreds of apps, including:
Slack
Google Drive
Facebook Groups
Airtable
Asana
Check out the official page to see all the supported apps.
WhatsApp doe not support integrations, but it offers its API for medium to large businesses to connect with their clients.
Additional benefits
Additional benefits of Discord
Server verifications: Server owners can request Discord to verify your server and display the verified emoji. This helps build community faster.
Bots: With the help of bots, server owners/admins can develop complex channel systems to do tasks like dividing users into teams, hosting games, etc.
Image preview: Unlike WhatsApp, where you must download files to open, Discord offers to view files without downloading. This also has drawbacks because the files are stored in the cloud.
Message edit and delete: Discord supports editing and deleting messages. WhatsApp also supports deleting messages, but Discord removes the message entirely, while WhatsApp leaves traces behind.
Additional benefits of WhatsApp
WhatsApp Business: It's a version of WhatsApp, but for businesses to allow them to communicate directly with their customers. One must sign up to use it.
More secured: Compared to Discord, WhatsApp uses more security measures such as end-to-end encryption to keep your communications private.
100 MB upload limit: Unlike Discord, WhatsApp supports sending documents of up to 100 MB.
Seen message: Unlike Discord, people can see when the message is read.
Temporary messages: WhatsApp supports disappearing messages that are automatically removed after specified days.
Usage cost
Discord is free, but a premium subscription Nitro is available for extended features. Nitro costs $9 per month or $100 per year and offers:
Better emojis
Personal profile
Server boost credits to boost a server
Profile badges to show your support for Discord
100 MB file upload limit
HD live streams and screen shares
Another lower-end subscription is called Nitro Classic. The plan charges $5 per month to $50 on the yearly plan. It offers all the above options except the server boost feature.
WhatsApp, on the contrary, does not charge users to use its services.
Which one should you use?
It depends on what you want to do. If you just want a basic chatting platform, go with WhatsApp.
If you are a gamer or are involved in some sort of project with others, Discord will serve you better because it has more advanced group features.
Links
Wrap up
Both are excellent, and millions use those to stay up to date. I hope Discord vs. WhatsApp helped you decide between both.
Thanks for coming here. Please subscribe to the newsletter to stay updated with this blog post.