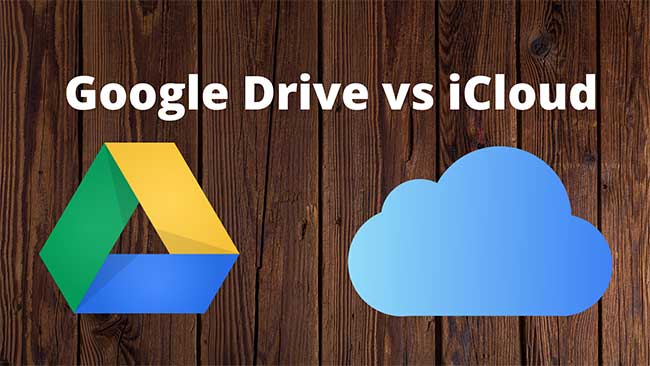 When it comes to data storage, many people think of online storage because, in this tech world, everything happens on the cloud. Two giant tech companies offering free cloud storage for their users, Google Drive and iCloud, are two great services. How do both differ? The blog post takes a look at both and covers Google Drive vs. iCloud (2021).
Table of contents
Quick Google Drive vs. iCloud comparison
| Feature | Google Drive | iCloud |
| --- | --- | --- |
| Main use | Back-up and personal use | Mostly for back-up |
| Platforms | Desktop, and mobile | Desktop, and mobile |
| Supported files | Over 60 file types | Very few known |
| Max upload limit | 5 TB (except documents) | 50 GB |
| Security | At least 128-Bit encryption | At least 128-Bit encryption |
| Plans | 100 GB, 200 GB, & 2 TB | 50 GB, 200 GB, & 2 TB |
| Price range | $2 to $10 | $1 to $10 |
Quick comparison
Usage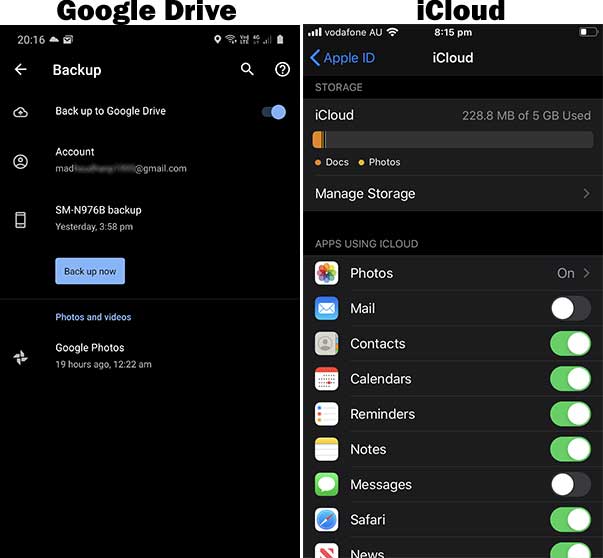 Both are used for personal stuff, mostly. Individuals use both to store photos, videos, documents, etc., and both are used to back up the phone data. Google Drive offers 15GB of storage, whereas Apple gives 5GB across all the platforms.
---
---
Platforms
Google Drive is pre-installed on Android to back up and restore the phone data. An app to upload, share, and to preview files is also available for Android and iOS.
The software titled Backup and Sync is available to download on Windows and macOS. The tool works like other tools where you upload and download from a drive folder.
The software can also be download as a Progress Web App (PWA) on Google Chrome and Microsoft Edge. PWA takes less space than the actual desktop app, and it uses the browser's resources to work. For example, if you download Google Drive on Chrome, it will use Chrome's resources and show Google Chrome in the task manager and battery usage.
iCloud is pre-installed on iPhone, iPad, and macOS, while it can be installed on Windows PC from Microsoft Store. You can install the app as PWA on Microsoft Edge on Windows PC too.
iCloud is not officially available on Android, but some other third-party apps allow syncing of contacts and calendar.
Supported files
In terms of supported files, Google Drive is the winner. Google Drive supports:
Image:

JPG, PNG, GIF, BMP, TIFF, SVG

Audio:

MP3, MPEG, WAV, Ogg, opus

Video:

WebM, MPEG4, 3GPP, MOV, AVI, MPEG-PS, WMV, FLV, Ogg

Web:

HTML, CSS, PHP, C, CPP, H, HPP, JS, Java, PY

Office:

Excel, PowerPoint, Word

Adobe:

Photoshop, Illustrator, PDF
The full list can be found on the support page. iCloud, on the other hand, does not support many file types. The names and numbers could not be found on the official site, but below are some of the most common:
Image:

GIF, JPEG, HEIF, HEVC, MP4, PNG, RAW, TIFF

Audio:

MP3
Max upload limit
According to the official website, Google Drive supports uploading files of up to 5TB at max, as long as they are not the document. For specific document formats below are the suggest file sizes:
Documents with a maximum of 1.02 million characters (roughly about 3400 pages).
Google Docs document can be up to 50GB in size.
Spreadsheets (Google Sheets) can have up to 5 million cells or 18,278 columns.
Each spreadsheet cell must have 50,000 or fewer characters. Otherwise, the tool will skip that cell
Presentation (Google Slides) can be 100MB at max.
iCloud, on the other hand, takes a lower approach. You can upload any type of file except app folders, libraries, or .tmp files, as long as the file size is 50GB or less.
Security
What security measures do both offer? According to the official post, the data is stored in Google's secured data centres starting with Google Drive. The takeaway from the previous sentence was the word 'Google's. Google owns the data centres, and Google uses AES256 level encryption, which is the strongest to date.
Regarding the transfer of data, Google uses the TLS certificate on the HTTPS protocol.
Apple doesn't have their own data centres, and they use Amazon Web Servers (AWS) and Google Cloud Platforms. Breaking down both services:
According to the official website, AWS uses FIPS 140-2 Level 3 security, one of the world's best. They also use the SSL/TLS certificates to protect the data from and to the data centres.
We have already talked about the Google Cloud Platform. Google Drive also uses Google Cloud Platform.
Besides the above, Apple has also mentioned that neither of the above services has the required keys to decrypt the data.
So after putting all into one place, we can say that both use one of the strong technologies to protect your data.
Pricing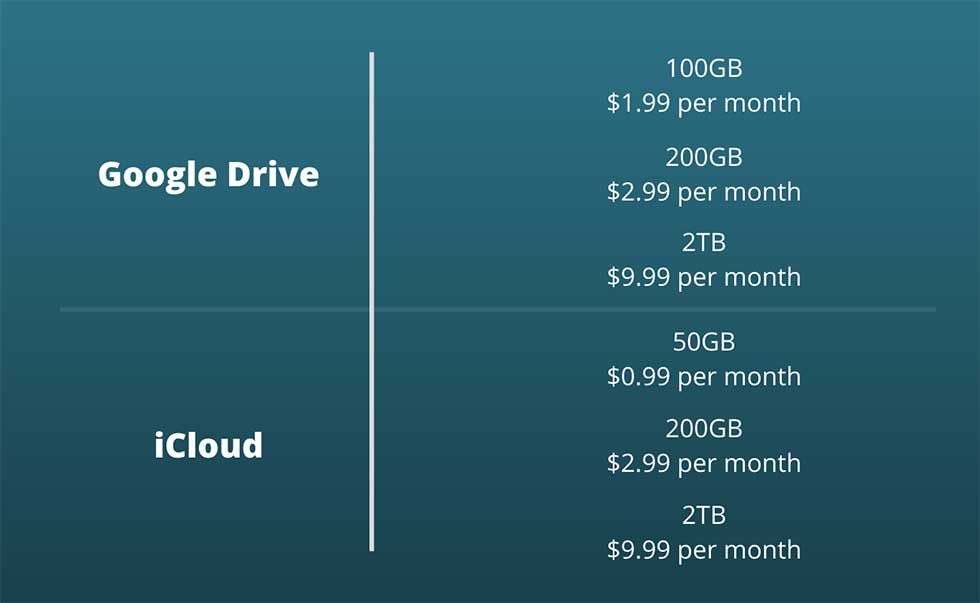 Google Drive offers 100GB of storage for $2 per month. There is also a medium size plan of 200GB for $3, which would suit YouTubers and bloggers like me.
The drive storage can also be maintained with the Google One app, which allows managing the storage of Gmail, Drive, Photos etc. It also comes with other great benefits such as discounts on hotel prices and rewards on Google Store.
iCloud, on the contrary, comes with 50GB, 200GB, and 2TB plans, where you pay $1 for 50GB, $3 for 200GB, and $10 for 2TB. You can also share the 200GB and 2TB plan storage with family members. Google Drive also offers to share your storage with your family members.
Video
Still not sure? Watch the Google Drive vs. iCloud video to see both in action.
Wrap up
The way both tools work is different. The primary goal of iCloud is to back up and restore data of iPhone, iPad, and MacBook, while Google Drive is an all-rounder multi-platform with multiple usages.
Anyway, thanks for reading Google Drive vs. iCloud. I hope the blog post helped. Please let me know your views in the comments down below, and subscribe for future updates.