Grammar is vital to the English language, and even native speakers need help, especially in writing.
Grammarly is a popular writing assistant, while Linguix is a new grammar checker. How do both differ? The blog post covers Grammarly vs. Linguix.
What's the main difference
The main difference is the error-checking power. Grammarly generally finds more mistakes than Linguix.
Grammarly is also a more confident writing tool. For example, Linguix sometimes gives a few suggestions, whereas Grammarly just gives one, and it's mostly accurate.
In a test, I misspelled "Antarctica," Grammarly suggested the correct word, while Linguix suggested "Asia."
Where can both work
This round of Grammarly vs. Linguix also goes to Grammarly as it supports more platforms and websites.
Grammarly extension works on more websites; the program also has a native desktop app to check your writing in offline apps, including Word, WordPad, and even Notepad.
Both support mobile phones, but Linguix is not as functional as Grammarly. It also has a lower average rating on the App Store and Google Play.
Unique features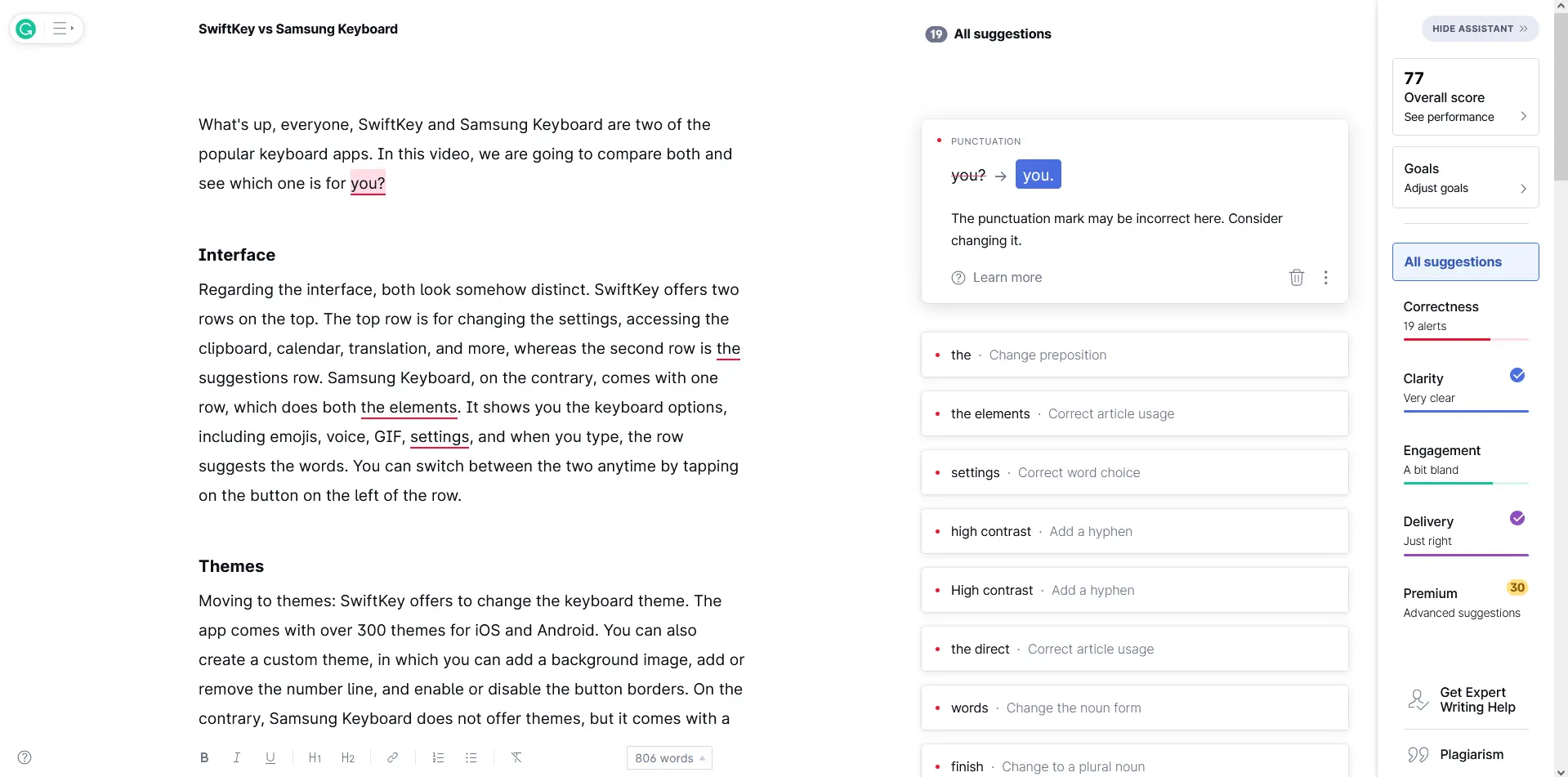 Both have rich-text web editors to add headings, underlines, and more.
Grammarly's editor has more options. It also has a goals menu to get customized suggestions.
Furthermore, it has a better writing assistant to help you understand the mistake. Lastly, you can double-click on a word on websites and the editor to see its definition and synonyms.
Linguix has the option to add snippets where you hold Shift + Ctrl + Space to add the template. The tool also lets you rephrase a sentence by selecting it. Finally, you can see synonyms of a word by double-clicking it in the editor.
Related: Grammarly vs. Outwrite
Test 1
In this round of Grammarly vs. Linguix, I did a couple of tests. Here is the first test.
The test showed that Grammarly Premium is more potent than Linguix Pro. In the beginning, Grammarly showed eleven grammar mistakes, while Linguix displayed nine.
As we moved and worked through the mistakes, Grammarly added another error.
Test 2
In the second test, I wrote a couple of different paragraphs. This time as well, Grammarly found more issues. Although there were some issues neither could pick up, Grammarly was still more accurate than Linguix.
Results
After examining both tools, I can conclude that Grammarly uses more advanced AI to detect and show relevant errors.
For example, I wrote "beil", and it suggested changing it to "bell" in the test, and Grammarly successfully showed the fix.
That tool was convincing enough to show the world "bell" only because it detected that sentence's tone. Linguix, on the contrary, showed over five fixes, and none of them was correct.
Related: Microsoft Editor vs. Grammarly
Mobile apps
Grammarly keyboard offers to fix mistakes as we go. You can see errors in a bar above the keyboard.
Linguix uses the same technique, but I could not test the keyboard because it does not offer the sign-in with Google option, which I used to sign up on my browser.
Pricing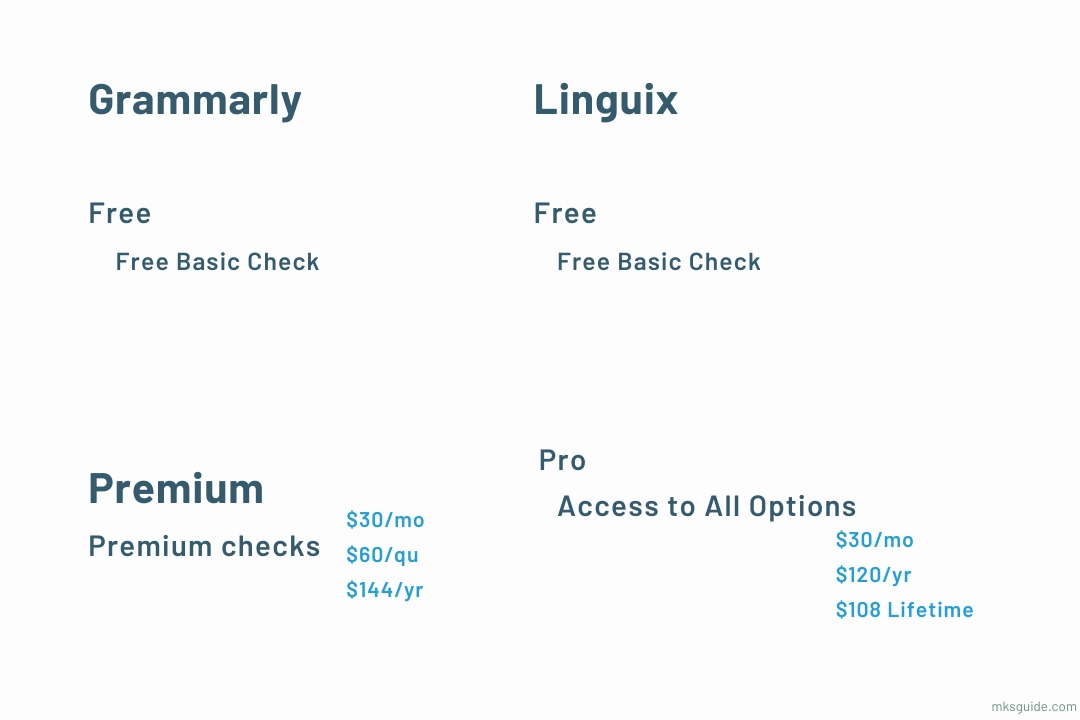 Linquix is cheaper than Grammarly because it has fewer features.
The month-to-month plan of Grammarly costs $30. You can save by subscribing to the quarterly or yearly plan, costing $20 and $12 monthly, respectively.
Grammarly has a Business plan for three or more users.
Linguix's monthly plan also costs $30. The annual plan, however, costs $120 in total ($10 per month). It also has a lifetime plan costing $108. So, you can pay a one-time fee of this amount and enjoy the program.
Which one is for you
Linguix is a new tool, and it will take a lot of time to get to where Grammarly is today. Until that happens, I suggest using Grammarly for your free and premium writing needs.
Grammarly offers more platforms, a plagiarism checker, and a writing assistant that helps you learn.
Grammarly vs. Linguix: Links
Wrap up
The Grammarly vs. Linguix article covered the essential features of both tools. I hope the article helped you choose the ideal app. Please let me know your thoughts in the comments below to discuss more.
My name is Madhsudhan Khemchandani. I have a bachelor's degree in Software Engineering (Honours). I have been writing articles on apps and software for over five years. I have also made over 200 videos on YouTube. Read more about me on the About page.