Last updated: 6 June 2021
Grammar is a key part of the English language, and even native speakers need help, especially in English writing. The topic of this blog post covers the writing part of English. Grammarly is a popular writing assistant tool, while Linguix is a new grammar checker with many similar features. How do both differ in 2021? The blog post covers Grammarly vs. Linguix.
Quick comparison: Grammarly vs. Linguix
| Feature | Grammarly | Linguix |
| --- | --- | --- |
| Type | Writing assistant | Writing assistant |
| Platforms | 9 | 3 |
| Performance score 👇 | 9 | 7 |
| Mobile app | ✔ | ✔ |
| Plagiarism check | ✔ (premium) | ❌ |
| Pricing | $11.6/m | $8/m |
| Website | Grammarly | Linguix |
Quick comparison
Grammarly
Grammarly has been helping writers, students, entrepreneurs, business people, and anyone else who like to improve their writing skills for over 11 years. The software claims to check for hundreds of grammar mistakes.
It is available for free (account required) for browsers, desktop PC, and mobile phones, but a premium option is available for advanced error and plagiarism checking.
Linguix
Linguix is new to the industry and has already claimed one of the best grammar checking tools. It states to look for over 3000 types of mistakes. The tool is not available for free on the website, but you will need a premium subscription for the browser and mobile phone. It offers a 14- day free trial.
It's not available on as many platforms as Grammarly, but it's good enough to help you fix grammar errors on desktop computers and mobile phones.
Grammarly vs. Linguix
Platforms
Grammarly is available for plenty of tools, including browsers, desktop PCs, and even mobile devices. Linguix is available for major browsers only. Here is the table comparing the platforms.
Grammarly
Linguix
Google Chrome
Mozilla Firefox
Microsoft Edge
Windows PC
macOS
Android
iOS
Microsoft Word (add-on)
Beta on Google Docs
Google Chrome
Mozilla Firefox
Microsoft Edge
Platforms comparison
Features
Grammarly
On the desktop, Grammarly categorises mistakes into correctness, clarity, engagement, and delivery. With each mistake, it shows some info to help you learn. You can write your own documents in the Grammarly editor by going to app.grammarly.com or downloading the app on your computer. The desktop editor also comes with some other tools such as:
goals to help you set goals for the writing
Overall score to help you see where the text stands
Plagiarism checker, which checks the text on over 16 billion web pages (premium only)
Expert help if you need an extra hand (charges extra)
It comes as a keyboard app on mobile phones where it finds mistakes in the writing and shows on a row above the keyboard. You can open the errors tab at any time and correct each mistake one by one.
The app comes as an add-on for Microsoft Word. It disables the default writing assistant, but you can switch between the two quickly. Finally, it's in the beta version for Googe Docs, which honestly doesn't feel any different than normal.
Related: Grammarly vs. Outwrite
Linguix
Linguix comes as a web app, extension for major browsers, and a keyboard app on Android and iOS devices. The tool comes with an option to add snippets where you hold Shift + Ctrl + Space to add the template.
It separates errors into different categories, including grammar, punctuation, typos, and more. It works similarly where you click on an error, and the tool gives some details about the error and a correct word or phrase.
Tests
In this round of Grammarly vs. Linguix, I went ahead and did a couple of tests. Let's see how both performed below.

Test 1
From the test, we found that Grammarly Premium is more powerful than Linguix. In the beginning, Grammarly showed eleven grammar mistakes, while Linguix displayed nine. As we moved worked through the mistakes, Grammarly added another error.
Test 2
In the second test, I wrote a couple of different paragraphs. This time as well, Grammarly found more issues. Although there were some issues, neither could pick up, but Grammarly was still more accurate than Linguix.
Results
After examining both tools, I can conclude that Grammarly uses more advanced AI to detect and show the relevant errors. For example, I wrote "beil" instead and "bell" in the test, and Grammarly successfully shows the fix.
That tool was confident enough to show the world "bell" only because it detected that sentence's tone. Linguix, on the contrary, showed over five fixes, and none of them was correct.
Related: Microsoft Editor vs. Grammarly (2021)
Mobile Apps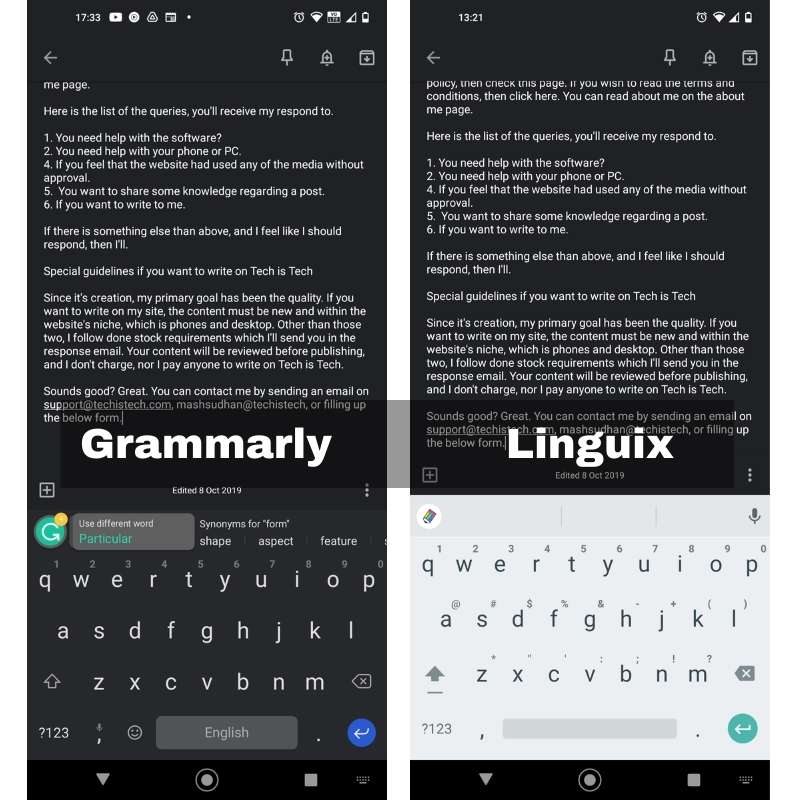 Before we finish Grammarly vs. Linguix article, we must talk about mobile keyboards. Grammarly keyboard offers to fix mistakes as we go. You can see errors in a bar above the keyboard. Linguix uses the same technique, but I could not test the keyboard because it does not offer the sign in with Google option, which I used to sign up on my browser.
Pricing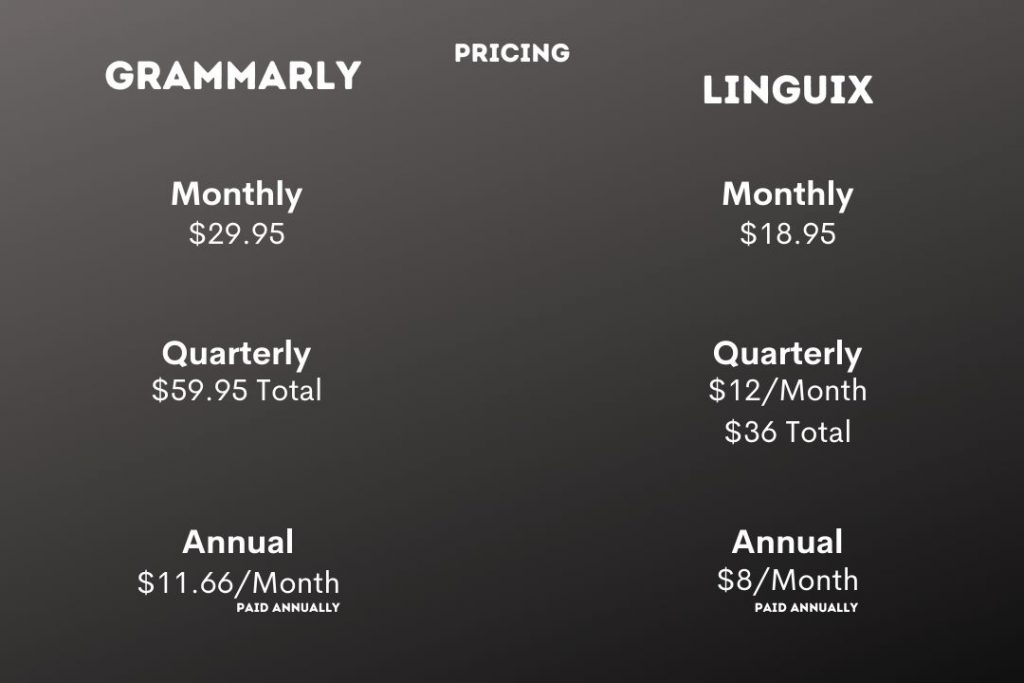 Overall, Linquix is cheaper than Grammarly, but Grammarly is available on more platforms, and if we count all platforms, Grammarly offers more value. The monthly plan on Grammarly is out of the question because it is costly, but the annual plan is worth considering.
If you feel that Linguix is your way to go, then I will recommend going with the quarterly plan because it will give you enough time to test the tool.
Which one is for you?
Linguix is a new tool, and it will take a lot of time to get to where Grammarly is today. Until that happens, I would suggest using Grammarly for your free and your premium writing needs. Grammarly offers more platforms, a plagiarism checker, and a writing assistant which helps you learn as you go.
Try
Wrap up
The article: Grammarly vs. Linguix covered the most important features of both tools. I hope the article helped you choose the ideal app. Please let me know what you think of both in the comments down below to discuss more.