It doesn't matter whether you're a new or seasoned writer; you need tools to help you improve and simplify the writing process. Besides plagiarism checkers, you also need writing tools to check your grammar, spelling, and other text problems.
These tools are so helpful that you can integrate them with your other writing tools like search engines, emails, Google Docs, and even Microsoft Word.
In today's article, we'll delve deeper into this timely comparison of Grammarly vs. Outwrite as we unveil which among these two prominent tools offer more value to every writer's investment.
We'll be highlighting the similarities and differences of these tools according to these factors – salient features, accuracy, accessibility, upgrades, and price. At the end of the article, we hope to help you make an informed decision.
Grammarly vs. Outwrite
Writing assistant features
Grammarly is an AI-powered writing solution that aims to make communication seamless for its users. It's a cloud-based app that is wired to have its algorithm triggered by possible text problems.
It can check various issues like grammatical errors, plagiarism, punctuation, style, run-on sentences, and spelling. It also shows suggestions to resolve these issues.
On the other hand, Outwrite functions just like Grammarly, but its creator added more writing features like sentence paraphrasing, rewriting goals, and the option to enable or disable suggestions.
Though both apps are easy to use regardless of you're writing from Microsoft Word, Google Docs, or the web, users who are used to Grammarly might have a hard time adapting to Outwrite.
In Grammarly, as soon as you open the app or extension, there will be red lines to denote spelling errors and blue lines to mean grammar mistakes. The reason for such an error and its suggestions are visible on the right side part of the document.
You can choose to correct these errors per paragraph or by hovering your mouse over a specific word or sentence. In Outwrite, although there are also lines to indicate grammar and spelling errors, you need to choose Start Trial first before accessing corrections related to flow and eloquence.
Related: Microsoft Editor vs. Grammarly (2021)
Accuracy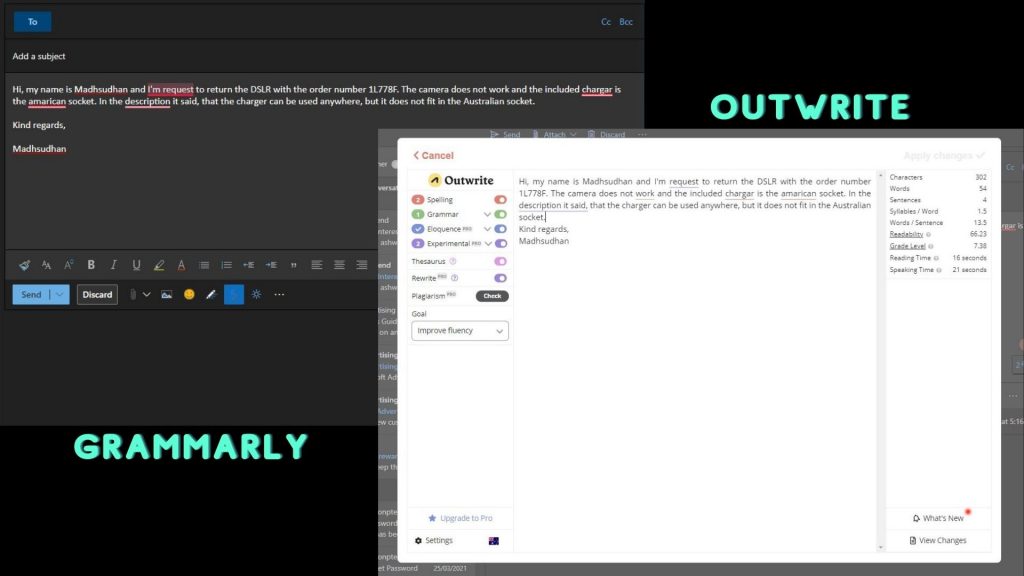 The main selling points of these tools are their accuracy in detecting grammar and spelling errors and the appropriateness of their suggestions to rectify such errors.
Especially if you make a career out of writing, you'll surely need these tools to keep your work in check. With flawless and clear sentences, you can better convey your ideas to your reader.
Grammarly is known to be one of the most accurate grammar checkers in the market. However, a 2017 review of the product showed that its accuracy is only up to 72%. The one who wrote the review noted that out of 43 mistakes he committed while writing on Grammarly, only 30 were found.
He concluded that though Grammarly is a great tool, it can never replace the human eye.
With Outwrite, there have been scarce studies and inputs measuring its accuracy, but users claim that even with the free trial version, they can do so much with the app to check their errors more efficiently.
Reviews from long-time Outwrite users also suggest that the advantage of the tool is it makes writing less robotic and more natural as it focuses on flow and eloquence.
Related: Grammarly vs. Linguix
Platforms and Availability
In this Grammarly vs Outwrite comparison, both fared equally in platform applications as they are both available for Google Docs, Microsoft Word, web app, and browser extension. They are also both available in free and premium or pro versions.
Premium Benefits
If you subscribe to the premium version of Grammarly, you will get more extensive suggestions and corrections for contextual spelling mistakes and advanced punctuation and grammar errors. It also offers more tips to improve your article's readability, word choice, and sentence structures.
Other than that, you can set user goals for intent and tone. Grammarly premium is also more intuitive in spotting the use of passive voice in your sentences. To rectify this error and make your sentences more engaging, it also shows how to convert the said sentences into an active voice.
As for Outwrite, the pro version makes writing with impact even more seamless. If you unlock this version, you can see options to correct complete sentences, not just words within such a sentence.
Aside from that, there are suggestions to improve the writer's eloquence by making the output more precise and concise. The pro version also allows the app to automatically replace weak and dull words with better and richer ones.
Pricing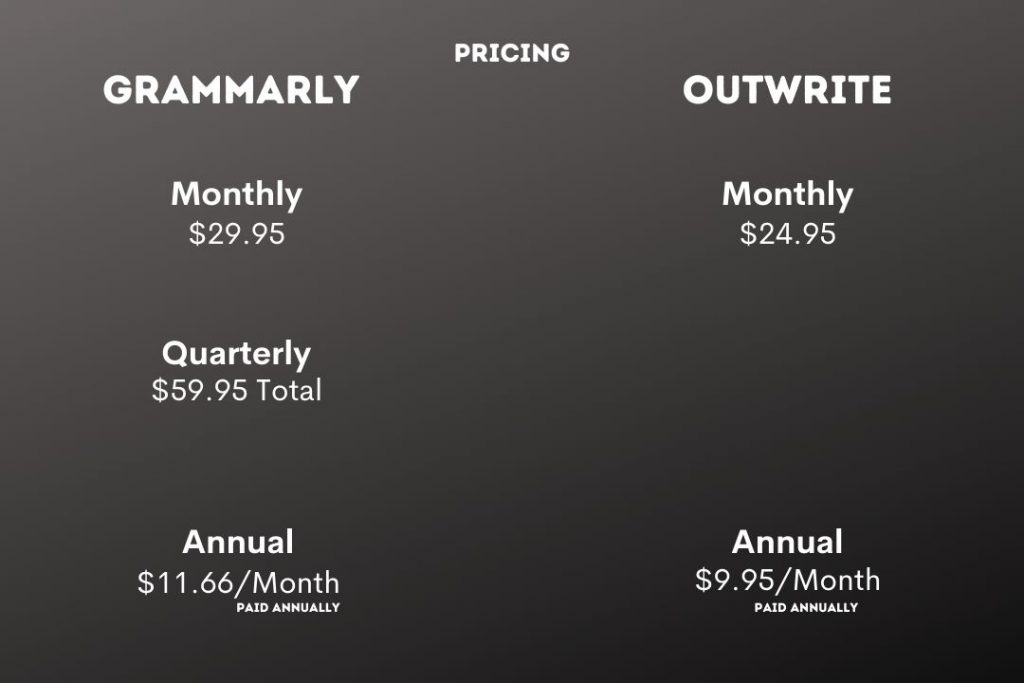 In this aspect, Outwrite offers cheaper and more flexible plans. Grammarly Premium is currently priced at $29.95 monthly, $59.95 quarterly, and $139.95 annually.
Though the price of the premium version gets cheaper as you lengthen your subscription, Grammarly is still more expensive than Outwrite.
Currently, Outwrite's Pro version could be accessible for only $9.95 per month on the yearly plan. If you want to subscribe to the team plan, you can choose to pay $7.95 per user per month.
Related: Grammarly vs. Linguix
The winner
Considering all the features and factors mentioned above, we can say that although Outwrite is cheaper and offers more added features than Grammarly, the latter still wins. This verdict results from Grammarly's proven accuracy ratings, user-friendly interface, and straightforward mechanism for checking grammar, spelling, and text errors.
Links
Wrap up
Grammarly sticks to what it does best – correcting grammatical errors. While Outwrite also aimed to polish the eloquence of a writing piece, Grammarly focused on what it can sufficiently manage. This focus allowed it to remain on top of every writer's grammar checker list.
Here is the end of the Grammarly vs. Outwrite article. What is your final choice? Share your views in the comments and help others decide quickly.