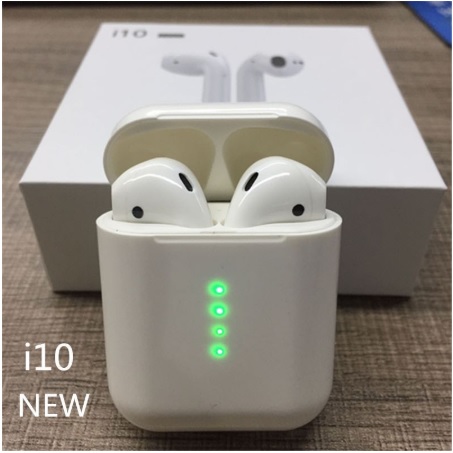 i10 TWS is an alternative if you don't want to spend $150 on AirPods. The popularity of i10 TWS may have decreased due to the introduction of many other in-ear headphones, but they are considered as the best wireless alternatives. The blog post covers the i10S TWS review, features, and how it compares to the original.
Table of contents
Review video
Let's watch this i10 TWS review video which covers most of its features. If you love to read then follow the article.
Dimensions
i10 TWS has the almost same size as the original, and a typical person won't feel the difference until they pick one and realise as the weight is lighter than the original. i10 TWS dimensions are 16.6 x 41 x 20 mm.. On the case, there are four vertical lines, each representing 25% of the battery life of the case. Check out the table for full details.
| Feature | Support |
| --- | --- |
| Power input | 5V – 1A |
| Bluetooth version | 5.0 |
| Charging cable | Type-C |
| Wireless charging | ✔ |
Connectivity
Like many other Bluetooth devices. i10 TWS can stay connected for 15 meters in open space, while the distance reduced to 10 in closed space. The pair connects automatically, and each bud can work alone if the battery of the other one is dead, which means you can connect both to two separate devices.
One thing i10 does not support is multi-device connectivity. Both pair can't connect to multiple devices. AirPods gets the win in this case, as you can connect to multiple supported devices (iPhone, Mac, IPad etc.) simultaneously.
---
---
Features
As technology improves, so do gadgets. The latest version of i10 TWS comes with wireless charging. This feature makes it different from i88, i12, i11 and others in the market. Like others, you can play and pause music, attend and decline calls, and adjust the volume. They won't stop when you take them out from your ears, but their responsiveness is excellent.
Read: i88 TWS Review, Features, and Comparison
Button controls
Here's what can be done with i10 TWS controls:
Single tap to attend, decline, and cut calls
Single tap to pause and resume music
Double-tap to play the next song
Tripe tap to play the previous song
Tap and hold for Siri and Google Assistant
Depending on your model, the command for one or multiple features may be different.
Battery
I used i10 TWS for a week to see their actual battery life. On the full charge, they lasted for 3 to 4 hours, but all the time the volume was around 65%. I believe, on the maximum volume level, they can effortlessly work for 2 to 2.5 hours. It takes an hour and a half to charge them, and on Android, you can see the battery life in the Bluetooth settings, while on the iPhone some versions support pop-up notification while some show the battery percentage next to the connection icon.
AirPods have the upper hand in terms of battery life. First, they last more than 4.5 hours without any issues. Second, it only takes about 15 minutes to charge the AirPods to continue working, while the case can charge the buds for 4 to 5 times.
 i10 TWS comparison
Let's watch this comparison video of i10 TWS and original.
The video concludes that the original is better than i10 TWS in music quality and connection speed. i10 TWS are slow in connecting to the iPhone, and the sound quality is a little bit lower.
Manual
Manual is a part of the i10 TWS review. Here is an image of the manual if you want to learn more about i10.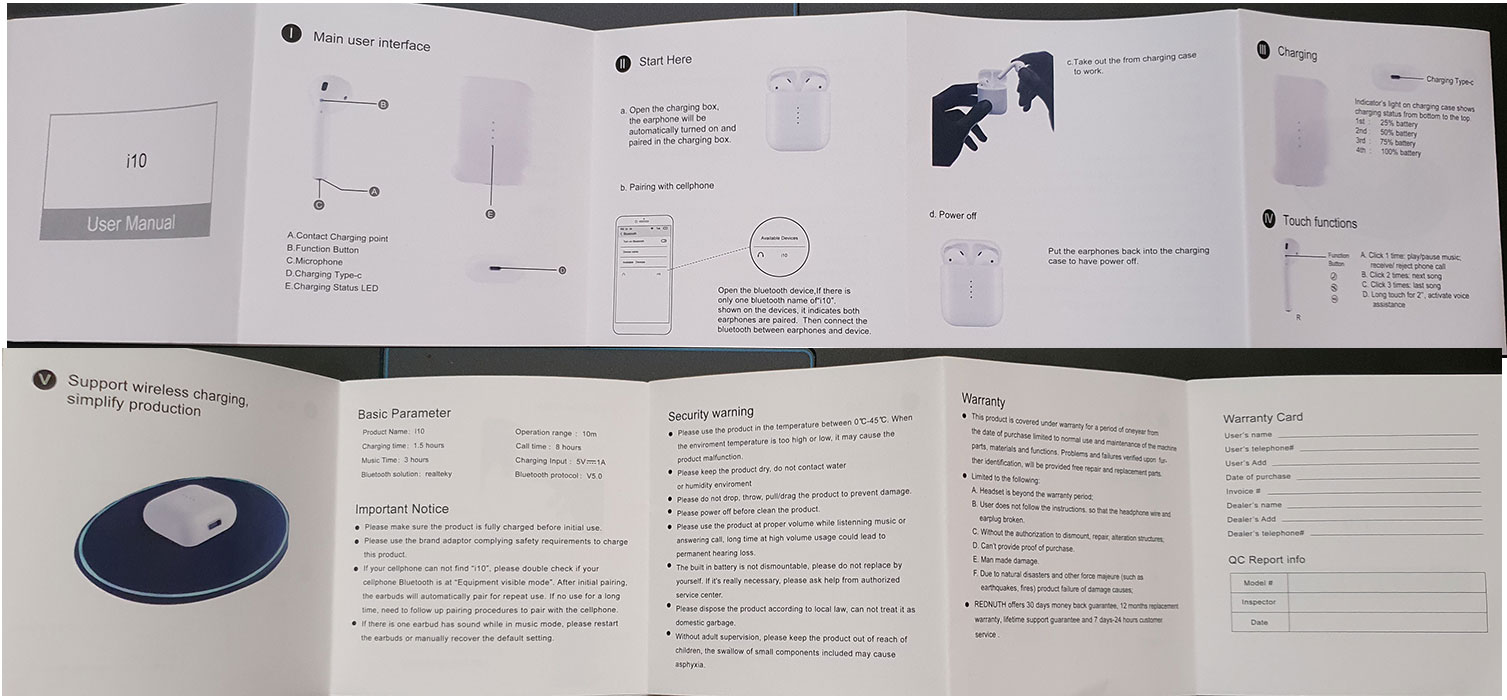 Alternatives
Today in the market, there are more than ten alternatives of i10 TWS. Some of them include i88, i12, i11, i30, and more. Of course, most of them have the same features, but companies have changed the names to manipulate customers.
Final words
i10 TWS is good and it's considered as the best alternative. For a cost-effective option, you will not regret this purchase.
My overall rating for i10 TWS is 4 out of 5.
Where to buy
There are a few places where you can buy i10 TWS. I used to purchase from Alibaba, but items from AliExpress take a lot of time to arrive. Many fake versions have also been released. Buying an original i10 TWS can be challenging. I now purchase from Uliads. The product is offered at the same price as you would find on AliExpress and Alibaba, and you get different payment options.
Wrap up
Although there are a few things which make AirPods better than i10, I still believe that the difference in pricing ultimately turns the table. i10 TWS review covered the basic stuff about the i10 TWS series. I hope the article helped. Please feel free to reach out if you need any help or if you have any feedback.