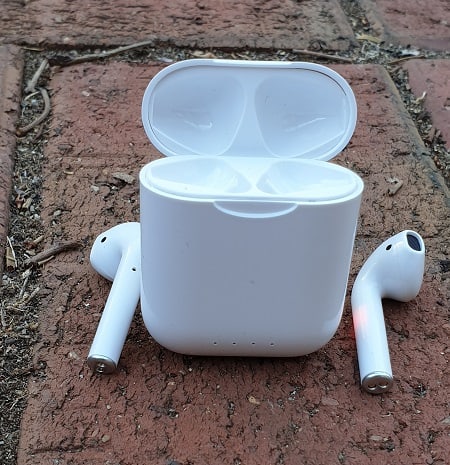 When we talk about earphones, we talk about the original ones, but if you get almost the same thing for $20, then you would say, "awesome! I want that." Well, there are plenty of earphones out there, but I'm talking about the i88 TWS which looks somehow close to the original earphones, and the size is almost the same. The article covers i88 TWS review, features, and comparison with the original and sees if they are better.
What is i88 TWS
To understand i88, we must know the previous models. Other series including i7, i8, i9, i10, i12, etc., are already there. i88 is the new model in TWS series, and its popularity has been increasing since its release.
Read: i10 TWS Review, Features, Comparison (2020)
i88 TWS review video
Let's take a look at the below warm-up video coving i88 TWS review, its features and comparison.
i88 TWS colours
i88 is available in a few colours, including white, black, blue, red, and a couple more. The case of colour ones feels different than the white i88 case. The white case material feels the same as original, while on colour ones, it feels more greasy.
Dimensions and look
Each i88 TWS bud is 16 x 40 mm, and case's dimensions are 42 x 53 mm. The case has fours green LED charging indicator lights each indicating 25% battery capacity. The buds connect to each other automatically, but for some reason, if you they don't, then tap on the touch sensor to connect them. The LED light on the buds flashes when the buds aren't connected. Moving to battery life, they come with two hours of talk time and two hours of music time. The battery could be improved, but if you are not a big fan and want to show to the world, then these are perfect.
---
---
Touch features and notifications
They won't stop working when you take them from your ears, but you can use the touch sensor on the head of each bud to play and pause songs, attend and decline calls and activate Siri or Google Assistant. When you connect them with the phone, the battery indicator is visible in the Bluetooth menu on Android.
At the same time, on the iPhone, you can see the battery level next to the connected notification. On Samsung device, i88 TWS can be used as a trusted device to unlock the phone without putting in your PIN or fingerprint.
i88 TWS specifications
| Feature | Support |
| --- | --- |
| Buds battery capacity | 45 mAh each |
| Case battery capacity | 350 mAh |
| Charging input | 3.3 – 4.4v |
| Bluetooth version | 5.0 |
| Charging cable | Micro-SD |
| Charging time | 1.5 to 2 hours (tested) |
| Talk time | Approx. 2 hours (checked) |
| Music time | Approx. 2 hours (checked) |
| Wireless charging | ✖ |
i88 TWS vs original
Compared to the original, the sound quality could be better. i88 TWS has good bass, but naturality was missing. The sound of each song played is slightly different in i88 TWS.
The original comes with touch sensor buttons in which you can pause and play music, attend and decline calls etc. i88 TWS does not come with wireless charging capability. The case supports Micro SD cable and comes with the cable and a manual in the box.
Comparison with i10 series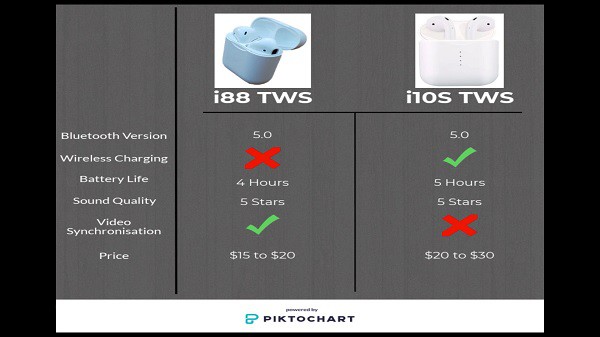 In this i88 TWS review, I wanted to add some information about the comparison between i88 TWS and i10 TWS. Have a look at the above image. i10 TWS is better because of its sound quality. The price, of course, makes the difference and the battery capacity as well. If you are a fan of wireless charging, then you should go with i10.
Read: VLC vs MX Player | Which is the Best Media Player in 2019?
Where to buy?
i88 TWS has many fake copies these. I purchase mine from a seller on Alibaba as I sell those locally too. I recommend AliExpress, but it takes ages to get the item. You can try Worthy Buy website. It's an Australian website and the shipment is fast worldwide.
Summary
Here is the end of i88 TWS review and comparison. I hope the article helped you choose the right earphones. Let me know what do you think of i88 TWS in the comments below so we can discuss more.