Forms are a standard way of collecting feedback, sending out polls, and collecting emails. There are plenty of form apps. Some are free, while others cost money. In this battle, we have two premium services: Jotform and SurveyMonkey.
Which one should you use for your business? Let's find that out in the Jotform vs. SurveyMonkey article.
What are both?
Jotform is a leading forms service that just celebrated 1 billion form submissions. It has many form elements and templates to make beautiful and detailed forms. We can even make a form to sell products using the payment gateways.
It allows us to create forms in single question or multiple questions per page forms. We can add approval flows to decide whether to accept or reject a submission.
Another valuable feature of Jotform is conditional logic, which lets us perform different functionalities based on how users answer.
SurveyMonkey, on the other hand, is more used for surveys and questionnaires, and it has many survey form elements, themes, and customization options.
Some elements are free, while you must pay for some. It lets us make forms with one question per page, multiple questions per page, or in the style of a chat conversation.
There is a quiz mode in SurveyMonkey that can turn forms into quizzes, in which users can see right and wrong answers and the final score at the end.
Form options
Jotform has over 25 form elements, 43 payment gateways, and more than 300 widgets. Here is the list of form elements:
Heading
Full name
Email
Address
Phone
Date picker
Appointment
Signature
Fill in the blanks
Product list
Short and long text
Paragraph
Dropdown
Single and multiple choice
Number
Image
File upload
Time
Captcha
Spinner
Submit
Input table
Star rating
Scale rating
Payment (PayPal, Stripe, Apple Pay, Google Pay, etc.)
Widgets (form calculation, image slider, YouTube, etc.)
In comparison, there are limited form elements available in SurveyMonkey. Only 12 are free, while the other 13 are paid. Here is a list of free elements:
Multiple choice
Checkboxes
Dropdown
Net promoter score
Image choice
Single textbox
Date/time
Text
Image
Intro page
New page
Page break
Here are the form elements in the premium plans:
Star rating
Matrix/rating scale
File upload
Ranking
Click map
Comment box
Slider
Payment (Stripe)
Matrix of dropdown menus
Multiple textboxes
Contact information
Text A/B test
Image A/B test
SurveyMonkey also has an advanced editor which provides many editing tools. While writing questions, you will see an editing toolbar on top of the text field. Here is a list of available editing tools:
Bold, underline, strike-through, and Italicize
Insert and edit links, images, and media
Change text color
Superscript
Align left, right, and center
Justify
Font family and size
Insert table
Bullet and numbered list
Winner: Jotform
Jotform vs. SurveyMonkey: Validations
I don't want to say that one is superior in terms of validation because both have slightly different purposes.
Jotform offers validations on most form options, whereas SurveyMonkey has validations for survey-related questions.
For example, you can add the following rules to a "short text" form element in Jotform:
Set the type of input (alphabetic, alphaNumeric, currency, cyrillic, email, numeric, or URL)
Limit the allowed characters
Input mask
SurveyMonkey offers many validations as well. For example, you can set the following validation rules for a "Single Textbox" form element:
Required
Character limit
Specific format validation (whole number, date, email, etc.)
Winner: Tie
Form submissions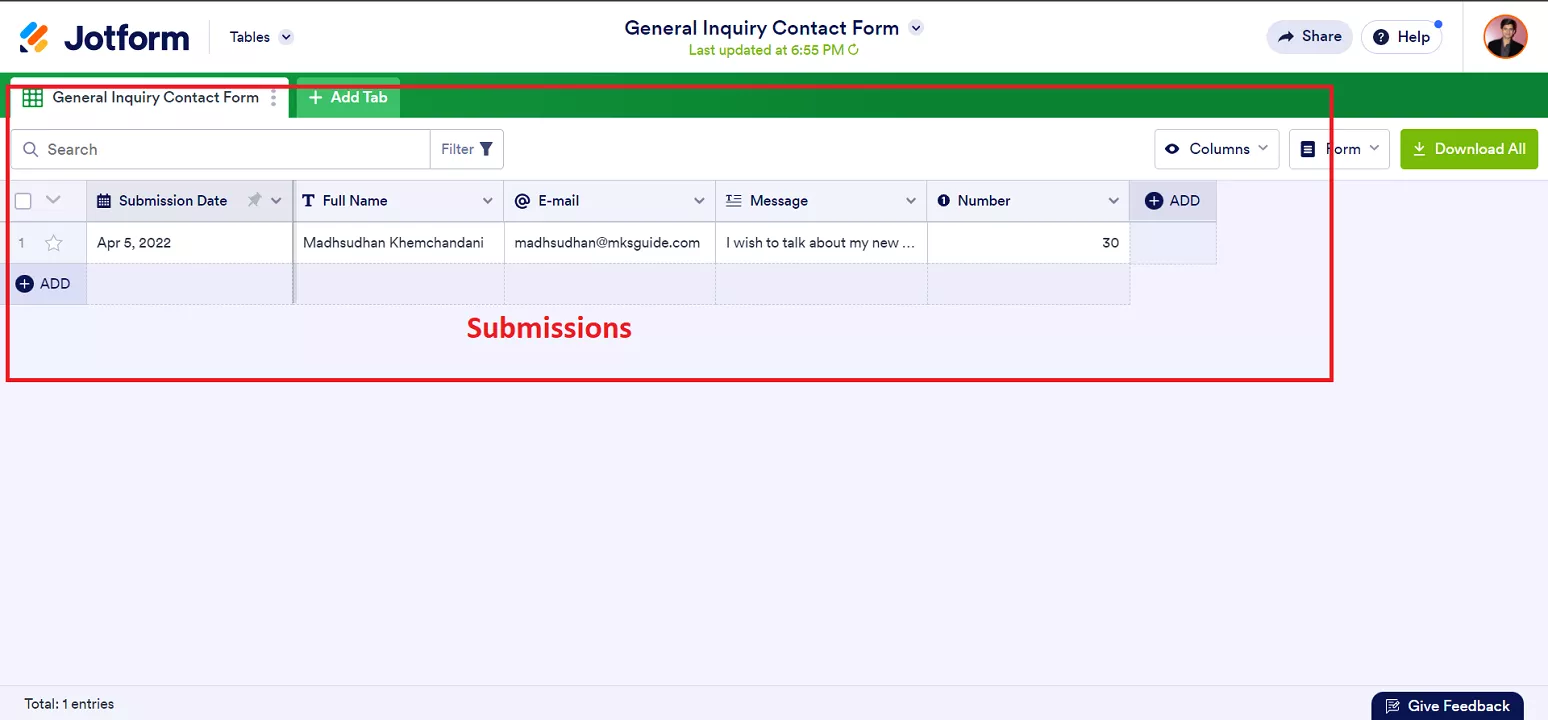 Form submissions and how responses are visualized are important factors. Both allow us to set whether the user should be allowed to view and edit submitted results or not.
The following user's permissions are available in Jotform form submissions:
Submit: Users cannot view or edit submitted responses
Submit and view later: Users can only view submitted responses
Submit and edit later: Users can view and edit responses
SurveyMonkey also allows us to configure the following settings related to user form submission. Here is the list:
Multiple responses (allow users to submit more than one response)
Response editing (allow users to edit responses after submission)
Instant results (show a summary of collected results to users)
When the instant results option is turned on, users will be taken to a page that shows a graphical summary of the options chosen by other users.
Response visualization
Both show the submissions in a list format. Jotform offers to click on each response and visualize it on a separate page.
SurveyMonkey also shows list submissions, but it has more options than its opponent. It categorizes the user responses in the following three sections:
Question summary: See all the responses of users to each question in graphical form
Insights and data trends: Provides information about total responses, completion rate, time spent, etc.
Individual responses: Responses concerning each user are available
Winner: SurveyMonkey
Related: Jotform vs. Google Forms
Templates
Jotform is a winner when it comes to using templates. There are 10,000+ online form templates. From store to table templates, you have several options.
On the other hand, SurveyMonkey has over 100+ templates, but only 20 are free to use. The templates are organized into academic, marketing, quiz, events, etc.
Winner: Jotform
Integrations
Both offer a wide range of services for integration. Jotform supports integration with 155 online apps, two desktop apps, and two apps for mobile devices.
On the Jotform integration page, you can see a list of all the supported integrations.
On the other hand, SurveyMonkey supports integrations, but only limited apps are available in the free plan.
Winner: Jotform
Form sharing options
In Jotform, we can share a form by giving people the URL or emailing them. In the email invitation, we can set the permission to Submit Only, Submit and View Later, or Submit and Edit Later.
Form access options are classified into three groups.
Private Form: The form is only available to those who have been invited
Public Form: Everyone has access to the form
Company Access: Access to individuals inside a company
The free plan of SurveyMonkey only offers to share forms through web links. Here is a list of available sharing methods in SurveyMonkey:
Web link (free)
QR code (paid)
Email (paid)
Website Embedding (paid)
Manual data entry (paid)
Facebook Messenger (paid)
SurveyMonkey also supports collaboration in the paid versions. You can share forms with team members and allow them to view or edit survey designs, collect results, etc.
Winner: Jotform
Related: Typeform vs. Jotform
Some extra options
Both Jotform and SurveyMonkey offer additional features. Jotform's most prominent feature is "Conditional logic."
Through conditional logic, we can perform several logical tasks based on user responses:
Show or hide the field
Update or calculate the field
Require, disable and set content mask
Skip to another page
Hide a page
Change Thank you message
In SurveyMonkey, one of the most useful free features is Question Bank. The module has a lot of suggested questions to add to our forms.
There are different categories for these built-in questions, such as community, customer feedback, demographics, education, market research, etc.
In paid versions, SurveyMonkey can add different logic to questions and pages. Here is a list of available logic:
Page skip logic
Page randomization
Question randomization
Block randomization
Quota
Custom variables
Winner: Tie
Pricing and plans
Jotform
Free plan
Jotform's free plan includes five form limitations, each with 100 fields, 100 monthly submissions, 100MB of storage, 1K monthly form views, and up to 10 payment submissions per month.
Bronze plan
The bronze plan costs $29 per month or $174 per year and enables you to create up to 25 forms, each with 250 fields.
Additionally, it includes 1GB of extra storage, 10K monthly form views, 10K submission response storage, and 100 monthly payment submissions.
Silver plan
The Silver plan, which costs $39 per month or $234 per year, enables you to create up to 50 forms with 500 fields each.
There's also 10GB of additional storage, 100K monthly form views, 25K submission response storage, and 250 monthly payment submissions.
Gold plan
The Gold plan is $99 per month ($594 yearly) and allows you to build up to 100 forms, each with up to 1K fields.
Aside from that, you get 100GB of extra storage, 1M monthly form views, 100K response storage, and 1000 monthly payment submissions.
Jotform will also remove its branding from forms when you upgrade to a paid plan. HIPAA (Health Insurance Portability and Accountability Act) compliance for the privacy and security of sensitive patient information is available in silver and gold plans.
SurveyMonkey
On the other hand, SurveyMonkey offers 2 Teams, three individuals, and one enterprise paid plan. You can find the details of each plan on the price page.
Individual Plans
The standard Monthly plan costs $35 per month. With this plan, you get access to an unlimited number of surveys and questions, 1K responses per month, a custom logo, data export in different formats, and the ability to implement skip logic.
The Advantage Annual plan costs $34 per month. This plan, other than providing all standard plan features, increases the yearly response limit to 15K and unlocks question and answer piping logic.
It also provides A/B testing, payment, and file upload features.
The Premier Annual plan costs $99 per month and provides the following features other than the Advantage Annual Plan features:
Click map data visualization
Unlimited filters, compared rules, and data trends
Advance branching
Team Plans
The team plans are suitable for team collaboration. The Team Advantage plan costs $25 per month and provides the following features:
Share survey for collaboration
Allow team members to analyze, filter, and export results
Integration with collaboration services
50K responses per year
Unlock many customization options and form elements
Unlock question and page skip logic
Export data in different formats
Accept Payments
The Team Premier plan costs $75 per month. In this plan, you get 100K responses per year, click map data visualization, access all logic tools, remove branding features, and get permission to create apps with direct API access along with all the Team Advantage plan features.
Jotform vs. SurveyMonkey: Websites
Conclusion
Both platforms make it easy to make forms, collect answers, and analyze responses. Jotform is an all-one-form service, whereas SurveyMonkey is specially designed for surveys and questions.
Both have pros and cons, which must be evaluated before investing in any program.