Without adequate security, it's undoubtedly that users' assets on the internet will be greatly exposed. Several antivirus clients protect your computer and the web you browse, and McAfee and Bitdefender are two of those. So, how both fight against malware and virus? The article explores McAfee vs. Bitdefender.
Quick comparison: McAfee vs. Bitdefender
| Feature | McAfee | Bitdefender |
| --- | --- | --- |
| Protection tests | 6/6 | 6/6 |
| Web protection | ✔ | ✔ |
| Scan time test | 8 hours (1.4 million files) | 1 hour (8 million) |
| VPN | ✔ | ✔ |
| Storage space | 1.2 GB | 600 MB |
| Initial price | $79.99 | $79.99 |
| Purchase | McAfee | Bitdefender |
Quick comparison table
Features
Both McAfee and Bitdefender have features that are unique from each other. These features facilitate the functioning capacity of either of the two. These are the features offered by each of the software:
McAfee
The

multiple scanning

option comes with quick, selectable, vulnerability, and full scan options.

Online security

is an extension to check for bad websites and pages

Web boost

can help you boost the web while browsing
The

Password manager

tool is for storing and generating passwords

App booster

is an option to boost apps' startup

Identity theft protection

Encrypted storage

is to save files away from everyone

VPN

is offered if auto-renew is turned on
The

Parental control

feature lets you take control of other devices
Bitdefender
Multiple scanning

system offers quick, full, selectable, and vulnerability scan options.

Optimization of performance

Microphone protection

checks if the microphone is being used

Webcam protection

checks if an app is using the webcam

Online security

is for protecting yourself while browsing the internet

Monitoring active applications

option is to make sure that none of the apps
The

password manager

feature is for storing and generating passwords

VPN

is offered in multiple plans

Safepay

is a browser for online transactions.
Protection tests
How do we determine that an antivirus is working? Well, thanks to AMTSO, we can test antiviruses againt six types of malware. Those tests include:
Malware download test
Unwanted applications test
Drive-by downloads check
Checking phishing webpages
Compressed file malware
Cloud-based connection test
We check both on all the above tests and see how both perform.
McAfee
From the video above, McAfee did a good job. In a couple of tests, it allowed the download of malware, but it quickly removed the virus as soon as I opened the folder.
Realted: McAfee vs. Kaspersky | The Antivirus Battle
Bitdefender
The opponent also performed excellently. It passed all the tests. It even removed the virus after forcing the browser to download it. Watch the video to see it in action.
System scan time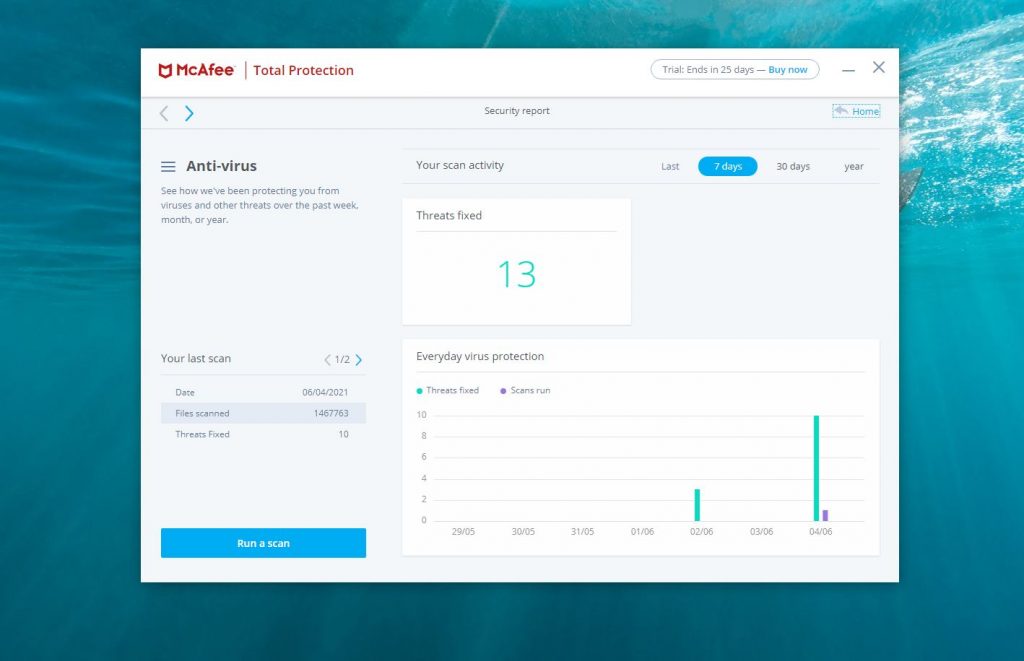 The next topic of McAfee vs. Bitdefender is the system scan time. McAfee has a bit of a bad reputation because it is slower. In McAfee vs. Kaspersky comparison, we saw something similar. Anyway, as I tested all antiviruses simultaneously, McAfee scanned 1.4 million files in about 8 hours.
Bitdifender, on the contrary, scanned over 8 million files, which is quite high and took around 1 hour to complete the scan.
Performance Impact
In this round, we will test the impact on the performance while scanning the system. Many factors contribute to the performance impact, so I will not conduct the test by myself. Instead, I'm using data from the AV-Test website where developers have already checked the performance.
Related: VyprVPN vs. Private Internet Access | A Battle of 6 Tests
According to the website, McAfee did not slow down the system while scanning. It recieved a total of 6 out of 6 score.
A similar score was found in the latest Bitdefender test. It got the same score. Hence, this round is a tie.
User interface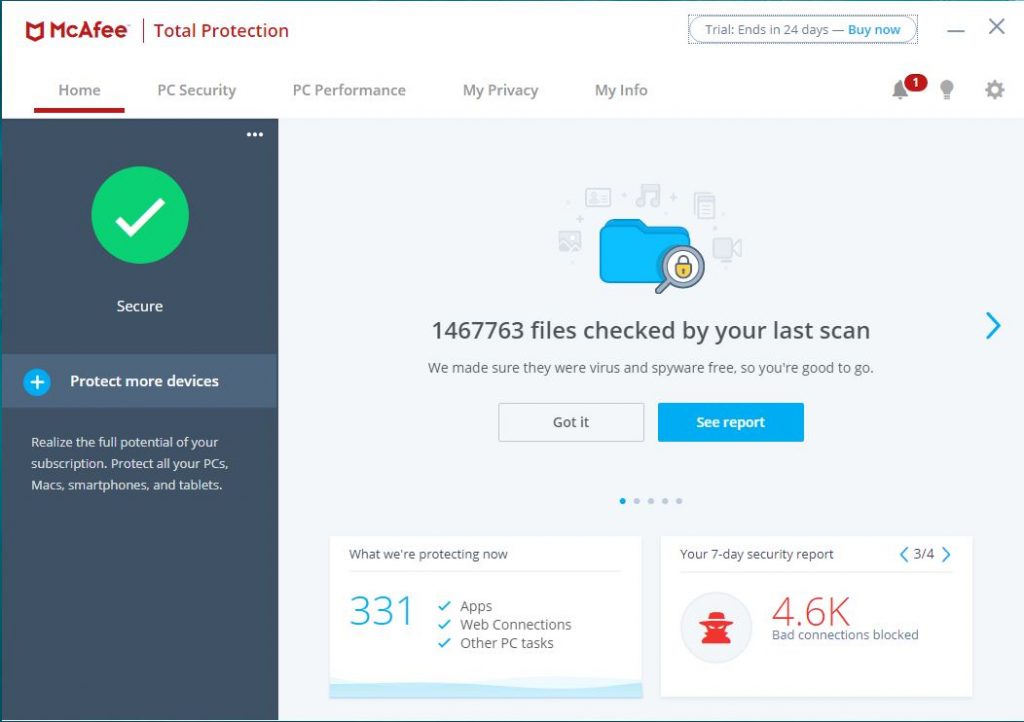 Both are fairly easy to navigate and use. McAfee comes with navigational tabs on the top, and you get data and updates on the first "home" tab. You can also manage your account and subscription in the app settings.
Bitdefender, on the other hand, comes with navigational tabs on the left. The main tab is "dashboard" where you can customise the tool to your needs. In each tab, you get different features to explore.
Pricing
As you can see, the prices of two software tools vary according to the devices one wants to protect. However, there is one thing that they have in common. Users are likely to get discounts for the subscription fee of the first year.
Also, they both offer free trials to users. The free trials last for 30days. It's important to check whether there are discounts for either of them while purchasing to take advantage of it.
The price depends on the number of devices that you would want to protect and the features of each product. Here is the breakdown of the pricing variation for the two depending on the number of devices.
The red colour suggests the opponent's same plan is cost-effective.
McAfee
1 device $79.99 annually

5 devices $99.99 annually

10 devices $119.99 annually

Unlimited devices $119 annually
Bitdefender
3 devices $79.99 annually

5 devices $89.99 annually

10 devices $149.99 annually

Unlimited devices $199.99
Which one should you choose?
The final section of McAfee vs. Bitdefender is about suggesting you the right antivirus. In terms of protection and performance, both did a great job. Bitdefender took less than to scan the whole system, and it is cost-effective. I will suggest choosing Bitdefender over McAfee in 2021.
Purchase
The bottom line
The bottom line is that both McAfee and Bitdefender are valuable when it comes to the protection of your computer from internet threats. You need them to make sure that you're well protected and that your sensitive files are safe.
They have unique features and pricing packages, which means that you have to choose the one that answers your needs well. Anyway, the article comes to an end. Let's discuss about the two in the comments and help others.