McAfee vs. Kaspersky: Among the pond of options for antivirus programs available in the market, it is always smart to try and test a few antivirus tools and weigh their pros and cons before buying one for your device.
There are over a billion pieces of malware out there. So you need a one-stop solution that fulfils all your requirements and provides maximum protection to your private information against hackers and intruders. Here's a comparison between McAfee and Kaspersky, both of which are brilliant security suites.
Both come with multiple software tools, but this comparison mainly focuses on the total security both offer.
McAfee vs Kaspersky: Quick comparison
| Features | McAfee | Kaspersky |
| --- | --- | --- |
| Protection test | 6/6 | 6/6 |
| Online protection | ✔ | ✔ |
| Performance | Great | Great |
| VPN | ✔ | ✔ |
| Scan time (hours) | 8 (1.4 million files) | 3 (4.1 million files) |
| Storage space | 1.2 GB | Unknown |
| Starting pricing | $34 (1 device) | $30 (3 PCs) |
| Website | McAfee | Kaspersky |
Quick comparison table
Features
The features of a product are the most important things to consider while choosing a product. Here are a few key features of both the antivirus products, McAfee and Kaspersky.
McAfee
The features marked by the different packages of McAfee are all the same, except for the difference between the number of devices covered by the package.
The two-way firewall:

gets updated for new malware several times in a single day.

File Lock:

module locks the desired files and allows only the user to access them.

Vulnerability Scanner:

scans your home network for any security threats.

McAfee Safekey:

the advanced password management system, stores your passwords in a digital vault and keeps this information away from malicious web addresses.

Network manager utility:

provides security to your Wi-Fi network from hackers.

Parental control:

helps the parents to keep an eye on their child's online presence and keep unwanted content away from them.

VPN:

is included if auto-renew is turned on.

PC Performance:

is a feature to boost apps' performance.

Web protection:

is an extension to check vulnerable websites and downloads.

Web boost:

is a feature to stop auto-playing videos and save battery and data.
Kaspersky
The free version of Kaspersky only protects the devices against malware and malicious websites. In addition to this, the free version scans the USB devices for malware. The advanced features are only incorporated in the paid version of Kaspersky.
5 types of protection:

5 types of virus scan available, namely full scan, quick scan, removable drive scan, selective scan, and vulnerability scan.

Anti-tracking:

feature of Kaspersky prevents tracking from ad agencies, web analytics and social networks.

PC cleanup:

tools such as privacy cleaner, PC cleaner, and unused data cleaner are available.

Silent mode:

enables you to mute the notifications when you don't want to be disturbed.

Multi-layer protection:

protects you against money-related fraud and keeps your information private when you are online.

VPN:

is bundled with all plans of Kaspersky antivirus.

Ad blocker:

is available in the upper plans.

File protection:

is offered in the upper hand plans.

Password manager:

is also available in the upper plans
Protection
Here is the main comparison part of McAfee vs. Kaspersky. In this round, we are doing six tests on both. Those tests include:
Downloading file manually
Unwanted applications
Drive-by downloads
Checking phishing sites/pages
Malware in compressed files
Cloud-based look system checkup
All those tests are performed on the AMTSO website, which allows verifying the protection level of your antivirus.
McAfee
The software was actually at its best. It passed all six tests. The video above shows each test and results.
Kaspersky
Let's more to Kaspersky. We are using the same tool to test the antivirus. Like McAfee, Kaspersky also passed all tests.
One difference I must mention is that Kaspersky blocks the download completely, while McAfee mostly allows downloading, but it quickly removes the virus. I don't see much of the difference, but it ultimately comes down to you.
Performace
Testing the performance of antivirus is a bit challenging because of many other programs running simultaneously. However, according to a performance test carried by AV-Test, McAfee did not interface with the system's performance, and it got a score of 6 out of 6.
Similar was found in the case of Kaspersky. The company reported that Kasperky also does not affect the system. The tool got the same score as McAfee.
The AV-Test Institute measures the impact by observing the computer speed while performing simple tasks such as copying files, downloading, installing the applications used regularly, and launching websites online.
Round review: This round is a tie
System scan
The next test is the system scan test. In this test, I will scan my entire PC and count the number of files and the time it takes for both to complete scanning.
Starting with McAfee, the tool does not show the total scan time, but it took about 8 hours to finish scanning from the manual counting method. The tool also found 1,467,763 files and found 13 threats. The reason it found those threats was because I tested it before Kaspersky.
Kaspersky, on the contrary, took 3 hours, while it scanned 4,185,425 files, which is more than double what McAfee scanned.
Round review: This round goes to Kaspersky
User interface
User-friendliness is another important factor to consider while choosing any software or program. The user interface of both the antivirus programs is straightforward and neatly organized in tabs.
The colour palette used in McAfee includes light blue, grey, and white colours, whereas the Kaspersky interface has shades of green and white, which are extremely subtle and appealing to the user's eyes. The user can easily navigate among the tabs to find the desired options.
Pricing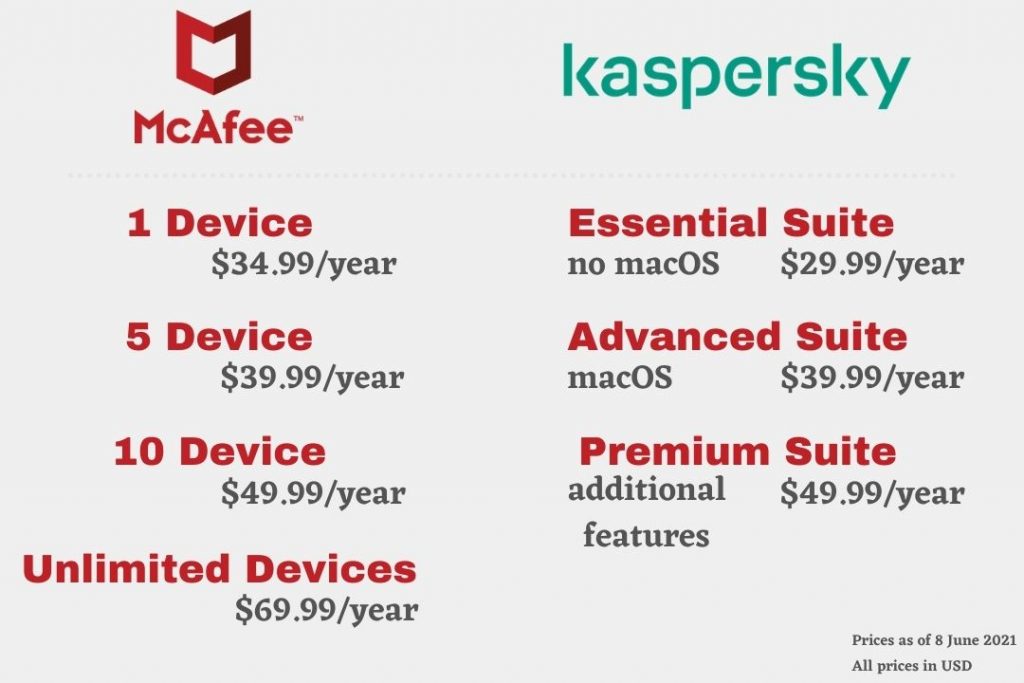 McAfee's Total Security package can be bought for $34.99 if you are buying one license. This can work on various types of devices like macOS, Windows, and phones.
On the other hand, the full coverage plan of Kaspersky costs $29.99 for three computers. However, that doesn't work on macOS or smartphones. If you want the protection for all three devices, you will pay around $39.99.
The family plan for McAfee costs $109.99 per year, whereas the Kaspersky family plan costs $149.99 per year. Therefore, it is noticeable that McAfee offers more reasonable protection against malware than Kaspersky.
Which one is for you?
Overall, McAfee is cost-effective if you only want to protect one computer. Kaspersky costs a little bit more, but you get protection for three devices.
Moving to tests, both did a good job, but Kaspersky was slightly more efficient than McAfee. Finally, MacAfee took 8 hours to finish scanning, while Kaspersky took less time and scanned more than twice the files.
Final choice: Kaspersky
Purchase
The verdict
In the battle between McAfee and Kaspersky, it is evident that McAfee is a better security suite than Kaspersky. McAfee offers slightly cheaper protection than Kaspersky, and the yearly rates are much lower and include unlimited devices.
McAfee's free version has a lot more features as compared to that of Kaspersky. It also caters to all the possible security requirements of home network users. Furthermore, McAfee has better customer reviews and market share than Kaspersky.
Anyway, here is the end of the McAfee vs. Kasperky article. I hope it was to your help. Let me know your views down below so that we can discuss them further.