Note-taking has become important in personal and professional life, but plenty of tools exist. Two of those are Nimbus Note and Evernote.
If you are looking for a fair Nimbus Note vs. Evernote comparison, this is the article you need to decide between the two.
What are both
Both Nimbus Note and Evernote are note-taking and collaboration tools. For teams, Nimbus Note will suit better because it offers collaboration features out of the box.
Individuals will benefit from Evernote because of its easy-to-use features.
Nimbus Note takes the block-based approach, adding blocks as you go. Evernote uses the traditional note-taking approach to add information row by row.
Both programs sync your data online, offering various options, including paragraphs, images, lists, etc.
Note-taking tools
Both have many helpful editing tools. Nimbus Note, as mentioned, uses blocks, and we find the below blocks to use:
Checklists
Numbered and bulleted lists
Tables
Insert image
Insert files
Headings
Font style, color, and size
Section breaks
Hyperlinks
Bookmarks
Code blocks
Mention members, pages, and dates
Quotes and hints
Toggle blocks
Outline
Embeds (link, iFrame, code, etc.)
Add buttons
When we type "/," the program shows all editing tools, and when we type "@," we can add workspaces, dates, folders, and other information to the notes.
Nimbus Note also supports responsive columns where you add blocks in each column and resize them as you like.
In Evernote, the top toolbar gives you access to all the tools. Here is the list of available options on the Evernote desktop:
Checklist
Numbered and a bulleted list
Insert Tasks
Calendar
Table
Divider
Attachments
Photo
Audio recording
Sketch
Code blocks
Google Drive files
Fonts, color, and text size
Highlight text
Hyperlinks
Text alignment and indent
Text strikethrough
Superscript and Subscript
We have fewer tools, but if we talk about formatting, Evernote offers more options than Nimbus Note.
The mobile app of Evernote has reduced options, but we find the essential ones.
Another battle: Nimbus Note or Notion
Nimbus Note vs. Evernote: Collaboration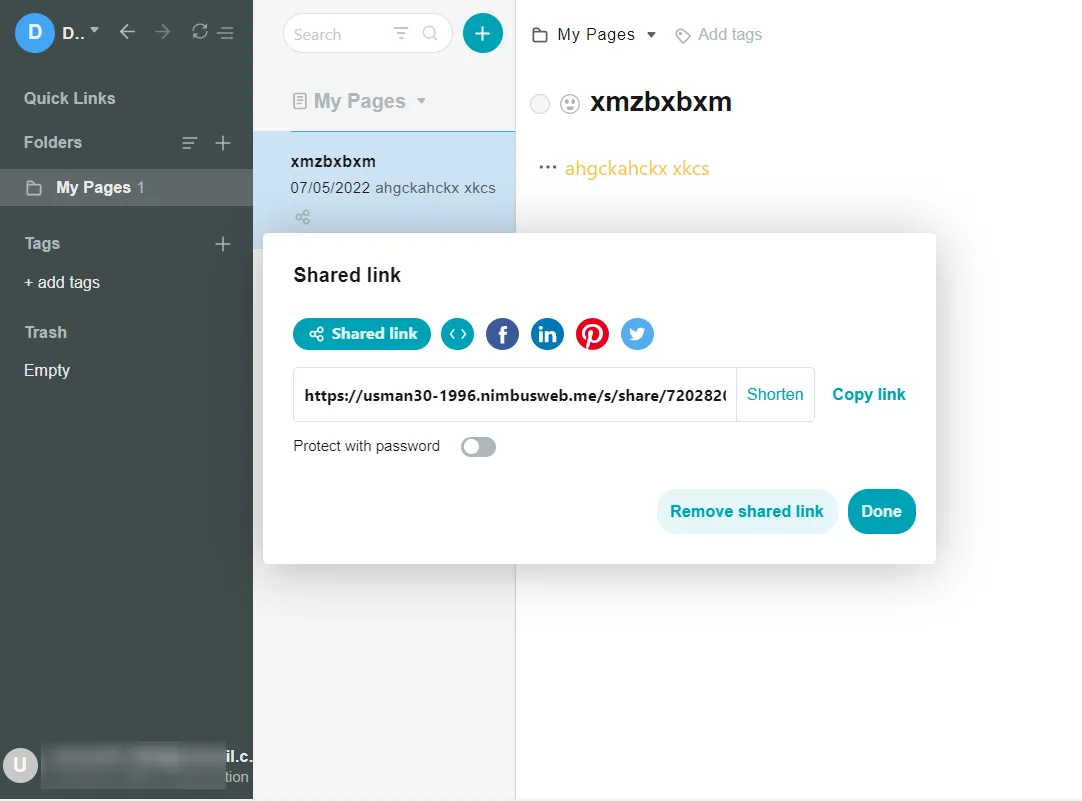 Individuals may not need to share notes, but collaboration is one of the crucial features for teams.
Thankfully, both support collaborations. In fact, Nimbus Note's main selling point is that it is a collaboration tool.
The tool gives us a way to share notes' links. You get a password protection option along with the public URL option.
Evernote, on the contrary, gives us two ways to share notes: sharing a link publically and inviting users via emails.
The program supports changing permissions from view to edit and edit and invite. The edit invite permission lets others invite other people to edit the note.
Platforms
You can use Evernote and Nimbus Note on all of the popular devices. Nimbus Note can be installed on macOS, Windows, iPad, Android, and iOS devices.
The web clipper browser extension is available on major browsers, including Chrome and Firefox. The extension can save text, images, links, emails, and PDF files from the web.
Evernote can be used on the same device types. It also has a web clipper extension to save articles, web pages, and screenshots directly to Evernote's platform.
Which one will win: Zoho Notebook against Evernote
Templates
Both come with a wide range of templates. Nimbus Note categories its templates in:
Holidays Planning
Personal
Designer
Student and more
Each category has templates to help you start working on projects.
Evernote also categorizes templates. You can select one after going to the templates page. Some of the popular templates of Evernote include meetings, project goals, weekly planning, etc.
Check out the best Evernote templates if interested.
Pricing and plans
The last section of Nimbus Note vs. Evernote is the pricing. The premium plans of both programs are subscription-based, so pay as long as you use them. Nimbus Note free plan gives you access to:
Unlimited devices and nested folders
30 notes or 1000 blocks limit
100 MB monthly upload limit
Integrations
Offline access on supported platforms
Public pages
5 minutes video/audio recording
The Pro plan extends the functions of the free plan and offers:
Unlimited notes
Unlimited Video/audio recording
Search in images and docs
File edit history
Weekly backups
Export to PDF
Password-protected public pages
It costs $5 per month per user on the annual plan or $7 monthly.
The upper-hand plan, Business, costs $7 monthly (paid annually) and offers branding, custom SMTP, automation, and other business-focused tools.
Evernote's free plan offers to sync notes on up to two devices, a 60 MB monthly file upload limit, and a 25 MB limit per note. Its Personal subscription costs $7.99 ($5.83 if paid yearly) and offers:
Unlimited devices
10 GB monthly upload limit
200 MB upload limit per note
Offline access
Note due dates, reminders, and notifications
The final plan, called Professional, costs $9.99 ($8.33 if paid annually) per month and gives you access to more storage, integration support, and all widgets.
Links
Conclusion
I believe Nimbus Note will suit you better if you are unsure what to choose. It offers individual and team options, free integrations, more upload limits, and offline access.
However, Nimbus Note allows only 30 notes for free, so after that, you must find another program or subscribe to one of the premium plans.
Here we end this Nimbus Note vs. Evernote article. Please use the comments box below if you have any questions.