Are you looking for an honest Premiere Pro vs. HitFilm Express comparison? If yes, then you are at the right place.
As you know, both are powerful video editing software in the market, and deciding the best is not going to be easy. The article talks about the features and pricing of both.
Introduction
HitFilm Express is a trimmed-down version of the HitFilm video editor for creating special graphic overlays.
On the other hand, Adobe Premiere Pro is a subscription-based video editing program widely used in the industry.
Premiere Pro vs. HitFilm Express
Now everything comes down to which software is better and offers plenty of features over others. We have researched specifications, costs, and other important aspects.
So without wasting any more time, let's jump on the part and see which one is better.
Ease of use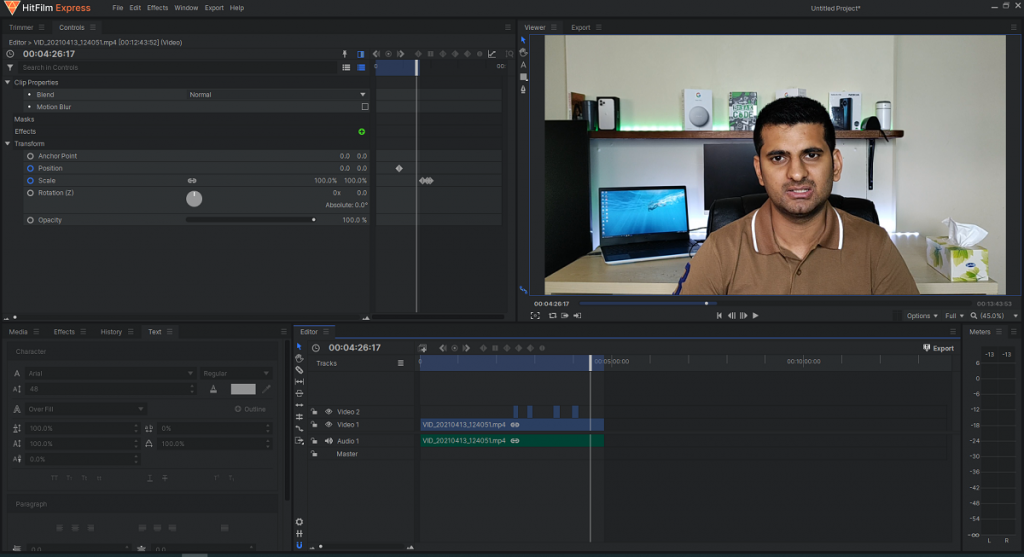 Both the software have a clean interface. But somehow, people find Hitfilm Express beginner-friendly.
Adobe Premiere Pro is quite difficult for a newbie or rookie as it is packed with advanced features; it might take you a while to understand it.
If you are a professional videographer or looking for advanced video editing tools in the future, you indeed give Adobe Premiere Pro. But if you are starting then, HitFilm Express should be your choice.
Related: Adobe Premiere Pro vs. Corel VideoStudio
Available options
One of the important things in most video editing software is its availability on other operating systems.
Regarding availability, HitFilm Express works smoothly on Windows and MAC. On the other hand, Adobe Premiere Pro also works on Windows and MAC.
Integrations
Integration with another software ease the whole process of working. Gladly both the software support Integrations.
HitFilm Express allows you to integrate with Boris FX and the Imagineer system. In comparison, you can integrate Adobe Premiere Pro with other Adobe products, such as Photoshop, Illustrator, and After Effects, and third-party tools such as Microsoft Teams.
Clearly, Premiere Pro has an advantage as many people use Microsoft Team and other Adobe products.
Features
There is no denying that Adobe's Premiere Pro is way much better than HitFilm Express when it comes to features. It is a tool packed with advanced features like VR audio editing, motion graphics, and much more.
Here are some of the tools available in both:
Multi-track editing
Text tool
Effects (some add-on in HitFilm)
Keyframes
Ripple edit
Edit history
Sequence management (powerful in Premiere Pro)
Adobe Premiere Pro comes with some other tools that you don't find in HitFilm. Those features include:
Legacy title
Built-in graphics titles
Advanced audio options
Many effects
Multiple projects editing
Team projects
Caption options
Markers
Stock sound effects and music from Adobe Stock (premium)
The tool uses Hollywood-grade video editing templates and graphics. In fact, many movies, such as Terminator, were edited and rendered in Premiere Pro.
In contrast, HitFilm Express is suitable for people who are creating videos for YouTube and all.
Imports and exports
Regarding the importing of content, both support popular file formats. As mentioned, Adobe Premiere Pro supports the other Adobe product's file formats as well. You can import files such as MP4, MKV, QuickTime, WMV, etc.
In terms of exporting, Premiere Pro gets the cake. The tool offers over 30 file formats. You also get options to select the quality under each format. So in total, you have over 100 options to select.
Related: Hitfilm Express vs. DaVinci Resolve
Languages supported
In this round, both the software are the same as they only support the English language.
Customer Support
Which software in Premiere Pro vs. HitFilm Express offers the best customer service?
Both tools offer incredible customer support, but HitFilm Express support is way better than Premiere Pro as it also provides email support.
At the same time, Adobe doesn't have email support. Both offer live chat and training support, though.
Pricing
Adobe's Premiere Pro costs $19.99/mo if you go with the annual plan. If you choose Premiere Pro and one extra creative cloud app, it will cost $39.98/mo for the annual plan.
Finally, the Creative Cloud subscription, which includes photography and videography tools, costs $50/mo for the yearly plan.
You can pay a yearly or monthly subscription to the software before using it. However, it doesn't offer a free version.
Whereas HitFilm Express is one step ahead in the price section and clearly a winner, it offers a free version too and charges a one-time fee for using the software. So, you don't have to worry about the monthly subscription fee.
The premium version of HitFilm Express, called HitFilm Pro, comes in different variations starting from $349 with 12 months of updates and support.
Also check out: Adobe Premiere Rush vs. Elements
Which one is for you?
However, we find that Adobe Premiere Pro is suitable for professional videographers, but for beginners, it is wise to go with HitFilm Express.
Other than this, while choosing any video editing tool, you need to keep things certain in your mind to help you pick the best one.
Always check what you're going to do with the help of the software. Are you using it for personal video or content creation for YouTube, Instagram, or making short movies?
If you know the purpose, it will be easier to decide. Adobe Premiere Pro is simply the greatest video editing software available, but it's pricey and could be too much for specific consumers.
It has many sophisticated features, but if you only need a simple video editing app, HitFilm Express is a good choice.
Further, another thing to know before making a purchase is the format of your original video file. Since not all editing systems support all file types, you'll want to make sure you choose one that does.
Higher-end software like Adobe Premiere Pro, for example, claims to allow video editing in any medium, like 8K and virtual reality. You can import any file you like and switch between formats as well.
On the other hand, most applications only allow editing up to 4K resolution.
Lastly, know your budget and go with software that meets your requirements, as it doesn't seem fair if you are putting a burden on your pocket when you can avoid buying the cheaper one.
Links
The bottom line
That's all! This is our take on the Premiere Pro vs. HitFilm Express. We know how daunting the process of comparing two software and deciding which one to buy can be.
Here we have done all the heavy lifting for you by comparing both. Now, you have to take the next step and choose your daily drive.