With the growing social media platforms, video editing has become more popular. But, how do you decide which program to use? Today, we are looking into Adobe Premiere Pro and Corel VideoStudio Pro. How do both stand? The article covers Adobe Premiere Pro vs. VideoStudio Pro.
What are both
Both are multi-track video editors allowing you to edit and export HD videos. From transition effects to text, both are packed with several options. Let's see the editing options both offer below.
Interface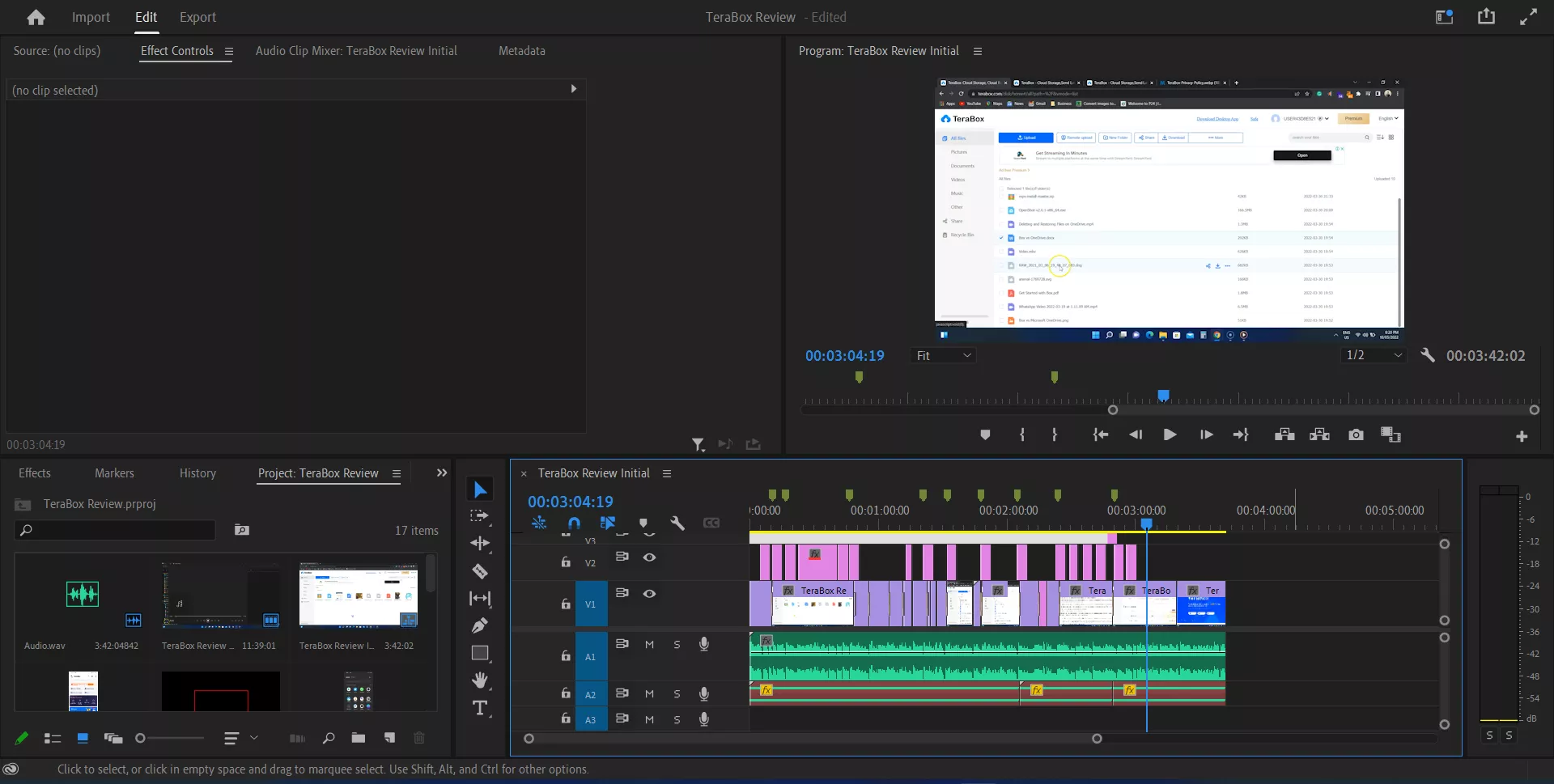 Both are confusing at first. Premiere Pro is more difficult to use because it has extended options. It provides workspaces, and in each workspace, related panels are visible.
For example, if you are in the graphics and captions workspace, you only see the related panels. Here are the available workspace options:
Learning: Tutorials and tricks to learn the tool
Assembly: Organise files and project
Editing: The primary workspace to edit videos
Color: Clip color adjustment
Effects: Cool effects for clips
Audio: Audio tools to enhance and reduce noise.
Graphics and captions: For graphic titles and captions
Review: To review the current project edited by someone else.
Libraries: Built-in libraries for quick creation
Metalogging: Optimise the project and editing workflow
Production: Manage complex projects
VideoStudio has an easy-to-follow interface with the video preview to the left, timeline down the bottom, and options to the right. The main interface of VideoStudio offers:
Home: Getting started and new features
Capture: Capture webcam or import from an external drive
Edit: The main interface to edit the project
Share: Export or share to social media sites
Editing options
Video options
Both offer plenty of video editing tools, including a multi-track timeline, copy, cut, edit clip, etc. Here is a list covering the same features in both:
Separate audio and video of a clip
Video masking (VideoStudio Ultimate)
Titles
Transitions
4K editing
Video stabilization
360-degree video editing
Ripple edit
Premiere Pro separates video and audio tracks. VideoStudio likes to keep tracks manageable. It comes with a video, overlay, title, voice, and music track with options to add more tracks.
The power of Premiere Pro is the keyframe feature. VideoStudio only offers keyframes for video masking and text effects (ultimate pack), whereas Premiere Pro has keyframes for audio, video, and almost all the options in the Effects panel. Take a look at the below table to see the unique options:
Premiere Pro
VideoStudio Pro
Team collaboration
Lock and unlock a track
Mute and unmute a track
Pen tool
Sequence management
Razor tool
Color grading
Motion paths
Lens correction
Screen recorder
Video editing tools comparison
Related: Filmora vs. Premiere Pro
Audio options
Premiere Pro wins this round because, along with the basic features, it comes with great audio editing tools:
Noise reduction
Modulation
Amplitude and compression
Time and pitch
Reverb
VideoStudio comes with audio speed, audio ducking, fade in and out, and audio filters to quickly adjust the audio quality.
There are pre-installed free music sound effects in VideoStudio. Premiere Pro connects with Adobe Stock, where you find thousands of music and effects, but most are premium.
Text options
There are three different ways to add text to the Premiere Pro project:
The text tool allows adding text with effects options
The graphics section comes with pre-animated texts to add to the video.
The legacy title option comes with the text tool.
You get tools such as text position, opacity, font, size, style, and more with all three. Most time-based tools support keyframes.
VideoStudio comes with many 2D and 3D text titles. You can drag and drop a text template to the timeline while double-clicking on it opens up the text editor window where you can edit the text and change its properties.
Related: Premiere Rush vs. Premiere Pro
Effects
Both have video, title, transition, and filter effects. Premiere Pro stores all effects in the effects section/workspace. You can search for an effect in the search bar.
VideoStudio also has the same effects, but the tool separates each into its section. You can preview an effect before adding it to the video.
Captions
Subtitles are one of the important factors these days. Both offer to manually write captions, but the option that only the advanced tool offer is the speech to text, which is available in both.
Ease of use
Overall, I feel that VideoStudio is easier to navigate and use. It comes with fewer tools, making it perfect for new content creators.
Premiere Pro is complex, and its tools can be overwhelming for a new user. To master Premiere Pro, you must go through sequence management, keyframes, and various effects.
Exporting
The next topic in Premiere Pro vs. VideoStudio Pro 2021 is the exporting screen. Both provide support for many popular formats. The table below compares all the available formats.
Premiere Pro
VideoStudio Pro
AAC Audio
AIFF
Animated GIF
Apple ProRes MFX OP1a
A5-10
AVI/AVI (Uncompressed)
BMP
DNxHR/DNxHD MXF OP1a
DPX
GIF
H.264
H.264 Blu-ray
HEVC (H.265)
JPEG
JPEG 2000 MXF OP1a
MP3
MPEG2
MPEG2 Blu-ray
MPEG2-DVD
MPEG4
MXF OP1a
Open EXR
P2 Movie
PNG
QuickTime Video
Targa
TIFF
Waveform Audio
Windows Media
Wraptor DCP

AVI
MPEG-2
AVC/H.264
MPEG-4
WMV
MOV
Audio
Premiere Pro vs. VideoStudio | Exporting options comparison
Each format comes with presets with different quality resolution options. So, you get more options than listed. Overall, Premiere Pro gets this round.
Platforms
Adobe Premiere Pro comes for Windows PC and macOS computers, whereas VideoStudio is only offered on Windows PC.
Pricing
There are pros and cons to going with each. With Premiere Pro, you pay a monthly fee that may feel cost-effective in the short term, but in the long run, it's expensive. On the positive side, you get updates and use new features.
The best thing about VideoStudio is it only costs a one-time fee, but you get the software in its current state. If you want to upgrade to a newer version, you pay almost the new version's price.
Take a look at the current prices in the image below. VideoStudio comes in two versions. Check out this PDF to compare the features of both.
Which one is right for you?
Premiere Pro brings all the complex tools you need to make complex video projects. However, the pricing may be a concern for some people. If you don't care about the pricing, Premiere Pro is the tool you require.
VideoStudio is budget-friendly, and it comes with many video editing tools. It lacks some complex tools, but if you need a tool to edit videos without advanced tools, VideoStudio is your collection's product.
Links
Wrap up
Having an ideal video editor is essential for a content creator. Whichever you choose, I'm sure that it won't disappoint you.
Anyway, here we end this Premiere Pro vs. VideoStudio Pro article. I hope it helped you pick the right one. Please share your views in the comments so we can discuss more.