Last updated: 1 July 2021
VPN has many benefits, but it is challenging to choose one. Here is the article comparing the two popular services: ProtonVPN and Private Internet Access (PIA). The article covers ProtonVPN vs. Private Internet Access.
ProtonVPN vs. PIA: Quick comparison
Feature
ProtonVPN
Private Internet Access
Servers
1254

35900+

Countries
55

77

Protocols
OpenVPN, IKEv2
OpenVPN, WireGuard
Streaming services
Over 20
Unknown
IP Address test
✔
✔
Wifi speed test
D: 30.3 Mbps
U: 17.0 Mbps
D: 33.1 Mbps
U: 34.2 Mbps
Mobile data speed test
D: 44.8 Mbps
U: 15.8 Mbps
D: 6.53 Mbps
U: 19.1 Mbps
DNS leak test
✔
✔
Wifi torrenting test
✔
✔
Mobile data torrenting test
✔
✔
Encryption
AES 256-bit
AES (128-256/GCM-CBC)
Simultaneous connections
10 (on plus)
10
Website
ProtonVPN
Private Internet Access
Quick comparison
Platforms
Both offer apps for common platforms. Private Internet Access does not offer an app for Chromebook, but it comes with browser extensions. Here is the table covering all the supported platforms.
ProtonVPN
Private Internet Access
Windows
macOS
Linux
Android
iOS
Android TV
Chromebook
Router
Windows
macOS
Linux
Android
iOS
Chrome
Firefox
Opera
Router
Android TV
Platform comparison
Servers
Total servers, their configuration, and protocols play an important role. ProtonVPN comes with 1254 servers in 55 countries. The number is minimal compared to the 35900 servers that Private Internet Access claims to offer. If we consider all the VPNs, this would be the highest number of servers a VPN offers.
Protocols
ProtonVPN comes with OpenVPN protocol, but you also get IKEv2 on mobile devices. Private Internet Access, on the other hand, comes with OpenVPN and WireGuard protocols. WireGuard is still new and has a lot to learn, but usage has proved that it runs faster than OpenVPN.
Related: ProtonVPN vs. ExpressVPN
Streaming support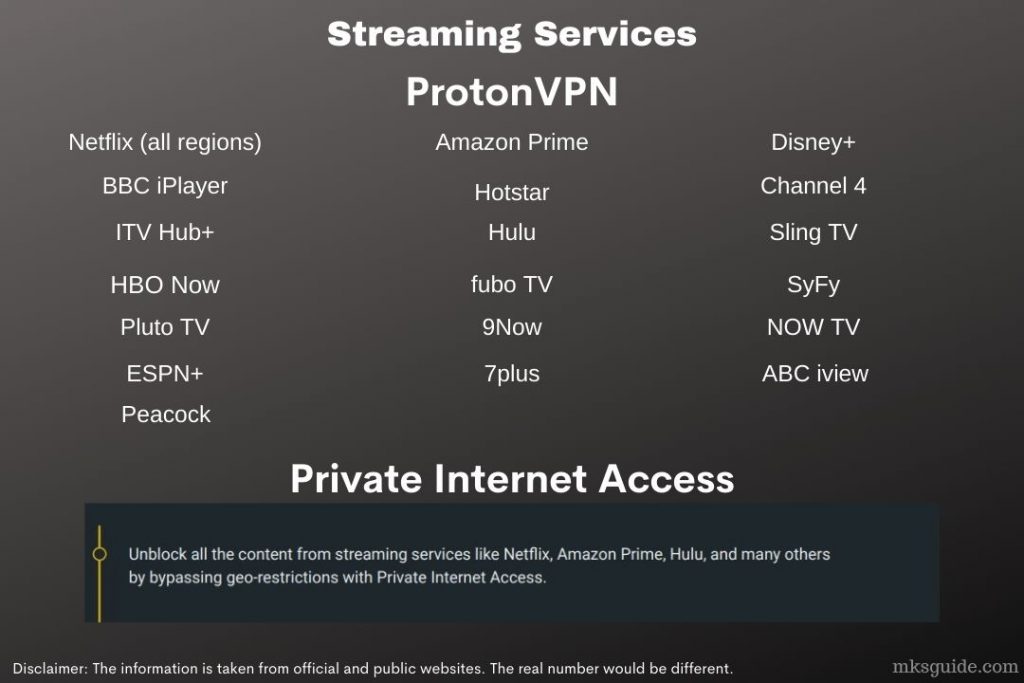 This is the tricky part because the Private Internet Access website does not mention any streaming services that the service supports, but in a company document, they have mentioned that the tool can unblock services like Netflix, Amazon Prime Video, Hulu, and many others.
ProtonVPN, on the contrary, supports quite many streaming services in multiple regions. They also have a dedicated section of tutorials to learn to unblock the supported streaming services.
Tests
IP Address test
The first test of ProtonVPN vs. Private Internet Access is the IP Address test. The test combines the IP Address and location tests. After connecting to the VPN, we check our IP Address and location. If the IP and the location match with the app's displayed IP and location, the VPN passes the test.
In this case, both did a good job of hiding the original IP and displaying the VPN server IP.
Wifi speed test
The wifi speed test goes to Private Internet Access. To perform this test, I connected both to a server in Sydney. ProtonVPN was almost as fast as Private Internet Access, but it could not cross the app. Private Internet Access was better in the upload test as well.
ProtonVPN
Private Internet Access
Download: 30.3 Mbps
Upload: 17.0 Mbps
Download: 33.1 Mbps
Upload: 34.2 Mbps
Wifi speed test comparison
Mobile data speed test
For the mobile data speed test, we do the same as wifi. As the automatic connection of ProtonVPN would have connected to my own city, it would not have been a fair test. So, I connected both to a server in Sydney.
Private Internet Access did not show the full potential in the download speed. It started good, but it couldn't get higher than 10 Mbps in the second half of the test. ProtonVPN performed as expected.
Take a look at the results table. The test also covers the speed test without VPN, but that's just for reference.
| Mode | Download speed | Upload speed |
| --- | --- | --- |
| Private Internet Access | 6.53 Mbps | 19.1 Mbps |
| ProtonVPN | 44.8 Mbps | 15.8 Mbps |
| No VPN | 77.2 Mbps | 33.5 Mbps |
Speed test comparison
Related: CyberGhost vs. ProtonVPN
DNS leak test
Domain Name System leak, also called DNS leak, happens if there is a leak in the VPN connection. We do a DNS leak test using the DNSLeakTest tool.
The test does a few checks and returns with all the IP(s) and the location(s) of the connection. If the IP and location are different from our VPN, there is a DNS leak.
After doing the test (above video), both showed only one server and IP, which is great, but the returned IP of Private Internet Access was slightly different than the displayed in the tool, but I don't think it should be an issue.
Related: NordVPN vs. CyberGhost (2021)
Wifi torrent test
Both support torrenting, and you get plenty of P2P optimised servers. I connected both to a server in Hong Kong and downloaded a file for 60 seconds.
I must say that Private Internet Access did a much better job than protonVPN. It took ProtonVPN some time to pick up, and still, it could not get to where I wanted it to see, but Private Internet Access started and stayed strong in the whole test.
| ProtonVPN | Private Internet Access |
| --- | --- |
| Max speed: 397 Kbps | Max speed: 3.1 Mbps |
Wifi torrent test
Mobile data torrent test
The last test in ProtonVPN vs. Private Internet Access is the torrent test on mobile data. Like the wifi test, Private Internet Acess performed better than ProtonVPN. So, if you want a VPN for torrenting, Private Internet Access is the tool to choose.
Private Internet Access contrarily started slow, but it picked up quickly. The table below covers the results from the video.
ProtonVPN
Private Internet Access
Max speed: 407 Kbps
Average speed: 200 Kbps
Max speed: 843 Kbps
Average speed: 400 Kbps
Mobile data torrenting speed comparison
Related: VyprVPN vs. ProtonVPN
Other tools
Common
Open Source: Both are open source.
No Logs: Both come with a no-log policy.
Ad-blocker: Both services come with an ad-blocker.
Kill switch: VPN blocks the internet when the connection drops.
Split tunneling: You get the support for split tunnelling.

Reports:

The tool offers transparency reports.
ProtonVPN
Audited:

The tool is independently audited.


Full Disk Encryption:

All servers are secured by full disk encryption.

Tor over VPN:

You get Tor support built-in.

Server load:

You get to see the server load on each server.
Secure Core: Allows connecting to multiple servers for entended protection.
Private Internet Access
Server speed:

See the speed of each server.

SOCKS5 Proxy:

The tool comes with SOCKS5 Proxy built-in.
Pricing
Undoubtedly ProtonVPN is expensive, but it comes in three different plans. The basic plan is alright, but you don't get the plus servers. The plus plan is what I would go with. Private Internet Access is cost-effective when you go with the yearly or the two-year plan.
Which one should you choose?
Other than a few sign-in issues, I'm satisfied with Private Internet Access. It was fast enough to compete with ProtonVPN. Security vice, both are well managed. You get good encryption with good speed.
The cost, in the end, changes many things. If you need a VPN for a month, ProtonVPN is for you, while Private Internet Access is for long term VPN users.
Purchase
The links below are affiliate, which means I will earn a small commission if you buy using one of those links.
Wrap up
The article ProtonVPN vs. Private Internet Access covered all the topics and tests to decide. I hope the information was helpful. Please share your opinion about both in the comments so we can discuss more.