Slack is one of the leading team communication platforms. It has all a company needs. Another program we have is Google Chat. The article Slack vs. Google Chat is an essential one to decide on your next communication app.
What are both
Slack is a team communication platform offering to create channels and set permissions to manage a company's communications. At the same time, Google Chat is a part of the Google Workspace program performing as a communication app. Both are free, but premium plans are available.
Features
Slack
Note to self: You can write a note to yourself to remind yourself how great you are.
Reminder: Of course, you can set reminders, but you can remind others by mentioning them in reminders.
Channel permissions: Advanced channel permissions to help managers manage the company.
Pin messages: In each channel or direct chat, you can pin and unpin messages.
Advanced search modifiers: Slack supports advanced search to find conversations quickly. You can also use the sign (*) to see more search results. For example, search for umb* will find all words containing umb.
Custom emojis: Slack allows adding images as custom emojis.
Thread: In a dynamic organization, finding messages and mentions are hard. This is where the thread feature comes into place. It's a section where all your mentions and the messages involved are displayed.
Slack connect: The feature lets you send messages to people outside of your organization.
Message scheduling: You can schedule messages in direct chats and channels.
Themes: It offers a few themes to change its colors.
Native desktop app: The program offers a native desktop application.
Google Chat
Google Workspace integration: Google Chat is nicely integrated with other Google Workspace apps. You also see Google Keep, Tasks, Calendar, and Contacts buttons on the web version.
Web-based app: Google Chat is not available as a native desktop app, but you can install it as a progressive web app (PWA).
Simple messaging app: Google Chat can be used as a simple messaging app like WhatsApp and Signal.
Similar options
Schedule meetings: Both support scheduling of events.
Mention: Both offer to mention other users.
Screen share: Both Slack and Google Chat (Google Meet) allow sharing of the computer screen.
Dark theme: The interface can be switched between light and dark modes.
Guests: Guests can be added to the organization.
Interface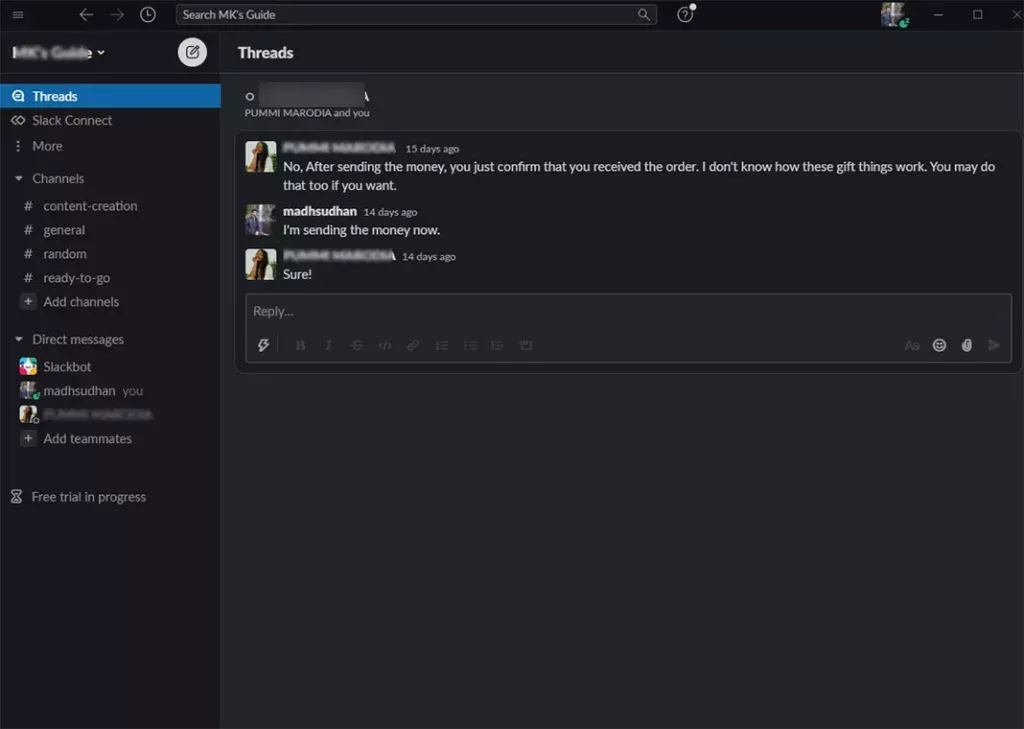 Slack is a little bit more complicated than Google Chat. The channels are to the left, and the chat space is in the center. A new window to the right opens up to see a conversation reply when you click on a conversation. The Slack mobile app uses a menu icon to navigate through channels.
Google Chat also leaves enormous space for chats. You have contacts, spaces, and Meet to the left, while to the right, you have the Google products (mentioned above).
Info: Google Chat is a part of Google Workspace, and I have covered Slack's comparison with Google Workspace.
Slack vs. Google Chat: Tools
Voice and video calling
Slack free allows calling to individual members. To make group calls, you must pay for one of the subscriptions. Google Chat, as mentioned above, uses Google Meet, and Google Meet is unrestricted to anyone for up to 100 people and 60 minutes. So, you can add up to a hundred participants and have one-hour meetings.
Channels
Channels give Slack its identity. Managers create channels and add particular people from the organization to communicate on specific tasks. For example, if there is a web development company, the channels can be:
Developers team
Managers team
Designing team
Projects
Review channel
Good news channel
Also, managers can set permissions to hide channels from certain users to talk on higher-level issues.
Google Chat has a Spaces feature to talk about specific issues. In each space, group chat can be enabled, and users from outside of the organization can be added. The feature, however, is not as advanced as channels on Slack.
Interested in Slack? Here are its comparisons: Slack and WhatsApp | Slack and Rocket.Chat
Integrations
Slack is a powerful platform supporting hundreds of third-party apps, including:
Gmail
Asana
Google Drive
Dropbox
Loom
Those integrations make Slack more powerful and allow you to automate your work. Furthermore, apps like Zapier allow it to become more powerful by enabling Slack to connect with apps not listed in its official directory.
Signing up
Slack requires an organization email, but anyone with any platform email can sign up, really. After the account has been created, you can send invitations to join.
Google Chat only accepts Gmail accounts because, well, it's a Google service. So, all users must have a Gmail account to use the service.
Pricing
Slack is a freemium platform offering free features that small to medium businesses can live on. There is no limit on team members and chatting, but you only have access to the last 10,000 messages, and you can install up to ten integrations. Moreover, the voice and video calls are limited to individuals.
It has two premium accounts: Pro and Business+. The Pro plan costs $8 per active user per month ($6.67 per month on the yearly plan) and removes the 10,000 and integration limit. You can also make video calls to 15 people and get extended file storage and security features.
The Business+ plan costs $15 per user ($12.5 if paid yearly) and comes with compliance features, a 99.9% uptime guarantee, and team management tools.
Let's discuss Google Chat now. If you are coming from one of the other Slack vs. Google Chat comparisons, the Google Chat pricing is wrong. In most articles, I found out that Google Chat is premium, but Google made this app free in 2020.
Google Workspace, however, which offers over 14 apps, costs $6 per user for its Basic plan supports:
Custom domain email (for site owners)
Video meetings of up to 100 people
30 GB cloud storage per user
The other two plans are Business Standard and Business Plus for larger companies.
Which one do you need?
One thing is for sure Slack is more powerful than Google Chat. Slack is a whole package, while Google Chat is a branch of Google Workspace.
Ultimately, it comes down to what you want to achieve. If you want a chatting platform, Google Chat is needed. If you want a more advanced tool supporting integrations and stuff, you should consider Slack.
Slack vs. Google Chat: Weblinks
Summary
Slack has over 12 million users, and the number has been growing every year. Google Chat is also increasing because of Google Workspace, as it has over 6 million paying customers (reported in 2020).
We are at the end of the Slack vs. Google Chat battle. I hope you found it helpful. Don't forget to leave your views in the comments and help others decide.