Last updated: 25 Mar 2021 | Reading time: 4.5 minutes
Slite and Notion are two new note-taking tools in the market. Both follow a different path, but the goal is the same. What makes them different? Which one should you be using? The blog post looks at both and covers Slite vs. Notion.
Platforms
Both are available for Windows PC, macOS, iOS, Android, and web. The web version of both supports all the major browsers.
While downloading Slite on Windows PC, the Windows Defender showed the warning that "its publisher does not sign the app". This should not be a significant issue, but the company should see this as a problem and fix it as quickly as possible. You can also read more about this warning on Microsoft Answers.
Interface
Slite mobile app comes with a friendly and sleek design. You get the home, add new and notifications at the bottom and options and chat at the top. Slite uses channels, and in each channel, you find notes. Slite is designed for teams, and the premium plan of Slite also focuses on the teams.
Notion contrarily comes with a nice and comfortable design. Both support the night mode, but you won't find the tool under Notion settings on devices that offer the dark mode, as the app uses the system's default in that case.
On the Notion mobile app, you find the search, notifications and add new note buttons at the bottom, whereas the search and options are up the top. The top-left menu handles pretty much all the global settings.
Tools
This is the round of Slite vs. Notion, where both are different. Take a look at the below table, which compares all the tools.
Slite
Notion
Heading 1
Heading 2
Heading 3
Checklist
Numbered list
Bullet List
File attachment
Bold
Italics
Underline
Highlight text
Strikethrough
Subscript
Superscript
Image
Code
Table
Hint
Separator
Link
Emoji
Date
Embed (videos and more)
Airtable link
Asana (integration)
Draw.io link
Figma Link (integration)
GitHub
Google Drive
Google Maps
InVision
Trello (integration)
Twitter
YouTube
Slack (integration)
Restore Deleted Pages
Heading 1
Heading 2
Heading 3
To-do List
Numbered List
Bullet List
Toggle List
Quote
Change text colour
Bold
Italics
Strikethrough
Highlight text
Divider
Link to Page
Callout
Page Mention
Date or Reminder
Inline Table
Inline Board
Inline List
Inline Calendar
Full Page Table
Full Page Board
Full Page Gallery
Full Page List
Full Page Calendar
Linked Database
Upload or Embed Image
Web Bookmark
Embed Video
Embed Audio
Code
Upload or Embed File
Embed Google Drive Files
Tweet
GitHub Gist
Embed Google Maps and seven other services
Table of Contents
Math Equation
Breadcrumbs
Restore Deleted Pages
Tools comparison
Both offer many tools, but Notion gets the cake here as it provides more than 30 block types to add to the note.
Related: OneNote vs Notion
How do both work?
Both are block-based services where you add new blocks as you go. Both can be used for complex pages, as you would see on sites such as Wikipedia.
Regarding the usage, Notion is more challenging to understand, as it is a multi-level app. For example, adding a full page calendar allows you to create a note each day and add blocks to that page.
Slite offers to mention users and comment on blocks, but it does add notes to blocks.
Both provide templates to inspire you, but Slite only offers four templates, whereas Notion comes with over 60.
Sharing and exporting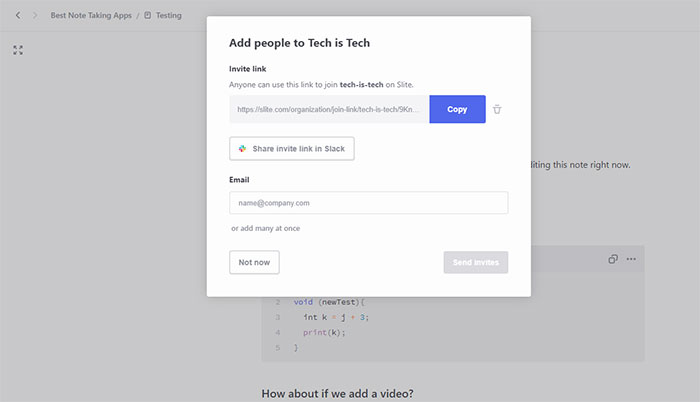 Regarding sharing, there are not many surprises. Both offer to share notes with anyone via a public link, and you can add members to collaborate. Both provide link access for the team members, but you need one paid plan to unlock certain features.
Both offer to export in PDF and Markdown sheet formats, but Notion also offers export in HTML documents.
Related: Samsung Notes vs. Google Keep
Other features
This round in Slite vs. Notion covers some of the other features which might make a difference.
Slite
History:

The service allows seeing a page's history for free.

Ping:

You can ping a team member.
Notion
Prevent editing:

The service offers to lock the page from further editing.

Text style:

You can change the text style.

Support:

The personal plan is free for students and educators.
Pricing
Both follow a different pricing model. The infographic below is all you need to compare the pricing and plans.
Which one is for you?
The answer to this question can be found in the plans and pricing. For teams, both are great because both programs offer unlimited team members to collaborate. A couple of elements where Slite beats Notion are the total storage and integrations.
Overall, both will work fine. If you want something more comfortable, then Slite is the way to go, or if you're going to make complex notes, then Notion.
Wrap up
The article Slite vs. Notion covered the essential topics. I hope the information on this page was useful. Please share your ultimate tool with us so everyone can choose wisely and subscribe to the newsletter for future updates.