Last updated: 17 Nov 2020 | Reading time: 4.5 minutes | Watching time: 15 seconds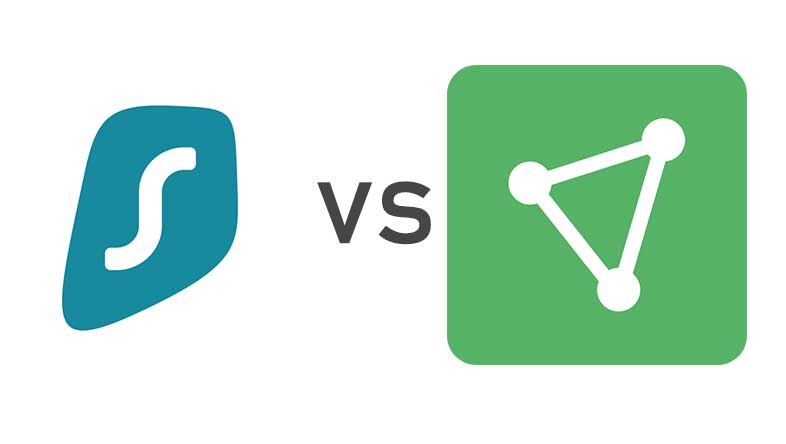 Two new VPN tools, Surfshark and ProtonVPN offer more features than half of the VPNs. What features are the same and what's missing? The blog post explores Surfshark vs ProtonVPN (2021).
Disclaimer: Even though the links below are an affiliate, I have never promoted a tool because of money. From the birth of this website, the true goal has always been providing 100% honest information.
Table of contents
Quick Surfshark vs. ProtonVPN
Short on time? The below table will give you enough idea about the two. For the detailed comparison, read the post.
| Feature | Surfshark | ProtonVPN |
| --- | --- | --- |
| Servers | 1700+ (full list) | 1077 (full list) |
| No. of countries | 63 | 54 |
| Location test | ✔ | ✔ |
| Speed test | D: 43.8 | U: 11.7 | D: 41.6 | U: 14.2 |
| DNS leak protection | ✔ | ✔ |
| P2P test | ✔ | ✔ |
| 256-Bit Encryption | ✔ | ✔ |
| Dedicated IP | ❌ | ✔ |
| Max devices | Unlimited | Plan dependent |
| Free plan | ❌ | ✔ |
| Website | Surfshark | ProtonVPN |
Platforms
Surfshark
ProtonVPN
Windows
macOS
Linux
iOS
Android
Chrome
Firefox
FireTV, AppleTV, and other smart TVs
Playstation
Xbox
Windows
macOS
Linux
iOS
Android
Apart from that, Surfshark provides the router level VPN connection. Altogether, Surfshark is supported on more platforms than ProtonVPN.
Winner: Surfshark VPN | Score: Surfshark: 1 and ProtonVPN: 0
Locations and servers
Regarding the location and servers, Surfshark gets the win. The tool offers over 1700 servers in 63 countries as of writing this blog post. ProtonVPN contrarily supports 809 servers in 54 countries. Both offer servers in countries, including the US, UK, Australia, Canada, Finland, and India.
The full list of Surfshark and ProtonVPN is available on the official website. Surfshark offers Camouflage Mode, Kill Switch, and IPSec/IKv2, while ProtonVPN offers Tor Over VPN, which is helpful while using public Wi-Fi.
Winner: Surfshark VPN | Score: Surfshark: 3 and ProtonVPN: 1
Related: Surfshark VPN vs. ExpressVPN | Tests and Features (2021)
Location test
A VPN's location changes when it changes your IP Address to the desired server. The above video tests capabilities of both by connecting Surfshark to a server in Finland and ProtonVPN to a server in Germany. I also connected both to servers in other countries, and every time, both successfully listened to the request.
| Location | Surfshark VPN | ProtonVPN |
| --- | --- | --- |
| Berlin, Germany | ✔ | ✔ |
| Helsinki, Finland | ✔ | ✔ |
| Sydney, Australia | ✔ | ✔ |
| Switzerland | ✔ | ✔ |
Winner: Tie | Score: Surfshark: 4 and ProtonVPN: 2
Speed test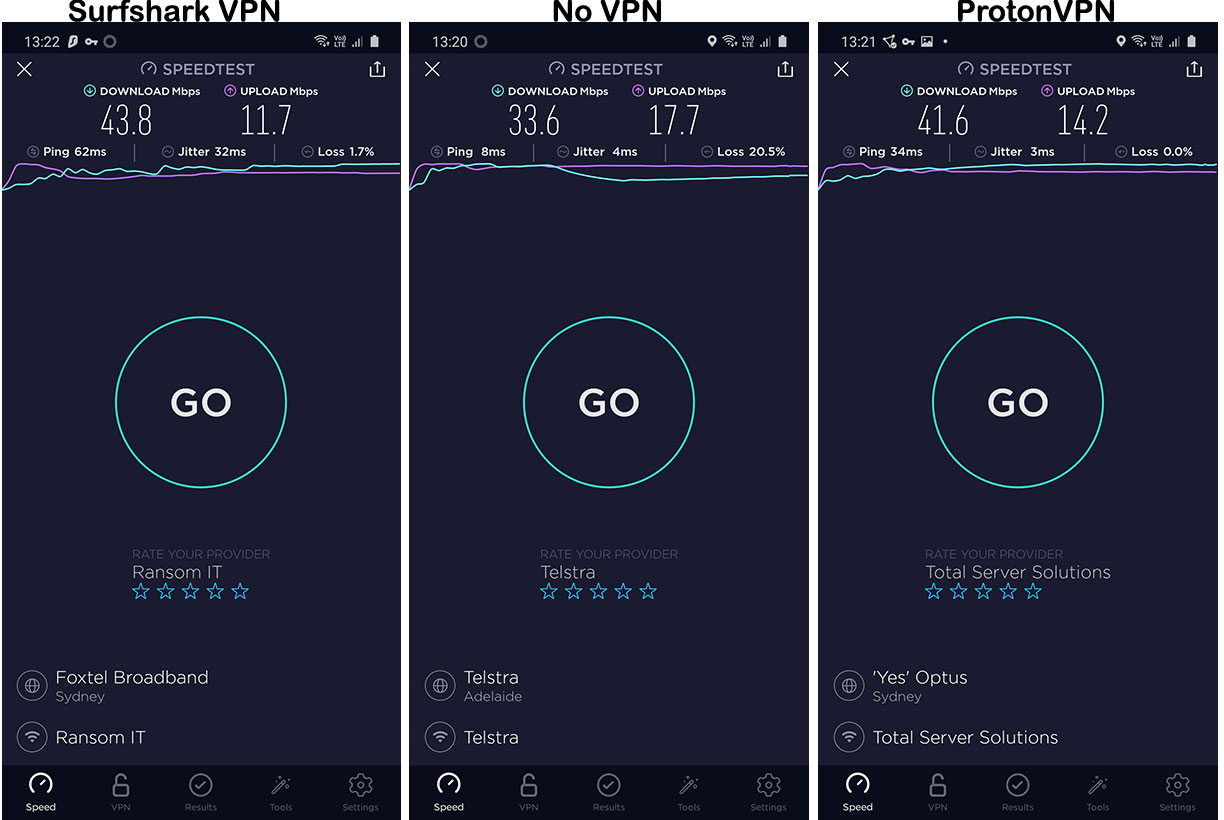 How was the speed tested? Both offer an option to connect to the fastest server, but I did not choose that option, because one VPN might choose a server in a different city or even a country. Thankfully, both offer servers in Sydney, which is about 1160 km (721 m) from Adelaide.
The screenshot in the middle shows the speed without the VPN. It's astonishing to see that the download speed of both the VPNs was faster than the normal speed. Surfshark was faster than ProtonVPN regarding downloading, while for upload speed, the opponent was the winner.
Winner: Tie | Score: Surfshark: 5 and ProtonVPN: 3
DNS leak test
While using a VPN, DNS leak shows if there is a leak in the traffic flowing from your device to the VPN server. If a DNS leak happens, the sources can track your data. The test was conducted by using DNSLeakTest website, and it showed no leaks after connecting to a server in Canada. In the results, as you can see that there is only one IP Address on both sides of the image.
Winner: Tie | Score: Surfshark: 6 and ProtonVPN: 4
P2P test
The peer-to-peer (P2P) protocol is responsible for torrent downloading. As it has already been discussed that all the servers Surfshark offers are P2P friendly, and on the tests, the downloading speed was promising every time.
ProtonVPN also supports P2P. I could not find which servers are supported and which aren't on the official website, but being a regular user in Australia, ProtonVPN has never disappointed me. I believe if not all, then most of the ProtonVPN servers are P2P optimised.
Winner: Tie | Score: Surfshark: 7 and ProtonVPN: 5
Other
The last round in Surfshark vs. ProtonVPN explores some of the unique features both offer.
Similar
Both use 256-Bit encryption, which is the strongest a VPN can offer.
You get a strict log-free service.
Both allow watching other nations' Netflix.
Both offer a multi-region connection. Surfshark calls the feature MultiHop and ProtonVPN calls it Secure Core.
You can see the load on each server while connecting.
Surfshark
The service offers to connect to unlimited devices per account.
It offers Whitelister and ad-block features.
You get a 30 days money-back guarantee.
ProtonVPN
Tor over VPN is a unique feature. The feature offers extra protection for users using Tor browsers. Read more about Tor Over VPN.
Compared to Surfshark, ProtonVPN connects quickly, and it always connects (user experience tests).
The service is Swiss-based, and Switzerland has some of the strict user laws in the world.
Winner: Tie | Score: Surfshark: 8 and ProtonVPN: 6
Related: Safe Watch for Popcorn Time Review & Tests | Is it Safe?
Pricing
Surfshark is cost-effective, but ProtonVPN offers a free plan to enjoy the medium speed and connect to a few servers in three countries. You can't use ProtonVPN free plan for torrenting though.
The visionary plan of ProtonVPN is expensive because it also offers the ProtonMail Visionary subscription. The best feature a VPN can offer is unlimited devices, so you and your many friends can enjoy the VPN on one account. The prices are as of 17th of November 2020. Check out the full price list on Surfshark and ProtonVPN websites.
Which one should you choose?
The only thing you will miss on ProtonVPN is the fewer numbers servers, and it supports fewer platforms. In Surfshark VPN vs. ProtonVPN, most of the rounds were a tie.
Surfshark VPN does not offer any trial, but their customer service is good. I purchased the service to test, but I contacted them about some free trial as well, and they offered me a three months trial to test the service and refunded me the money. Read the response they emailed me here.
Overall, if you don't use the VPN for P2P and want to change your location and encrypt your data, then a ProtonVPNs free plan would do the job. Of course, the speed won't be maximum.

Try
Summary
Surfshark vs. ProtonVPN covered the most important features. Thanks for reading. I hope the blog post was helpful. What do you think of both? Which VPN do you use? Please share your views in the comments below so everyone can choose the right VPN client.