Last updated: 13 Sept 2020 | Reading time: 5 minutes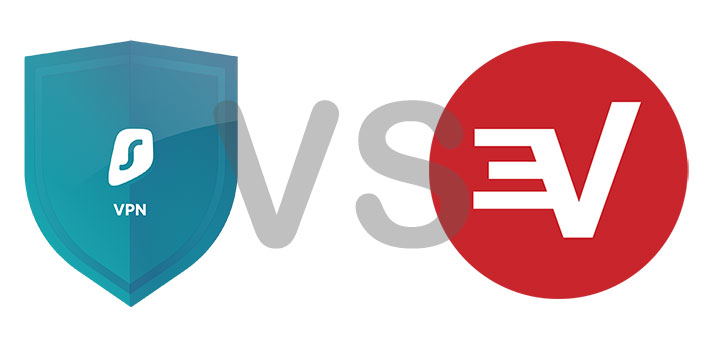 The fight between the two VPNs is always interesting. Surfshark is a new VPN client which comes with quite a few tools. ExpressVPN, on the other hand, is an experienced VPN service. The blog post explores both and covers Surfshark vs. ExpressVPN (2020).
Table of contents
Platforms
Surfshark supports popular devices, while ExpressVPN can be installed on more than fifteen platforms, but due to the limit on devices, only five devices can connect to the VPN server simultaneously.
Surfshark
ExpressVPN
Windows
macOS
Linux
iOS
Android
Chrome (extension)
Firefox (extension)
FireTV, AppleTV, and other smart TVs
Xbox
Playstation
Windows
macOS
Linux
iOS
Android
Chromebook
Nook
Kindle Fire
Chrome (extension)
Firefox (extension)
FireTV, Apple TV, Samsung Smart TV, and other smart TVs
Xbox
Playstation
Nintendo Switch
Other than above, both offer the router level VPN connection, while ExpressVPN also provides the manual setup for Roku and Nvidia Shield. Overall, Express VPN supports more platforms than Surfshark.
Winner: ExpressVPN | Score: Surfshark: 0 and ExpressVPN: 1
Locations and servers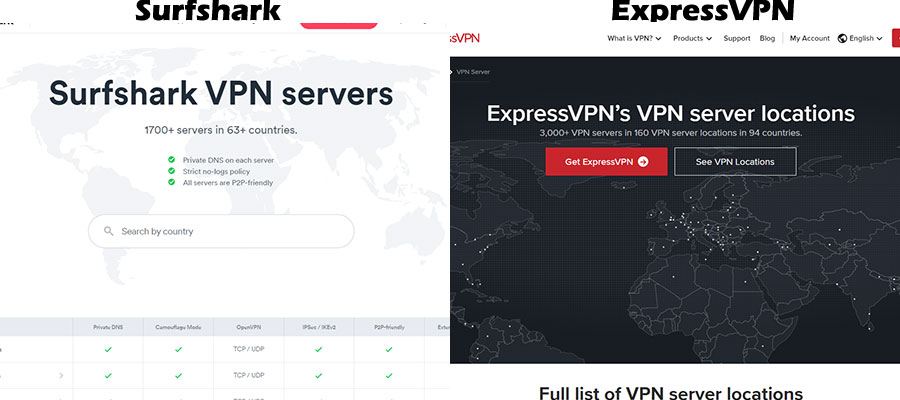 Starting with Surfshark, the VPN comes with over 1700 servers in over 63 countries. The server list on their website shows all the nations, servers, and features. The fabulous thing is the VPN offers IPSec/IKEv2 and P2P optimised servers in all the supported countries. It provides the MultiHop feature, which connects to a different location first and then to the desired location, increasing privacy and security.
Meanwhile, ExpressVPN runs over 3000 servers in 160 locations (not cities) in 94 countries. The full list of the servers shows all the locations. Compared to Surfshark, this tool supports more servers, but many of the servers lack some of the features such as IPSec, IKEv2, P2P, and PPTP.
Winner: Surfshark | Score: Surfshark: 1 and ExpressVPN: 1
Related: ProtonVPN vs ExpressVPN – Honest Comparison (2020)
Location test
The first test in SxpressVPN vs. Surfshark is the location test. In this test, I checked to see if both public IP Address is different, and the tool What is My IP Address shows the location of the server. The primary is also a concern, but both use 256-bit encryption level, which is the highest a VPN can offer. Anyway, take a look at the results.
| Location | Surfshark | ExpressVPN |
| --- | --- | --- |
| Atlanta, US | ✔ | ✔ |
| Frankfurt, Germany | ✔ | ✔ |
| Sydney, Australia | ✔ | ✔ |
| Switzerland | ✔ | ✔ |
The location test is the most basic, and even the free VPNs always pass.
Winner: Tie | Score: Surfshark: 2 and ExpressVPN: 2
---
---
Speed test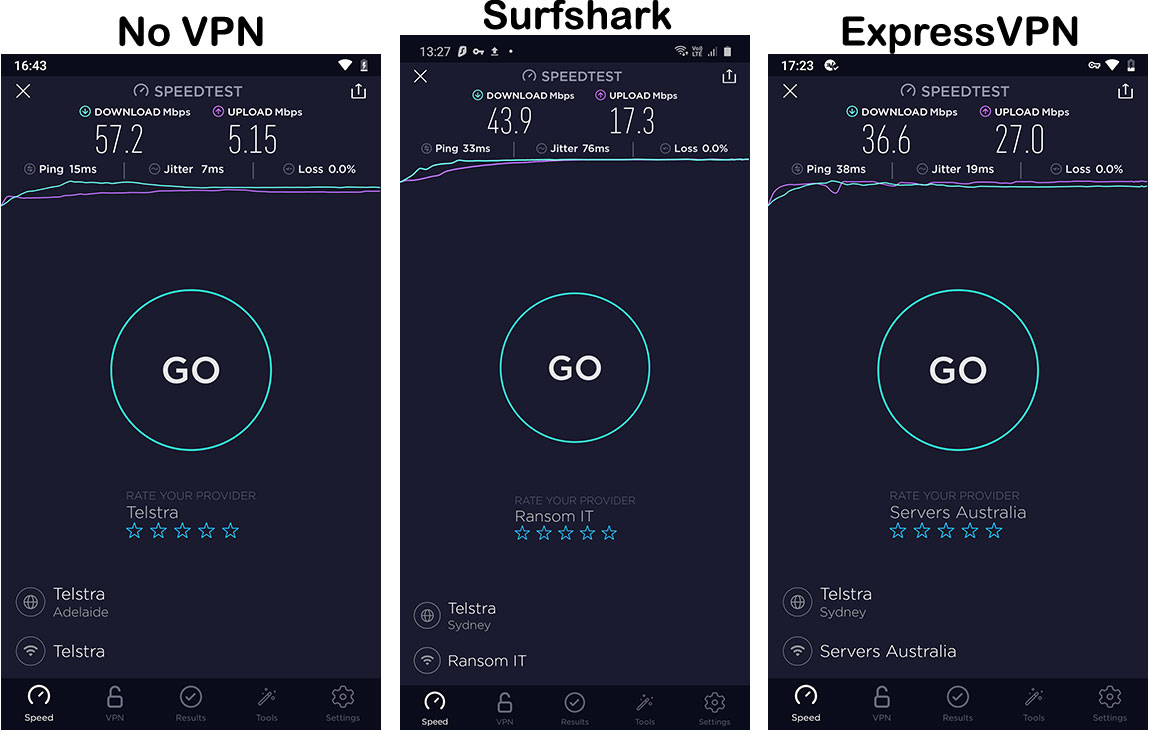 By connecting a server is the same city, I took the speed test after connecting my cell phone to the same Wi-fi connection. The tool used was the Speed Test. Compared to the actual download speed (left image), both compromised the speed a bit. Surfshark showed the positive results in terms of the download, while ExpressVPN was faster regarding the upload. Overall, the download speed is more important, but we will tie this round just to be fair.
Winner: Tie | Score: Surfshark: 3 and ExpressVPN: 3
DNS leak test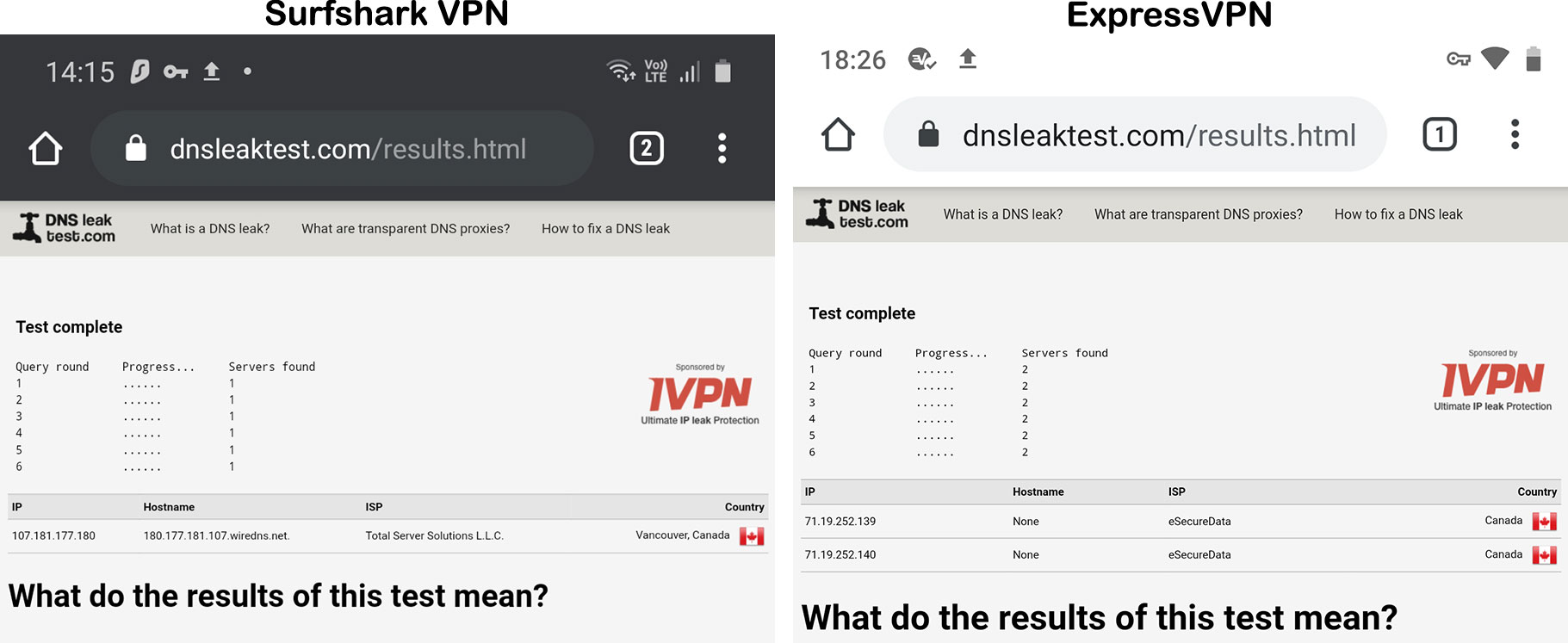 What is DNS leak? According to DNSLeakTest.com, while using a VPN, DNS leak shows if there is a leak in the traffic travelling from your computer to the VPN server. If a DNS leak happens, hackers and other sources can track your data.
While connecting to a server in Canada, Surfshark successfully passed the test, but ExpressVPN showed two servers with two different IP Addresses. Should you be concerned? I don't believe so, because both servers were from ExpressVPN.
Winner: Tie | Score: Surfshark: 4 and ExpressVPN: 3
P2P test
P2P also called Peer-to-Peer, is the torrent protocol. Torrenting is one of the primary reasons people use a VPN. As we have already discussed that Surfshark VPN's all servers support P2P and ExpressVPN offers many P2P optimised servers the test will check the speed and responsiveness. The results below are after downloading the same video at the same time.
Video info
Surfshark
ExpressVPN
2014 movie with 9/23 peers
Max speed: About 2400 kbps
Downloaded: Yes
Max speed: 1800 kbps
Downloaded: Yes
2019 film with 24/52 peers
Max speed: About 2900 kbps
Downloaded: Yes
Max speed: About 2600 kbps
Downloaded: Yes
The only issue while connecting to a P2P friendly server with ExpressVPN is that you need to filter in the app so that the app can only connect to the recommended server.
Winner: Surfshark | Score: Surfshark: 5 and ExpressVPN: 3
Related: 8 Best VPNs for Popcorn Time in 2020 – Free and Paid
Other
This round of Surfshark vs. ExpressVPN covers some other features which might make a difference.
Surfshark
ExpressVPN

Unlimited devices per account
Private DNS on all the servers
Whitelister feature
Allows watching other nations' Netflix
Uses AES-256-GCM encryption

Allows watching US Netflix
Uses AES-256 encryption

Log free service
30 days money-back guarantee
Winner: Surfshark | Score: Surfshark: 6 and ExpressVPN: 3
Which one should you choose?
Well, looking at the overall comparison, there is no doubt that you should try Surfshark. The service is cheaper 👇 on the 2-year plan, and it offers more features than ExpressVPN. Regarding the score, Surfshark leads by 2 points.
---
Final choice -> Surfshark VPN
---
Pricing
Overall, if you look at the pricing, Surfshark is cost-effective. The prices are as of April 19, 2020.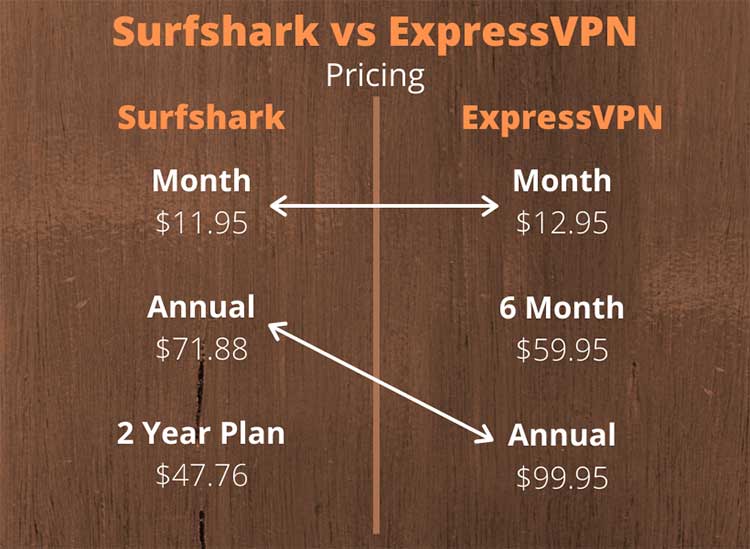 Summary
Surfshark vs. ExpressVPN covered the essential topics. I hope the information was helpful. Please share your views about both in the comments down below so we can talk more. You can also subscribe to the newsletter for future updates.