SurveyMonkey is a popular survey-collecting app, and Google Forms is a form builder used for general purposes.
Which one is for you? Let's deep dive into the SurveyMonkey vs. Google Forms comparison and help you decide.
What are both
SurveyMonkey is mainly used to conduct surveys. However, it can be used for other purposes in the right hands.
It supports showing all questions on a single page, one question per page, and conversation-type surveys.
With over $218 million in revenue, the app has found its place in the online world.
Google Forms is for contact forms, surveys, polls, and other basic options, but it lacks advanced features making it limited in some ways.
Both offer templates for specific forms and intuitive tools to analyze data.
Supported form fields
Survey Monkey has 25 question types for building surveys, but most premium ones are only available in the paid plans. Some premium question types include:
Payment method integrations
Star rating
Personal Information section
Comment box
Rating scale in a grid layout
File attachments
Multiple input fields for a single question
Slider
Rank options
Multiple dropdowns in a grid layout
Google Forms, on the contrary, brings the basic types from text to time to file attachments. Here is the full list:
Linear scale
Paragraph (long-text)
Short text questions (emails, URLs, and more)
File upload
Check box
Grid layout of multiple choices
Grid layout of checkboxes
Insert video link
Time
Multiple choice
Date
Dropdown menu
Insert image
Building forms
SurveyMonkey has a Question Bank feature that suggests questions as you type.
For example, if you type "what is your email," it will suggest questions, and picking one will automatically adjust the form field. The process makes building surveys quicker.
Google Forms does not have a similar option, but it automatically selects the answer type based on the question.
Related: SurveyMonkey vs. Microsoft Forms
Form settings
Both allow us to configure form submission settings and impose restrictions. In SurveyMonkey, the following options are available:
Allow anonymous users to fill out forms
Set the start and end times for submitting the form
Enable/disable multiple response submission
Let people edit their answers
Enable instant results to show a summary of the submitted responses of other users
Limit the number of responses collected
Contrarily, the following form settings are available in Google Forms:
Gather the email addresses of the respondents
Send the submitted form copy to users
Turn on and off responsibility collection
Customized error message on turning off the repose collection
Enable/disable multiple responses
Show the progress bar
Email notification on a response submission
A custom thank you message
Allow users to edit responses after submission
Enable quiz mode to set correct answers and assign marks to questions
Question validations
Google Forms is better when it comes to validating questions. SurveyMonkey allows you to validate "single text" questions to accept responses in number, text, date, or email format.
You can also set maximum and minimum character limit restrictions on "essay" questions. It doesn't offer regular expression validation.
Google Forms lets you put restrictions on user answers in various ways.
For instance, "short answer" validation offers numbers, text, email, and specific patterns using regular expressions.
Question logic
Both are limited when it comes to logic in forms. SurveyMonkey's free plan logic is not great.
You can finish surveys, disqualify the responder, or go to a section after responding to a question.
Google Forms supports going to another section (after finishing the current section) or submitting the form according to an answer.
SurveyMonkey vs. Google Forms: Responses
Question summary
SurveyMonkey's summary page shows each response one by one. You can click on any to open a new page and examine the answers.
Google Forms's summary section shows question data one by one. For example, you will find all responders' emails in the email answer.
The app uses pie charts for multiple-choice questions to better understand answers.
Individual responses
On this screen, you will see individual responses.
Additional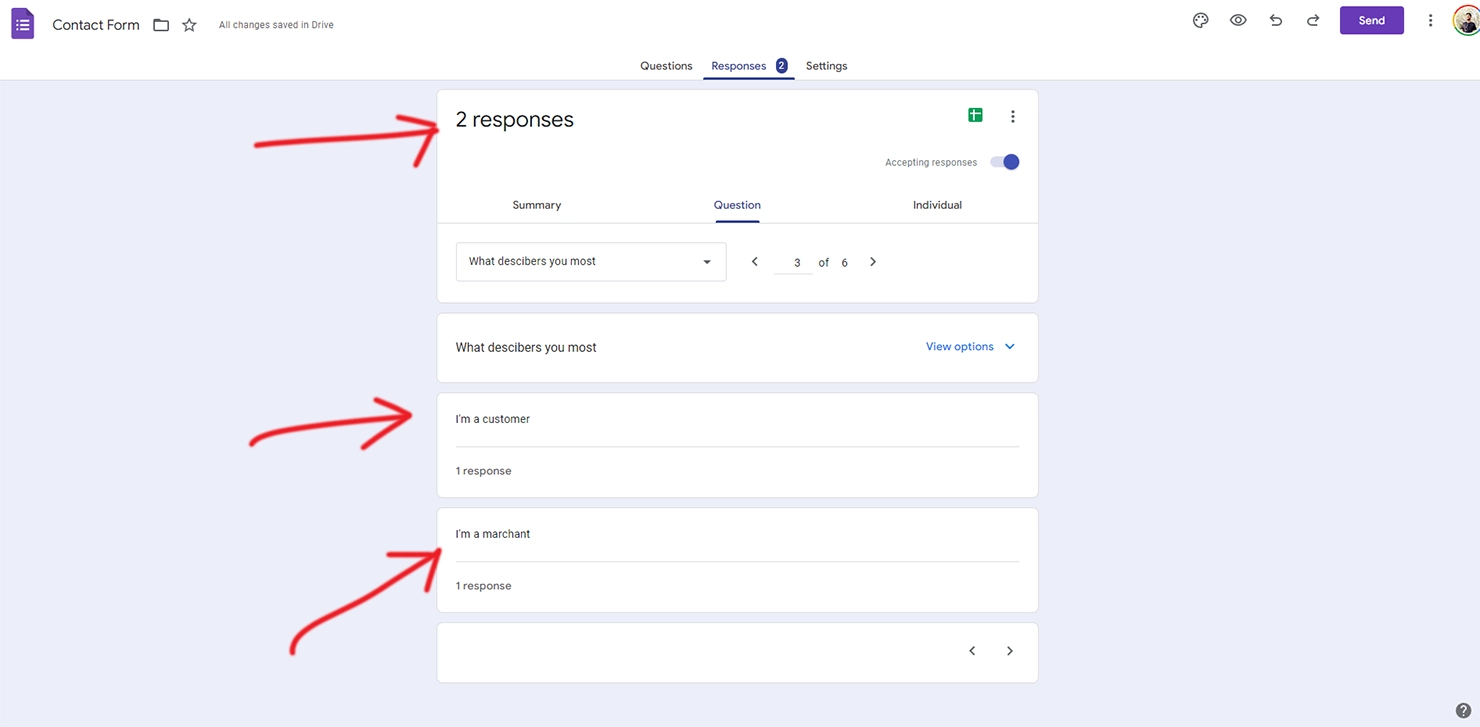 SurveyMonkey provides detailed insights such as total responses, typical time spent, form completion rate, skipped questions, etc. It also shows data trends for specific questions, such as multiple choice.
Google Forms has a Question tab where you can see all the responses to each form question.
Export Response data
Google Forms allows you to export response data in the Google Sheets format, whereas the paid plans of SurveyMonkey export response data in XLS, SPSS, PNG, CSV, PPT, and PDF formats.
Form sharing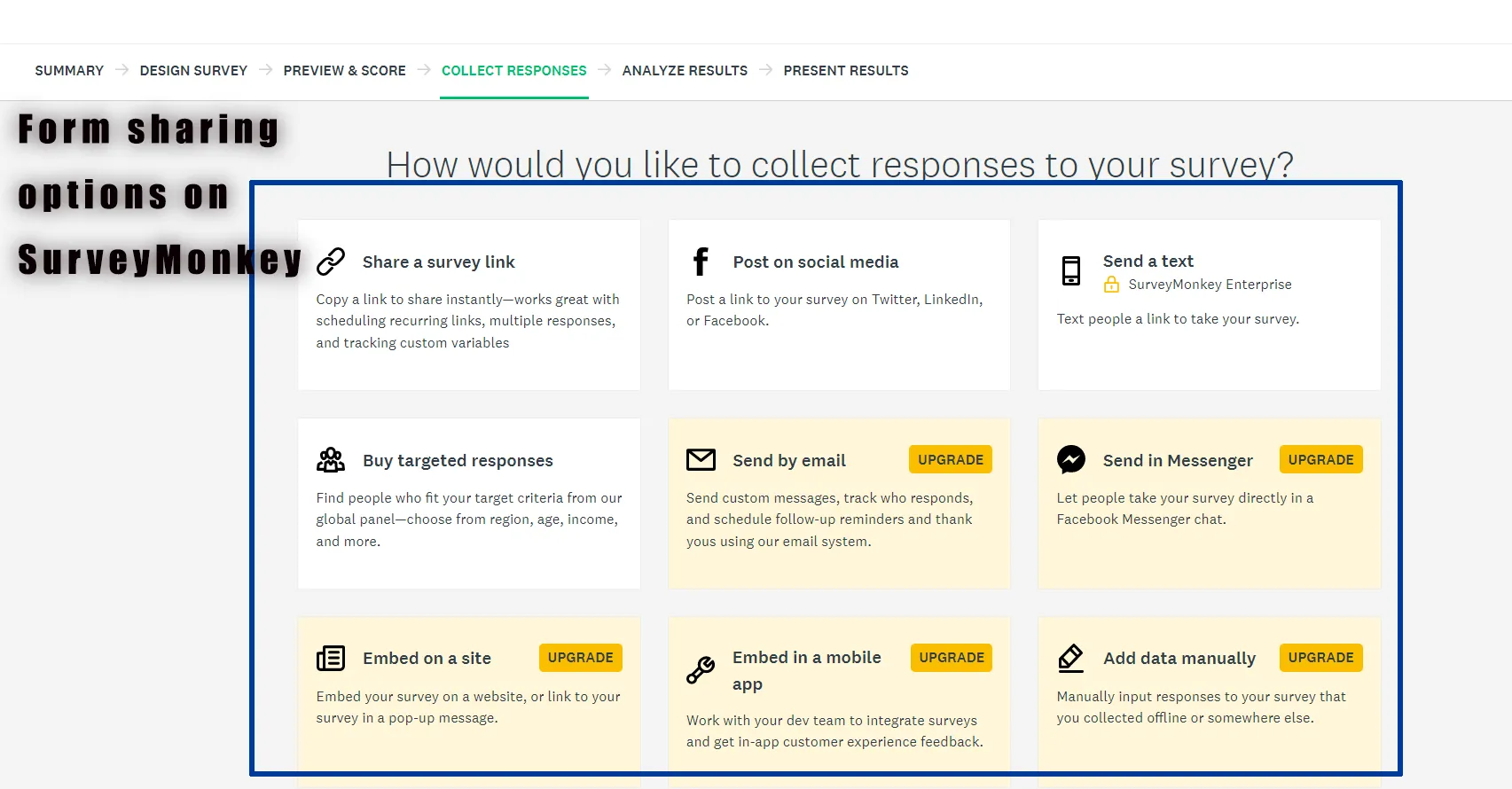 Both offer standard sharing options, including links, embedding, and email sending.
SurveyMonkey supports QR codes, whereas Google Forms offers Facebook and Twitter sharing options.
Templates
This round of SurveyMonkey vs. Google Forms covers templates. Templates help you to create forms without creating them from scratch.
This round is a tie. SurveyMonkey offers over 100 templates, but around 20 are free. Google Forms has 22 templates. All are free.
Related: Typeform vs. Google Forms
Third-party apps
SurveyMonkey enables you to integrate with many third-party apps. You can access these apps from the dashboard. It also supports integration with additional apps using Zapier.
Google Forms also supports Zapier to connect with many apps.
Extra features
Quiz mode
You can convert forms into quizzes on both platforms. In this method, you specify the answers to questions.
Those answers can be visible to users after submitting the quiz.
Collaboration
Both support collaboration with team members, but in SurveyMonkey, this feature is only available in the premium plan.
Pricing and plans
Google Forms is included in the Google Docs editor suite, and, like other apps from Google, it is free. You get 15 GB of Google Drive storage to save your forms' data.
SurveyMonkey offers limited features in its free plan. To unlock premium features, it provides 3 individual and 2 team plans.
Individual Plans
The first plan is called Standard Monthly, costing $35 per month. The package brings:
Unlimited forms
1,000 monthly response limit
Form logo
Exporting data
Page skip logic
The Advantage Annual plan costs $34 per month (paid annually) and offers a 15,000 yearly response limit.
Besides standard plan features, it unlocks A/B testing, payment gateway, file upload, question randomization logic, and answer pipeline logic.
The last Premier Annual plan costs $99 monthly (billed annually) and provides the following:
40,000 yearly response limit
Block randomization logic
Click map data
Unlimited filters
Advanced branching
White-label forms
Team Plans
The Team plans cost $25 and $75 per user monthly. The Team Advantage plan gives a 50,000 annual response quota and options to collaborate with users.
The Team Premier plan brings a 50,000 yearly response limit.
My recommendation
Google Forms is a basic form builder that can save you a lot of money if you just want to collect answers or emails. It's a great place to start your form-building journey.
SurveyMonkey is something big and can benefit those who strongly depend on surveys to make money.
If building forms and sending surveys is just a small part of your work life, go with Google Forms.
SurveyMonkey vs. Google Forms: Links
Wrap up
This is the end of the SurveyMonkey vs. Google Forms comparison. I hope my words inspired you to find that perfect app. Share your views below so others can get inspiration.