SurveyMonkey and Typeform are well-known form-building platforms that let us create forms and surveys from scratch or using a template.
Typeform has thousands of users, with over 125,000 paying for the premium plans; SurveyMonkey, on the other hand, has almost a million paying customers.
Both have plenty of options, but which one to use? This is the article covering SurveyMonkey vs. Typeform.
What are both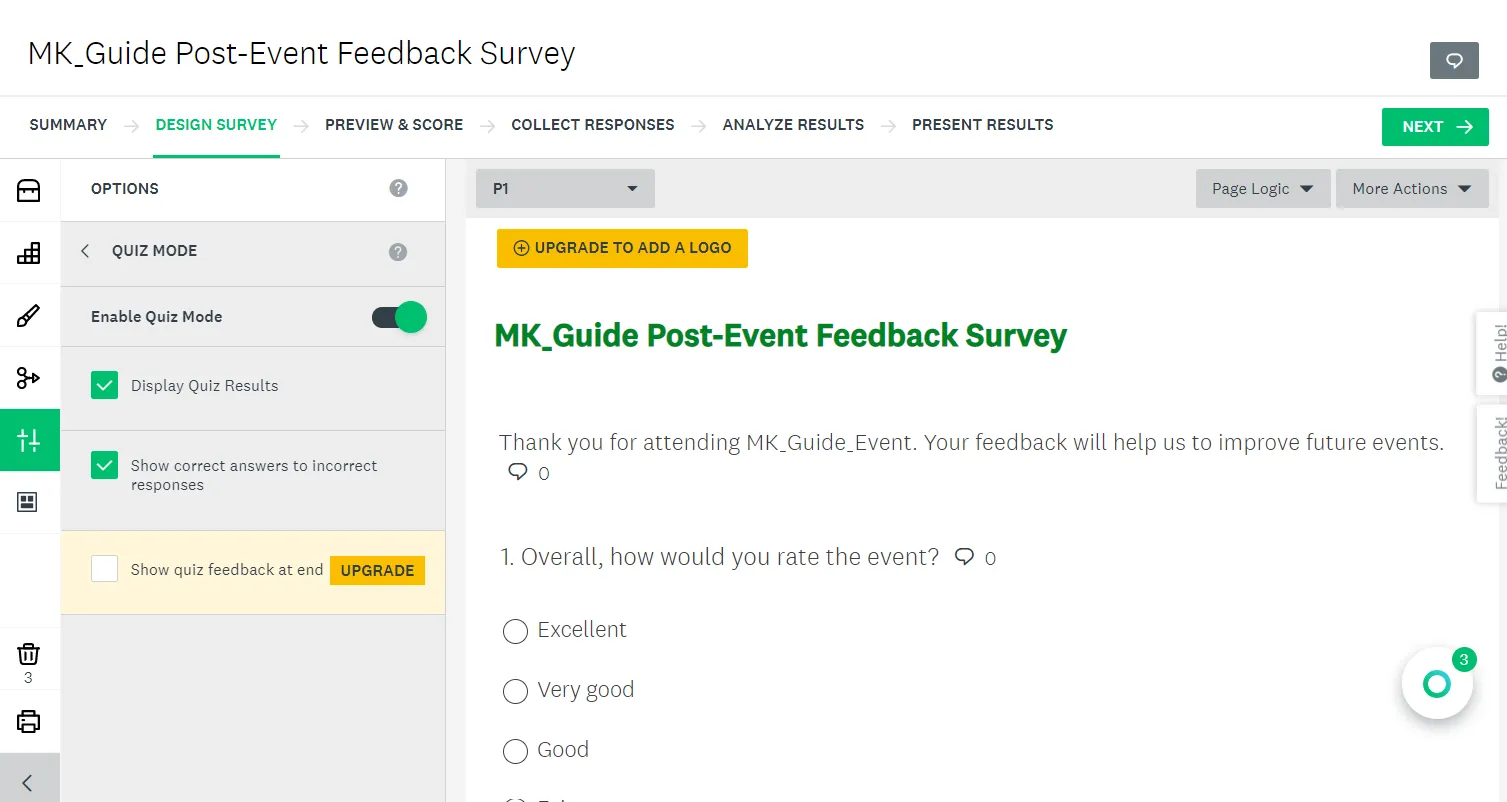 Both have various tools and features that make it easy to make multipurpose forms.
SurveyMonkey, as the name suggests, has specific features for surveys, polls, and questionnaires. It supports single and multiple questions and conversation formats.
Typeform has the unique style of displaying one question on the screen. It can be considered a universal form platform supporting many form types.
It has similar form customization options and question types, but Typeform does not limit form elements except payment elements.
It gives you full control over the flow of questions by letting you set up logical branches, which I've covered below.
Supported form questions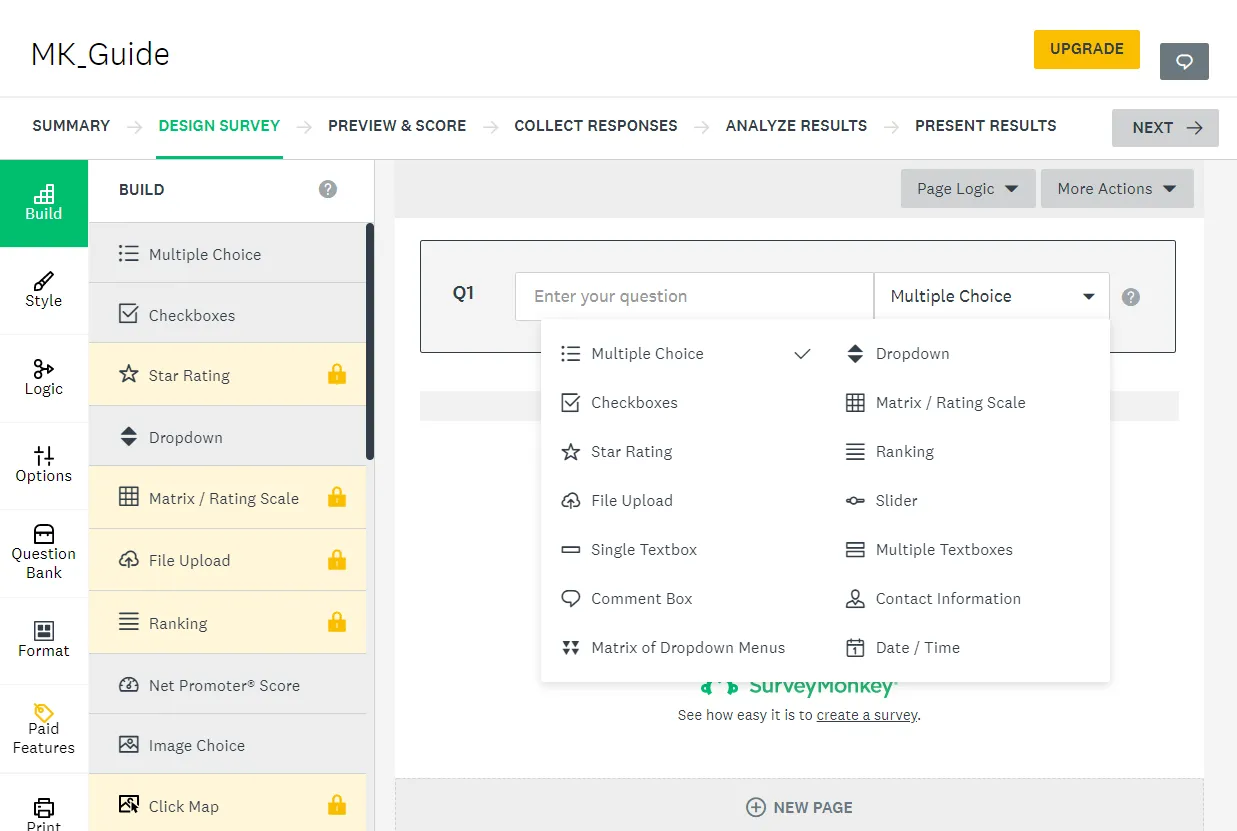 Both have a total of 25 types of form elements, but SurveyMonkey offers 12 element types for free. The rest are in the paid plans. Here is a list of all free SurveyMonkey elements:
Single Textbox (text answer field)
Time and date
Text (insert written text at top, middle, or bottom of page)
Images
Multiple choice question
Checkboxes
Dropdown menu
Net Promoter Score (NPS)
Image Choice
Introduction page
Create a new page
Insert a page break
Other than these, all other question types are available in the premium versions. These include file upload, payment support, image A/B tests, star rating, click map, slider, and more.
Typeform, as mentioned, only limits payment-accepting features. The following types of questions are available in Typeform:
Website (accept web link as answer)
Email address
Contact number
Number (accept answers in number)
Dropdown menu
Multiple choice and picture choice question
Yes or no
Star rating
Payment gateway
Calendly
Net promoter score (NPS)
Legal questions
Matrix
Long and short text
Ranking
Date
Winner: Typeform
SurveyMonkey vs. Typeform: Validations
Validation of questions is a necessary part of forms to accept valid responses. Both allow us to add specific validation rules to questions.
In SurveyMonkey, the "Single Textbox" question is very flexible regarding validation. You can set validations to accept responses in the following input formats:
Specific length
Whole number
Decimal number
Date in MM/DD/YYYY or DD/MM/YYYY format
Email address
Typeform also lets you add specific validations to email, phone number, text, and other question types. For example, you can validate the "Date" question type in these two ways:
MM DD YYYY, DDMMYYYY, or YYYYMMDD format
Separate the day, month, and year with a "/," "-," "or."
Winner: Tie
Form submissions
While sharing forms, both allow us to configure different settings related to how users respond. In SurveyMonkey, the following configuration options are available related to form submission:
Enable or disable multiple responses
Allow users to edit their responses before or after submitting the form
Set a total response limit
Anonymous responses
Instant results to show a summary of other users' responses after submission
The closing date and time for collecting responses
In contrast, Typeform lets us restrict further responses to stop receiving new responses.
Response visualization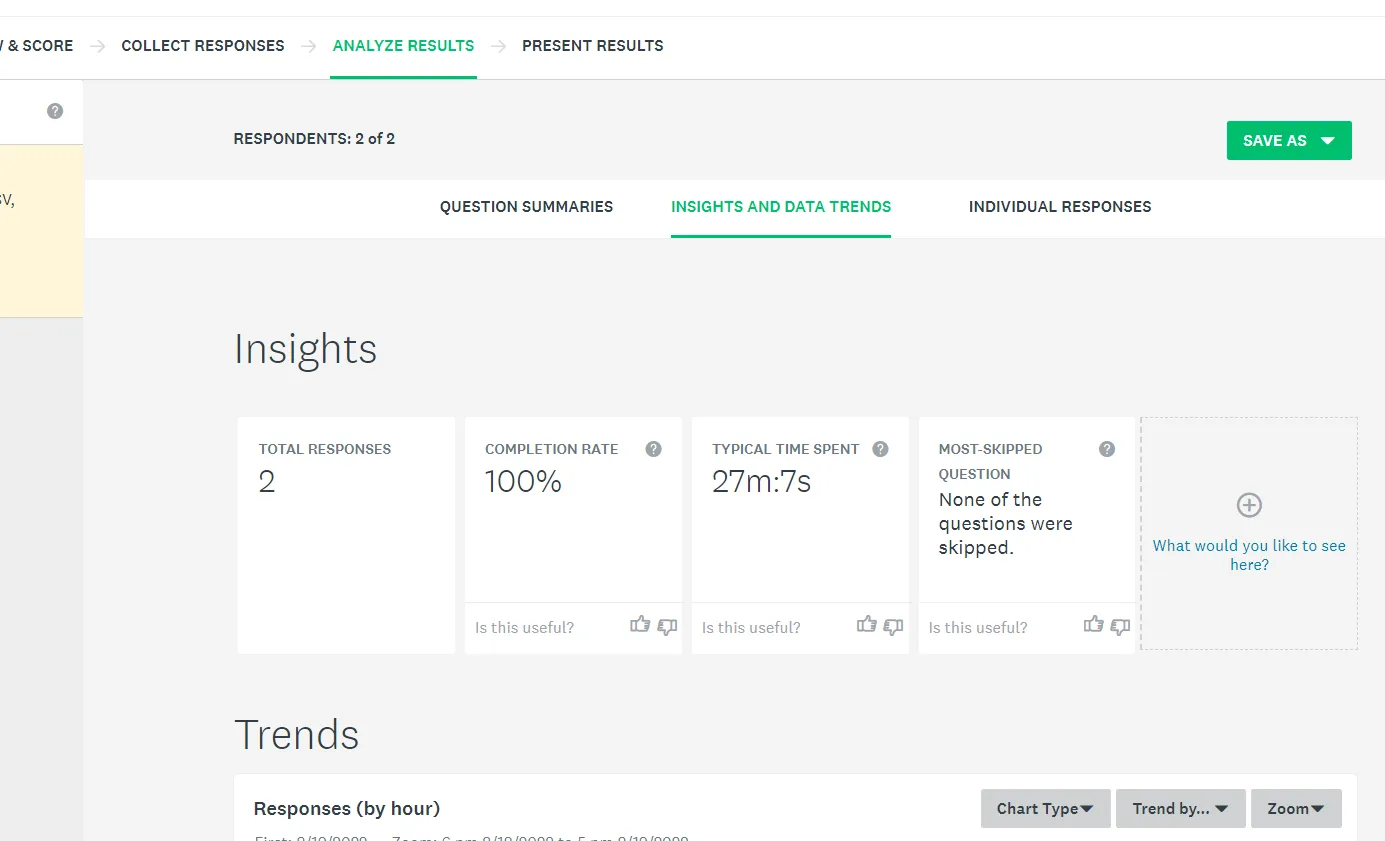 In both, we can visualize and export response data in different layouts and formats. SurveyMonkey provides three types of visualizations for free:
Question Summary: Graphical visualization of user's responses to each question.
Insights and Data Trends: Information about how often forms are filled out, how many people respond, and how much time is spent.
Individual Responses: Response data concerning each user.
The paid version also supports exporting data in XLS, CSV, PPT, PDF, PNG, and SPSS formats.
On the other hand, Typeform lets us visualize form data in the following:
Insights: Info about the form's views, total responses, form completion rate, and average completion time.
Summary: Graphical visualization of the average responses given by all users to each question.
Responses: Form submission data in table format. You can export this table data in XLSX or CSV format.
Winner: Tie
Templates
Typeform takes the lead in this round. SurveyMonkey has more than 100 templates, but only 20 are available in the free plan. The templates are categorized, and some of the categories include:
General business
Quizzes
Satisfaction
Marketing
Typeform, on the contrary, offers over 1,000 templates. Of course, some are paid, but the number is much better than SurveyMonkey. You can access all templates on this web page.
Winner: Typeform
Related: SurveyMonkey vs. Microsoft Forms
Form sharing options
Both let us share forms in various ways, but SurveyMonkey is very limited in its free version.
It supports only sharing through web links. All other methods are included in the premium versions. Here is a list of paid form sharing options:
QR code
Manual data entry
Facebook Messenger
Email
Website embedding
In contrast, Typeform is better as it offers all sharing methods in the free version. It lets you share forms in the following ways:
Link
Email
QR code
Social media
Embed on a website
When it comes to embedding, Typeform also offers many types of layout styles, including standard, slider, popover, side tab, full-page, and popup.
Winner: Typeform
Integrations
SurveyMonkey and Typeform are almost similar in terms of integration as both support many apps. Integration with some apps is free, while with others, you need a paid account.
Both platforms also support integration with over 400 apps through Zapier. Zapier automates our workflow by letting us connect forms with various popular apps.
To connect SurveyMonkey with Zapier, visit the official guide page and, in the case of Typeform, visit this Zapier web link.
Winner: Tie
Related: Typeform vs. Jotform
Extra features
SurveyMonkey
SurveyMonkey offers a couple of additional useful features.
Quiz mode
Enabling quiz mode will show respondents correct answers and final results when they submit the form.
By upgrading to the paid version, you can add a custom feedback message based on the respondent score and export quiz results.
Question bank
The Question bank is the directory of built-in questions we can use in our forms. Here, questions are organized into different categories to be used for specific purposes.
Some of the categories are as follows:
Customer feedback
Events
Demographics
Political
Industry-specific
Typeform
Typeform has an extra feature called "branching," which lets us change the order of questions based on how users answer.
Through branching and calculations, we can add multiple rules with different conditions to a single question.
For example, we can add the following validations on date question types:
is on
is not on
is before
is after
is before or on
is after or on
Then, based on the date selected by users, we can redirect them to the next specific question.
Related: Typeform vs. Google Forms
Pricing and plans
The app has three individual and two team plans. The details of each plan are available on the official page.
The first individual plan is called Standard, costing $35 per month. The plan provides you with an endless amount of surveys and questions, 1,000 monthly user responses, a custom logo, and features to create skip logic surveys.
The Advantage Annual plan is billed at $34 per month (annually billed) and comes with a few extra options:
Answer pipeline logic
15,000 monthly user responses
Payment acceptance
File upload option
Premier Annual subscription costs $99 per month (billed yearly) and has the below features:
Click Map data visualization
Unlimited filters
Data trends
Moving to the team plans, we see the Team Advantage plan costing $25 per creator per month.
The plan supports collaboration, 50,000 responses per year, and payment gateway options.
The Premier is the second plan costing $75 per user per month, and you get the below features, in addition to the Team Advantage subscription:
100,000 replies per year
The ability to see click map data
Access to all logic tools
Removal of branding
Direct API access
The Typeform's first plan is called Basic costing $25 per month on the annual package ($29 on the monthly package).
The plan offers a 100 monthly response limit, unlimited forms and questions, branching and logical jumps, and payment gateways.
The second plan is the Plus plan costing $50 per month (billed yearly) or $59 per month. The plan is for established individuals and teams offering features, including:
1,000 responses per month
Up to 3 users' collaboration
Custom subdomain
Custom logo
The final plan is the Business plan charging $83 per month (paid yearly) or $99 monthly. You get the following features:
10,000 user responses
Live priority support
Five user collaboration
SurveyMonkey vs. Typeform: Links
Conclusion
Both Typeform and SurveyMonkey are great for making surveys and forms. They have numerous features that make them suitable for various applications.
Typeform is more affordable, and it's an all-in-one form-building option. You should go with Typeform if you want to create different form types.
If you only want a survey platform, SurveyMonkey may be your choice as it has more survey and questionnaire options.