One of the popular form-building apps is SurveyMonkey used by many companies. Another platform is SurveyPlanet. It's not as popular, but it sure gets the job done.
Which one is for you? This is the SurveyPlanet vs. SurveyMonkey article to help you decide.
What are both?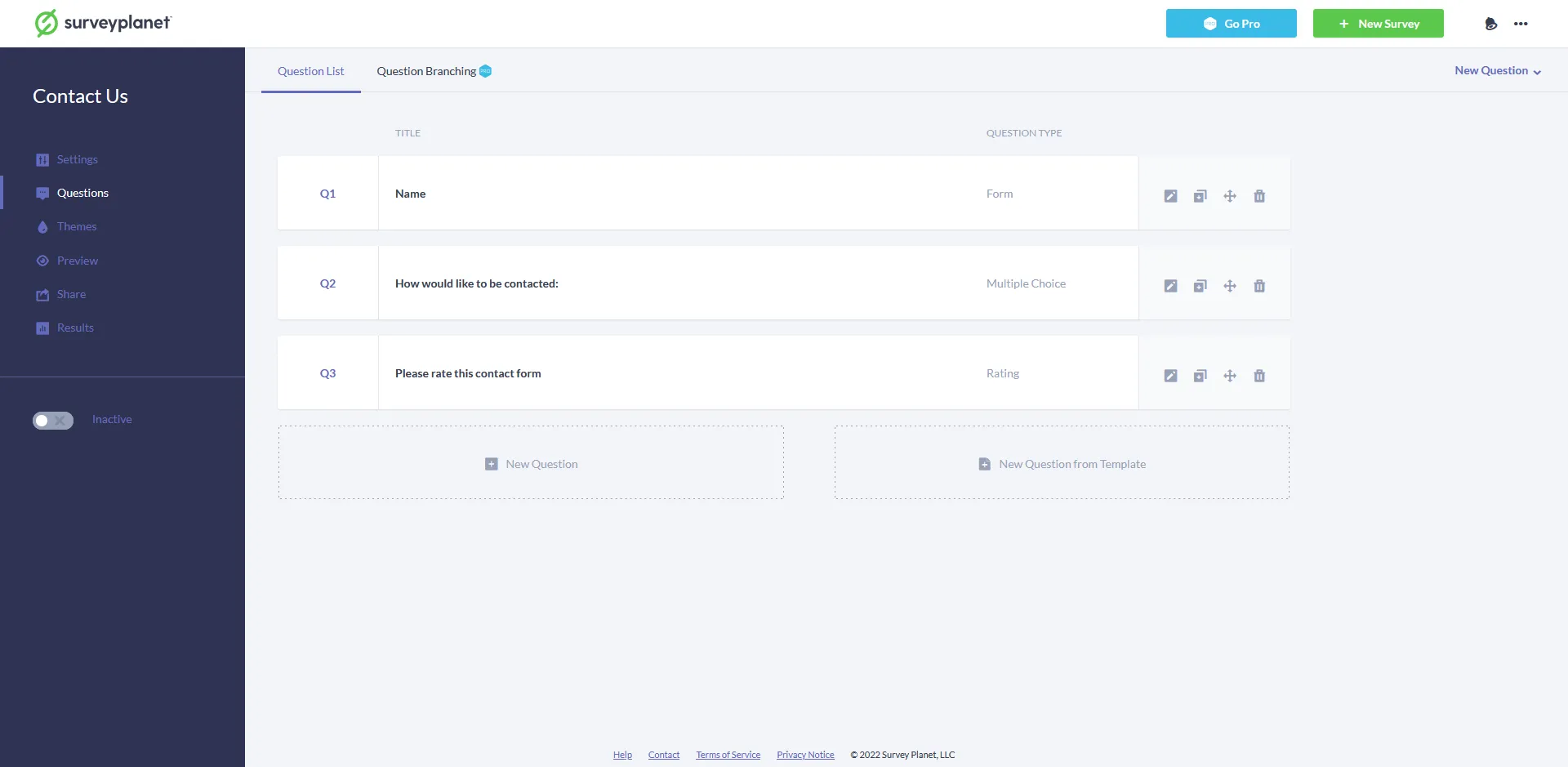 SurveyMonkey and SurveyPlanet are great platforms for conducting surveys and questionnaires. They make it easy and quick to create a form, share it, and gather information.
SurveyMonkey allows us to make forms with several question types, but the app is limited and can only be used to try the program.
In comparison, SurveyPlanet has fewer form questions and customization options, but there are no limits on the number of forms, questions, or responses you can collect.
Like SurveyMonkey, it supports single and multiple questions per page layouts.
Supported form questions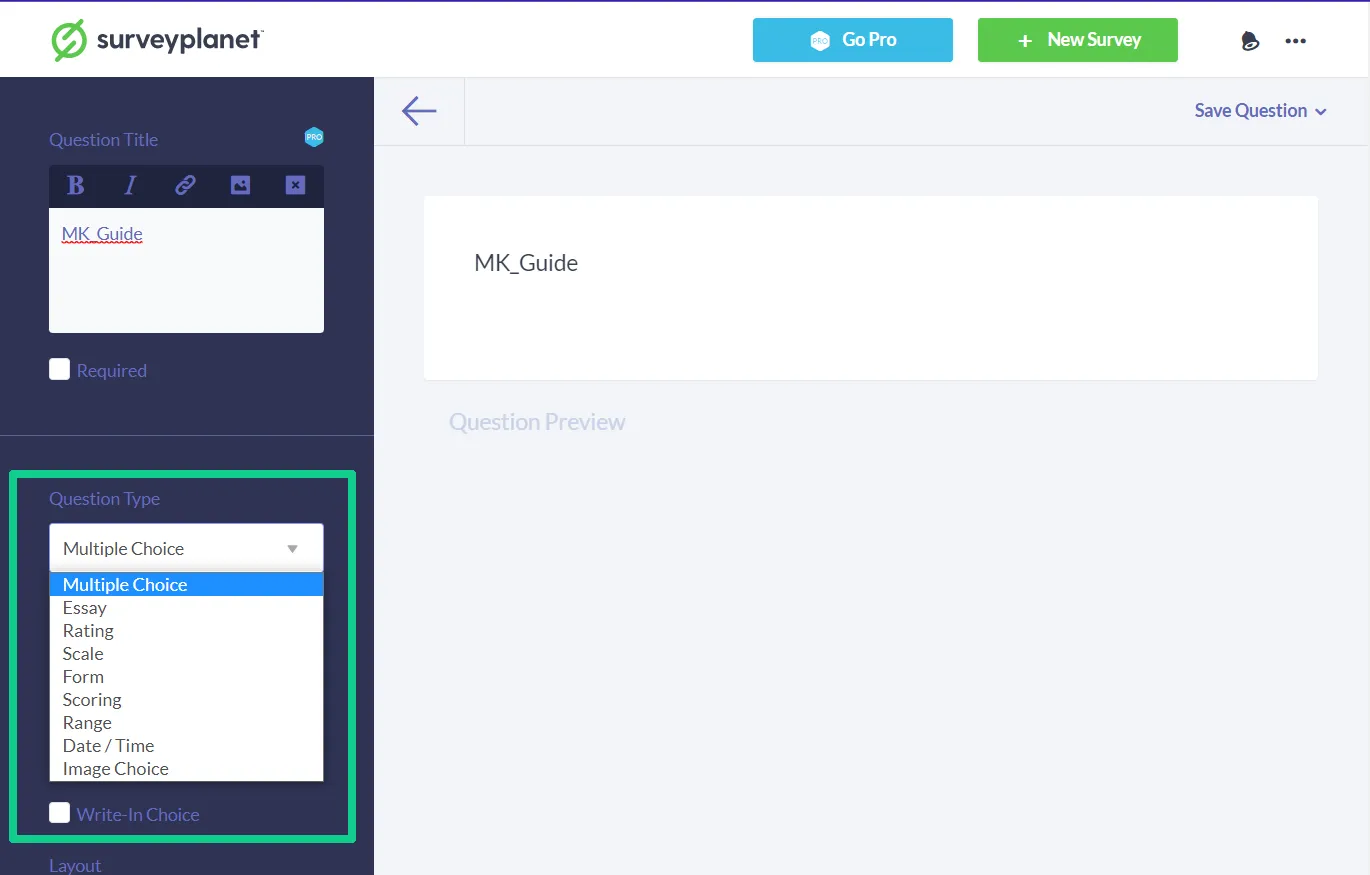 SurveyPlanet supports 9 form question types. It also lets us insert links and images into our questions. Here is the list of those:
Multiple choice: The basic multiple choice type questions.
Essay: A long text form question for as much info as possible.
Rating: Rate something from 0 to the value you decide.
Form: Names and numbers can be collected with this option.
Scale: A scale option to choose a value from minimum to maximum number.
Scoring: A scoring system to choose a value from a slider.
Range: A ranging system where you move the slider and choose a value.
Date and time: A date and time system to choose the date and time.
Image choice: The paid feature lets you choose images.
SurveyMonkey, on the other hand, supports 12 free elements. Here is the list of those features:
Textbox (accept the answer in text format)
Time and date
Dropdown list
Net Promoter Score (NPS)
Image multiple choice
Text (insert text within form page)
Upload image
Multiple choice question
Checkboxes
Insert introduction page
Add page break
Insert new page
The following 13 questions are only accessible in the paid versions of SurveyMonkey:
Five-star rating
Grid-style question
Upload a file (pdf, doc, jpg, etc.)
Multiple input text boxes for a single question
Address Information
Comment block (accepts the text of any length)
Slider (allows users to rate using a slider)
Payment gateway
Ranking (ranking a list of different options)
Click map (get feedback on an image)
Matrix-style questions in a dropdown layout
Form submissions
Both allow us to configure different form submission settings and impose various validations.
SurveyPlanet lets us configure the following options related to the beginning and end of form submission:
Allow and disallow multiple form submissions from the same device.
Create customized welcome and success messages using the markdown editor. Through the markdown editor, you can use special keyboard symbols to format your message.
Allow users to provide email or submit a form anonymously.
SurveyPlanet's paid plans also support submitting questions again, adding welcome and success images, redirecting users to a URL, and enabling text notifications.
On the other hand, SurveyMonkey allows us to configure relatively different types of form submission settings. Here is a list of these:
Accept one or more responses from a single user
Enable or disable response editing before or after form submission
Limit response collections
Accept anonymous responses
Display instant results to visualize a graphical summary of other users' answers to each question
Set the closing and opening times for response collection
Related: SurveyMonkey vs. Typeform
Response visualization
On both, you can analyze form responses in graphical and tabular formats. SurveyPlanet divides the form visualizations into the following two sections:
Questions
Each user's answers are viewable in a tabular format. For multiple choice questions, this section shows the average options selected by all users in graphical format. In the paid version, you can also export these results.
Participants
This section provides a list of all users who have submitted the form. The information about time spent, OS, browser, and submitted date of each user is also available.
---
In comparison, SurveyMonkey can also visualize the data. Below are given the two common ways.
Question summary
It is similar to the "Questions" section of SurveyPlanet. Here, a summary of all the responses is available.
Insights and data trends
SurveyMonkey also provides you with detailed insights in its free plan. It includes total responses, completion rate, time spent, and more.
Validations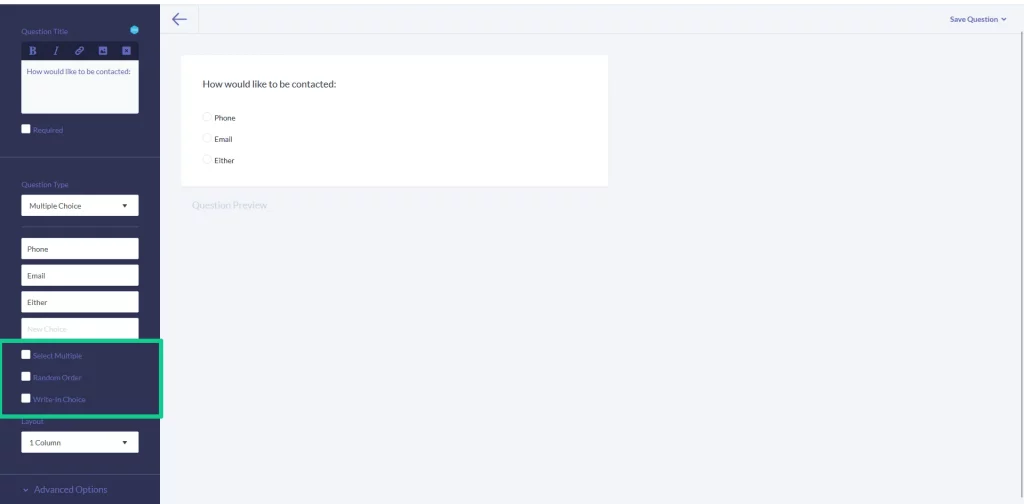 Validations are needed to make sure that no invalid data is collected. SurveyMonkey is more prominent in terms of validations.
For example, by configuring the input type for "Single Textbox" questions, you can accept different types of answers, such as a whole number, a decimal number, an email, or a date.
In contrast, SurveyPlanet doesn't provide many validation rules. You can validate the minimum and a maximum number of characters for the "Essay" question, but for all the other questions, you can only set "Required" validation.
Related: SurveyMonkey vs. Microsoft Forms
SurveyPlanet vs. SurveyMonkey: Templates
SurveyMonkey has around 100 templates, but only 20 are available for free. You find quizzes, market research, events, and education templates.
Contrarily, SurveyPlanet does not have full-form templates. Each template contains a specific set of questions from which we can select and import questions into our forms.
The template questions are divided into customer feedback, education, public sector, and workplace.
Form sharing options
SurveyPlanet is the winner of this round, as it supports more options. You can share your forms via a direct link or by embedding the form on your website.
Other than that, you can generate QR codes using a third-party program. My guide covers a few ways to generate QR codes for SurveyPlanet surveys.
SurveyMonkey, in contrast, supports more options, but the catch is the only web link option is available for free.
Other options, including QR codes, emailing, and embedding forms on the website, are available in the premium plans.
Integrations
If you want to integrate forms with different apps, SurveyMonkey is best for you. It supports integration with many apps.
It can also be connected with Zapier to integrate hundreds of apps and automate the process. Some of the app categories include:
Digital gifts
Events
Social
In comparison, SurveyPlanet doesn't support integration with other apps.
Related: Jotform vs. SurveyMonkey
Extra features
SurveyMonkey offers the following additional features:
The quiz mode
When you turn on quiz mode, it converts simple forms into quizzes. This means you can create questions and assign correct answers to each one.
Then users will be able to see their final results and the correct answer to the questions at the end.
Build it for me
This feature automatically creates a form based on the chosen category. Simply select the "Build it for me" option and choose the target audience and form category.
Pricing and plans
SurveyPlanet plans
SurveyPlanet's free plan brings unlimited surveys, questions, and responses. It has two paid plans explained below:
Pro: This plan costs $20 per month or $180 per year.
Enterprise: The Enterprise plan is billed at $350 per year.
The Pro plan features include:
Export results
Create question branching
Filter results
White label survey
Success URL redirect
Email and SMS notification
Comments on surveys
The Enterprise plan unlocks team collaboration, survey insights, and custom form URL features.
SurveyMonkey plans
SurveyMonkey has five paid packages. The first three are for individuals, and the rest are for teams.
Standard Monthly: The plan is only offered monthly and costs $35.
Advantage Annual: This subscription costs $34 per month but is paid annually ($408).
Premier Annual: The plan costs $99 per month, and like the previous plan, it costs $1188 upfront.
Team Advantage: The plan costs $25 per month per user (billed annually).
Team Premier: The subscription costs $75 per user per month (paid yearly).
The Standard plan provides a 1000 monthly response limit, the option to add a custom logo, the ability to export data, and page skip logic with this plan.
The Advantage Annual plan offers a 15,000 yearly response limit, question randomization logic, answer pipeline logic, payment options, and file upload features.
The last individual plan brings the below features:
For data visualization
Unlimited filters
Compared rules
Data trends
Advanced branching features
The first team plan supports collaboration with other users, export users' response data, and integration with other apps.
Furthermore, a 50,000 yearly response limit, question randomization logic, and page skip logic are also included in this plan.
The last team plan features include a 100,000 yearly response limit, click map data, all logic, brand removal, and access to API.
SurveyPlanet vs. SurveyMonkey: Links
Conclusion
Both offer a great user experience and are perfect for businesses to organize online surveys.
SurveyPlanet has a simple and clean interface and is a bit limited, but its nature of not limiting surveys and responses makes it a great program for newcomers.
SurveyMonkey, in comparison, offers a large number of form elements and configuration options. However, the free one is limited, and paid plans are expensive. The platform is suitable for large companies.
Alright, this is where we part ways. Thanks for reading this SurveyPlanet vs. SurveyMonkey comparison. Feel free to share your thoughts below and read other articles on both programs.