Typeform and Formstack are two platforms for creating quizzes, questionnaires, and survey forms. Which one is right for you? The report deep dives into the Typeform vs. Formstack comparison and helps you decide.
What is Typeform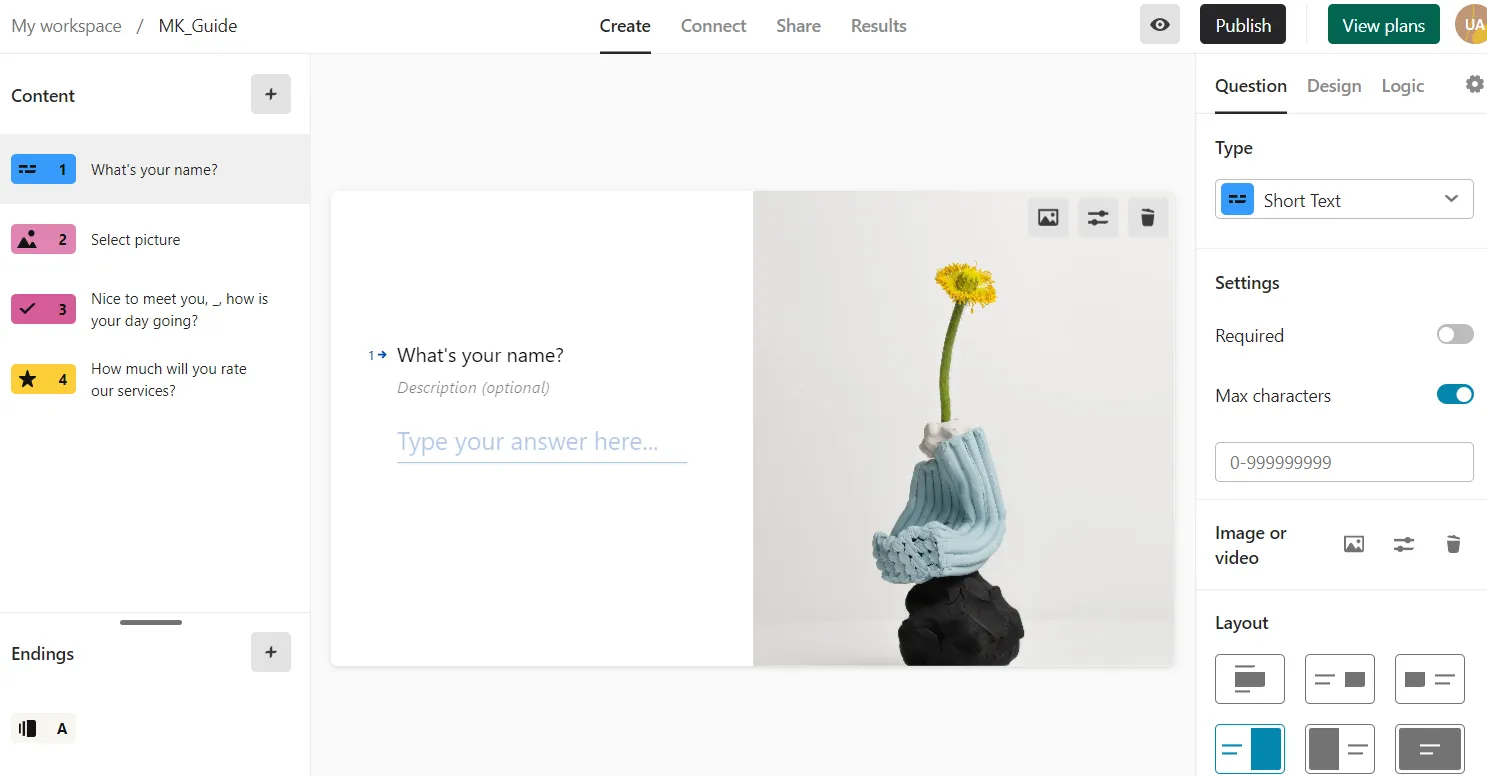 With forms on over 300,000 websites, Typeform is a leading form-collecting program that allows us to create and send many form types. It is free to use but has some advanced paid features.
It lets us create forms in a single question-per-page format and organize them into workspaces.
With Typeform, we can create a logical flow between questions. This feature lets us add a matching condition to the user's response to a specific question.
Related: Typeform vs. Google Forms
What is Formstack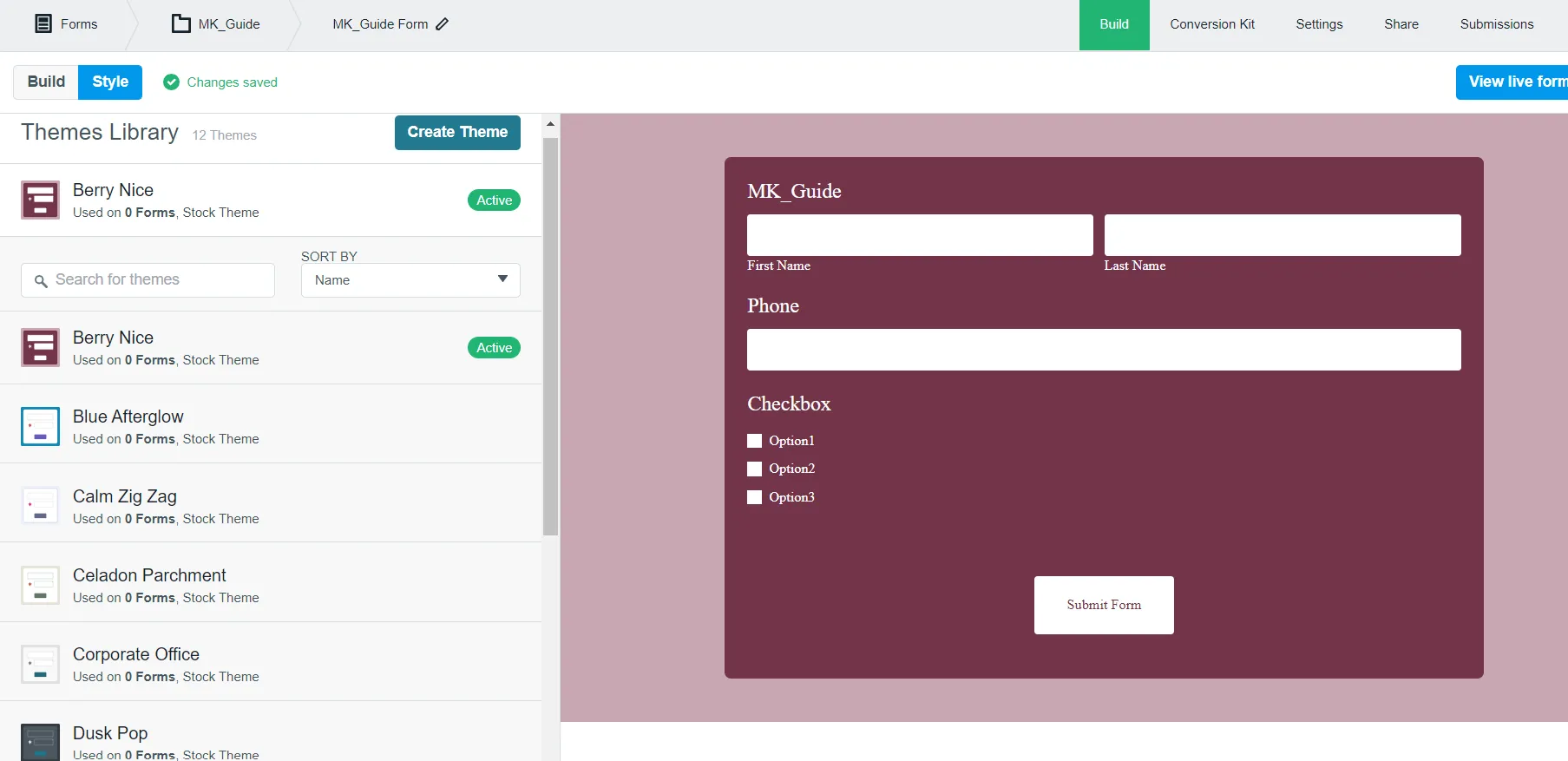 Formstack has the same options, but the program is premium with a 14-day free trial. Formstack allows us to create forms with multiple questions per page and organize them into folders and sub-folders.
You can add simple show and hide logic to input fields for better form collections. The app also has a portal hub feature to create a private repository of your forms.
Portals let us organize our forms, access and analyze form submissions, and share forms with designated team members.
Field options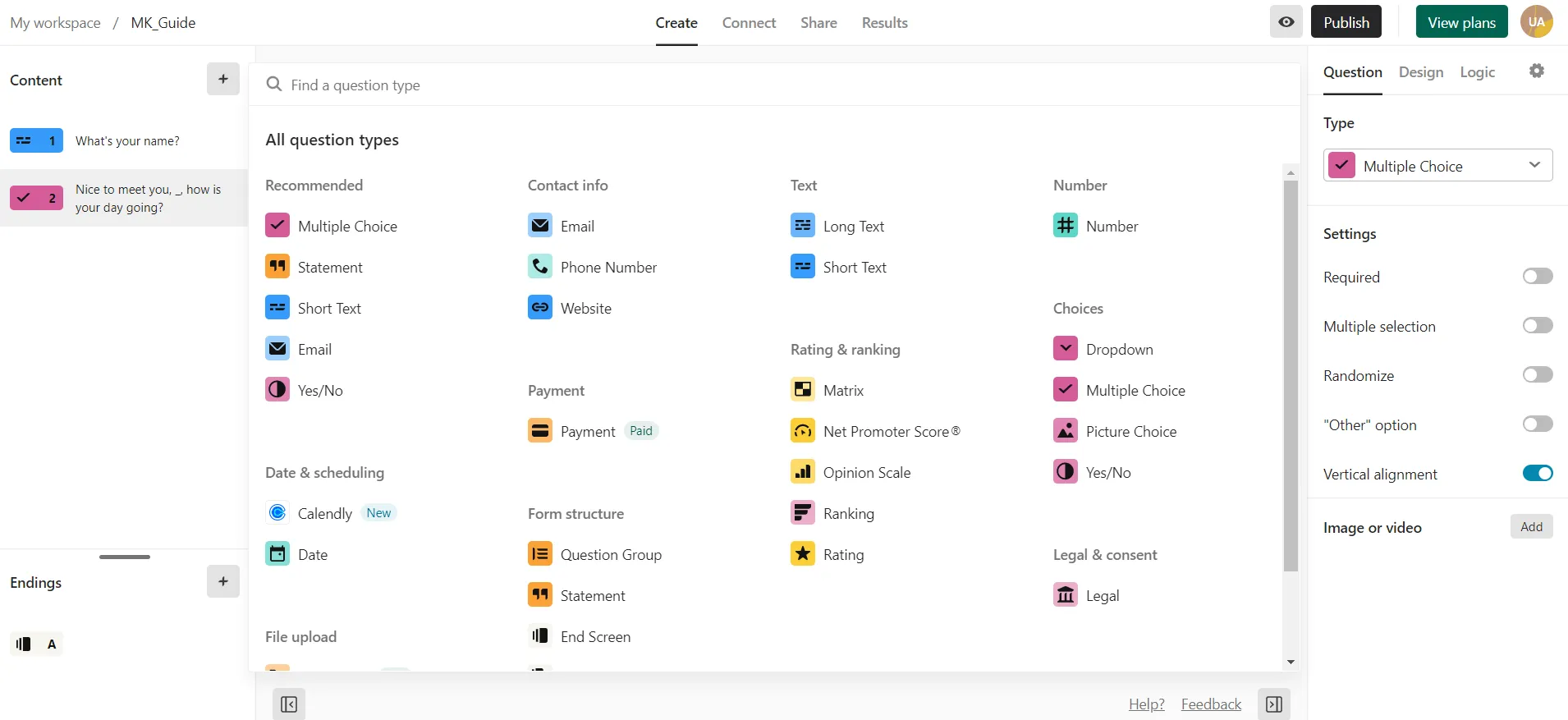 There are 25 form elements in Typeform, and all are free except for payment integrations. The free plan of Typeform does not support accepting payments. Here is a list of these form elements:
Email
Phone Number
Website
Long text and short text
Legal & Consent
Question Group
Net Promoter Score
Opinion Scale
Statement
File upload (paid)
Dropdown
Multiple Choice
Ranking
Matrix
Calendly
Welcome and End Screens
Numbers
Dates
Ratings
Payment (paid)
Picture Choice
Yes/No
Redirect to URL
In contrast, there are 20 form elements in Formstack. As the app is paid, it does not limit to any form field.
The following form elements are available in Formstack:
Short and Long Answers
Name
Physical Address
Email Address
Phone Number
Number
Dropdown
Radio button
Checkbox
Credit Card
Date/time
File Upload
Matrix
Description Area
Embed Code
Event/Product
Signature
Rating
Section
Winner: Typeform
Validations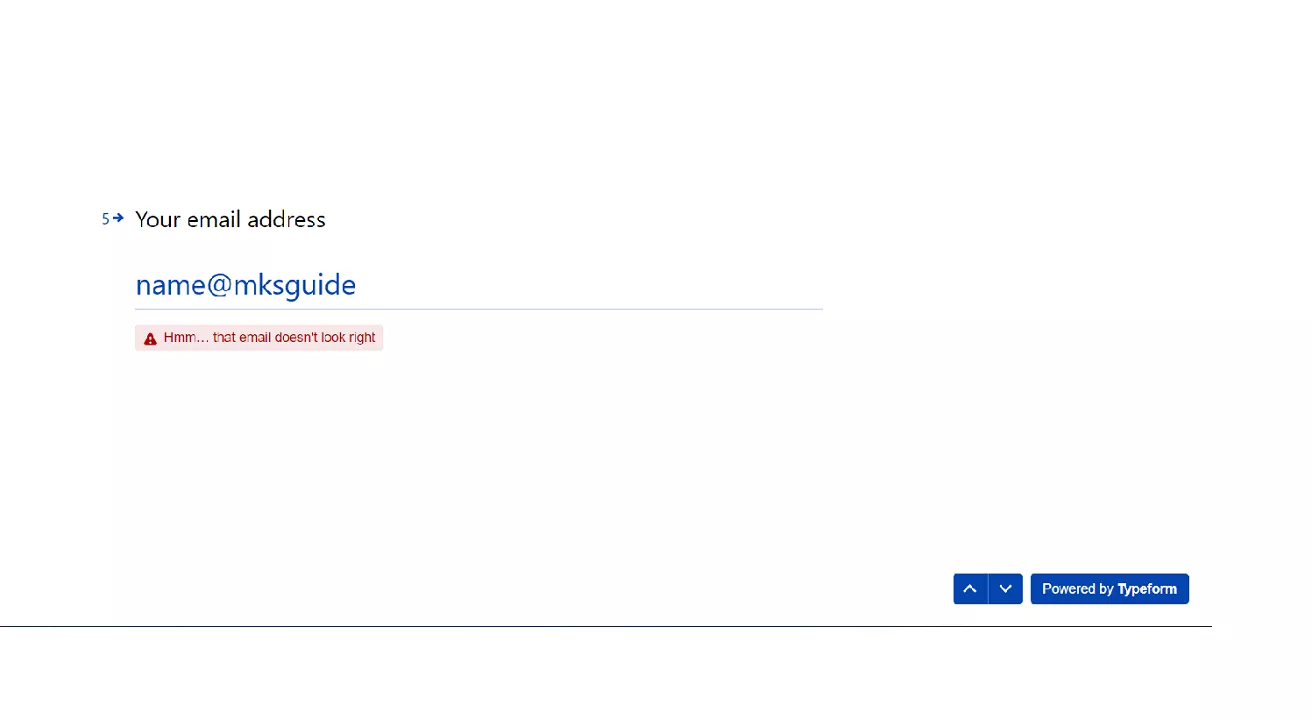 Both platforms support adding validation rules and restrictions to form elements. Different questions in Typeform have different sets of validation rules.
For example, for the long text form element, you can set:
On the other hand, Formstack offers more validation options than Typeform. It organizes the checks and validations in general and field-specific categories.
General validation rules are the same for all elements. The following options are available in the general category:
Use Call-out
Required
Hidden
Unique
Hide Label
The field-specific rules are different for every form element. For example, the following validations are for the phone field:
Format (national, international, or null)
Country
Default value
Field language
Winner: Formstack
Related: Jotform vs. Formstack
Typeform vs. Formstack: Templates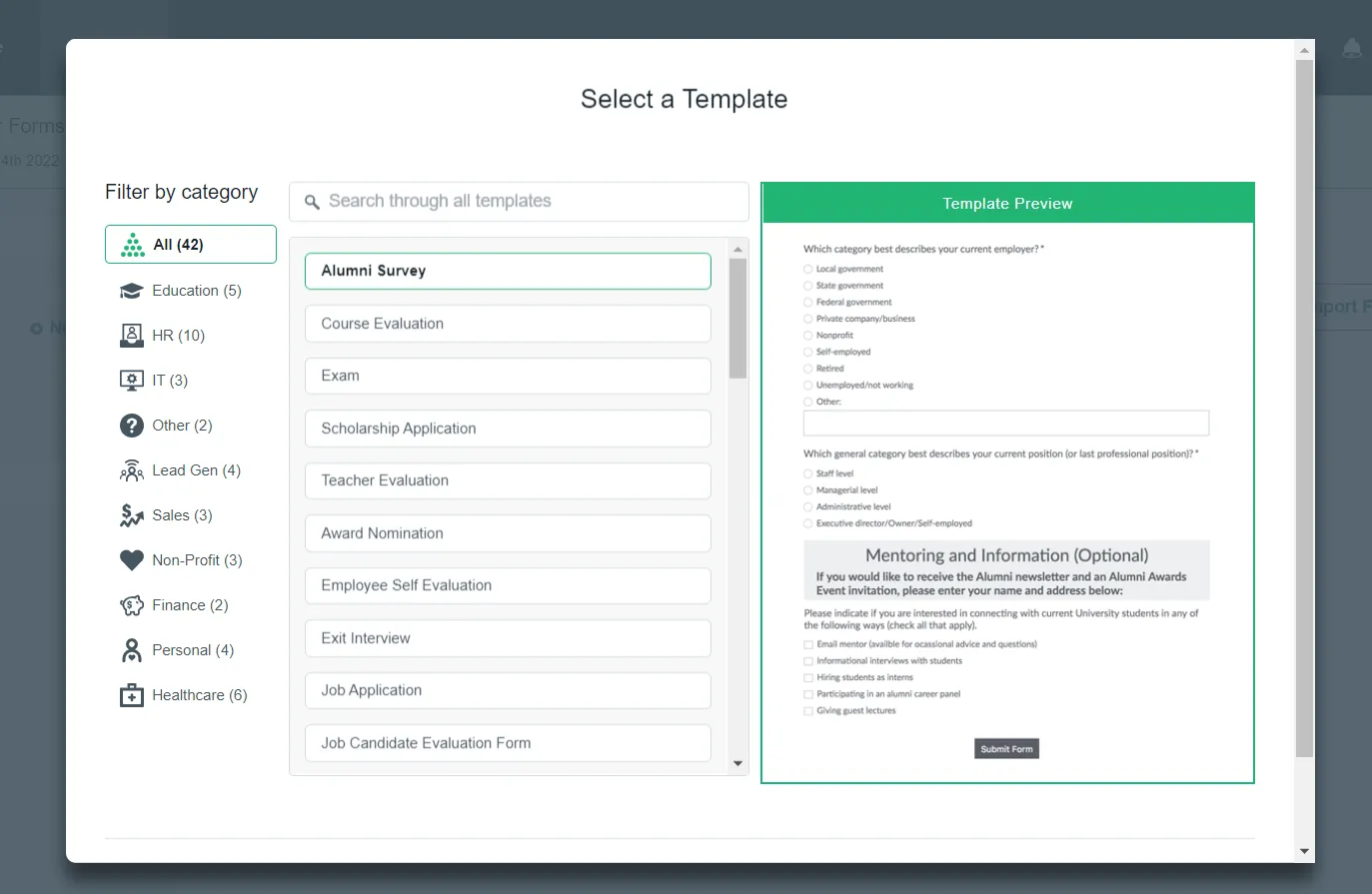 When it comes to using templates, Typeform is the best as it offers many free templates. All of the templates are available on this webpage. The templates are sorted into the following categories:
Surveys and questionnaires
Quizzes
Lead generation
Forms
Remote working
Polls
Formstack, contrarily, has 42 templates. These templates are more than enough to be used in any situation.
Winner: Typeform
Integrations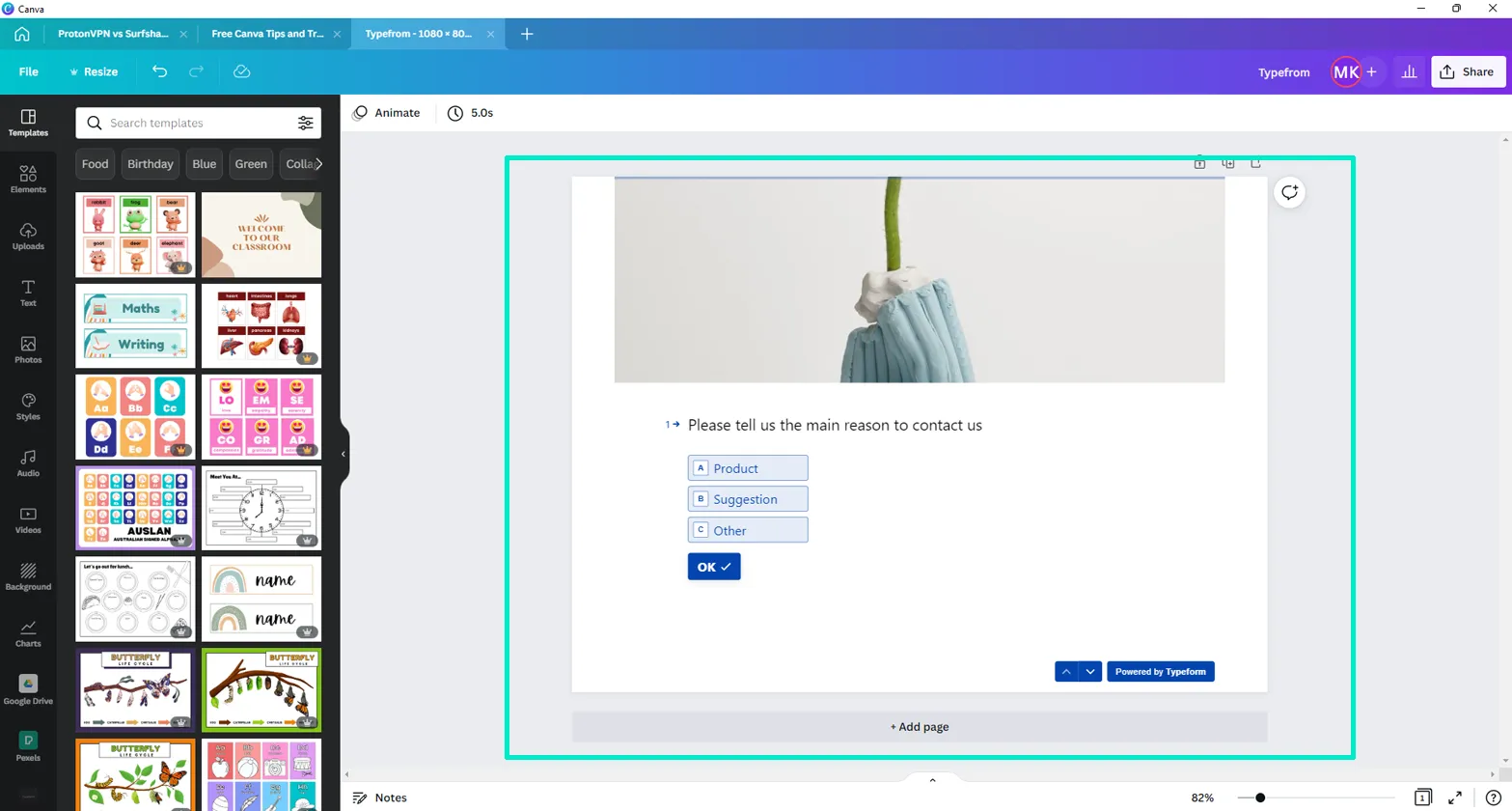 Typeform lets us connect forms to other popular apps, such as Google Forms, Asana, Notion, Slack, and more.
Seventy-nine applications can be integrated with Typeform. Some apps are free, while for some, you pay money. On the integrations page, you can see all the supported apps.
Formstack, on the other hand, is better at integrating with other apps. It offers integration with 169 popular apps, such as Zoho, Trello, Microsoft Excel, and OneDrive.
One can go to the official integration page to see the full list.
Winner: Formstack
Form sharing options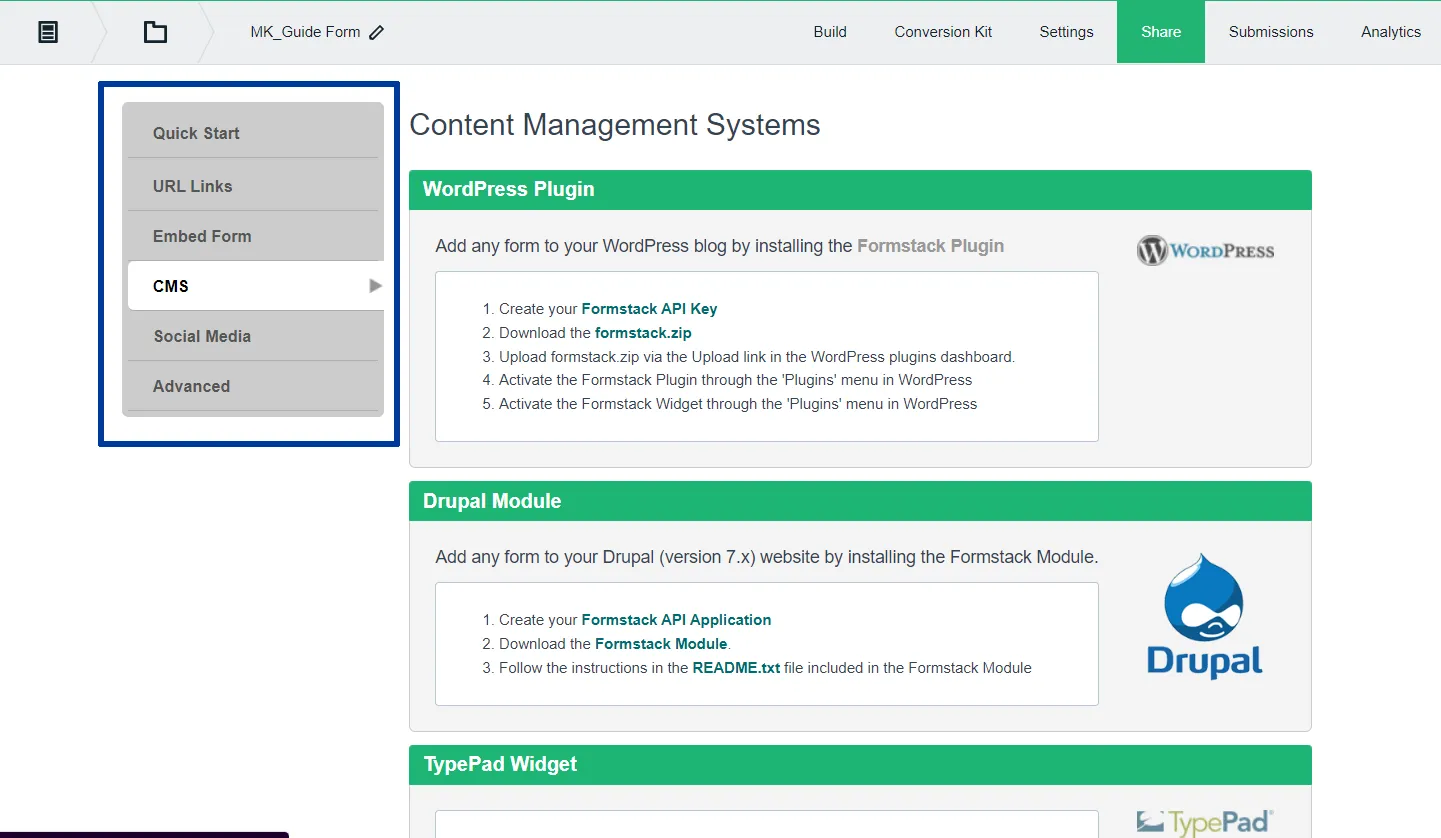 To obtain responses from users, we must share forms. Both support sharing in differing ways. With Typeform, a form can be shared in six ways:
Public URL
Sharing on social media
QR code
Launch in an email
Convert the form into chat style and then embed or share it anywhere
Embed on a web page
When you embed a form in a web page, you can choose several layout and customization options. In the embedded HTML tag, we can specify the width, height, and transparency of the form.
In addition, there are standard, full-page, popup, slider, popover, and side tab layout formats.
The premium version of Typeform also supports teamwork. We can share workspaces for collaboration by clicking the "Share" button next to the workspace's name.
In contrast, Formstack takes the lead as it offers more sharing options. There are 11 ways to share your forms. Here is a list of these:
Link
QR code
iFrame embed
JavaScript embed
As a popup lightbox on an HTML page
WordPress plugin (for use in WordPress blogs)
Add a form to Drupal
Insert a form into your TypePad blog
Embedding on a Facebook page through the Facebook Tab Application
Form HTML
From Forwarding
Formstack also supports collaboration. To add team members to your forms, click on the "Settings" tab and select "User Access" from the left side menu.
Winner: Formstack
Form submissions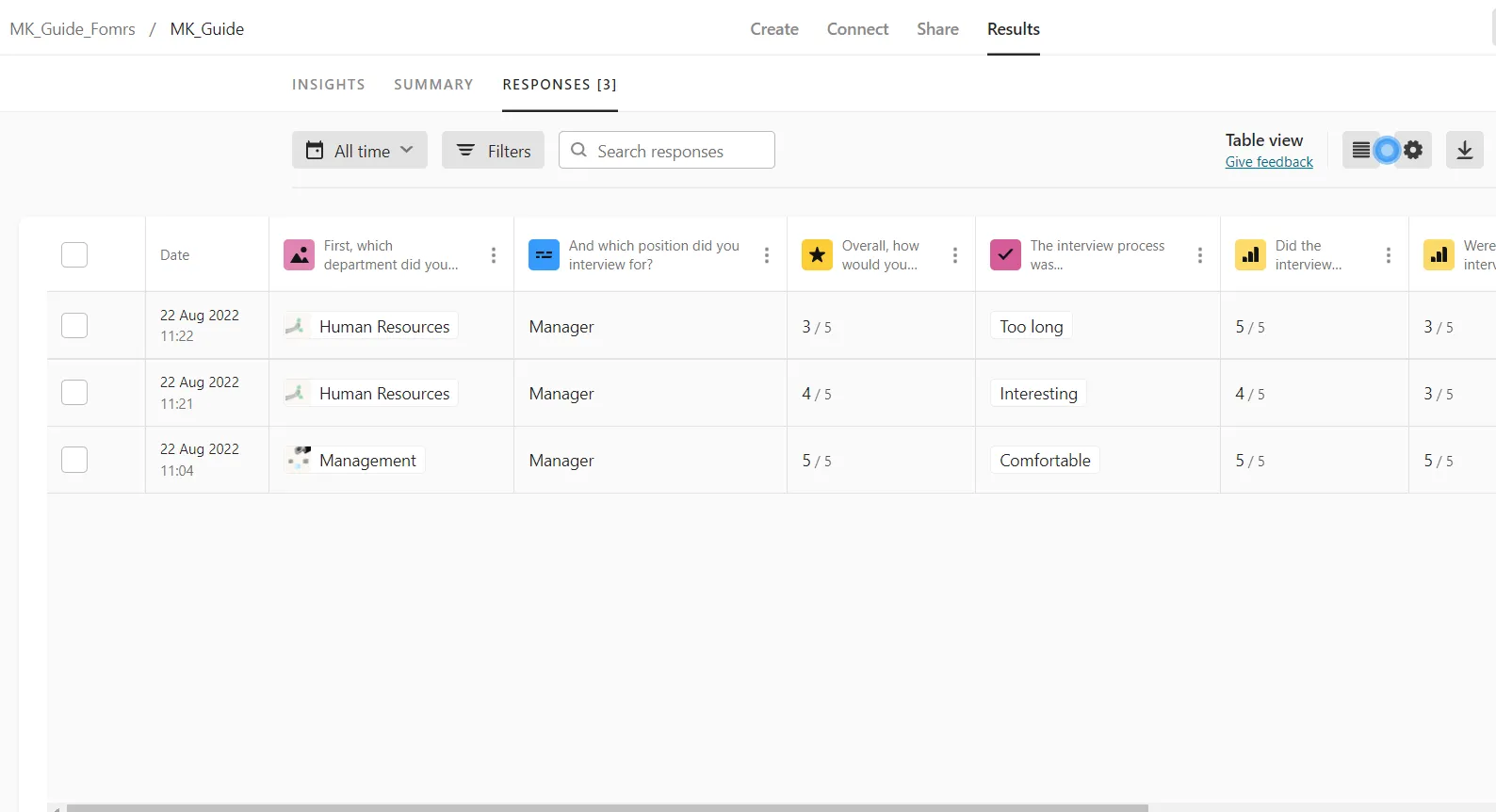 Typeform lets us add a custom thank you page and redirect to the URL page at the end of the form submission.
Other than this, the following access and scheduling options are available for user form submission:
Stop new responses
Schedule a close date for form submission (premium)
Configure a response limit on the form (premium)
Show custom closed message (premium)
Formstack, on the contrary, allows adding a custom welcome and submission message. You can make a beautiful welcome and thank you page using a plain text editor with many editing options, such as tables, images, links, background color, etc.
With the "Insert Link" editing tool, you can redirect users to a different page after they submit the form.
Response visualization
Both Typeform and Formstack show the responses from users in a table format and let us export the information in different file formats.
With Typeform, users' responses are divided into the following sections:
Insights: Form's views, submissions, completion rate, and completion time concerning the whole form or each question
Summary: Percentage of each option/answer selected by different users in graphical form
Responses: All the users' response data is available in table format (importing data in CSV or XLSX is possible)
Formstack, on the other hand, divides the responses from users into:
Submissions: Answers are shown in a table format and can be exported in PDF, CSV, Excel, or RTF format
Partial submissions: See data from partially filled-out forms
Charts: Graphs to show how users answer specific questions
Winner: Tie
Extra Features
Both offer insights into user response in a variety of presentation formats. For example, we can use tables and graphs to analyze how users respond and track their progress.
Moreover, Typeform's Logic feature allows it to set up a logical flow from one question to the next based on the previous question's response.
After putting conditions on the user's answer and setting up a logical flow between questions, you can visualize the logical flow of questions in an interactive tree structure.
We can also change the error and feedback messages in Typeform.
Formstack, in comparison, has two extra useful features: Conversion Kit and Portals.
With the help of a conversion kit, we can enhance forms with these conversion rate optimization tools:
UTM Tracking
Google Analytics
Partial Submissions
With Formstack's portal hub, we can put all our forms and groups of forms in one place and invite certain people to our portal for collaboration.
It helps us keep track of user responses, organize essential forms in one place, send reminder emails to the right people, etc.
Pricing and plans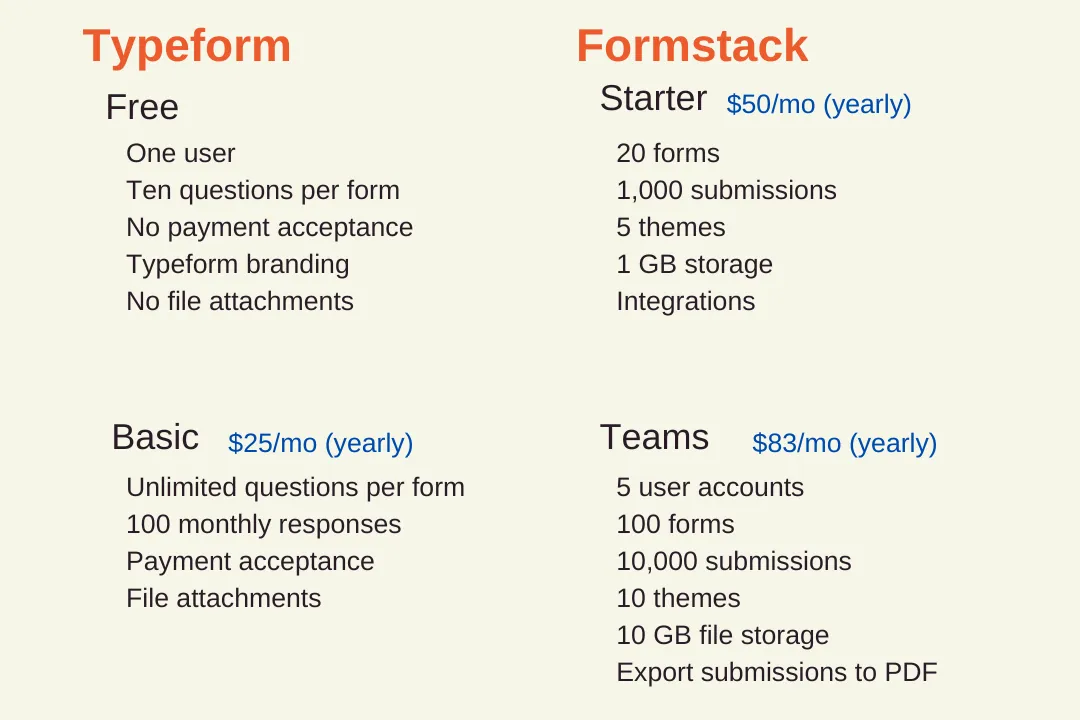 Overall, Formstack is more expensive than Typeform. This section covers the plans with the popular features.
Typeform
The free plan of Typeform is limited. The plan lets you try the platform before committing. You can receive ten responses per month. Below are the premium plans' details.
Basic plan
In a monthly package, the Basic plan costs $29 per month, and $25 per month in the annual plan. The plan includes the following:
100 monthly responses
Unlimited forms and questions
Branching and logical jumps
Payment integrations
Plus plan
The Plus plan costs $59 per month in a monthly package, and in an annual package, it costs $50.
The plan includes 1000 user answers, the ability for three users to work together, the removal of the Typeform branding, a custom subdomain, the ability to add a logo, integration with some advanced apps, and submission redirection.
Business plan
The final plan is Business costing $99 per month in the monthly package and $83 per month in the yearly package.
This plan includes everything in the plus plan, along with 10,000 user responses, five users for collaboration, and priority support.
Formstack
Formstack is a paid platform with only 14 days of trial. It has separate price plans for forms, documents, and sign modules. However, there are four paid plans of Formstack for Forms.
Starter plans
The starter plan costs $59 per month in a monthly package and $50 per month in a yearly package. You can add one user and create 20 forms.
Besides this, you get a 1,000 form submissions limit, five themes, 1GB of storage, and access to some other features.
Team Plan
This Team plan, suitable for teams, costs $99 per month in a monthly package and $83 per month in a yearly package.
It increases the user limit to 5 and the form building limit to 100. You also get a 10,000 form submission limit, ten themes, and 2GB of storage.
Pro Plan
The Pro plan is for large teams as it provides the ability to add ten users and create 1,000 forms. It costs $249 per month or $208 per month in a yearly plan.
This plan has a 100,000 form submission limit, access to unlimited themes, and 10GB of storage.
Enterprise plan
This plan offers customized features, and the price is set based on the extent of the required features.
Typeform vs. Formstack: Website links
Conclusion
In the end, it comes down to the response and pricing. You can use Typeform's free plan and Formstack for 14 days to see which is better. Either way, you won't be disappointed.
Anyhow, this is the end of the Typeform vs. Formstack battle. Thanks for reading it. Please let me know if I missed anything and share it with others who may benefit.