Typeform and Jotform are two services to create feedback, contact, and survey forms. But, which one should you be using? The article Typeform vs. Jotform has everything about the two, so let's dive in.
The difference
Both Typeform and Jotform are for creating forms, but Typeform supports one question per page, while Jotform supports both single page and one question per page forms. The forms on Typeform, by default, look sleek.
Content types
Typeform supports a wide range of data types to get the correct info from users. It categories the question types to make it easier to find question types. Take a look below to see all options:
Short text
Long text
Multiple choice
Phone number
Email
Website
Number
Date
File upload (premium)
Payment (Stripe)
Welcome screen
Ending
Statement
Question group
Ranking
Opinion scale
Net Promoter Score
Rating
Matrix
Picture choice
Yes/no
Dropdown
Terms and conditions
Jotform also supports several types. In fact, It supports more than Typeform. Here is the list:
Headings
Name (first and last)
Home address
Email address
Phone number
Appointment picker
Date picker
Signature
Product list
Fill in the blanks
Short text
Long text
Paragraph
Single choice
Multiple choice
Dropdown
Number
Image
File
Attachments
Captcha
Time
Star rating
Submit button
Spinner
Star rating
Payment (PayPal, Square, Stripe, and more)
Over 100 widgets (basic and from integrations)
Form designs
As mentioned above, Typeform has its style of putting each question on a new page. Jotform supports this feature through cards, but the forms on Typeform look prettier initially. It, however, does not support single-page forms, which is the main style on Jotform.
Collaborations
Typeform supports collaborations, but only in the upper-hand plans. The free and basic subscriptions only support an individual, so you can't add users. However, users on Plus and above subscriptions have options to collaborate.
Related: Jotform and Formstack comparison
Jotform, on the contrary, gives a unique link that can be shared with anyone. Users without a Jotform account can also edit the form. Moreover, you can see the edit history and find out who worked on what section.
Responders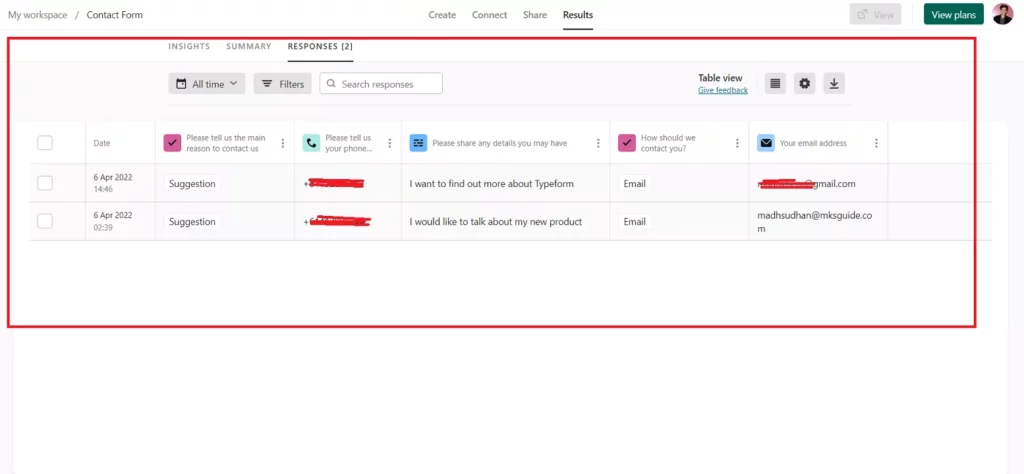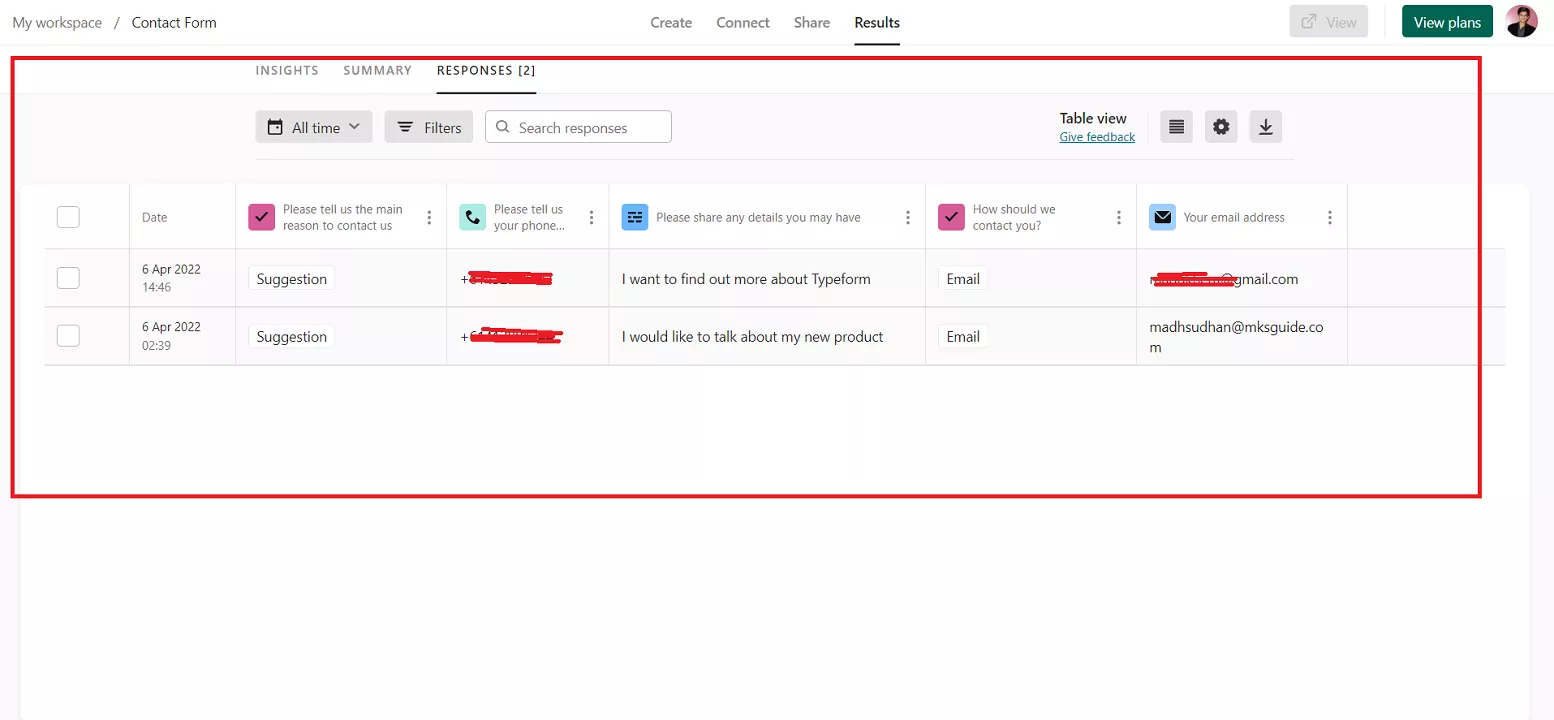 Typeform uses and persuades keyboard shortcuts while filling the form. On each choice, you see letters suggesting the keyboard button. With this, simple to complex forms can be filled without using the mouse.
In the replies, both the former and latter show rows and columns to present the data. You can click on each row to open the response in a bigger window. Jotform also takes the reply's IP Address and gives a particular ID to the answer.
Jotform automatically sends a confirmation message to the user; however, the option can be enabled on Typeform. You can also receive a copy of the response to your email for free.
Validations
Validations are part of this Typeform vs Jotform battle. We find validations in both services, and each question type comes with its own set of validations. For example, you can't add text to a number field. The same goes for emails and phone numbers.
Related: Zenforms vs. Google Forms
Sharing options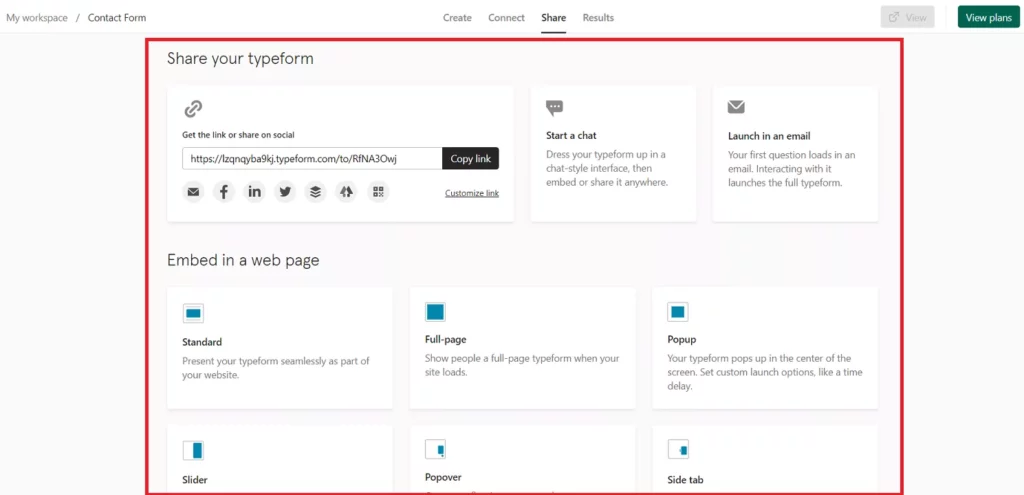 Along with a link, emailing, and social sharing, you can embed the form on websites. The former makes embedding easier as it brings options like standard, full-page, and popup embedding.
Although you still need to adjust your site's layout, the option makes it easier to embed. With Jotform, you need to write and add CSS and JavaScript to create popups and sidebar functions. However, with Jotform, you can download the form as a fillable PDF to share.
Templates
Templates make both complete. Typeform is a bit limited in terms of templates. It has about 90 templates split into categories. You get a search option to find the template you want.
Jotform has over 10,000 templates; yes, that many. These templates allow you to find the closest option to your imagination. Like Typeform, you get a search feature, while templates are categorized to help you find industry-specific templates.
Apps
Typeform does not have any apps. They started working on a Typeform LITE project, but that has been discontinued for a long time now. Jotform, on the other hand, is available on Android and iOS platforms to create and edit forms. You also get to see responses and download data.
Integrations
Like templates, integrations make your complex dreams come true. It does not matter how many apps both support because both offer Zapier integration. Zapier is an app connector platform to connect hundreds of apps.
Other than Zapier, Typeform supports:
Google Forms
Canva
Slack
Pipedrive
monday.com
One thing I like the most is the integrations option right next to the form builder to help you connect apps.
Jotform also supports similar plugins such as monday.com and Slack. It also supports:
Zoho CRM
Mailchimp
OneDrive
Free vs. paid
The freemium nature of both allows users to test them before deciding. Typeform's free plan offers unlimited forms but only ten monthly submissions. Other limitations are:
One user
Ten questions
No payment acceptance
Typeform branding
No file attachments
Some other options are also missing. What I don't like about Typeform is that it does not allow monthly payments. You must pay for the whole year upfront. The first premium bundle is called Basic offering:
Still one user
Unlimited questions
100 monthly responses
Payment acceptance
File attachments
It also offers an option to modify the response limit. The Basic plan supports up to 750 responses, and for 750, you pay $41 per month (paid yearly). If you go with the 100 responses a month, you spend $25 per month.
The mid-range plan is Plus supporting up to 3 users and 1,000 responses. You can increase the response limit to 2,500. The default plan costs $590 (around $50/mo), while the increased limit (2,500) asks for $890 (around $70/mo) for the subscription.
On Jotform, you find three plans, excluding the free one. Overall, Jotform is more lenient towards free users. The available options and limitations are:
Five forms at max
Hundred monthly submissions
100 MB upload limit
1,000 monthly views
500 submissions limit
100 fields at max
Ten payment submissions
The Bronze subscription costs $29 per month (yearly plan), and most of the above numbers increase. Let's take a look at the features:
25 forms
1,000 submissions monthly
1 GB file upload limit
10,000 form views per month
Up to 250 fields
100 payment submissions per month
The second last subscription, Silver, charges $39 per month, offering extended options. The final plan is Gold, supporting 100 forms and 1 million views per month. The plan costs $99 per month, while you pay upfront for a year.
Which one do you need?
Typeform free is limited to a few monthly responses, so it suits people with less traffic. Its style is also different from Jotform.
So, if you want classic forms with extended options, go with Jotform, but if you want fewer options, then go with Typeform.
Typeform vs. Jotform: Links
Summary
From bloggers to big companies, we see forms everywhere. The increasing popularity has seen many companies bring their own programs.
I hope the Typeform vs Jotform battle made it easier to understand the two. Please let me know if you have any specific suggestions or feel the article needs an update.