Typeform and Jotform are two services to create feedback, contact, and survey forms. But which one should you be using? The article Typeform vs. Jotform has everything about the two.
The difference
Typeform's identity is aesthetic one-question per page forms, whereas Jotform is for general multi-questions per page forms. However, you can use the one-page per form layout on Jotform.
Form question types
Both support many, but Jotform has more than Typeform. You will find the basic types, including text, phone number, email, website, yes and no, dropdown, etc., on both.
Jotform has additional appointment and date picker, rating, and spinner features. For the complete list, check out the above video.
Form designs
Layout
Typeform has its style of putting each question on a new page. Jotform supports this feature through cards, but the forms on Typeform look prettier.
Form designer
In Typeform, you can enhance the look and feel of forms using various themes. It also enables you to customize them. Here is a list of theme customization options:
Font
Questions, answers, buttons, and text color
Background color and image
Logo
Jotform has a better designer panel. This gives you control over customizing the themes. Some of the features you get include:
Preset color scheme
Page color and image
Font color
Input field background color
Form width
Elements alignment
Question spacing
Button styles
Customize using CSS
Form submissions
The settings for a Typeform submission are related to response limits, notifications, and messages. Jotform also supports configuring options related to form submission.
Related: Jotform vs. Formstack
Responders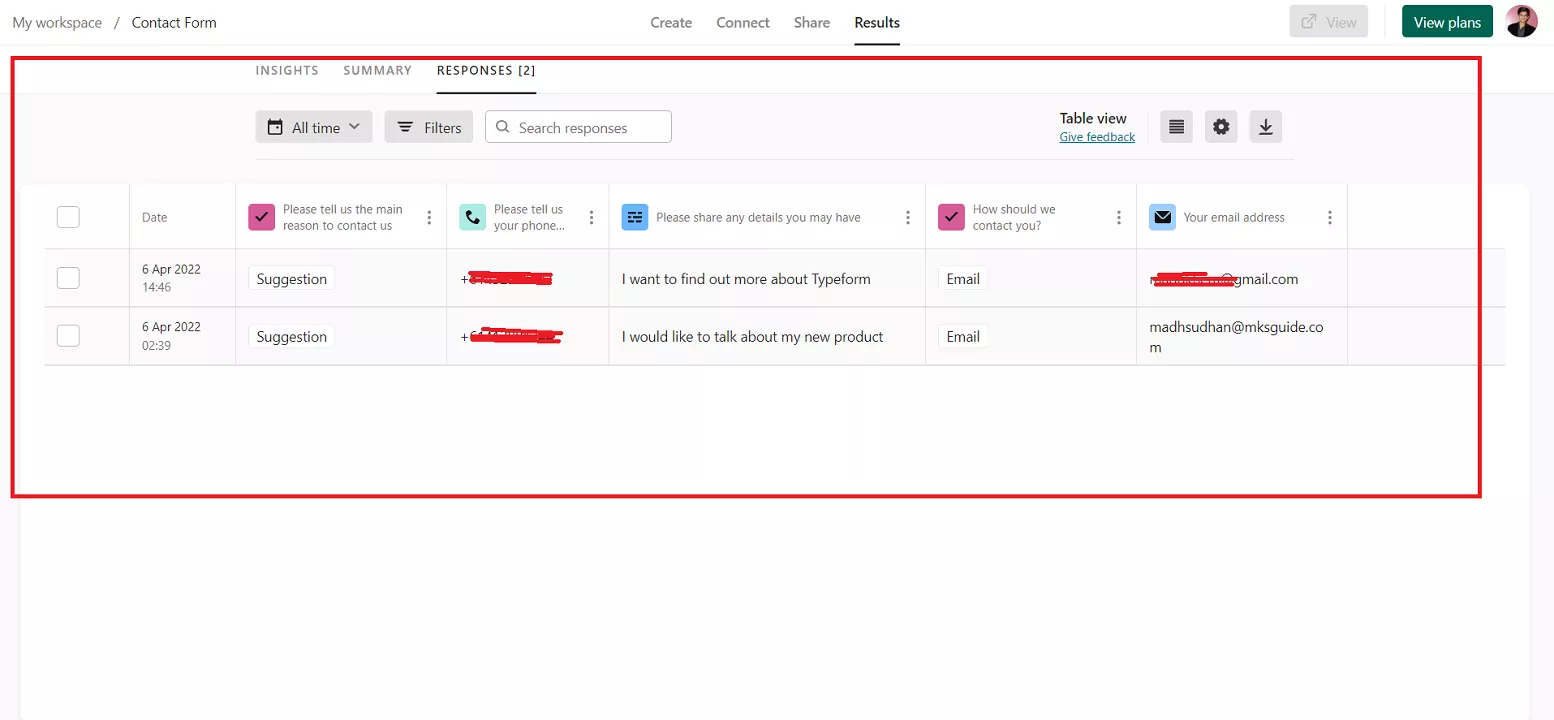 Typeform uses and persuades keyboard shortcuts. On each choice, users see keyboard buttons. This allows simple to complex forms to be filled without using the mouse.
Both show you rows and columns for each response. You can click on each row to open the response in a bigger window.
Jotform also takes the reply's IP Address and gives a particular ID to the answer.
You can enable sending an email when a user fills out a form. You can also get email confirmations in both apps.
Response visualization
Typeform allows us to visualize forms as insights, summaries, and responses. The insights tab shows views, submissions, completion rates, completion times, etc.
The summary tab provides information about the average responses given by users to each question.
Lastly, the responses window shows each user's response. You can export the data in CSV and XLSX formats.
Jotform, in contrast, displays form submission and analytics in separate sections.
The Submission section lets you visualize the user's response in a table format, along with various filtering and sorting options. The table records can be downloaded in CSV, Excel, and PDF files.
The Analytics page visualizes total views, responses, conversation rate, and completion time at weekly, monthly, and all-time intervals.
Validations
Validations are part of this Typeform vs. Jotform battle. In both, each question type has its own set of validations.
For example, you can't add text to a number field. The same goes for emails and phone numbers. Overall, this round is a tie.
Related: Typeform vs. Microsoft Forms
Sharing options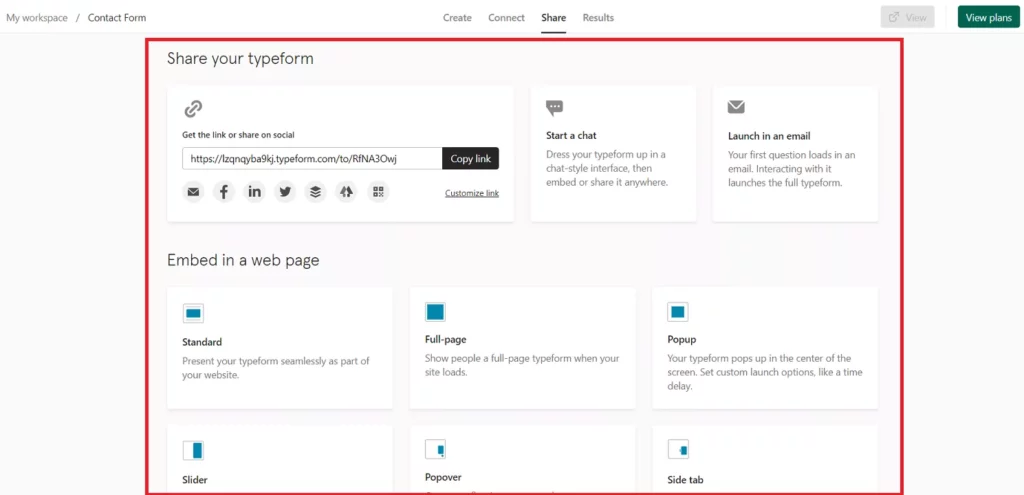 In Typeform, you can embed the form on websites along with a link, emailing, QR Code scanning, and social sharing.
Supported embedding options include:
Full-page
Slider
Popover
Side tab
Pop-up
Although you need to adjust your site's layout, the option makes embedding easier.
Jotform supports sharing through links, QR codes, social media, and email. It also supports embedding forms. Here you get the following webpage embed options:
Easy embed code
Source code for JS and CSS
Embed code for WordPress plugin
Pop-up forms
Show form in a lightbox
Code provides a feedback button on the screen side
Embed form in an iFrame
With Jotform, you must write and add CSS and JavaScript to create pop-ups and sidebar functions. However, you can download the form as a fillable PDF to share.
Jotform also provides separate embed codes compatible with third-party apps such as Zoey, Blogger, Joomla, Google sites, Drupal, Yola, TypePad, etc.
Collaborations
Typeform supports collaborations, but only in the upper-hand plans. The free and basic subscriptions only support an individual, so you can't add users.
Jotform supports collaborating on forms for free. With the unique link, users can edit the form even without a Jptform account.
In the premium plan, you can add new members as users or admins and control who can access forms and submissions.
Templates
Typeform has hundreds of templates split into many categories, but Jotform has over 10,000 templates.
These templates allow you to find the closest option to your imagination.
Jotform also provides separate templates for forms, apps, tablets, PDF files, card forms, store builders, approval, and sign-up forms.
Apps
Typeform does not have a mobile app. Jotform is available on Android and iOS to create and edit forms. You also get to see responses and download data.
Extra options
Typeform
We get Logical Branching to create conditional branching between questions.
For example, you can apply "is equal" and "is not equal" conditions to multiple-choice questions. Then, based on the user's response, you can direct the user to some specific next question.
Another feature of Typeform is Quizzes and Scoring. You can convert forms into quizzes.
Jotform
You can apply various logic to responses and perform conditional actions.
Another feature is Jotfom Sign, to add a signature field for users to upload an electronic signature.
You can also convert this submitted form into a signed PDF document.
Lastly, it offers an Approval Flow that allows members of your collaborative workspace to accept or deny submissions.
Pricing and plans
Typeform's free plan offers unlimited forms but only ten monthly submissions. Other limitations are:
One user
Ten questions
No payment acceptance
Typeform branding
No file attachments
The first premium bundle is the Basic offering:
Unlimited questions
100 monthly responses
Payments
File attachments
The plan costs $29 monthly or $25 if paid annually.
The mid-range plan is Plus costing $59 or $50 per month. It supports up to 3 users and 1,000 responses.
You can increase the response limit to 2,500 by paying $30 per month or $300 per year.
The Business plan costs $99 monthly ($83 if paid yearly) and supports up to 5 users and a 10,000 response limit.
On Jotform, you find three plans, excluding the free one. Overall, Jotform is more lenient towards free users. The available options and limitations are:
Five forms at max
Hundred monthly submissions
100 MB upload limit
1,000 monthly views
500 submissions limit
100 fields at max
10 payment submissions
The Bronze subscription costs $39 or $34 per month (yearly plan), rising most of the above numbers. Here is the list:
25 forms
1,000 submissions monthly
1 GB file upload limit
10,000 form views per month
Up to 250 fields
100 payment submissions per month
The second last subscription, Silver, charges $49 monthly ($39 if paid annually), offering extended options.
The final plan is Gold, supporting 100 forms, 10,000 monthly submissions, and 100GB storage costs $129 or $99 per month if paid upfront for the whole year.
Which one is for you
Typeform has a different style, but only a few responses are offered for free. Jotform brings the classic form system and has more form limits.
If you want to get things done in a simple way, go with Jotform.
If your style is everything to you, and you want to look unique, Typeform is your thing. Also, if you have a contact form, I suggest using Typeform. It looks great on a contact page.
Typeform vs. Jotform: Links
Summary
From bloggers to big companies, we see forms everywhere. The increasing popularity has seen many companies bring their programs.
I hope the Typeform vs. Jotform battle made the two easier to understand. Please let me know if you have any specific suggestions or feel the article needs an update.