Two industry-leading form builders are Typeform and Microsoft Forms. From contact to feedback, both are used by thousands of businesses.
How to decide the best in your situation. This is the Typeform vs. Microsoft Forms battle to choose your next platform.
Takeaway
Microsoft Forms is free and has many options for quick and simple forms.
Typeform is for beautiful forms and is used for many options. However, its free plan has nothing to offer.
Typeform has many amazing templates.
What are both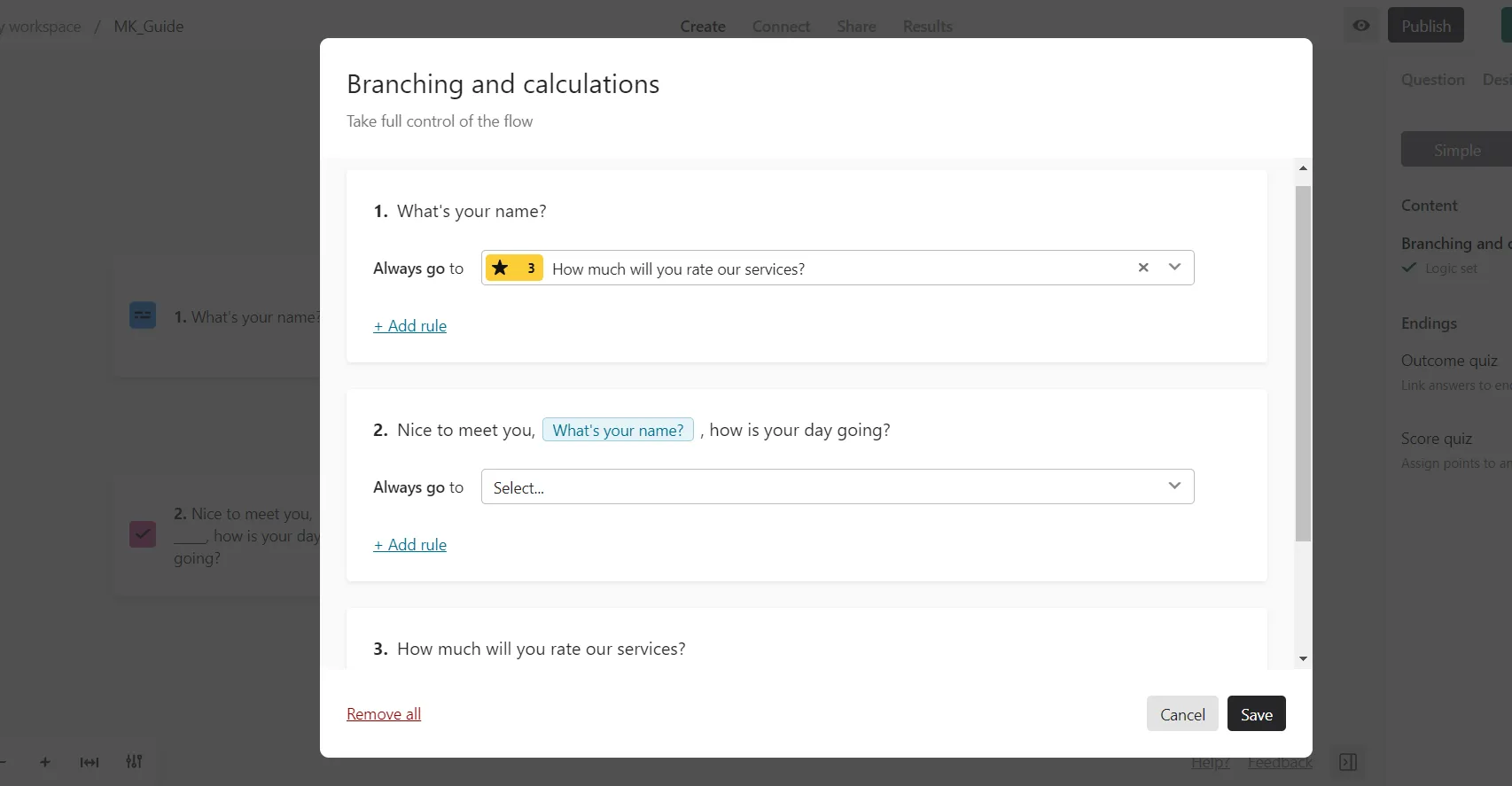 Typeform
Because of its one-question one-page nature, Typeform has over 100,000 paying customers. Features like Conditional Flow, payment support, and over 25 question types are some of its features.
Microsoft Forms
Integrated with Microsoft 365, Microsoft Forms can create simple surveys and questionnaire forms with multiple questions on a single page. It has very few customization options and form elements.
My previous company used Microsoft Forms for all internal communications.
Supported form questions
Typeform has 25 form elements. Except for "payment," all are free. These include text, numbers, dropdown, multiple choice, rankings, date, and attachments.
Microsoft Forms has 8 form questions. With these form options, it's easy to make simple forms. Here is the list:
Choice
Text
Insert media (option available next to each question)
Rating
Date
Ranking
Likert
Net promoter score
While you are here: Typeform vs. Google Forms
Validations
Both allow us to add checks and validations specific to the element. In Typeform, the validation rules for elements can be found in the menu to the right of the questions.
For example, we can set minimum and maximum limits for the short text question. In the same way, many question types support specific validation rules.
There are many more checks and validations in Microsoft Forms than in Typeform. For example, the following checks and validation rules are available for text fields:
Required
Long answer
The value must be a number
Text length rules

Greater than
Greater than or equal to
Less than
Less than or equal to
To add validation, select the form element, click the three-dot button, and click "Restrictions."
Typeform vs. Microsoft Forms: Templates
Typeform has over a thousand free templates. The templates are arranged into marketing, human resources, customer success, product, education, events, business, sales, and freelancers.
All of these are available on the Typeform template page.
Microsoft Forms only has fewer than 20. Most cover the quiz and survey topics.
Related: Typeform vs. Jotform
Form sharing options
Regarding sharing, both offer almost the same options. We can share the form with anyone and collect responses from users. Both allow sharing in the following ways:
Public URL
QR Code
Embed in a webpage
But Typeform takes the lead when embedding forms in a web page. It provides many embed modes and customization of form for a web page.
You can change the width, height, and transparency of the form. Following are the six embed modes:
Standard
Full-page
Popup
Slider
Popover
Side tab
Typeform supports collaboration with a team in the paid version, whereas Microsoft Forms offers no collaboration.
Extra features
Branching
Both offer a branching feature that lets us make links between questions and change their order.
For example, you can show a specific next question based on the answer chosen by the user in a multiple-choice question.
Stats
Both programs provide detailed insight into user responses in textual and graphical formats.
To view these insights in Typeform, click the "Results" tab. You can view these insights in Microsoft Forms by clicking the "Response" tab.
Customization
As Typeform supports one question on a page, you can add images and stuff to style the form.
Microsoft Forms also offers to add colors and backgrounds, but that's it.
Microsoft Forms extra features
Microsoft Forms is free, so we get the goodness. You can find these options by clicking the three-dot button in the top right corner. The following is a list of these features:
Shuffle questions
Show progress bar (only available for multi-page surveys)
Get email notifications of user responses
It also suggests writing questions with the help of AI. For example, adding a choice question suggests adding: Yes, No, and Maybe. You can add those with one click.
Pricing and plans
This is what separates them both. Microsoft Forms is free. All you need is a Microsoft account.
Typeform is free to use but only to test the app or when you just have a few responses to collect.
Its Basic plan costs $29 monthly ($25 if paid yearly). 100 monthly responses, unlimited forms, and payment integrations are offered.
The Plus plan costs $59 monthly ($50 if billed yearly). The responses limit increases to 1000 a month, and up to 3 uses in collaboration.
The Business plan costs $99 monthly ($83 if paid annually).
This plan includes 10,000 user responses per month, 5 users for collaboration, and priority support through live chat.
Summary
Microsoft Forms is best if you need a simple survey, quiz, and questionnaire form. It is free to use and has enough storage to handle basic needs.
The AI suggestions, branching, and beautiful free templates are a great help for easily creating forms.
But if you want lots of customization and your needs are more than simple forms, you should consider Typeforms.
You can create a form for product sales using this payment form option. It lets us add even more complex branching than Microsoft Forms.
This is it for the Typeform vs. Microsoft Forms battle. Please share your thoughts in the comments and share the article with others.
Typeform vs. Microsoft Forms: Links
My name is Madhsudhan Khemchandani. I have a bachelor's degree in Software Engineering (Honours). I have been writing articles on apps and software for over five years. I have also made over 200 videos on YouTube. Read more about me on the About page.