Forms are a professional way of letting customers connect with businesses. Individuals use forms for feedback, surveys, and even collecting emails.
The technology era has provided us with several forms of apps. Two of those are Typeform and Microsoft Forms. What are the differences? We go deep into the comparison of the Typeform vs. Microsoft Forms battle.
What are both
Typeform and Microsoft Forms are used for questionnaires, surveys, and other forms. Both form services can create efficient forms using custom or built-in templates.
But Typeform gives you much more flexibility regarding templates, form options, validations, and logic.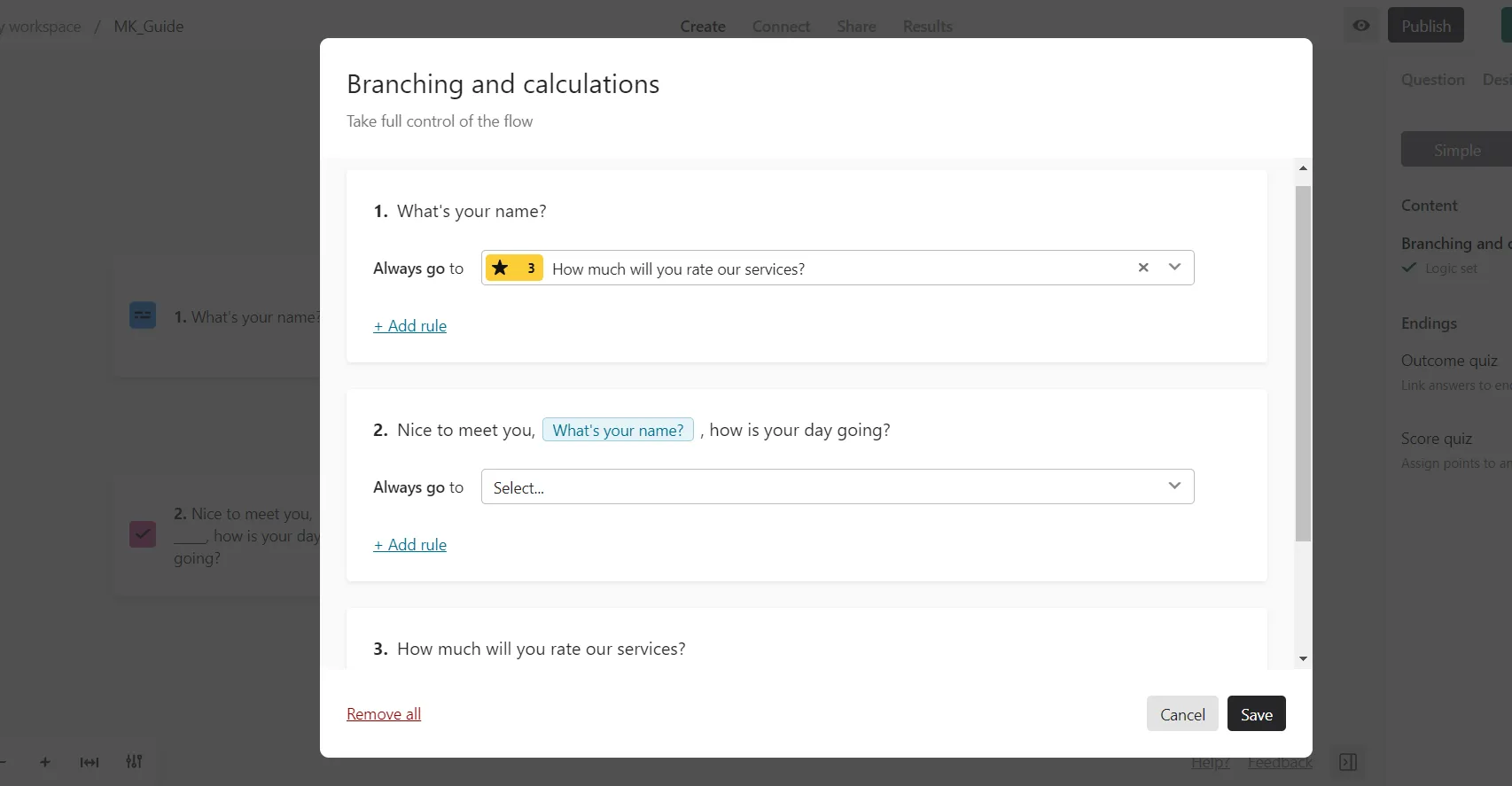 Typeform
Because of its one-question one-page nature, Typeform has over 100,000 paying customers. With Typeform, we can use many built-in templates and form customization options to create a form for various purposes.
Typeform's conditional flow of questions is one of its best features. With conditional logic, we can add many checks and conditions to users' answers and perform specific actions if the conditions are met.
Microsoft Forms
Integrated with Office 365, Microsoft Forms can create simple surveys and questionnaire forms with multiple questions on a single page. It has very few customization options and form elements.
Supported form questions
Typeform has 25 form elements. Except for "payment," all are free. With these 25 form elements, you may create almost any form. The following is a list of its form elements:
Email
Phone Number
Website
Long text
Short text
Number
Drop-down
Multiple Choice
Picture Choice
Yes/No
Legal & consent
Matrix
Net Promoter Score
Opinion scale
Ranking
Rating
Payment
Calendly
Date
Question Group
Statement
File upload
End Screen
Redirect to URL
Welcome Screen
In comparison, Microsoft Forms has only 8 form elements. With these form options, it's easy to make simple forms. Microsoft Forms provides the following form elements:
Choice
Text
Insert media (option available next to each question)
Rating
Date
Ranking
Likert
Net promoter score
Validations
Both apps allow us to add many checks and validations specific to the element. In Typeform, the validation rules for form elements can be found in the menu to the right of the questions.
For example, for the short text option, we can set validation rules for required and maximum characters. In the same way, the following validation rules can be used for the multiple choice form option:
Required
Multiple selections
Randomize
Other option
On the other hand, Microsoft Forms is better in terms of setting validation rules. There are many more checks and validations in Microsoft Forms than in Typeform.
For example, the following checks and validation rules are available for text fields:
Required
Long answer
The value must be a number
Text length rules

Greater than
Greater than or equal to
Less than
Less than or equal to
To add validation, select the form element, click on the three-dot button, and click "Restrictions."
Related: Typeform vs. Jotform
Typeform vs. Microsoft Forms: Templates
Typeform is much better than Microsoft Forms regarding templates and customization. It has more than a thousand free and paid templates.
The templates are arranged into groups of marketing, human resources, customer success, product, education, events, business, sales, and freelancers.
These groups are further divided into surveys, quizzes, and form subcategories. All of these are available on the Typeform template page.
On the other hand, Microsoft Forms only has 14 templates. The templates include:
Animal quiz
Event feedback survey
Nomination survey
Student exit survey
T-shirt sign-up
Form sharing options
Regarding sharing, both offer almost the same options. We can share the form with anyone and collect responses from users. Both allow sharing in the following ways:
Public URL
QR Code
Embed in a webpage
But Typeform takes the lead when embedding forms in a web page. It provides many embed modes and customization of form for a web page.
You can change the width, height, and transparency of the form. Following are the six embed modes:
Standard
Full-page
Popup
Slider
Popover
Side tab
Typeform supports collaboration with a team in the paid version, whereas no collaboration is offered in Microsoft Forms.
Integrations
Typeform can work with a lot of well-known services. You can find a detailed list of all those popular services on the integration page.
There are 79 apps that support integrations with Typeform. Some of the popular services are:
Google Forms
Asana
Google Analytics
Intercom
Canva
Notion
Slack
Excel Online
Microsoft Teams
Pipedrive
In comparison, Microsoft forms can only be integrated with Office 365 and Microsoft Sharepoint.
Related: Typeform vs. Google Forms
Extra features
Branching
Both offer a branching feature that lets us make links between questions and change their order. For example, you can show a specific next question based on the answer chosen by the user in a multiple-choice question.
Stats
Both apps provide detailed insight into user responses in both textual and graphical formats.
To view these insights in Typeform, click on the "Results" tab. You can view these insights in Microsoft Forms by clicking on the "Response" tab.
Customization
Regarding the customization, as Typeform supports one question on a page, you can add images and stuff to style the form.
Microsoft Forms also offers to add colors and backgrounds to the form, but that is pretty much it.
Microsoft Forms extra features
In Microsoft Forms, there are many extra features related to responses. You can find these options by clicking on the three-dot button present in the top right corner. The following is a list of these features:
Shuffle questions
Show progress bar (only available for multi-page surveys)
Get email notification of user responses
Microsoft Forms also provides suggestions while writing questions with the help of AI. For example, adding a choice question suggests adding: Yes, No, and Maybe. You can add all with one tap.
Pricing and plans
This is what separates them both. Microsoft Forms is free to use if you have a Microsoft account. Typeform is costly.
Typeform
Typeform is free to use but with limited features. It offers three premium plans to provide access to more advanced features.
Basic plan
The basic plan costs $29 per month in a monthly package and $25 per month in a yearly package. In this plan, you get the following extra features:
100 user responses per month
Unlimited forms and questions
Branching and logical jumps
Payment integration
500+ integrations with Zapier
Plus plan
The plus plan costs $59 per month in a monthly package and $50 per month in a yearly package.
Besides the basic plan features, the plus plan provides 1000 user responses, 3 users for collaboration, Typeform brand removal, custom subdomain, insert logo, integration with some advanced apps, and redirection on submission.
Business plan
The business plan costs $99 per month in the monthly package and $83 per month in the yearly package.
This plan includes everything in the plus plan, along with 10,000 user responses per month, 5 users for collaboration, and priority support through live chat.
Microsoft Forms
Every feature in Microsoft Forms is free to use. The only limitation is that you only get 5GB of cloud storage. You can get more storage by subscribing to a OneDrive plan available or getting the Office 365 apps subscription.
Typeform vs. Microsoft Forms: Links
Summary
Microsoft Forms is best if you need a simple survey, quiz, and questionnaire form. It is free to use and has enough storage to handle basic needs.
The AI suggestions, branching, and beautiful free templates are a great help for creating forms with ease.
But if you want lots of customization and your needs are more than just simple forms, then you should consider Typeforms.
You can create a form for product sales using this payment form option. It lets us add even more complex branching than Microsoft Forms.
Anyway, this is it for the Typeform vs. Microsoft Forms battle. Please share your thoughts in the comments and share the article with others.