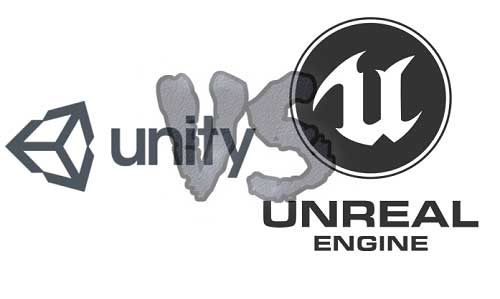 Game development has become common, and with free to program tools, anyone can build games. Unity and Unreal Engine are the two popular game development engines. Both are unique, and many developers have made many games through both.
The blog post covers Unity vs. Unreal Engine battle. We will compare the essential tools and figure out which one is for you in 2020.
Table of contents
Quick Unity vs. Unreal Engine comparison
If you are a beginner, I will recommend Unity because it has an easy-to-use interface and it supports C#, which is easier than C++. If you already have some experience in coding and you want to expand your knowledge and create 3D games, especially FPS and TPS then Unreal Engine is for you. For the full comparison, follow the blog post.

Interface
The interface of both is a bit challenging, but if we are only comparing Unity and Unreal Engine, I will go with Unity because Unity is easier to use and navigate. Although you can also start with Unreal Engine 4 but compared to Unity 3D, you will have to practice a bit more to understand the software.
Winner: Both | Score: Unity: 1, Unreal Engine: 1

Graphics
Unity is suitable for 2D and 3D game development, where Unreal Engine is more for 3D games. From the beginning, Unreal has been focusing more on graphics, which is the reason for amazing graphics quality on all platforms. Unity 3D is an all-rounder but in graphics, it can't win.
According to TairaGames 3D games made in Unity are likely to drain the battery faster while a 2D game made in Unity will drain the battery slower as compared Unreal Engine.
Winner: Unreal Engine | Score: Unity: 1, Unreal Engine: 2
Interested in Unity3D? Check out my apps for Android developed in Unity3D.
Supported platforms
| Platform | Unity 3D | Unreal Engine 4 |
| --- | --- | --- |
| Windows, Mac, and Linux | ✔️ | ✔️ |
| Android and iOS | ✔️ | ✔️ |
| Windows Phone | ✔️ | ❌ |
| Playstation 4 & VR | ✔️ | ✔️ |
| Gear VR | ✔️ | ✔️ |
| WebGL | ✔️ | ❌ |
| HTML5 | ❌ | ✔️ |
| Xbox One | ✔️ | ✔️ |
| Nintendo 3DS | ✔️ | ❌ |
| tvOS & Android TV | ✔️ | ❌ |
| Steam | ✔️ | ✔️ |
| AR Devices | ✔️ | ✔️ |
| Others | ✔️ | ❌ |
Unity supports over 25 platforms, while Unreal Engine 4 supports less than 20 platforms. Both are cross-platform, which means you only have to build the application once and deploy to multiple platforms. Both are available on Windows, Mac, and Linux.
Winner: Unity3D | Score: Unity: 3, Unreal Engine: 3

Supported languages
Blueprints
One of the essential Unity vs. Unreal Engine 4 comparison sections. After everything graphics and programming languages are the ones which impact significantly.
Both game engines offer non-programming game development using blueprints. Unreal Engine calls it the Blueprints while Unity calls it Visual Scripting. Blueprints in Unreal has been here for a long time, but the Visual Scripting in Unity is a new feature starting release 2019.2. With tools, you can develop games without knowing to code.

Programming
Regarding the programming languages, Unity supports C# as well as JavaScript, while Unreal Engine supports C++. Compared to C++, C# is more comfortable to learn. C++ is a great programming language, but dealing with pointers and memory allocation is not a beginner's game.
JavaScript on Unity also makes it easier for new developers to learn to code. Want to learn more about C# and C++? Read the comparison here.
Winner: Both | Score: Unity: 4, Unreal Engine: 4

Stores
Unity offers an Asset Store where developers can look around and buy the assets. Asset Store provides free and paid access to graphics, images, animations, materials, sound, full projects, etc., from other publishers. Unreal Engine also offers Marketplace where developers can buy the stuff. You can find assets like 2D tools, animations, characters, environments, FX, etc.
Winner: Both | Score: Unity: 4, Unreal Engine: 4
Related: Photoshop Express vs Lightroom | Which One is for You?
Other features
| Feature | Unity | Unreal Engine |
| --- | --- | --- |
| Analytics | ✔️ | ✔️ |
| Ads | ✔️ | ✔️ |
| Documentation | ✔️ | ✔️ |
| Video tutorials | ✔️ | ✔️ |
Pricing
Both are available for free; however, there's a certain point where you have to pay to continue earning money. With Unity, if your revenue is over $100,000 annually, then you must purchase the Unity Personal plan. There are three more upper hand premium plans, which come with great benefits with an extended earning limit.
With Unreal Engine 4 if you make over $3000 per quarter per game, then you will have to pay 5% royalty to Epic Games. There are no restrictions on the platforms as well as on the number of games you publish.
Winner: Both | Score: Unity: 5, Unreal Engine: 5

Some popular games made in both engines
Unity
Unreal Engine
Which one is for you
For a new person who is starting to learn to code and build games, I will recommend Unity. For a programmer who already has some knowledge of game development and wants to try something advance and build 3D games than Unreal Engine is a final choice.
Wrap Up
Let's see the results from the comparison: Unity: 5, Unreal Engine: 5. Both work fine, and it's entirely up to you whichever you select. I hope the comparison Unity vs Unreal Engine helped. Thanks for reading, and please let me know if you have any comments or suggestions.