Two popular freelancing websites are Upwork and Freelancer. Both offer a platform for clients to find freelancers and freelancers to find work (strange sentence).
But which one is better? Here is an Upwork vs. Freelancer comparison to help you decide.
The main difference
Both places are to let clients work with freelancers to finish projects. Clients list projects and choose freelancers for their projects.
On Upwork, listed projects are classified with an experience level. We find three experience levels: entry, intermediate, and expert.
Bidding on entry-level projects increases the chances for new freelancers to be hired. This makes Upwork suitable for beginners and experts.
Freelancer, on the other hand, does not classify experience levels. When someone posts a job, they see all freelancers who bid on the project.
This makes Freelancer challenging for new freelancers. However, a freelancer can pay Freelancer to be put on the top in the bid area.
Moreover, Upwork makes finding and hiring specific freelancers easier because of its project catalog, UI, and better navigation system. Freelancer allows hiring particular freelancers, but it's a bit difficult.
Lastly, Upwork focuses more on hourly rates, whereas Freelancer is more like a total project cost platform.
Bidding on projects
Freelancers can bid on projects that clients put on, but there is a limit. Upwork works on Connects. As a freelancer, you get 10 free Connects every month. Of course, you can pay Upwork to get more.
Depending on the work type, Connects are needed to bid on projects.
Freelancer has a monthly bid limit. Free members get 6 bids per month. The program has the below upgrade options:
Sponsored: Boost bid on top by paying $2.90
Sealed: Hide it from other freelancers for $0.1
Highlight: Costs $0.3 to highlight the bid in blue to make it more visible
Related: Todoist vs. Any.do
Talent badges
Talent badges can help in getting hired. Talent badges show a freelancer's skills and reputation level. Freelancers can earn badges by completing jobs, verifying their profiles, and becoming paid members.
Upwork
Upwork provides the following 4 badges:
Rising talent
Earning this badge requires profile verification and following Upwork's terms of service.
Top rated
This badge requires the following:
Earn one year's income of $1,000
The first contract was signed by you over 90 days ago
Top-rated plus
You must earn at least $10,000 yearly to get this badge.
Expert-vetted talent
There are two prerequisites for earning this badge:
Pass the experts' pre-screening test
Complete 100% account verification
Freelancer
On the other hand, Freelancer provides the following 4 badges:
Verified by Freelancer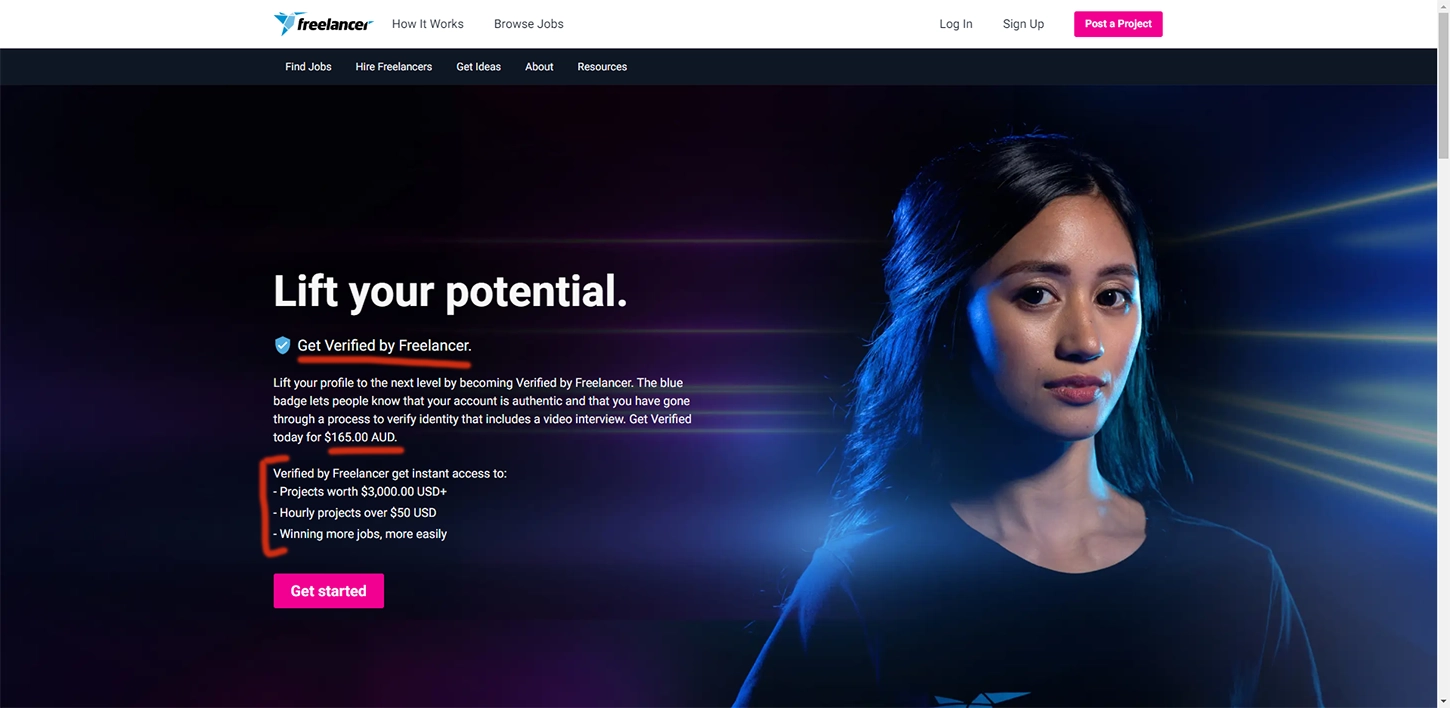 The verified badge shows a Freelancer logo next to your profile to show that your account is trustworthy. The badge costs around $100.
Preferred Freelancer
Being a preferred freelancer requires the following:
No warnings or penalties
The profile must be in the overall top 3 rankings
Provide great service to clients
Have a good portfolio of work
Pass the preferred freelancer entry test
You go through an interview to get this badge, but it does not cost anything.
Membership badges
These badges can be earned by subscribing to a paid membership. It includes basic, plus, professional, and premier badge. They allow us to bid and work on high-quality jobs.
Skill-based badges
There are over 1,000 skill-based badges in IT, Writing, Design, Engineering, Marketing, and other fields. Any skill badge requires passing a test.
Job filtering
For clients, finding the right job requires filtering search results. Using those efficiently, you can be at the top of the list. For example, adding all the skills in your profile will put in most filters.
Each platform has several helpful filters. Upwork provides the following 13 job filters:
Experience level
Number of submitted proposals
Client info
Category
Hourly rate
Fixed price rate
Project length
Contract to hire
Hours per week
Client history
Location
Time zones
Connects required
In contrast, Freelancer lets you filter jobs in the following 8 ways:
Project type
Fixed price
Hourly rate
Skills
Listing type
Project location
Client's country
Language
Service fee
Upwork is costly overall. The cost of services varies depending on the project budget. Here is a summary of the charges:
| Project budget | Service charges |
| --- | --- |
| $0 to $500 | 20% |
| $501 to $10,000 | 10% |
| $10,001+ | 5% |
Upwork fee table
In comparison, the Freelancer's service fee is 3% for employers and 10% for freelancers in the US.
Related: Typeform vs. Microsoft Forms
Ease of use
Upwork is more user-friendly. The search function is beneficial in finding the right freelancers and jobs.
Furthermore, the Project Catalog section lets freelancers create order pages.
In this way, clients don't need to post a project and find freelancers. They can choose a freelancer from the list and start an order.
Freelancer can be a bit more confusing. However, once you get the hang of it, it can be a great resource for finding talented freelancers.
Also, job alerts help freelancers find work without searching.
Pros and cons
Upwork
Pros
✔️ More job search filters
✔️ Entry-level jobs for new freelancers
✔️ Project Catalog
✔️ Access to a global pool of talent
✔️ Boost bid for better visibility
Cons
❌ High service charges
❌ Quality control issues
❌ Limited free bidding Connects
❌ Scams are common
❌ No skill-based badges
Freelancer
Pros
✔️ Affordable service fees
✔️ Upgrade bids by paying extra money
✔️ Join or create groups
✔️ Notifications about recommended jobs
✔️ Contest entries
Cons
❌ High level of competition
❌ Scammer clients and freelancers
❌ Only 6 monthly bids for free
❌ Fewer job filters
❌ Memberships cost too high
Paid memberships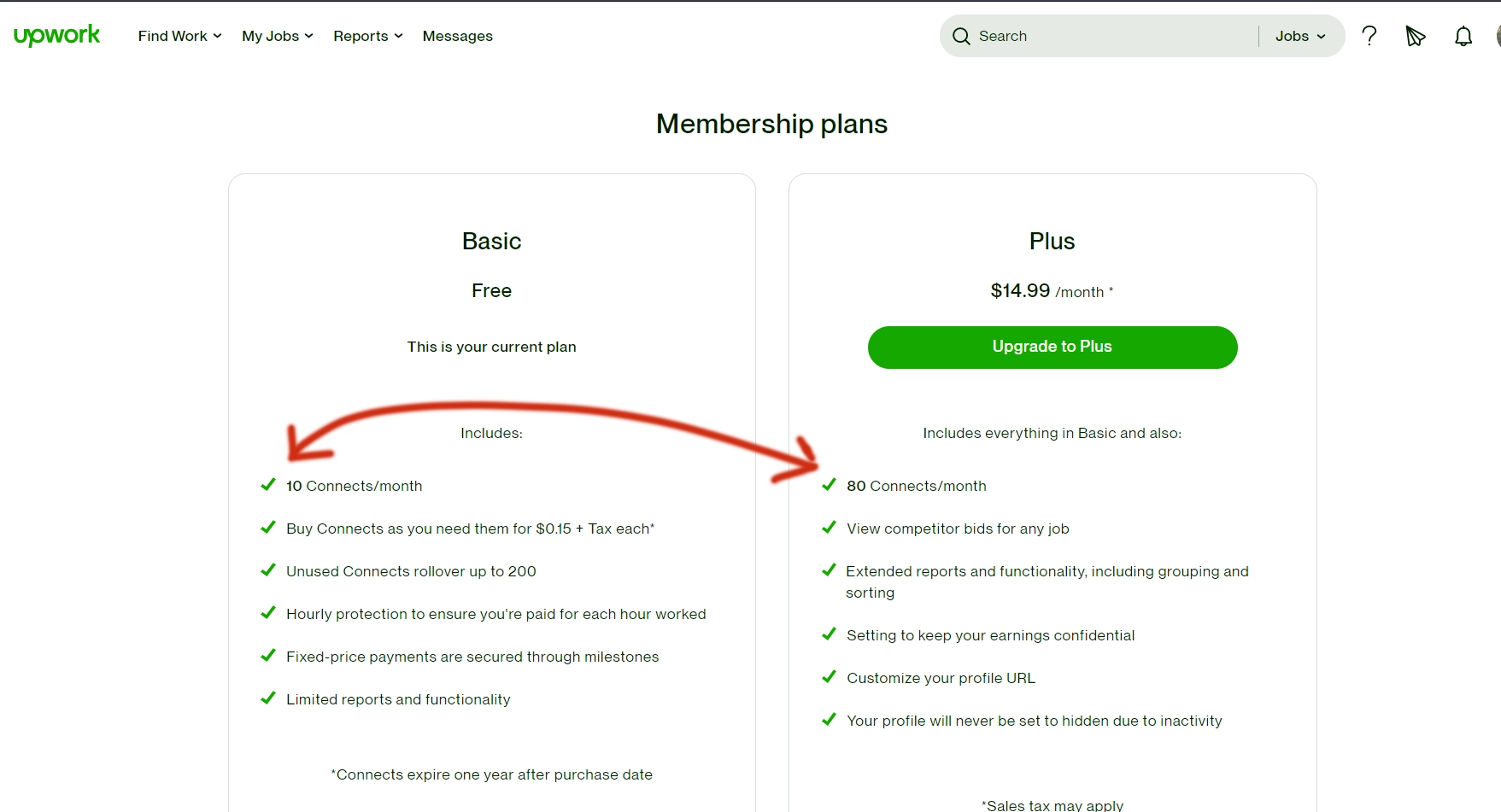 Both offer paid plans for additional features and better bidding. Upwork's paid membership plan costs $14.99 per month and offers the following features:
80 connects per month
View bids submitted by other freelancers
Keeps your earnings private
Custom profile URL
On the other hand, Freelancer has the following four paid plans:
Basic
It costs $4.95 per month in a monthly package and $4.45 per month in a yearly package.
You receive 50 bids per month, 50 skills on your profile, an unlimited number of project bookmarks, 3 highlighted contest entries per month, and 12 sealed contest entries per month.
Plus
This plan charges $8.95 per month for a yearly subscription and $9.95 per month for a monthly subscription. It offers:
100 bids per month
80 skills
5 highlighted contest entries per month
25 sealed contest entries
In addition, you can bid on high-value projects.
Professional
This plan offers 300 bids per month, 100 skills, 15 highlighted contest entries, and 75 sealed contest entries for $29.95 per month in the monthly package and $24.95 per month in the yearly package.
You can also bid on high-value projects and get freelancer insights.
Premier
It costs $49.95 per month for an annual subscription and $59.95 per month for a monthly subscription.
You get 1500 bids per month, 400 skills on your profile, unlimited project bookmarks, 30 highlighted contest entries, and 150 sealed contest entries.
Which one should you use?
Upwork may be better for beginners because it has jobs for all skill levels. You can filter and bid on entry-level jobs to boost your hiring chances.
Freelancer is harsh on new freelancers, but once you cross that beginner line, it's cheaper than Upwork.
Upwork has more features and services than Freelancer, which can help with project management or marketing.
Upwork vs. Freelancer: Website
Conclusion
In the end, it comes down to personal preference. If you are looking for an easy-to-use freelancing platform, Upwork is the way to go.
If you're willing to put in a little extra effort, Freelancer may be better for you.
I hope this Upwork vs. Freelancer guide helps you choose a suitable platform. Please share your thoughts below and subscribe to the MK's Guide newsletter to get one email per month.