About two years ago, someone on Zoho forums opened a thread to support Grammarly on Zoho. This page has received many responses.
Like those people, I am a victim of Zoho not supporting Grammarly. Zoho Mail comes with its Grammar checker called "Zia." It works fine, but it is not as advanced as Grammarly.
This is problematic, especially for Grammarly premium users who rely on Grammarly heavily.
However, I did some research and tested my own Zoho Mail account to see what could be done, and thankfully, I found two ways to use Grammarly with Zoho Mail. This guide covers both the ways.
Method 1: A simple method
The first method is simple and does not require any third-party apps (except the Grammarly extension). The reason Grammarly can't check your writing on Zoho is that the Zia assistant is enabled.
To make Grammarly work while typing, we must disable the Zia assistant. To do that, follow the below steps.
Step 01: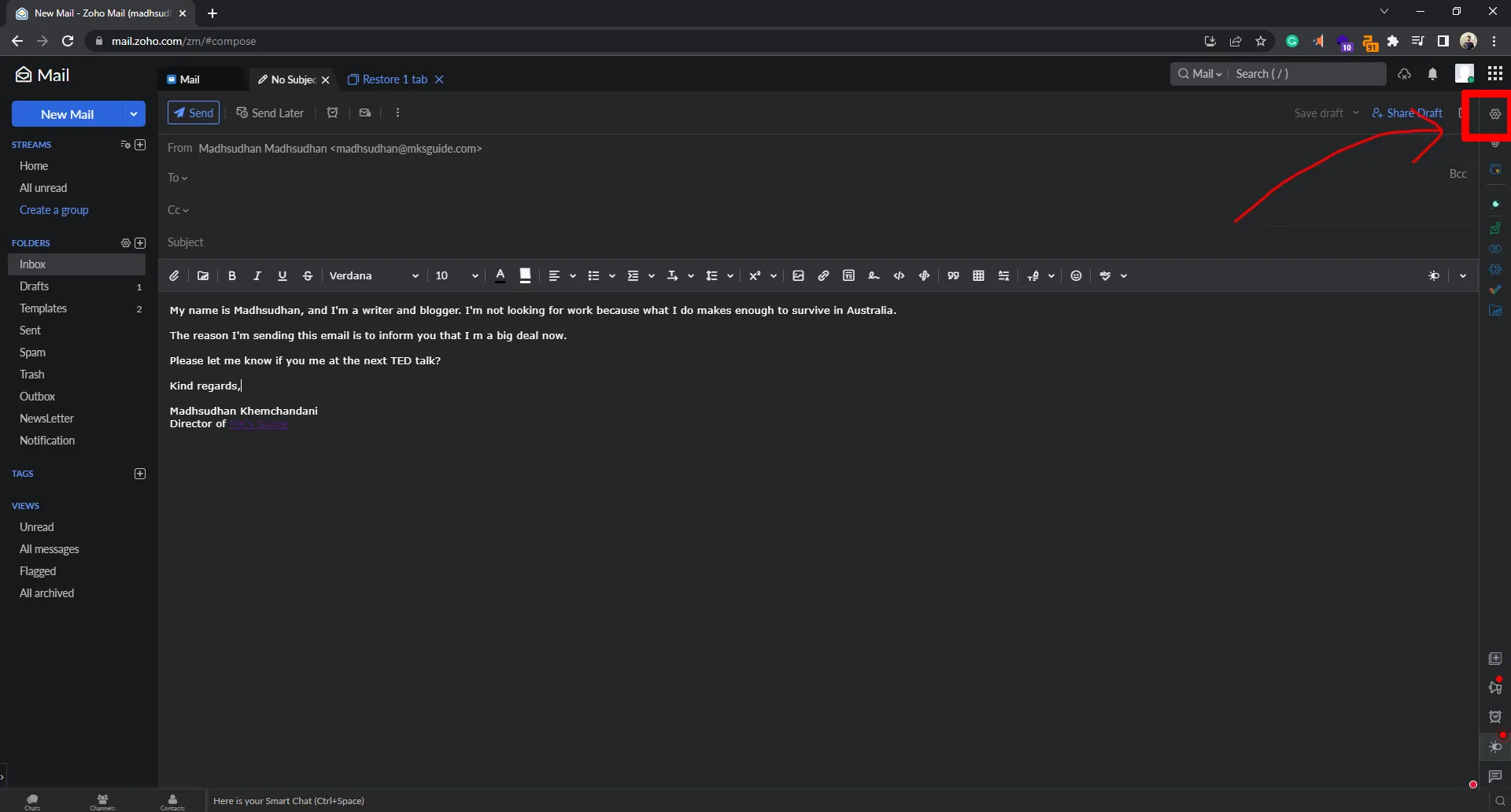 Click on the Settings icon located below the "All Zoho Apps" icon in the top right corner.
Step 02:
A pop-up will display. Click on the Compose option in the left sidebar.
Step 03:
Scroll down and uncheck "spell check as you type." This option will disable the Zia assistant.
Step 04:
This is an optional step to ensure that the Grammarly extension for mail.zoho.com is enabled. Click on the extension and icon and enable it if it isn't.
Step 05:
Re-open the Chrome browser tab. You can try disabling the Grammarly extension and enabling it, but in my case, I had to restart the browser tab for changes to take effect.
After restarting, try writing an email in Zoho. You should see the Grammarly icon instead of Zia.
Related: Microsoft Editor vs. Grammarly
Method 2: Using both Grammarly and Zia together
Yes, there is a way to use both Grammarly and Zia together. In this way, you will have two writing assistants checking your text. You may be wondering, how is it even possible?
Grammarly recently released their native desktop application, which works like your browser extension, but everywhere. When the app is open, the extension is automatically disabled.
You can also check the extension manually, and when the desktop app is installed, a new option is visible: "Check text with the browser extension." The option is disabled so that the desktop app can work without interruptions.
The good news is that the native desktop app can run along with other writing assistant tools giving you more power over fixing your grammar issues. Follow the steps to activate the Grammarly desktop app.
Step 01:
Download the latest version of Grammarly from the official website.
Step 02:
Install the program and sign in with your Grammarly account. Grammarly desktop goes to the webpage to sign you in, so ensure your browser is logged in to Grammarly.
Step 03: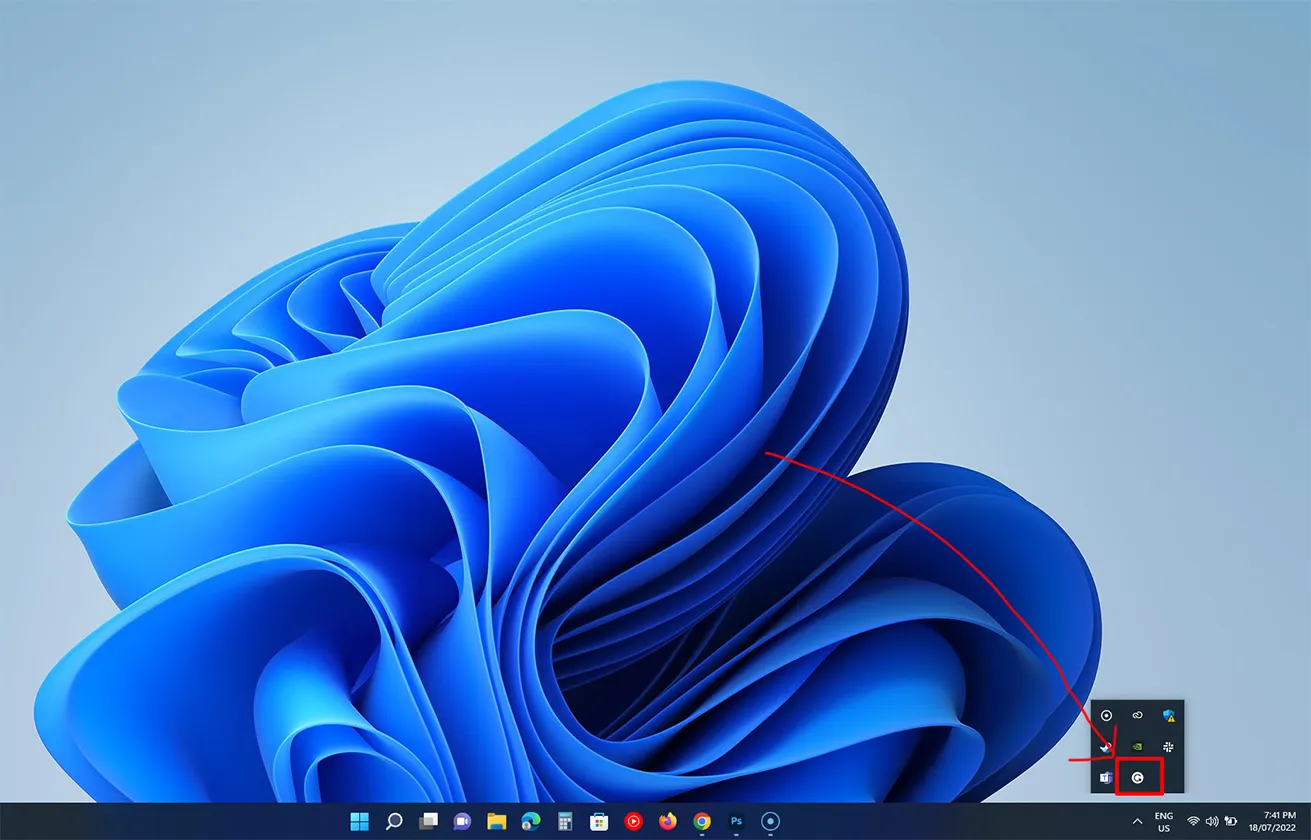 Ensure that Grammarly is running in the background by going to the notification tray and checking the Grammarly icon.
Step 04:
If Zia is still disabled, you can enable it by following the same steps in method 01.
Step 05:
Check if the Grammarly icon is visible as you type. You will see a big green icon to the right of the email as you type. Of course, you can move the icon around.
Zia vs. Grammarly
For the sake of this article, I went ahead and put both programs in the battle box. To test those, I wrote a few paragraphs with multiple mistakes.
Results
In total, Grammarly found six mistakes, and Zia found four errors. Also, the errors that Grammarly found were more advanced. For example, Grammarly suggested "I'm" while Zia suggested "Im" when the written word was "im."
Related: Grammarly vs. Outwrite
Summary
Using Grammarly with Zoho Mail is a great option, especially if you send professional emails. Zia is okay, but it has problems.
So, until it becomes as good as Grammarly (which is highly unlikely), these two methods should help you use Grammarly with Zoho Mail.