VyprVPN and CyberGhost are two premium VPN tools. From protocols to encryption, both have a good reputation in the VPN world. How do both stand in 2021? The article does six tests to find the best app in VyprVPN vs. CyberGhost.
Platforms
VyprVPN
CyberGhost
Windows
macOS
Android
iOS
Smart TV
Router setup
Windows
macOS
Linux
Android
iOS
Chrome
Firefox
Android TV
Apple TV
Samsung TV
fireTV
Smart TV
PS3/PS4
Xbox 360/Xbox One
Roku
Wii U
Router setup
Mobile data speed test results
VyprVPN is available for the major platforms, but CyberGhost comes with support for extended platforms. You can connect your TV, consoles, and even browsers to the VPN.
Winner: CyberGhost | Score: CyberGhost: 1
Servers
If one server is busy, you get the option to connect to another one. But, this technique ends when all the servers are busy. In that case, we think of having more servers. CyberGhost comes with over 7246 servers to make sure that you don't get into that situation.
VyprVPN's website mentions that the tool comes with 700 servers in 64 countries. The location support is good, but it would have been nice to see some more server count.
Winner: CyberGhost | Score: CyberGhost: 2
Server protocols
What protocols do both use? VyprVPN on Windows comes with WireGuard, IKEv2, Chameleon, and OpenVPN protocols. WireGuard protocol is the default. The Android app comes with all except IKEv2. IKEv2 is the second most popular, but still, we have OpenVPN (the most popular protocol) to enjoy.
Like VyprVPN, CyberGhost also offers different protocols on different platforms. It supports IKEv2, OpenVPN, and WireGuard on Windows, but you only find OpenVPN and WireGuard on Android.
Winner: VyprVPN | Score: VyprVPN: 1
Related: VyprVPN vs. ProtonVPN
Streaming services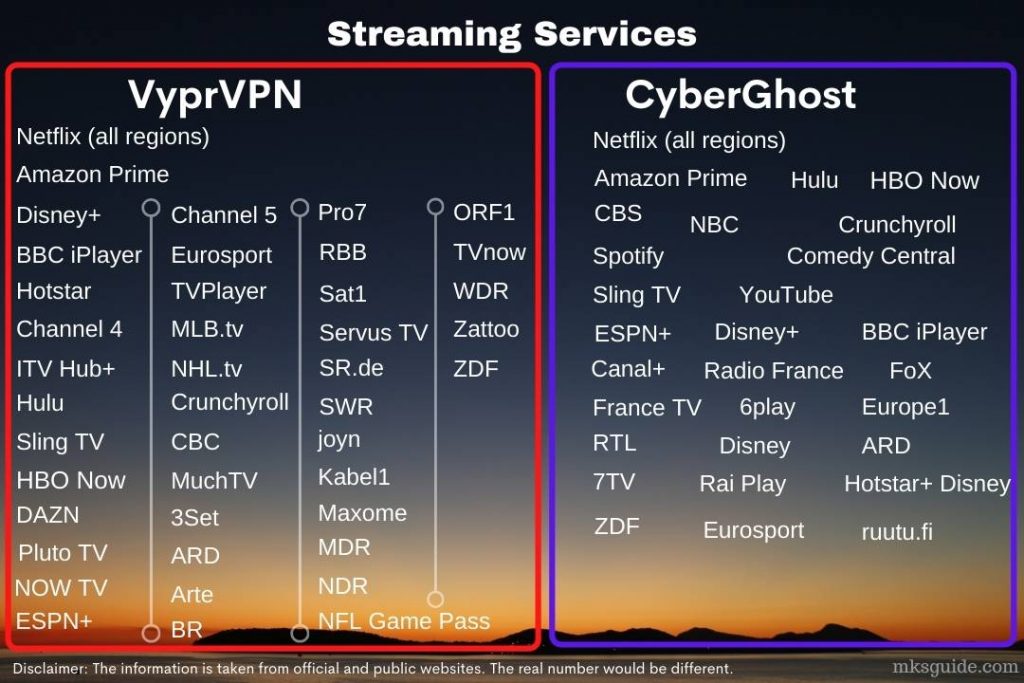 VyprVPN offers to connect to over 40 streaming services. I have tested the tool on Netflix and Hotstar, but they have published tutorials for many streaming services. CyberGhost is also popular, and it offers support for over 30 geo-restricted services, but the number is a bit lower than VyprVPN.
This round will be considered a tie because we are not sure about the total number of support services.
Winner: Tie
Tests
Even though CyberGhost offers more servers and devices, the article's tests from here may change many things.
Location test
The first test in VyprVPN vs. CyberGhost is the location test. In this test, I connected both services to four different cities and checked my IP Address. If a VPN successfully changes my location, it is considered the winner—the video covers one of the cities.
Both did an excellent job by changing the location to the server's location.
Winner: Tie
People also like: CyberGhost vs. ProtonVPN
Speed tests
In this test, we connect VyprVPN and CyberGhost to a server in the same city and do a speed test. The test splits into the wifi and mobile data (4G) taken in Adelaide, Australia.
Speed test on wifi
After connecting to the fastest server, in the download and upload test, CyberGhost was faster than VyprVPN. Take a look at the results table.
Mode
Speed
VyprVPN
Download: 48.7 Mbps
Upload: 9.27 Mbps
CyberGhost
Download: 52.2 Mbps
Upload: 17.2 Mbps
Mobile data speed test results
Winner: CyberGhost | Score: CyberGhost: 5
Speed test on mobile data
What's the speed of both on mobile data? We also connect both to the fastest server, but this time, we also check the speed without the VPN and compare.
Mode
Speed
No VPN
Download: 110 Mpbs
Upload: 46.8 Mbps
VyprVPN
Download: 31.6 Mbps
Upload: 28.6 Mbps
CyberGhost
Download: 66.9 Mbps
Upload: 30.6 Mbps
Mobile data speed test results
CyberGhost gets this round. The download speed was twice as fast, while it also performed better in the upload test.
Winner: CyberGhost | Score: CyberGhost: 6
DNS leak test
Domain Name System (DNS) leak happens if the connection leaks. In other terms, if anyone can enter to see our connection, there is a DNS leak. It is checked by using a tool such as DNSLeakTest.
VyprVPN did not perform as expected. In the results, we see three IPs from three hosts in three different cities, and the surprising thing is that not one city is the server's location. Let's assume that all IP's are from VyprVPN; still, the data transfer will compromise the internet speed.
CyberGhost, on the other hand, passed the test by displaying the same IP in the browser and the app.
Winner: CyberGhost | Score: CyberGhost: 7
Torrent tests
Both support torrenting, but a Reddit user shared his experience with VyprVPN, where his account was terminated for torrenting. So, if you want a VPN only for torrenting, then VyprVPN might not be good a choice.
Disclaimer: The files were downloaded for the sole purpose of this test. Torrenting is illegal in many countries.
Torrent test on wifi
Downloading over wifi does not take that much effort, and any server should handle it. In this test, we connected both to the fastest server, and both performed equally good.
VyprVPN
CyberGhost
Max speed: 1.2 Mbps
Average speed: 950 Kbps
Max speed: 1.2 Mbps
Average speed: 950 Kbps
VyprVPN and CyberGhost P2P test over mobile data
Winner: Tie
Torrent test of mobile data
In the last test, CyberGhost performed better. Interestingly, many VPNs don't handle torrent downloading very well when it comes to mobile data.
I downloaded a video file for 96 seconds and checked the maximum download speed of both. Although I expect more, if you compare those two, CyberGhost is the winner. Here are the results.
VyprVPN
CyberGhost
Max speed: 97 Kbps
Average speed: Less than 50 Kbps
Max speed: 445 Kbps
Average speed: 300 Kbps
VyprVPN and CyberGhost P2P test over mobile data
Winner: CyberGhost | Score: CyberGhost: 8
Additional functionalities
This round of VyprVPN vs. CyberGhost covers the pros and cons of some minor features.
VyprVPN
VyprVPN does not show the

public IP

of the connected server.
30-day money-back

guarantee

.
CyberGhost
45-day money-back

guarantee

.
Common
You get public wifi protection when you are connected to public wifi.
Both

disconnect internet

when your connection drops.
Both services

don't save

your logs.
Pricing
CyberGhost only comes in monthly and yearly plans, while VyprVPN comes in monthly, yearly, and two-year plans. The two-year plan mostly gives 12 months extra. VyprVPN is cost-effective if you go for the 36-month plan. The prices are as of 28th of March 2021.
Which one is the winner?
From servers to tests, CyberGhost has proved to be better. Unless you need a VPN for streaming, I suggest going with CyberGhost. The tool won in 8 rounds, whereas VyprVPN won in 4.
VyprVPN vs. CyberGhost: Links
The links below are affiliate. If you purchase a VPN using the below links, I get a small commission.
Summary
VPN is not just for changing location; it is a part of our daily life. I hope the article VyprVPN vs. CyberGhost and the conducted tests were helpful. I always look for improvements, so please type in the comments below if you have any suggestions about both. I read every comment.