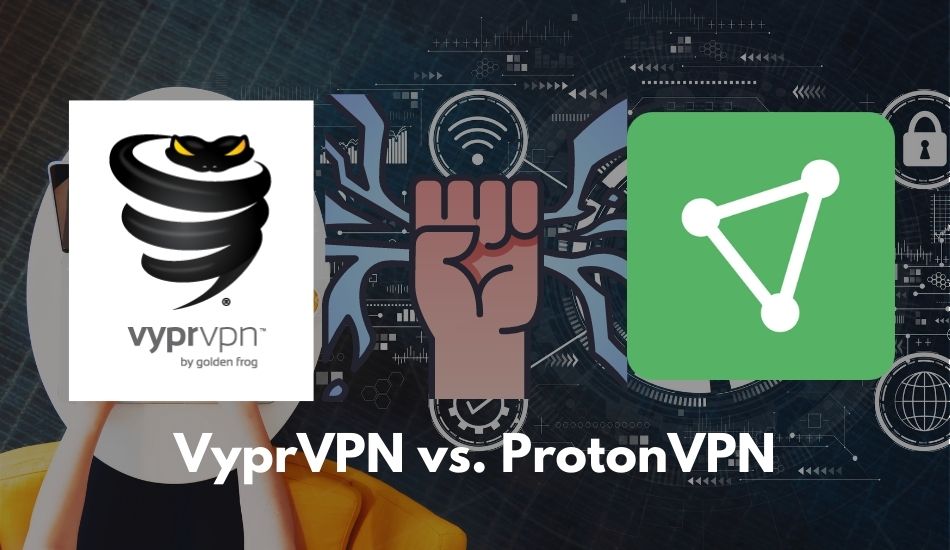 With so many VPN tools, it's super easy to get confused. Most VPNs offer servers in the same cities with the same features. All it comes to speed and security. This time, we are taking our hands-on VyprVPN vs. ProtonVPN. This is a showdown of all the possible tools a VPN can offer.
Quick comparison
Feature
VyprVPN
ProtonVPN
Servers
700+

1,246

Countries

64

55
Streaming unblock

✔ (over 40)

✔ (over 20)
Location test
✔
✔
Wifi speed test
D: 33.2 Mbps
U: 17.7 Mbps
D: 36.2 Mbps
U: 6.76 Mbps
Mobile data speed test
D: 28.6 Mbps
U: 33.4 Mbps
D: 65.4 Mbps
U: 29.5 Mbps
Wi-fi P2P test (recorded)

2.9 Mbps

895 Kbps
Mobile data P2P test (recorded)

1.6 Mbps

174 Kbps
DNS leak test
❌ (detected other IPs)
✔
Dedicated IP
❌
❌
Encryption level
Unknown
AES-256 Bit
Simultaneous devices
5
5 (on plus)
Free plan
❌
✔ (limited servers)
Website
VyprVPN
ProtonVPN
VyprVPN and ProtonVPN Quick Comparison
Servers
Winner: None
The supported server's actual number was not available on the VyprVPN website, but the server page shows that the tools support over 700 servers in over 70 locations.
ProtonVPN contrarily comes with 1,246 servers as of 19 March 2021. The servers are available in 55 countries. The official server page displays all the servers.
Protocols
Winner: VyprVPN | Score: 1
The VPN protocols are critical and as a user, it's important for you to know what they do. Protocols decide the security and connection speed.
VyprVPN desktop application comes with WireGuard, IKEv2, Chameleon, and OpenVPN protocols. WireGuard protocol is the default one, but users can switch in the customise section. The Android app of VyprVPN does not come with the IKEv2 protocol.
ProtonVPN desktop comes only with OpenVPN. OpenVPN is the industry standard, but other options would have been nice. The Android app, though, comes with both IKEv2 and OpenVPN.
Streaming services
Winner: None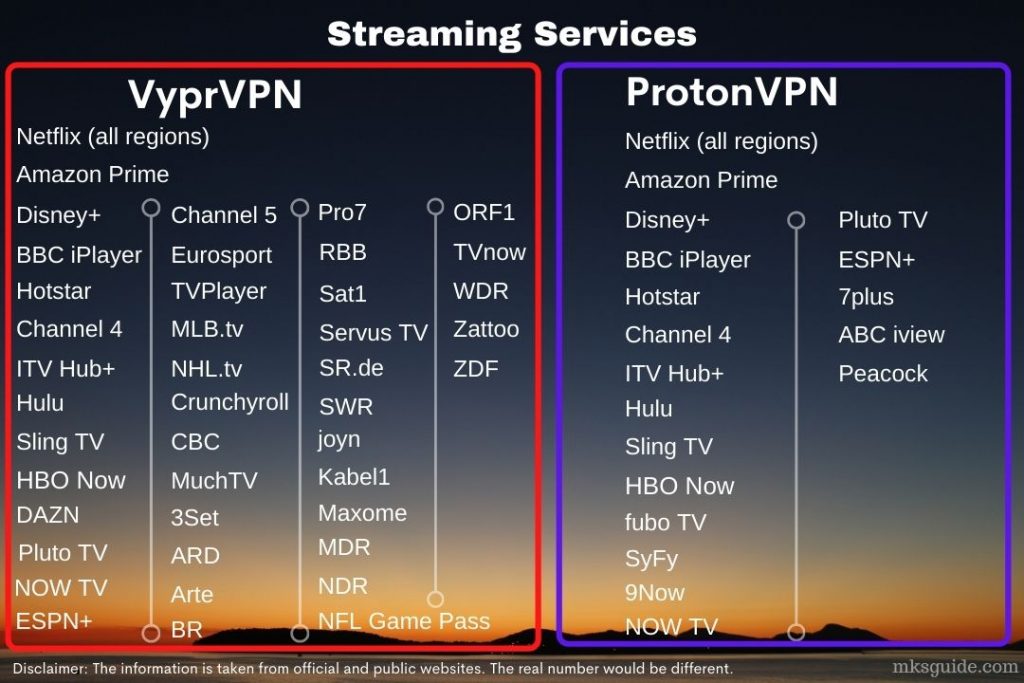 This round does not compare both because the real number of supported services could be different. VyprVPN officially supports more than 40 streaming services in multiple regions. The official guide to connecting to each is available on the website.
ProtonVPN contrarily supports 20 services, but to access any setrvice, you must have at least the plus subscription.
Tests
From this point in VyprVPN vs. ProtonVPN, we conduct 6 tests to find the ultimate tool. In each round, the winner gets 1 point.
Location test
Winner: Tie
For the location test, I connected both to a server in Hong Kong. Both successfully changed my location. The only issue with VyprVPN is that it does not show your public IP Address, which might cause some issues for people.
Speed tests
Speed test on wi-fi
Winner: Tie
After connecting both to the fastest server, VyprVPN performed better. The download speed for VyprVPN was 33.2 Mbps, while it was 17.7 Mbps for upload.
ProtonVPN was faster than VyprVPN regarding the download at 36.2 Mbps, but it could not overcome VyprVPN. It recorded 6.76 Mbps of upload speed. The round is a tie.
Speed test on mobile data
Winner: ProtonVPN | Score: 1
The mobile data speed test goes to ProtonVPN. The download speed (65.4 Mbps) was over 100% faster than VyprVPN (28.6 Mbps). Although the upload speed of VyprVPN (33.4 Mbps) was faster, the difference in download speed was a lot compared to upload speed.
P2P test
Warning: A Reddit user shared that their account was terminated because of torrenting. The full post is available on this page.
Peer-to-Peer is a network to torrent. VPNs offer P2P optimised servers, but a good un-optimised server can download torrents as well. The problem with VyprVPN is that you can't see what servers are P2P optimised.
P2P test on wi-fi
Winner: VyprVPN | Score: 2
The wi-fi P2P test goes to VyprVPN because the recorded speed was faster than ProtonVPN. In 2 minutes and 10 seconds, the tool showed 2.9 Mbps. In contrast, ProtonVPN peaked at 895 Kbps in 2 minutes and 40 seconds.
P2P test on mobile data
Winner: VyprVPN | Score: 3
For this test, both were connected to Sydney. Like the wi-fi test, VyprVPN performed better. But, after the hike, it fell quickly. For this test, we will mark it as the winner.
The highest speed it recorded was 1.9 Mbps. On the contrary, ProtonVPN peaked at 175 Kbps.
DNS leak test
Winner: ProtonVPN | Score: 2
Usually, in the DNS leak test, I see one IP or sometimes two from the server location, but while testing VyprVPN on a Hong Kong server, the DNS leak showed an IP from Taiwan. While connecting to a location, the IPs should be from the same region.
ProtonVPN, on the other hand, showed one IP which, of course, matched with IP Address in the software.
Additional features
Winner: ProtonVPN | Score: 3
In this round of VyprVPN vs. ProtonVPN, we are covering some of the additional features both offer.
VyprVPN
Public Wi-F Protection:

Automatically connect to a server when you connect to a public wi-fi network.
ProtonVPN
Secure Core : A feature to connect to multiple servers simultaneously to secure connection.

Adblocker:

A DNS filtering option protects from malware and block ads.

Full Disk Encryption:

All servers secured by full disk encryption.

Open Source:

Open Source a key to transparency. The project is available on GitHub.

Tor over VPN:

The tool comes with Tor support built-in
Common
No Log Policy:

Both don't store any logs.
Kill switch : If VPN breaks or connection drops, both block network traffic.

Swiss Based:

Both are located in Switzerland.
Pricing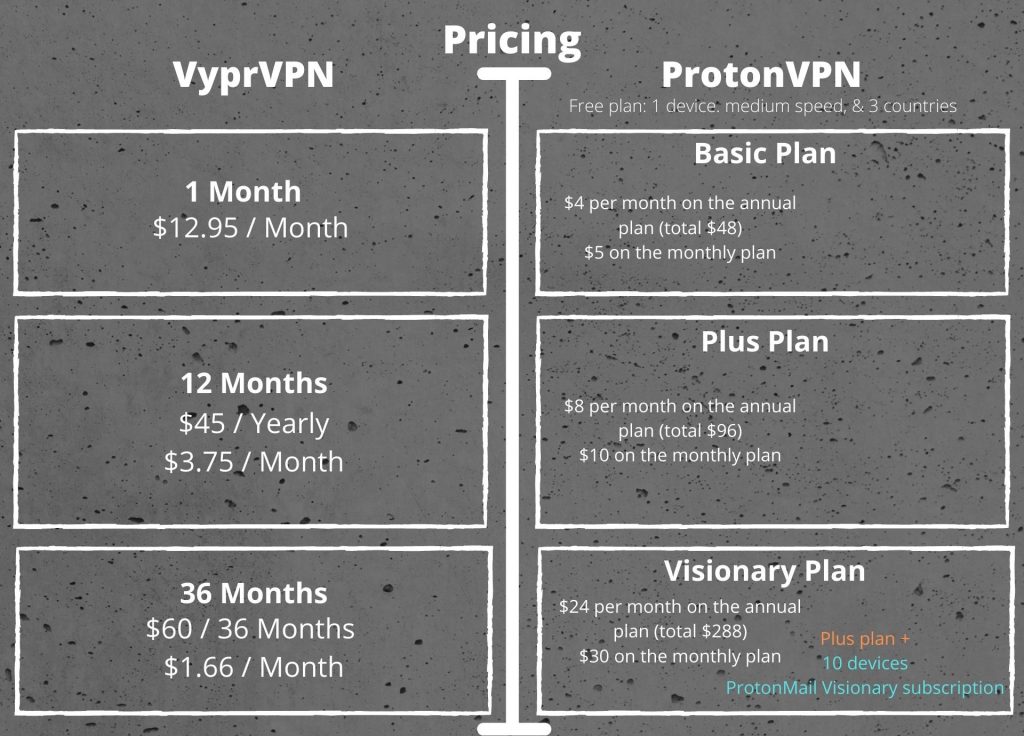 VyprVPN is cost-effective in the long term, and as you increase the time, the tool becomes cheaper. ProtonVPN is a bit expensive, but I think the features it offers make it expensive.
Which one is right for you?
The speed of both VPNs is good, and you get plenty of servers. However, the P2P and DNS leak concern of VyprVPN is unsettling. Overall, if you want to stream geo-restricted content, VyprVPN would be the choice, while for P2P and strong encryption, ProtonVPN is the ideal selection.
The final score in the comparison is: VyprVPN: 3 and ProtonVPN: 3.
Try
Wind-up
With the internet tracking you everywhere, VPN has become a part of life. Here we end this VyprVPN vs. ProtonVPN article. I hope the text and tests helped you pick the ideal service. Please let me know if you will use either in the comments so that readers can decide easily.