Last updated: 07 Jan 2021 | Reading time: 5.5 minutes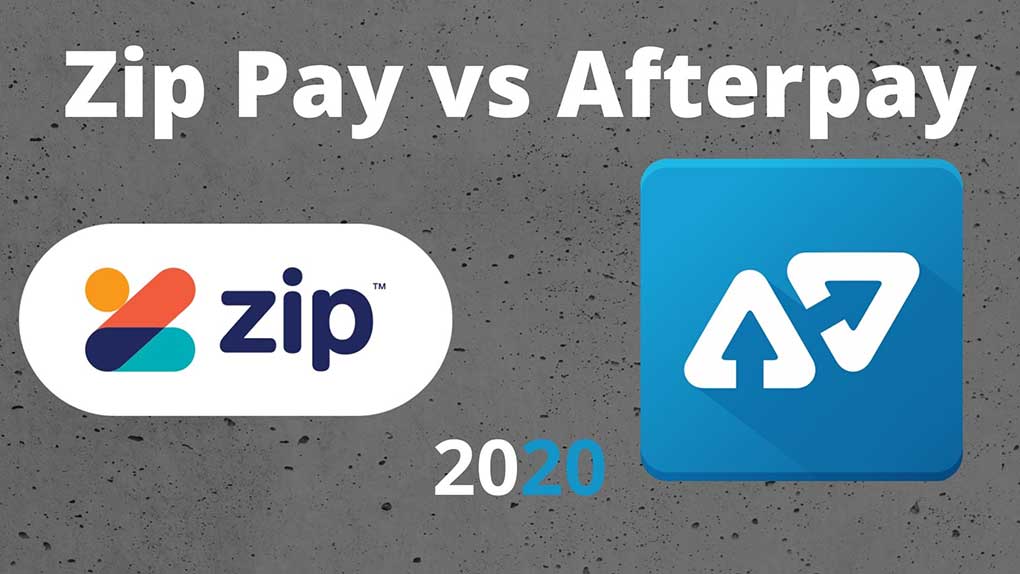 With the rapid increase in buy now, pay later services, it's hard to skip any. After writing Klarna vs. Afterpay, it's time to compare Afterpay and Zip Pay. Zip Pay is available in multiple countries, and like Afterpay, it has become popular in a short time. How do both differ? The blog post takes an in-depth look into both and covers Zip Pay vs. Afterpay (2021).
Quick Zip Pay vs. Afterpay comparison
Need to go somewhere? or can't wait to shop? Here is the quick comparison of both.
| Feature | Zip Pay | Afterpay |
| --- | --- | --- |
| Availability | Australia, New Zealand & UK | Australia, New Zealand, UK & USA |
| Starting limits | $200 to $1,000 | $200 to $500 |
| Sign up | Email, Phone, Credit Check  & Debit/Credit Card | Email, Phone, & Debit/Credit Card |
| Usage | In-store/online | In-store/online |
| Repayment period | 4 weeks | 6 weeks |
| Frequency | Flexible | Fortnightly |
| Minimum payment | $40 | 25% of the full payment |
| Missed payment charges | $5/month | $10/per missed payment |
Availability
Zip Pay is available in Australia, New Zealand, and in the UK. It has acquired a US-based buy now pay later company called QuadPay to operate in the US.
According to the website, Zip has over 2 million customers in Australia and New Zealand. It also offers an option to generate a virtual credit card in the app to pay online and in-store where Visa card is accepted. The card works in-store by adding to Google Pay or Apple Pay, while you can use the card online by putting in the card details.
Afterpay contrarily is available in the US, UK (Clearpay), Australia, and New Zealand. In recent months, it has grown huge and has made deals with several hundred merchants. Currently, over 48,000 merchants offer Afterpay as a payment method.

Sign up
To sign up on either, you must be at least be 18 years old. The sign-up process of Zip Pay is a bit tricky. They ask to provide:
Email
Phone number
Account details or debit card (for a credit check)
There isn't any establishment fee, but they might charge a small amount to verify the account details. It would help if you also had a good standing, and in some cases, you must be earning at least $300 weekly to be approved.
Signing up with Afterpay contrarily is straightforward. You will need:
Email
Phone number
Debit/Credit card
Once you provide those details, the company will charge a small amount to verify the payment method.
Usage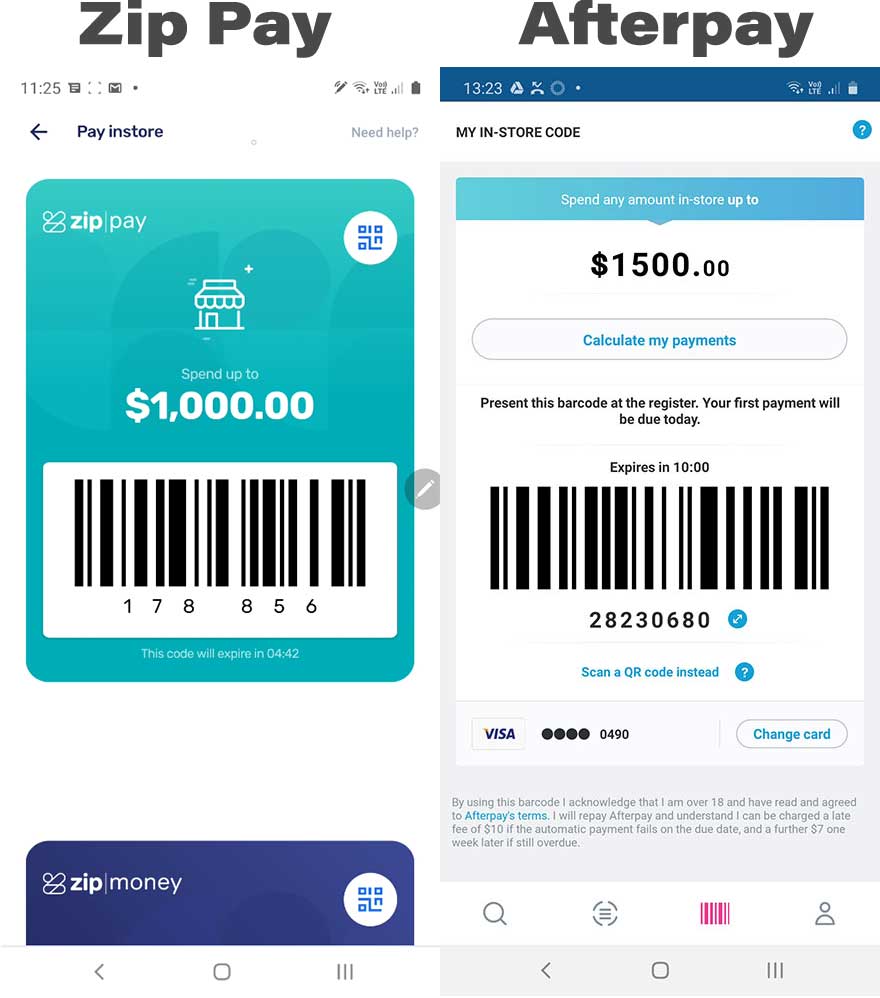 Zip Pay
Usage is an important part of Zip Pay vs. Afterpay comparison. There are four different ways to use Zip Pay:
Online
In-Store
Online using it as a card
BPay
To use Zip Pay online, you can select Zip Pay as the payment method while on the cart page. While paying, a new window pops up where you can log in with your account details.
You see some information, such as your account status, minimum payment etc., before the payment processes. You also get a verification code on your phone before the transaction process.
To pay in-store, you need to generate barcode in the app. The temporary barcode then cashier scans and the amount deducts from your Zip account.
As mentioned that Zip offers to generate a card which works where Mastercard is available. To generate the barcode, go to the card section in the app.
Your card will be the same all the time. To pay, fill out the details on the website using the card details.
An additional way Zip offers is allowing to BPAY. BPAY is a payment processing system found almost everywhere in Australia. You can BPAY your utility bills, university fee, credit card repayments, and even pay your fines.
Usually, when you BPAY from your account, you are not overcharged. For example, if a bill is for $32, then you will BPAY $32. Zip charges a flat $2.5 fee on every BPAY transaction. It also does not support all the merchants.

Afterpay
With Afterpay, online and in-store usage is the same, but it does not support BPAY and card feature. Sometimes Afterpay charges the first payment instantly even before the transaction, and if for any reason the app can't process the payment, the transaction declines.

Limits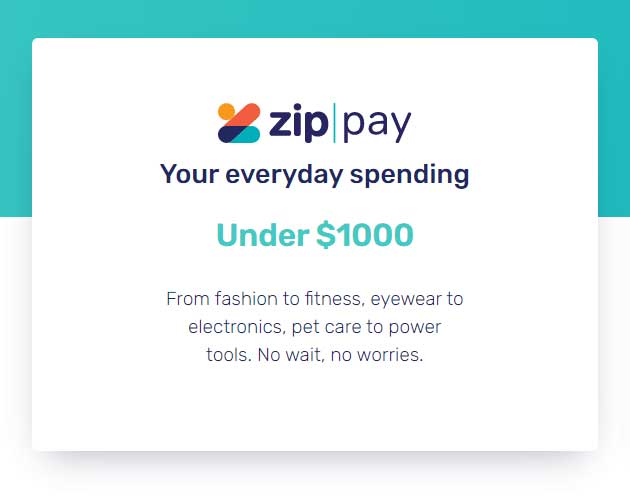 Limits is a part of Zip Pay vs. Afterpay comparison. With limits, the terms are bit different. Zip does a credit check before offering the initial limit. Depending on the score, you get the initial limit.
The maximum you can get with Zip Pay is $1,000. If you get a lower limit, you can request to increase after a few months. They also send limit increase emails when you are eligible.
Afterpay does not do any credit check, but they only offer $500 in the beginning. There isn't any increase limit option, but after a few purchases, your limit automatically increases. The maximum limit Afterpay offers in Australia is $1,500.
Watch video: What are Zip Pay and Money
Repayments
In the last round of Zip Pay vs. Afterpay, we will be covering the repayments. The hardest part of someone's life, how do we repay? This is where the comparison gets tricky. Zip Pay offers flexible terms in which you can take months to repay. You have to pay the specified minimum monthly amount though.
After the day of using Zip Pay, you get 30 days to pay back, and after 30 days, you are charged a $6 monthly fee. If you even can't pay the minimum, you pay an extra $5. Zip Pay is flexible as it offers weekly, fortnightly, and monthly options. You can also pay additional any time in the app.
Afterpay charges the first payment on the first day, and the rest are every fortnight. If you miss an instalment, you are charged a $10 fee, and if you can't clear that payments within seven days, you are charged an additional $7. Afterpay does not show any user rating, but not paying on time may lead to no increase in the limit.
Which one is for you?
I will suggest using Afterpay. Why? Well, Zip works like a credit card, and when you apply for any loan or a new credit card, it counts towards your credit check. Afterpay is used for personal shopping which does not count as much as Zip Pay. If you feel that you can clear the money quickly, then why not signing up with both?
Try
Wrap up
The comparison Zip Pay vs. Afterpay covered the essential features of both. I hope it helped you differentiate between the two. Please let me know what you think of both in the comments and subscribe to the newsletter for the future updates.