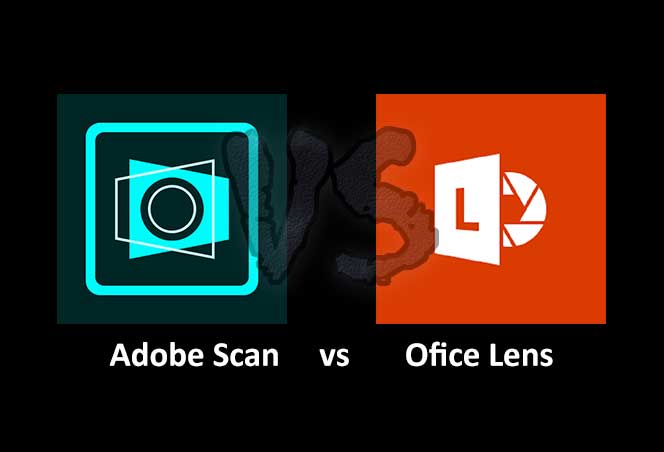 There are many scanning apps, but Adobe Scan and Office Lens are two of the most popular. Microsoft released Office Lens before Adobe released Adobe Scan, and it has more reviews, but downloads and reviews do not mean that Office Lens is better. So, which one is for you? In this blog post, we are going to explore Adobe Scan vs Office Lens.
Adobe Scan vs Office Lens
Auto-detection and capturing
The auto-detection feature is enabled in both. Adobe Scan allows you to point the camera and capture the photo. Office Lens detects the document, but you must tap on the button to take the picture. Regarding the AI, Adobe Scan does a better job of finding the edges. Office Lens is slower, and it's not that accurate as Adobe Scan, but you can crop the captured photo if you can't get the edges right.
Adobe Scan supports document, business card, whiteboard, and form scan types whereas, Office Lens offers document, business card, whiteboard, and photo scanning.
Multi-Page capture
We have talked about Adobe Scan's auto-detect and capture feature. This feature comes in handy when you have multiple pages. Your job is to put the object in the front, and the app will do the rest. Office Lens also offers to take various pages at once.
Related: Facebook vs Facebook Lite | Exploring all the Differences
Angle capture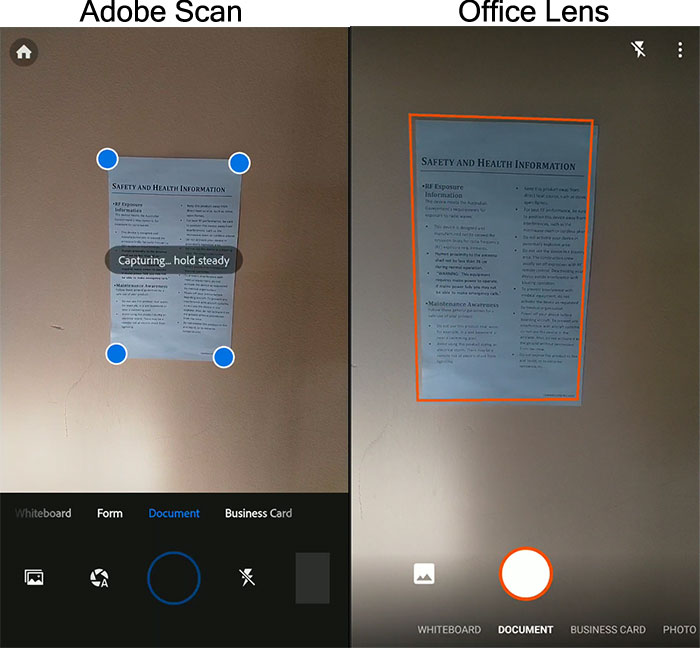 Both offer to capture the photos at angles. Take a look at the comparison photo to see how both perform the angle operation. The problem with Adobe Scan is it takes a lot of time to find the document, and sometimes it does not find it at all. But, if you manually take a picture, the app will detect the material and show you the photo. In the above photo, the document in Adobe Scan is manually cropped, so there are some crop issues. Office Lens contrarily is well coded to find the document. It works much better than Adobe Scan.
Document quality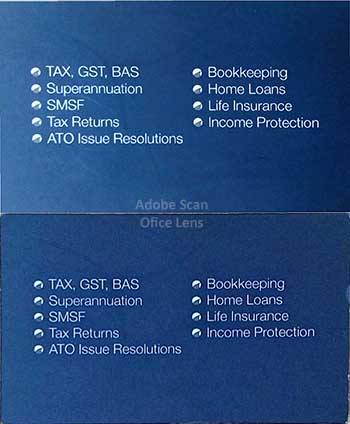 After scanning business cards and documents at the same distance, I found out the Adobe Scan is brighter than Office Lens (by default). Adobe Scan app adds additional light to scans and gives them a scanned document look while you have to browse through filters in Office Lens to find the perfect colour as the default colour is not promising most of the time.
Export
Both offer the same exporting features, but not all are the same. Adobe Scan exports in PDF format, while saving as an image option can be enabled in the preferences menu. One thing I don't like about Adobe Scan is, all the files are stored on the cloud. There is no option to save the document on the phone. You also need to log in with Adobe ID before using the app.
Depending on the document, Office Lens shows the export formats. For example, if you scan a business card, you will see options including save as image and save in OneNote (login may require), and scanning a document shows save as PDF as well. If you are logged in, then scans are kept in the cloud by default. You also get an option to save in Word and PowerPoint formats. Both offer to detect and save contact details automatically when you scan a business card. Overall, Lens gets this round.
Related: Grammarly vs Word | Which One is the Ultimate Grammar Tool?
Extra features
In the final section of Adobe Scan vs Office Lens, we are covering additional features. So far, the comparison has been equal; hence this section might help in deciding which one to choose.
Adobe Scan
The app offers a clean-up option to clean and whitten the documents (helpful for edges).
Adobe Scan has an option to fill and sign the document.
You can edit the document even after saving it.
The app comes with a dark theme.
Office Lens
You can draw on the document before saving.
You can add text on the document before saving.
Immersive Reader option can read the text in a document (login is required).
App details
Both are available for iOS and Android. The iOS Adobe Scan app is 129 MB with an average rating of 4.9, while Office Lens takes 48 MB of storage and has an average rating of 4.5 in the US.
Adobe Scan on Android occupies about 77 MB of storage and has an average rating of 4.7. Office Lens takes 97 MB of storage and has an average rating of 4.8.
Which one is for you?
Both offer pretty much the same tools. Here is my opinion-based list of which one is for you.
If you want the documents to stay in the device,
if Word and PowerPoint are part of the scanning work, or
you go to a class where you sit at an angle to take pictures of whiteboard, then
Office Lens is for you. If you
scan multiple pages regularly,
work on various devices, or
you need more crisp images, then
Adobe Scan is for you.
Conclusion
The tech business is tricky. It's hard to pick one and stick to it, but a comparison can clear the doubts. I hope the comparison Adobe Scan vs Office Lens helped. Thanks for reading, and please feel free to share your views in the comments below so we can discuss more.