Mobile technology has made so many things possible. One of them is learning and improving. There is no age to learn new things, and there is always room for improvement.
Considering that, here is an article covering five apps to improve spelling and grammar.
Spelling Master – Free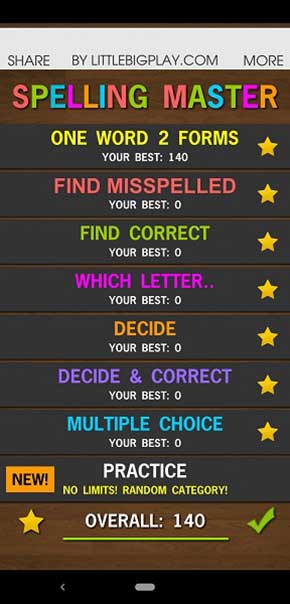 A powerful spelling app for Android and iOS. The app comes with many mini-games:
One word, two forms
Find misspelled
Find correct
Which letter
Deciding
Decide and correct
Multiple choices
Practice rounds
The app saves the high score for each game separately. It also shows you a tutorial before starting the game, so you know what you will do.
The app has an average user-based rating of 5.0 on the App Store in the US and 4.0 on Google Play. The app has been downloaded over 17 million times.
Related: SwiftKey vs. Samsung Keyboard
Pros
All the mini-games for free
Easy to use and easy to navigate
Cons
Buttons unresponsive sometimes
Kids Spelling Learning
Another app to improve spelling and grammar. Kids Spelling Learning is a simple app that helps you type hundreds of words. After opening the app, you get many categories, including alphabets, birds, animals, vegetables, three letters, six letters, etc.
After selecting one of these, you find the screen with a keyboard and a word picture. You will also hear the word and get a chance to type that word.
As you type, you hear the letter, and once you have correctly typed the word, the app goes to the next question. Over 5 million users have installed it, and the app has 4.2 ratings out of 5.
Pros
Simple and easy to navigate
Comes with hundreds of words
Cons
Grammarly
A unique way to improve spelling and grammar. Grammarly Keyboard app is available to download and use for free. The keyboard app checks for spelling and grammar issues as you type.
You see fixes in a row above the keyboard. The best thing about this tool is it helps you understand the mistake to learn and avoid it next time.
Pros
Multi-platform tool for free.
Generates a weekly report
Simple and easy to navigate
Check over 400 different types of mistakes
Cons
Also read: Grammarly vs. Microsoft Word
Ultimate English Spelling Quiz
One of the best spelling apps, Ultimate English Spelling Quiz, contains ten levels, and each level offers many questions. Each level also counts score separately depending on how fast you answer the questions.
You'll also get synonyms, antonyms, plural, and simple past tense quizzes, while some quizzes also come with different types of questions.
Ultimate English Spelling Quiz also includes spelling facts, similar words, foreign-origin words, everyday slang, American vs. British, acronyms, and phobias.
You can access your score by tapping on the leaderboard button on the main screen.
Pros
Quizzes to help you learn to spell words
Cheap ad-free version
Cons
Kept crashing on some of the tools
Spelling Master
Another app that helps you learn word spelling quickly is Spelling Master. It has three tools: a spelling quiz, a reviewing your mistakes option, and a practicing your mistakes feature.
In the spelling quiz, you get 40 levels, each containing 15 questions. As you complete one level, the next level unlocks automatically. On the question's screen, you see the word's meaning with its usage.
You hear the word, and you must type that word. There is an option to listen to the word again, or if you can't get the word right, you can skip the question.
The skipped words can be seen in the main menu, showing your mistakes. If you want to practice your mistakes, go to the third tool called "practice."
The section only shows the questions you missed in the spelling quiz section. The app is only available on Android, but it sure is one of the best apps to improve spelling and grammar.
Pros
The ad-free version is cheap
Stores your mistakes so you can come back later to practice
Cons
Wrap up
Here is the end of the best apps to improve spelling and grammar articles. I hope you found the perfect app to learn English speaking quickly.
Thanks for coming here. Let me know your thought in the comments section so we can discuss more.