There is no age to learn new things, and there is always room for improvement. If you are looking for some of the best grammar and spelling apps for adults, you are at the right place.
Spelling Master
A powerful spelling app for Android and iOS, Spelling Master comes with mini-games:
One word, two forms
Find misspelled
Find correct
Which letter
Deciding
Decide and correct
Multiple choices
Practice rounds
The app saves the high score for each game separately. It also shows you a tutorial before starting the game, so you know what you will do.
The app has an average user-based rating of 5.0 on the App Store in the US and 4.0 on Google Play. The app has been downloaded over 17 million times.
While you are here: SwiftKey or Samsung Keyboard
Pros
All the mini-games are free.
Easy to use and navigate.
Cons
Buttons are unresponsive sometimes.
Spelling and Grammar
The second app has a wide range of tests and learning options. You can learn about vowels, consonants, spellings, silent letters, double letters, and more.
The app lets you create a study plan to achieve your goals. You can see your results and stats tracked by the app to check your overall progress. It is free and has a premium plan with extended options.
Pros
Lots of options.
Fewer ads.
Cons
No one-time cost premium plan.
Grammarly Keyboard
A unique way to improve spelling and grammar. The Grammarly Keyboard app is available to download and use for free.
The keyboard app checks for spelling and grammar issues as you type.
You see fixes in a row above the keyboard. The best thing about this tool is it helps you understand the mistake to learn and avoid it next time.
Pros
Multi-platform tool for free.
Generates a weekly report.
Simple and easy to navigate.
Check over 400 different types of mistakes.
Cons
Also read: Grammarly versus Microsoft Word
LearnEnglish Grammar
LearnEnglish is another addition for adults looking to improve their English. It is from British Council, which takes IELTS tests across the world.
It has many levels starting from beginner to help you start and continue your journey in the same app. Once you are ready, you can take tests to challenge your knowledge.
Pros
Lots of activities.
Cost-effective ad-free version.
Cons
Ultimate English Spelling Quiz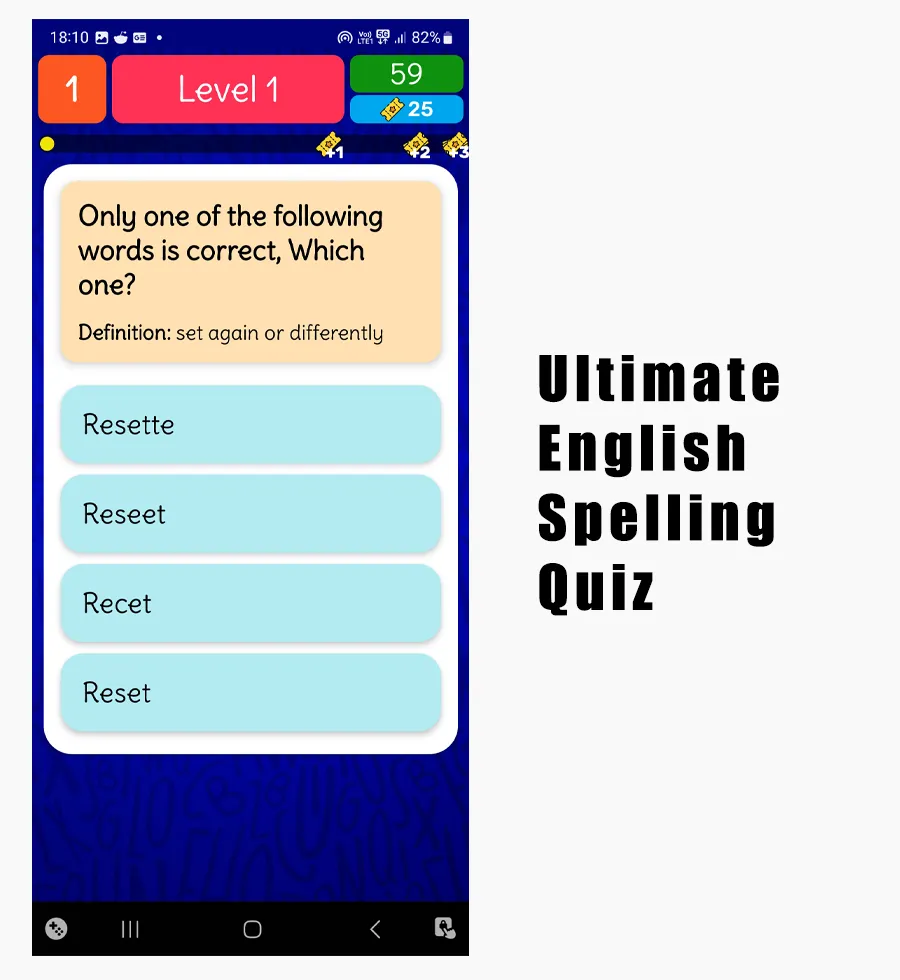 One of the best spelling apps, Ultimate English Spelling Quiz, contains ten levels, each offering several questions.
Each level also counts scores separately depending on how fast you answer.
You'll also get synonyms, antonyms, plural, and simple past tense quizzes, while some quizzes also come with different types of questions.
Ultimate English Spelling Quiz includes spelling facts, similar words, foreign-origin words, everyday slang, American vs. British, acronyms, and phobias.
You can access your score by tapping the leaderboard button on the main screen.
Pros
Quizzes to help you learn to spell words.
Cheap ad-free version.
Cons
It kept crashing on some of the tools.
Spelling Master
The last app for adults is Spelling Master. It has three tools: a spelling quiz, a reviewing your mistakes option, and a practicing your mistakes feature.
In the spelling quiz, you get 40 levels, each containing 15 questions. As you complete one level, the next level unlocks automatically.
On the question's screen, you see the word's meaning and usage.
You hear the word, and you must type that word. There is an option to listen to the word again, or if you can't get the word right, you can skip the question.
The skipped words can be seen in the main menu, showing your mistakes. If you want to practice your mistakes, use the third tool called "practice."
The section only shows the questions you missed in the spelling quiz section.
The app is only available on Android, but it is one of the best to improve spelling and grammar.
Pros
The ad-free version is cheap.
Stores your mistakes so you can come back later to practice.
Cons
Madhsudhan Khemchandani has a bachelor's degree in Software Engineering (Honours). He has been writing articles on apps and software for over five years. He has also made over 200 videos on his YouTube channel. Read more about him on the about page.