Klarna is a browser with buy now, pay later functionalities. You can use it on thousands of websites in over 15 countries. PayPal contrarily is a leading online payment system. The debate between Klarna vs. PayPal has never been more serious until now because PayPal has entered the buy, now pay later industry.
So, how do both stand? The article is all about those two services.
Disclaimer: The article covers how both work in terms of technology. It does not cover any financial advice.
Quick Klarna vs. PayPal comparison
| Feature | Klarna | PayPal |
| --- | --- | --- |
| Availability | 17 countries | Over 200 countries |
| Starting limit | $200 to $500 | – |
| Type | Online (Klarna app only) | Online |
| Repayments | Six weeks | Six weeks |
| Missed payment | Varies by location | – |
Klarna and PayPal comparison table
How do both work?
Klarna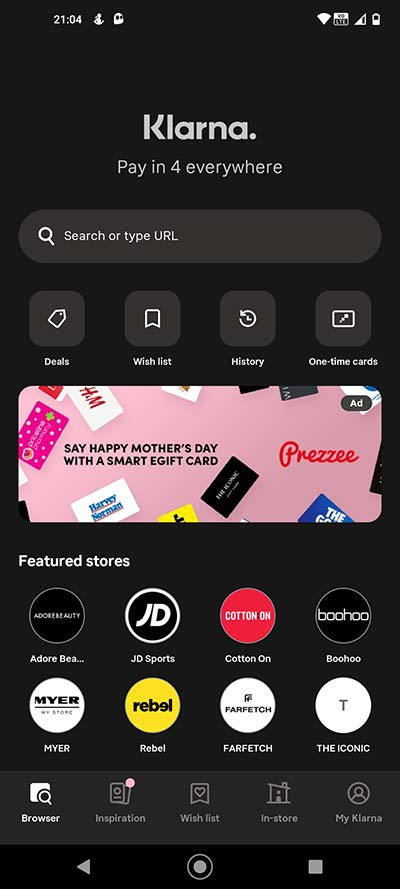 Klarna is a combination of a buy now, pay later system and a browser. In the app, you have the option to browse your favourite stores and start shopping.
When you browse a store, it looks the same as visiting on a browser, but Klarna detects the amount and creates a ghost card when you get to the checkout.
Related: 7 Best Buy Now, Pay Later Apps in 2021
The ghost can only be used for that transaction. You also have the option to fill in the total amount if the Klarna app does not recognise the card amount. Before paying for the amount, you have the chance to see the payout plan.
What makes Klarna different from PayPal is the support of stores. Unlike PayPal, you can go to any store that supports credit cards and pay with your Klarna account.
PayPal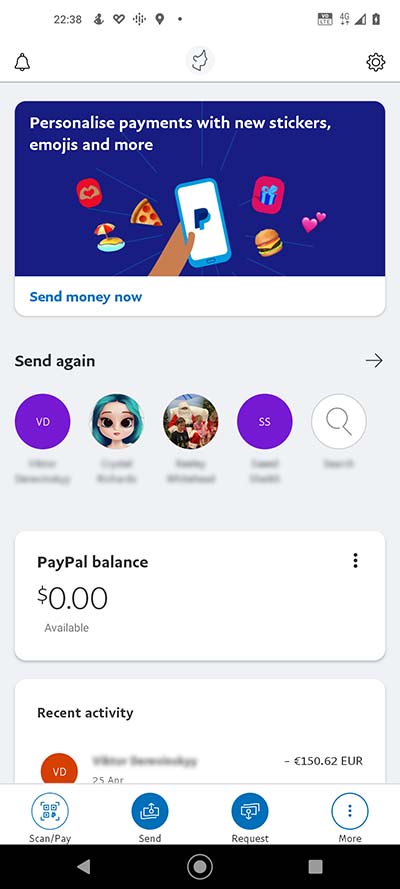 PayPal is a solid platform to pay for goods over the internet. With its wide availability and strict rules, it is an on the go payment method for millions of users worldwide. Other than shopping, you can send money to another PayPal account.
To pay with PayPal, you can select the PayPal option on the checkout page. PayPal offers to pay with your PayPal balance or the credit/debit card linked to your PayPal account.
Signing up
The next section of Klarna vs. PayPal is the sign-up process. You can sign up either by going to the website or through the app.
Klarna
Klarna offers an easy way to sign up. You can provide your email and phone number with other necessary options for the initial account setup. After the initial setup, you can browse the app and check its features.
Before making the first purchase, the app requires you to add a card or a bank account to verify your payout method.
PayPal
PayPal is more strict than Klarna. Firstly, you must choose whether it's a personal or business account. The titles would have given you enough idea of which one to choose.
The initial sign-up process requires:
Legal name
Address
Email
Credit, debit, or bank account
Phone number
PayPal charges a small fee to verify your payment option. Also, for major transactions, you might need to verify your identity by providing legal documents.
Related: Afterpay vs. PayPal
Country Availability
Klarna is available in 17 countries as of writing this post. Here is the full list:
Australia
Austria
Belgium
Canada
Denmark
Finland
France
Germany
Italy
The Netherlands
New Zealand
Norway
Spain
Sweden
Switzerland
US
UK
PayPal, on the other hand, has been here for a long time. It is available in over 200 countries. The features it offers are regions dependent. For example, in some, you get full access, including automatic transfers, but you have limited features in some countries.
PayPal's buy now pay later approach
PayPal has introduced a program called Pay in 4, which works similar to services like Afterpay. With PayPal's Pay in 4, you can shop online on websites that already support PayPal and pay the first instalment on the day of the purchase and the rest three every fortnight.
Returns and late fees
The last part of this Klarna vs. PayPal battle is the returns and late fees. With Klarna, if you return something, you should inform the team. You can go to your purchases in the app and click on the report a return button. With this, the team will know, and they will help you throughout the process.
In terms of late fees, Klarna is location dependent. If you miss a payment in Australia, you are charged $3 to $15. The fee is dependent on the total order value, where you pay $15 if the order value is over $200.
Related: Klarna vs. Afterpay
If you miss a payment in the UK, you might be eligible to request a 7 to 10 days extension, but after that, the app will restrict your purchasing access.
If the same keeps happening, the company may permanently deactivate your account.
With PayPal, it's a bit different. You return the item, and the seller returns the money. The money either goes to your PayPal account or the actual card or bank account you used to pay.
PayPal's Pay in 4 is a new program and is only available in limited countries. The website also does not mention the late fees.
Which one is for you?
PayPal is yet to announce its Pay in 4 in other parts of the world. Until that, you should stick to Klarna if you want to benefit from the buy now and pay later feature.
If you are not a fan of the buy now, pay later idea, then you should use PayPal because with buy now, pay later, you must store enough money in your account for the instalment. The option also brings account management issues.
Summary
Having the right payment method is essential for a faster payment process and maximum savings. Klarna and PayPal are good choices, and in the end, I suggest having both options and using the favourite wherever possible.
Anyway, here we end this Klarna vs. PayPal comparison. I hope the article helped you understand both and pick the most beneficial app. Please let me know your views and suggestions in the comments below.