Both Afterpay and PayPal are world-leading in what they do. One is a great online payment program, while the other offers to shop now and pay later. What other differences do we find in Afterpay vs. PayPal topic? Let's find out in this article.
What are both
Afterpay
Afterpay Limited is a "buy now, pay later" Australian platform that allows its user to purchase online and pay it in an installment plan. Compared to credit cards, AfterPay offers fewer checks and balances in place.
Afterpay pays the retailer for the items you purchased online, and then you pay back Afterpay. Afterpay serves as the mediator between you and the retailer. Using this buy now pay later platform allows you to pay the retail price in four installment payments in six to eight weeks.
There is no interest in paying, but Afterpay charges a fee to merchants that offer the service, and late expenses may cost you late or penalty fees. You can make your payments through the app or the website.
You can also choose to pay it manually before the due date, or you can set up an automatic payment to avoid late charges.
Related: Klarna vs. PayPal
PayPal
PayPal is considered by many as their online wallet. It is a platform that allows users to receive and send money and to do online transactions like online shopping and such. Users of PayPal create their accounts and link them to their checking account or credit card.
Before doing the transaction, PayPal confirms first the proof of funds and identification of its user.
PayPal offers payment solutions and services for businesses and individual consumers. Users can do their PayPal transactions through the company's website or the app. The user's email is also required to create a PayPal account.
The receipts for every transaction are sent through the link, email, and mobile number for easier access and tracking.
Paypal is an excellent option for individuals to receive payment and send money to another PayPal account or a bank account. You can withdraw your money by sending it to your checking account or bank account linked to your PayPal account.
For businesses, Paypal also has a lot to offer. They can use PayPal as their payment portal for in-person and online transactions. Paypal also provides financing and credit options and business management options.
Signing up
Both Afterpay and PayPal can be accessed through their websites or their apps. Signing up for both platforms is quick and easy.
Afterpay requirements
Users can sign up through the website or app
Needs a valid credit or debit card that is available to use in a legally binding contract
verified email address and phone number
verified ID
You can now use Afterpay to do checkouts once you create your account and it has been fully verified. For the first few payments, the company will charge the first 25% payment upfront, but as you use it often, you will get up to eight weeks, which means the first fee after two weeks for the shopping.
PayPal requirements
Before signing up for a PayPal account, you should decide whether this is for a personal account or a business account. Both types of accounts have specific benefits and usage.
After filling out the initial form, it asks you for specific requirements to complete your account.
Personal info
Username and password
Debit or credit card
Verified email address and phone number
You need to thoroughly verify your PayPal account for security purposes before using your debit or credit card or your bank account.
To do this, you must confirm that the card is linked to your account, and PayPal will charge a small amount of money from it. After the card is verified, it will be refunded to your PayPal wallet.
To complete the confirmation process, you need to input the four-digit code that will show in your card statement from the transaction you made with PayPal. After that, you can already receive and send money through your PayPal account.
Related: Klarna vs. Afterpay
Country availability
The next part of Afterpay vs. PayPal is availability. Though transactions are made online with Afterpay and Paypal, their services are only limited to certain countries. Afterpay is available in:
New Zealand
Australia
US
UK
Canada
On the other hand, PayPal serves more than 200 countries. Offered services vary in the country. Some countries can send and receive payments and do automatic transfers, but some cannot do the latter.
For example, in countries such as Zimbabwe, Sri Landa, and Bolivia, you find limited PayPal features. In contrast, in countries such as the US, Australia, Canada, UK, you get access to all the features.
PayPal's buy now pay later approach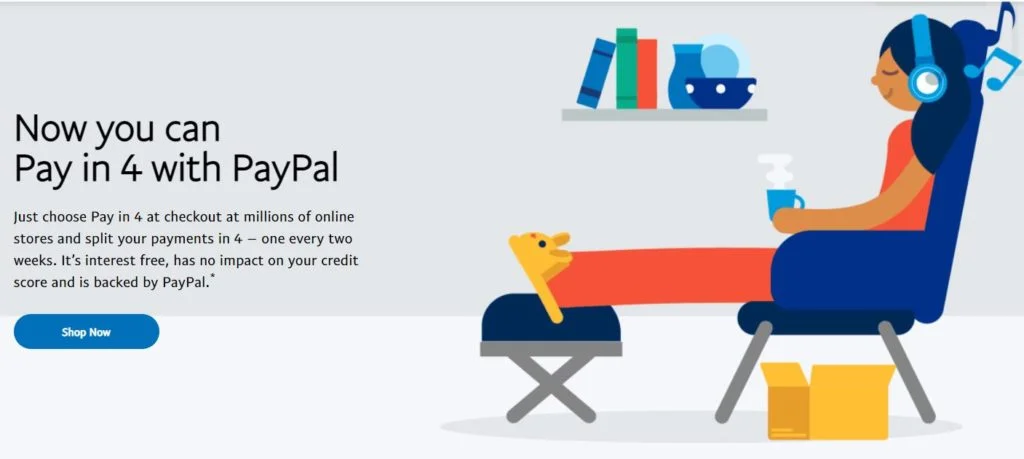 PayPal is widely used to receive or send money and to do online transactions. Currently, PayPal introduced its new installment credit option in Australia called "Pay in 4".
The same concept of the buy now pays later of Afterpay, allowing users to purchase online and pay it in four-installment payment. This option is still limited to certain countries but will soon be available to more places.
Returns and late fees
Afterpay buy-now, the pay-later option works the same with PayPal's pay in 4. The only noticeable difference between the two is their late charges.
Services from both platforms do not require any interest or charges if you pay on time. But if you missed one or two payments, your costs might stack up. Afterpay charges more late fees compared to PayPal.
Summary
Services offered by Afterpay and PayPal provide convenience and security to its user. Both might have their drawbacks; consumers who use them wisely can utilize the advantages of both platforms' services.
Here we end this blog post, Afterpay vs. PayPal. I hope it helped you decide on the right tool. Let me know your views and suggestions in the comments so we can discuss more.