Afterpay is one of the most used buy now, pay later programs, whereas Klarna's nature makes it a great alternative. What makes them different? The article explores both and covers Klarna vs. Afterpay.
Takeaway
Klarna can be used pretty much everywhere where Visa is accepted (some store types are not included).
With Afterpay, you can score up to 8 weeks to pay.
Klarna is more flexible on late payments.
Sign up
Both ask for the same type of information when you sign up. You can expect the following:
Email address
Phone number
Date of birth
Valid ID (in some locations)
Debit, credit, or your bank account details
To use either, you must verify the payment method.
Regarding the credit check, Klarna does a credit check, issuing reports visible to other lenders. Afterpay does not do a credit check or send your data to credit score services.
How do both work
Both work online and in-store, but usage is slightly different. Using Afterpay online is slightly easier as it is only offered in the participant stores.
Klarna can be used in more stores, making it a bit difficult. However, using it is universal, so you will learn to use it once.
Klarna
Online
Klarna app is a browser with buy-now, pay-later features. The app comes with an interface where you can browse stores.
The search bar shows stores as you type, but if you can't find a store, an option to search for it on Google is available.
While shopping on a website, the process is the same. You add products to the cart.
However, when you reach the checkout page, tap "Klarna Pay," and the app generates a one-time card.
The app automatically detects the cart's amount, but if it can't, there is an option to add the amount manually.
Before the payment process, you get to see the due dates. After you have purchased the item, the one-time card details expire.
In-store
You must have an NFC-enabled device. The steps are the same, but you go to the in-store option in the app.
It generates a card to add to Google Wallet or Apple Pay. There are some shops where you can't use the card, but the in-store option should work in stores accepting tap and pay cards.
I have written a separate guide on using Klarna. Check it out if interested.
Afterpay
Online
Afterpay is integrated into merchant websites. You will see the "Afterpay" payment option on the checkout page. The option lets you log in to your account and pay the store.
In-store
Like Klarna, the Afterpay app can generate a card to save to Google Wallet or Apple Pay. The same card can be used for future purchases, but you must activate it in the Afterpay app whenever you use it.
While you are here: Afterpay or PayPal
Limits
Let's talk about limits in the Klarna vs. Afterpay battle. Klarna, depending on your location, gives you a good amount to spend, while you can increase that by repaying on time.
Afterpay also offers a maximum limit, but no minimum limit exists. Initially, you get between $350 and $500, but the limit increases as you shop more.
Afterpay offers a maximum of $1,500, but some old accounts have $2,000.
Repayments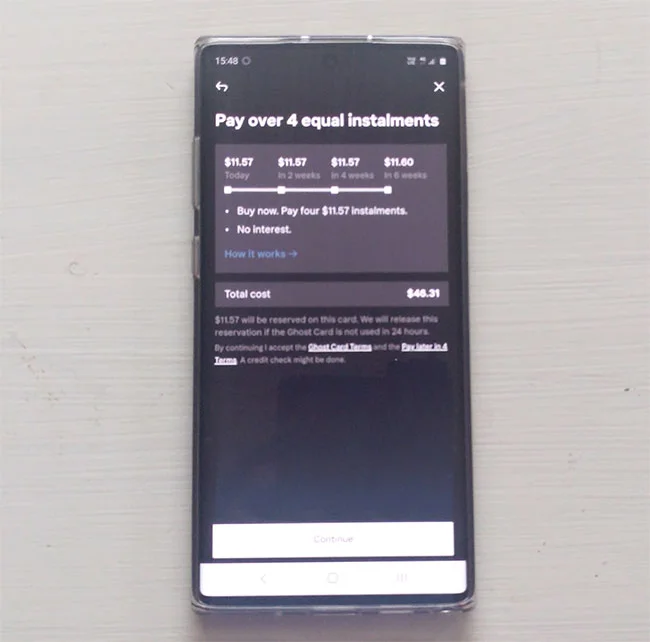 With Klarna, the first payment is on the day of the purchase. The following three payments are every fortnight. In total, it gives you 6 weeks.
Afterpay is different because it checks your points. You earn points by using Afterpay. It also has four tiers:
Gold
Platinum
Diamond
Mint
Accounts on the Mint level pay the first payment after two weeks, making Afterpay one of the buy now, pay later apps with no down payment.
Users on all other levels pay the first payment on the day of the purchase, giving them 6 weeks.
Klarna vs. Afterpay: Late fees
Late fee with Klarna varies by location. In Australia, the late fee is between $3 and $10, depending on your order.
In the US, the late fee is $7 if the payment lasts more than 10 days. The company has also capped only one late fee per installment.
Afterpay charges $10 if you can't make the payment. This also gives you additional seven days to pay. If you don't pay the installment, they charge an extra $7.
The $10 fee applies if the order is less than $40. If the order value exceeds $40, the late fee can be up to 25% of the installment.
Extending payment date
Both allow you to extend time without hurting your account's credibility. With Klarna, you pay around $3 (in Australia) and get a couple of additional weeks.
Afterpay allows delaying the payment date depending on your rewards level. Users can defer up to three payments per year on any level.
Higher-level customers can delay up to 6 times. The app lets you delay payment for up to 7 days. Only the second and third payments can be delayed.
Returns
Returns with both are straightforward. You return the item and get your money back in Klarna or Afterpay.
Video
Let's begin this chapter with a quick comparison video.
Which one is for you
Afterpay is easy to use, but Klarna supports more stores. Afterpay has rewards that are missing from Klarna.
I don't see many differences. If you shop in various stores, go with Klarna. If you only shop at big brands, you should go with Afterpay.
Klarna vs. Afterpay: Links
Madhsudhan Khemchandani has a bachelor's degree in Software Engineering (Honours). He has been writing articles on apps and software for over five years. He has also made over 200 videos on his YouTube channel. Read more about him on the about page.