Last updated: 25 Jun 2021
Afterpay is one of the most used buy now, pay later programs, while Klarna's nature makes it a great alternative. What makes them different in 2021? The article explores both and covers Klarna vs. Afterpay.
Sign up
Both ask for the same type of information when you sign up. You can except the information:
email address
phone number
date of birth
valid ID (in some locations)
debit, credit, or your bank account details
To use either, you must verify the payment method.
Regarding the credit check, Klarna does a credit check, and they issue reports that are visible to other lenders. Afterpay does not do a credit check, nor do they send your data to any credit score services.
How do both work?
Klarna
In-store: The Klarna app offers to generate a card to add to Google or Apple Pay. However, for the card to be used, you must go to the app and put in the amount that you want to spend. The benefit Klarna has over Afterpay is that it can be used anywhere where Visa is accepted.
Online: Klarna app is a browser with buy-now, pay-later functionalities. The app comes with an interface where you can browse stores. You can add more stores by tapping on the add new button. When you open a store, the website opens up. You will need a normal store account to purchase anything.
For example, if you are purchasing something on Amazon, you will still need your Amazon account. You can add the items to the cart, which is within your account limits. On the app, you will have an option to pay with Klarna.
The app will automatically detect the cart's payment, but if for any reason it can't, there is an option to add the payment manually. Before the payment processes, you get to see the dues and dates. The app creates a ghost card which is only valid for this purchase. After you have purchased the item, the ghost card details are no longer valid. To see the app in action, check out the video: What is Klarna?

Afterpay
In-store: Like Klarna, the Afterpay app can generate a card to save to Google or Apple Pay, and of course, you will need to activate the card in the app to use it in-store.
Online: To pay online, you log in with your Afterpay credentials, while to pay in-store, the app generates a barcode. The barcode may not show if there is a problem with the payment method. It also expires every ten minutes, so you have to refresh to generate a new code.
Related: Afterpay vs. PayPal
Limits
Klarna depending on your location gives you a good amount to spend while you can increase that by repaying on time. Also, depending on your region, there is a minimum spending limit. For example, here in Australia, the cart amount must be at least $35.
Afterpay also offers a maximum limit, but there isn't any minimum limit. Initially, you get between $350 to $500, but as you shop more, the limit increases. The maximum amount Afterpay offers is $1500.
Related: 7 Best Buy Now, Pay Later Apps in 2021
Repayments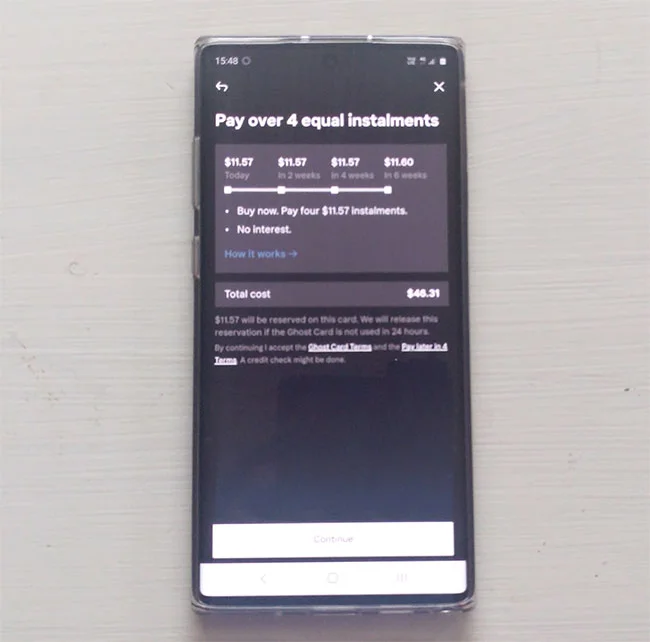 With Klarna, the first payment is the day of the purchase. The next three payments are every fortnight. In total, it gives you six weeks to pay back.
Afterpay, on the other hand, is a bit different. For new users, the first payment is the day of the purchase. Like limits, as you use the service more, the first payment shifts to the next fortnight, giving you eight weeks to pay. However, if the amount is much higher, even old users have to pay the first instalment on the day of the purchase.
Late fees
Late fees with Klarna varies by location. In some places, they offer additional 7 days to clear the payment, while in some, they charge a fee straightaway. In Australia, the late fee is between $3 and $10, depending on your order. The company has also capped on only one late fee per instalment.
| Order value | Late fee |
| --- | --- |
| $0 to $59.99 | $3 |
| $60 to $99.99 | $5 |
| $100 to $199.99 | $7 |
| $200+ | $15 |
Klarna late fee in Australia
Afterpay contrarily charges $10 if you can't clear the payment. This also gives you additional 7 days to pay. If you don't pay the instalment, they charge an extra $7. The $10 fee applies if the offer value is less than $40. If the order value exceeds $40, the late fee can be up to 25% of the instalment. So, overall, Klarna is a better option in terms of late fees.
Returns
Returns with both are straightforward. You return the item and get your money back in Klarna or Afterpay.
Video
Let's begin this chapter with a quick comparison video.
Related: Afterpay vs. QuadPay
Which one is for you?
Klarna makes online shopping easy. It lets you shop on the popular stores online, whereas Afterpay is for in-store purchases as it mostly offers the online stores of those brands which offer Afterpay in-store.
If only one is available in your region, you don't choose, but if you are like me where both are given, why not sign up on both and use them on different occasions. Different brands also offer deals on different payment methods now and then as well.
Klarna vs. Afterpay: Links
Summary
The Klarna vs. Afterpay comparison covered the essential features. Thanks for reading, and please let me know what you think of both in the comments below and your experience with either.