Last updated: 28 Oct 2020 | Reading time: 4.5 minutes | Watching time: 5 minutes
It is just the beginning of the "buying now and paying later" era. New companies are emerging every year. Recently a bank titled Klarna introduced an app called Klarna. It offers to buy now and pay later. Another popular service called Afterpay has been here for some time now.
The purpose is the same, but both differently. The blog post explores both and covers Klarna vs. Afterpay. From availability to repayments, this comparison covers all the essential topics.
Table of contents
Quick Klarna vs. Afterpay comparison
| Feature | Klarna | Afterpay |
| --- | --- | --- |
| Availability | 11 countries | 4 countries |
| Starting limit | $200 to $500 | $500 to $1,000 |
| Type | Online | In-store / online |
| Repayments | 6 weeks | 6 weeks |
| Missed payment | Additional 7 days (varies by location) | $10 fee |
Availability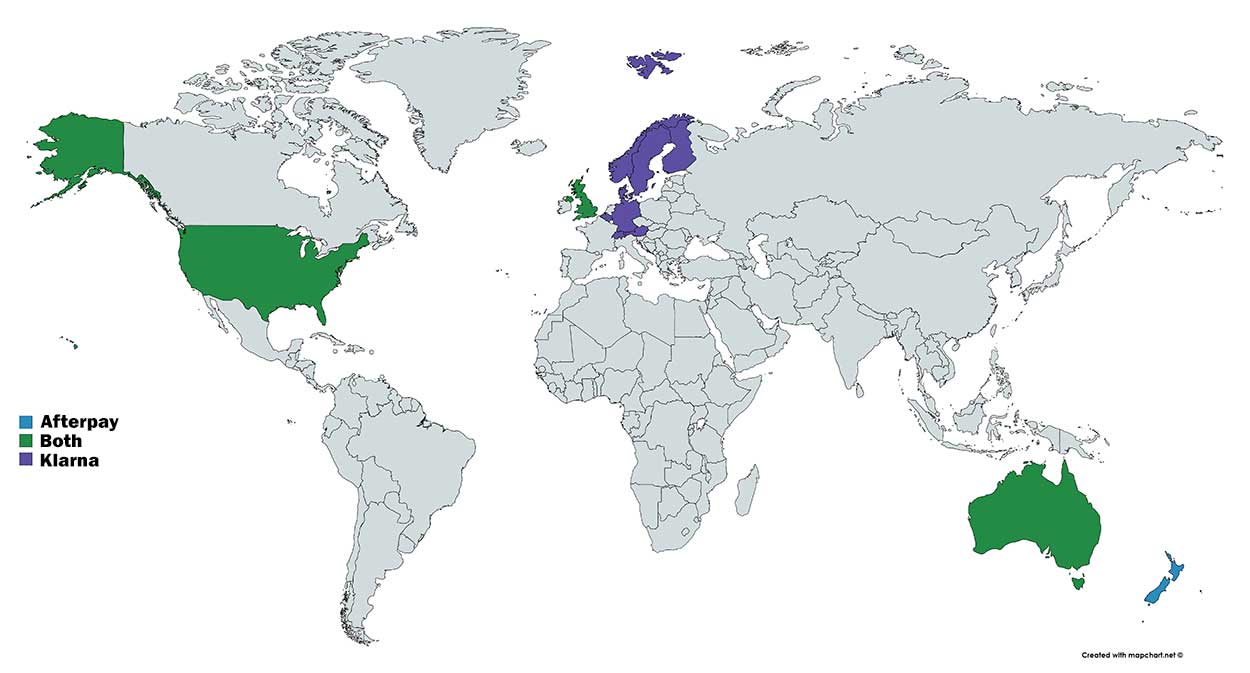 Klarna app is available in the United States, United Kingdom, Denmark, Australia, Austria, Belgium, Finland, Germany, Norway, Sweden, Switzerland, and maybe a few more. Recently it has recorded 7 million customers only in the UK.
Afterpay, on the other hand, is a company from a small country called Australia. It is available in Australia, United States, United Kingdom, and New Zealand. The company will soon start in Canada.
Afterpay is available in fewer countries, but it has just celebrated a record for having 11 million customers. New Zealand is the only country where AfterPay is available, but Klarna isn't.
Related: Zip Pay vs. Afterpay | Which One Should You Use in 2020?
Sign up process
The sign-up process is straight forward. To register on Klarna, you need a valid phone number and an email address for the initial registration.
After signing up, you can browse the app and add products to cart, but you will need to verify your payment information before purchasing your first item.
Afterpay also requires the email address (phone in some locations) to create an account. You will need to add your card details, and they will charge a small amount to verify the payment method.
How do both work?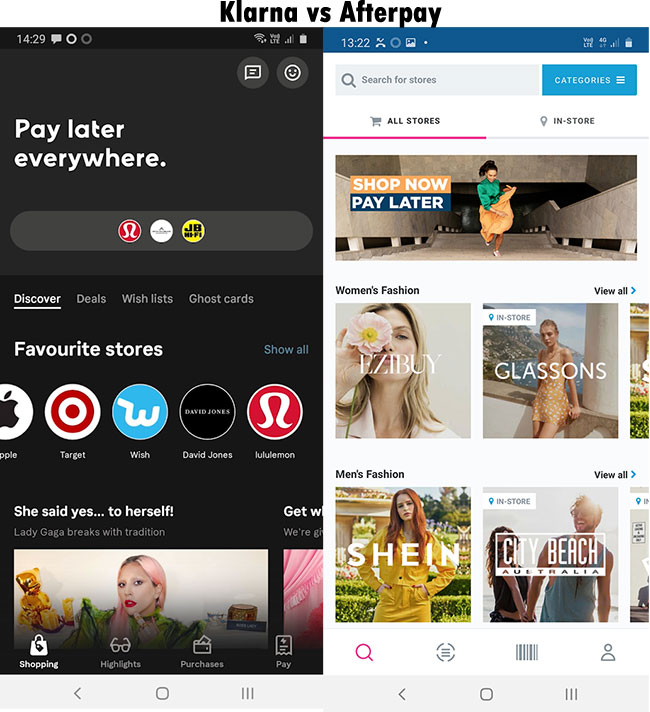 Klarna app is actually a browser with additional functionalities. The app comes with an interface where you can browse stores. You can add more stores by tapping on the add new button. When you open a store, the live website opens up.
You will need the normal store account to purchase anything as for those stores you are just using a browser. You can add the items to the cart which is within your account limits. Down below, you will have an option to pay with Klarna. The app will automatically detect the payment in the cart, but it also offers to add payment manually.
On the next screen, you will find the repayments information. When you pay for the item, the app creates a ghost card which can only be used for the current sale.
After you have purchased the item, the ghost card details are no longer valid. To see the app in action, check out the video: What is Klarna?
Afterpay, on the contrary, is different. After you have signed up, you get to see many stores. Tapping 0n each shows the website and in-store products. Unlike Klarna, Afterpay offers both online and in-store shopping.
The third tab on the bottom is where you find the barcode and the limit. You can refresh the barcode if you don't see. Furthermore, the barcode is only for in-store purchases which cashier scans to complete the transaction. While shopping online, you need the login details for the account.
Tip: Make sure you have at 25% of the total payment in your card as AfterPay sometimes deducts the first repayment straight away.
Limits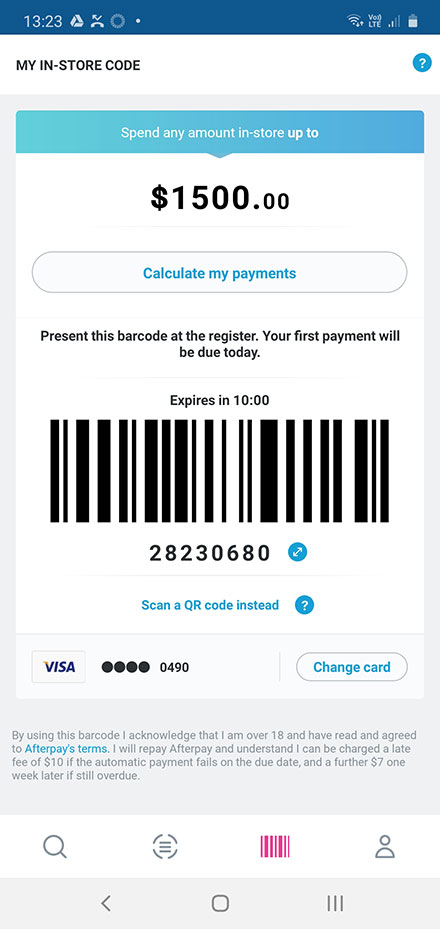 Klarna depending on your location gives you a good amount to spend while you can increase that by repaying on time (the hardest part). Also, depending on your region, there is a minimum spending limit. For example, here in Australia, the minimum cart amount must be $35.
Afterpay also offers limits, but there is no minimum spending limit. The maximum is not that much though. Here in Land Down Under, you get to spend $500 in the beginning, and the limit increases by time.
Related: Google Drive vs. iCloud | The Ultimate Comparison (2020)

Repayments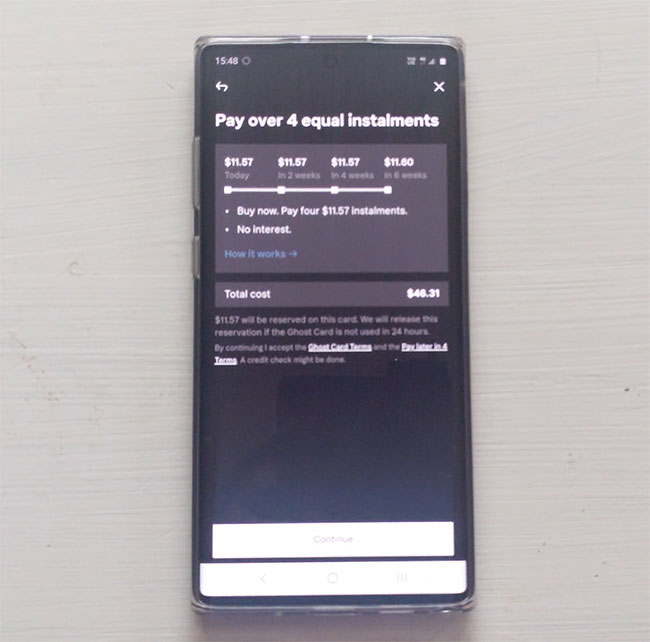 Repayments with Klarna are location dependent. The first payment is the day of the purchase. The next three payments are every fortnight. In total it gives you six weeks to pay.
If you can't pay on time, you get additional seven days, and if you can't pay in the extra period, you are charged a fee. In some regions, you get more than seven days. There is no info on if they use the history to increase and decrease the limit, but it is highly likely that they use. You can read about the rules in your region on the Klarna website.
Afterpay, on the other hand, also charges the first payment on the day of the purchase, and the rest are every fortnight. If you miss a payment, you will be charged a $10 fee.
Afterpay does not use any rating system, but not paying the required amount may lead to no limit increase. They also send an SMS reminder and an email four days and one day before the repayment day.
Refunds
With Klarna, you need to inform the customer service as the ghost card is no longer available, so they need to take extra steps to ensure that the refund proceeds quickly.
If you don't inform immediately after the refund, there will most likely be a delay in processing your refund.
With Afterpay, the system is straight forward. You get your money back straight in your Afterpay account.
Video
Still not sure? Let's watch this Klarna vs. Afterpay video and see both in action.
Which one is for you?
Klarna makes online shopping easy. It lets you shop on the popular stores online, whereas Afterpay is for in-store purchases as it mostly offers the online stores of those brands which offer Afterpay in-store. If only one is available in your region, then, of course, you don't have a choice, but if you are like m where both are offered then why not sign up on both and use them at different occasions.
Summary
The Klarna vs. Afterpay comparison covered the basic features. Thanks for reading, and please let me know what you think of both in the comments below and your experience with any. I'll keep updating this article as new information comes.