There are many buy now, pay later apps, but most charge you a down payment when you make a purchase.
However, some apps give you more time, and here is an article covering those buy now, pay later apps with no down payment.
Zip Pay
Zip Pay (also QuadPay) is designed to give you complete control over when you pay. Once approved, you can use the app and pay it back later.
However, you will be charged a monthly fee for the remaining payment. Zip gives you about $500 in the beginning, but you can get up to $1,500 by using the app. You can pay back using a debit card or your bank account.
PayPal Pay in 4 Monthly
PayPal gives you both options. You can either pay in 4 equal payments (the first one on the day of the purchase) or take up to 14 months to pay.
The option is for big purchases, and the program gives you as much as $10,000. However, the final limit will be based on your credit history and past usage.
You will also pay APR (annual percentage rate), which will be between 9.99% to 29.99%. You can set the payment cycle to monthly, where your first payment will be charged after a month.
Also, like Zip, you must use a debit card or bank account to pay back. Credit cards are not supported.
Affirm
The third buy now, pay later app with no down payment is Affirm. Like PayPal, it has both pay-in-4 and monthly payment options.
The Pay in 4 is interest-free but charges you fees, and the first payment is on the day of the purchase. The Monthly Payments option charges a 15% APR (annual percentage rate).
You can borrow over $10,000, but your credit history, usage, and other factors determine your borrowing power.
You can take up to 12 months to pay back. They have a calculator on the main website to help you see the total cost over different periods.
Afterpay (Mint level)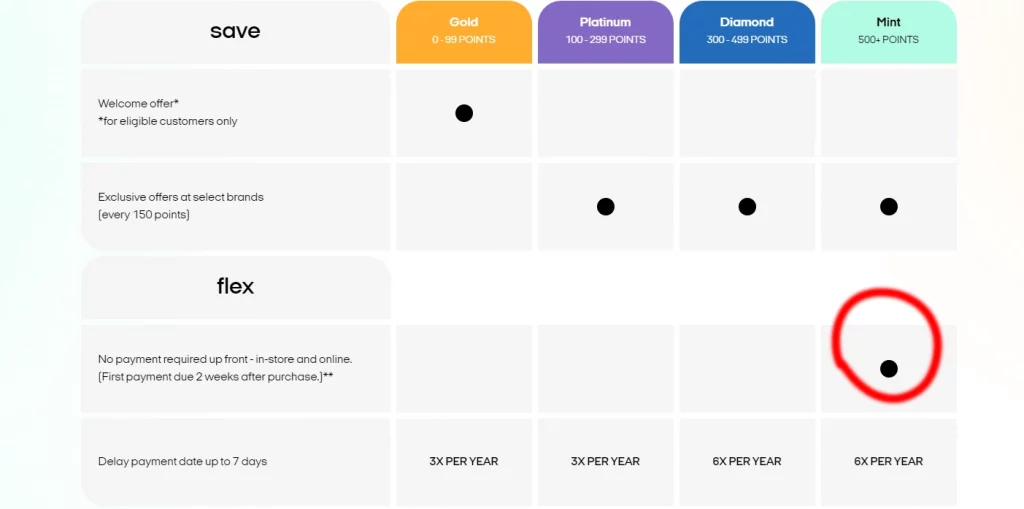 Afterpay charges the first payment on the day of the purchase, but if you use it frequently and get to the Mint level, you will enjoy two additional weeks to pay back.
This means that your first payment will be after two weeks. This is probably the best option because it's interest-free, and Afterpay does not conduct credit checks.
You can open the app and see your rewards level. Also, the main rewards page has more details.
Perpay
Perpay takes a different approach and is probably one of my favorite apps because it lets you buy things without any down payment. The first payment is charged on your payday.
The rest three payments are also charged on your upcoming paydays, giving you the freedom to own things now and pay back when your salary is due.
Like Afterpay, Perpay does not do any credit checks when you apply. However, they add your history and may report it to authorities. The app supports over 1,000 stores.
Uplift
Another buy now, pay later with no upfront payment is Uplift. Uplift is specially designed for travel payments. From flights to hotels, Uplift helps you buy adventures now and pay for them later.
The app gives you up to 18 months to pay. You can choose 6, 12, or 18 while using the app. However, the more time you take, the more APR (annual percentage rate) you will pay.
Conclusion
Buy now, pay later apps are famous for their flexibility, and the above apps are super flexible because they don't charge a down payment.
However, you must keep in mind that it's risky spending. The more time you take, the more interest you will pay.
So, use those services when necessary and when you don't have any other ways. Thanks for reading this article, and take care.
Madhsudhan Khemchandani has a bachelor's degree in Software Engineering (Honours). He has been writing articles on apps and software for over five years. He has also made over 200 videos on his YouTube channel. Read more about him on the about page.