Digital videos are becoming increasingly significant for online success. As a result, there are now more alternatives for video editing tools than ever before.
One popular tool is Kapwing offering plenty of video editing options. Another program alternative to Kapwing is VEED. The Kapwing vs. VEED comparison is all you need to find the right tool.
What are both
Kapwing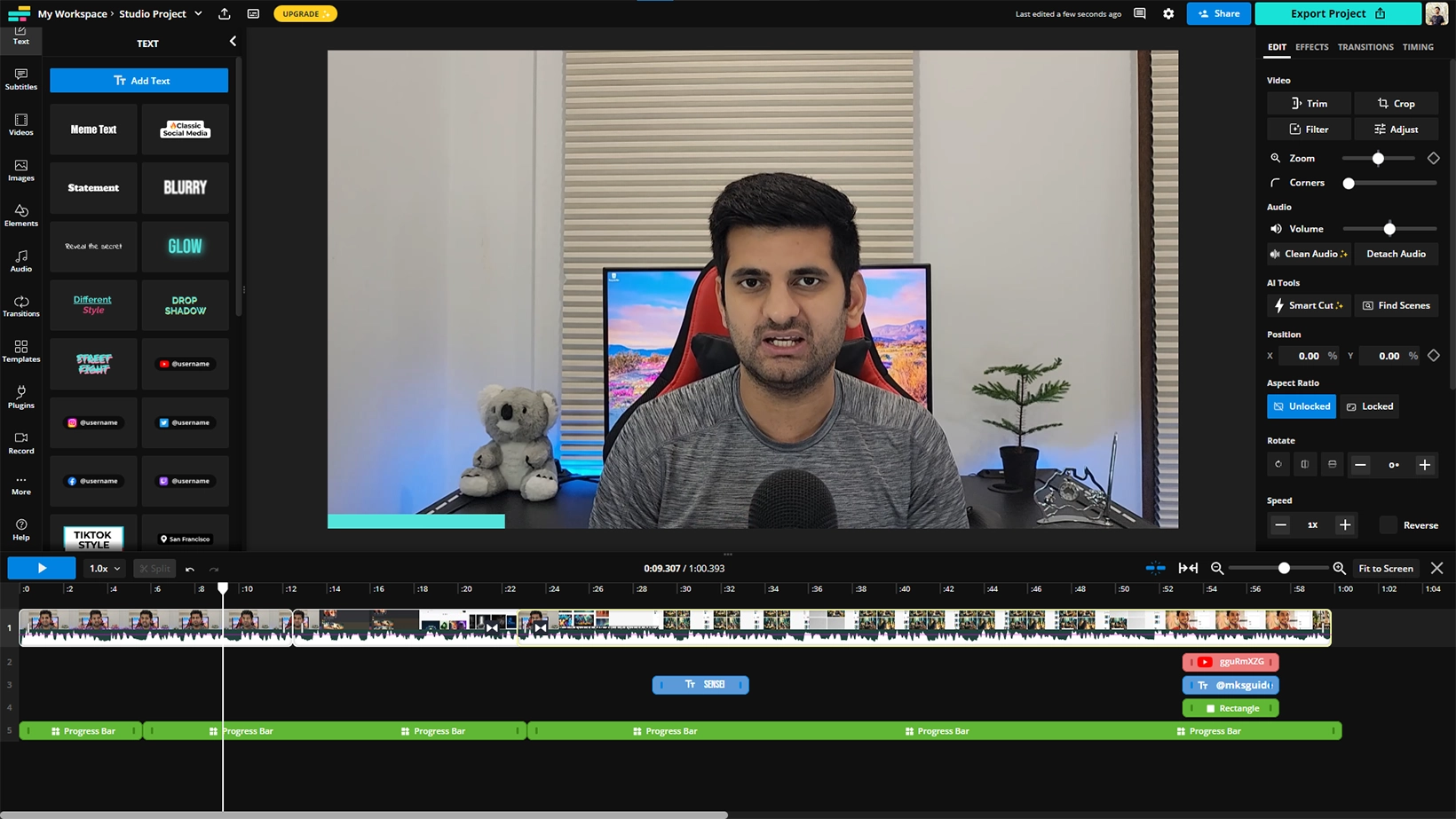 Kapwing is an online image and video editor program. The tool is excellent for editing, GIF making, subtitle generating, cutting, and cropping.
Kapwing offers themes, stock content, and assets for better editing. You can collaborate on projects with members as well.
VEED
VEED, also called VEED Studio, is an online video editing application for exact needs. It offers options, including cutting, cropping, splitting, visuals, audio effects, text, and more.
Like Kapwing, VEED supports collaboration and has themes, stock content, and other things to work faster.
Editing tools
The basic editing tools are the same in both. Here is the list of similar options:
Video capture
Text overlay
Merge and split
Speed controller
Brand overlay
Audio tools
Text editing
Voiceover
Text to video
Text to speech
Winner: Tie
Transition effects
You have over 70 transition effects on Kapwing. You can drag and drop any between two clips. The transition speed is also adjustable.
VEED offers 10 transition effects, much lower than its opponent.
Winner: Kapwing
Video editing options
Background remover
Both offer to remove the background and add a virtual one. The effect works great when the subject is visible in the video.
Winner: Tie
Blurring
Both offer the blurring effect with intensity to blur out faces, important information, and anything unwanted.
Winner: Tie
Related: Kapwing versus Canva
Animations
Many animations are available on Kapwing, including flickering layers, slide-up, zoom, fade in or out, or cycle among colors using hue rotation.
You can change the animation's speed and timing to suit your preferences.
You can create animated GIFs using VEED as well. Applying effects, such as cutting, cropping, and adding text, is possible.
Winner: Tie
Chroma Key
The popular feature in this Kapwing vs. VEED comparison is Chroma Key. In other words, green screen visual effect. You can record a video with a green background and add a different background later.
VEED has the same Chroma key feature that works as well.
Winner: Tie
Filters and colors
Kapwing offers editing options, such as adjusting brightness, contrast, colors, and shadows, as well as adjusting color ranges with the help of drag sliders.
Also, you can apply color filters like sepia and black & white. VEED has the following color correction:
Adjusting exposure
Brightness
Contrast
Sharpness
Hue
It does not have a filter option.
Winner: Kapwing
Audio options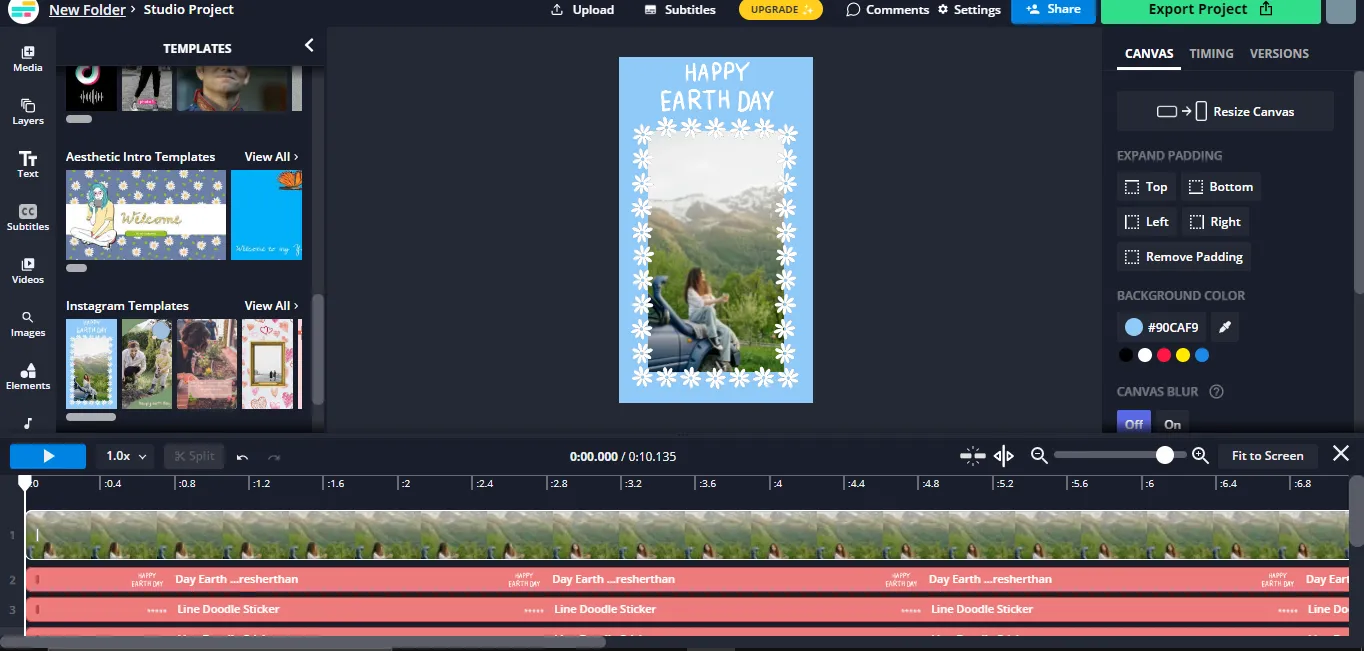 Like other programs, both offer audio options. Kapwing offers many audio effects to trim, tweak, edit, and replace the audio. Below are some of its features:
Add audio waveform to the video: You can add a professional audio waveform.
Add audio to GIF: To make an animated GIF more interesting, add a song, file, or music track.
Add audio to image: You can add audio, sound effects, or music to any image.
Add audio to the video: You can add music, songs, audio files, and sound effects to your videos.
Remove background noise from audio: Make your audio noise-free by automatically removing the background noise.
Trim Audio: Reduce the length of an audio file.
VEED is similar in terms of audio. Following are some of its options:
Add audio to the video: Similar to Kapwing's option.
Audio translator: Translate audio of one language to another.
Remove background noise: The same option as in Kapwing.
Audio join: Join two audio files.
Winner: Tie
Image editing
Kapwing used to be mainly for videos, but it has adapted the features we see in Canva to edit image designs in export image formats.
It has photos, graphics, backgrounds, and more to create thumbnails, flyers, and posters.
Screen recording
Kapwing offers four types of options for recording:
Record screen and camera
Record screen
Camera recording
Audio only record
VEED offers six layouts for recording;
Camera
Audio
Screen
Screen and camera
Slides and camera
Slides
Winner: VEED
Auto subtitle generating
Both can generate subtitles automatically. VEED supports more languages than Kapwing and offers more free monthly minutes. Both tools use AI technology to create captions.
There are some limitations on how many minutes you can generate, but both offer many customization options, including font size, style, position, line height, width, etc.
Winner: Tie
Create subtitles on mobile: 5 Best Android Apps to Add Subtitles to Videos
Video exporting
Both export videos at 720p for free. Kapwing lets you export videos in MP4, GIF, and JPEG formats. You can adjust the video quality and the compression level. The free version includes the Kapwing watermark.
VEED's free version allows you to export videos in MP4, GIF, and MP3 formats. Like Kapwing, the free version includes the VEED watermark.
Winner: Tie
Live streaming
VEED is one step ahead of Kapwing as it offers to stream live videos to social media platforms, including Facebook, YouTube, and Twitch. It supports adding up to 8 guests per stream.
Winner: VEED
Pricing
Both come with a free plan and a couple of paid plans. The table below compares the free plans.
Kapwing
VEED
Watermark
250MB max upload file
Export projects up to 7 minutes
Export up to 3 hours of video per month
Up to 10/min per video auto subtitles
10-minute transcription limit
Watermark
250MB max upload file
10-minute max upload length
2GB online storage
Up to 30/min per video auto subtitles
Live streaming support
Kapwing vs. VEED free plan
Kapwing's Pro plan costs $24 per month or $192 per year and comes with the below options:
No watermarks
Export projects with files up to 6 GB
Export projects up to 1 hour
Edit and store unlimited content
Download SRT / VTT files
Export in 1080p resolution
Unrestricted video transcriptions
Unlimited image background removals
Ensure visual consistency with Brand Kit
The Team plan is billed the same, allowing you to add multiple users. Here is the list of a few options:
All Pro features
Consolidated billing
Unlimited users
Priority support
Purchase and provision unlimited licenses
---
The Basic plan of VEED costs $18 monthly or $144 per year, offering the mentioned options:
25-minute export limit
Unlimited video size
20 GB storage
Stock audio and video
720-minute per year subtitle generation
1080p video export
The Pro plan is the second paid plan costing $30 or $288 per year, and along with the Basic options, you get:
2-hour video export length
4K video export
1440-minute auto subtitle generation
The Business plan brings team-focused options, costing $59 per user monthly. The complete list of features is available on the official website.
Kapwing vs. VEED: Links
Conclusion
Both are excellent video editing software with great and nearly identical functionality. Kapwing is for both images and videos, whereas VEED is for videos. In terms of pricing, VEED is cost-effective.
My name is Madhsudhan Khemchandani. I have a bachelor's degree in Software Engineering (Honours). I have been writing articles on apps and software for over five years. I have also made over 200 videos on YouTube. Read more about me on the About page.