Evmux and Restream are one-stop streaming solutions to broadcast on multiple social media platforms. From studio to pricing, both are vastly different. This is the final Evmux vs. Restream battle.
What are both
Both are web-based broadcasting software to live stream interviews, podcasts, discussions, meetings, etc., on social media.
Both allow you to invite guests and share your screen for presentations. However, certain limits are placed on the free plans.
Streaming
Streaming platforms
Restream takes the cake, as it supports over 25 platforms, including:
Facebook (profile, groups, and pages)
Twitch
YouTube
Telegram
DLive
Dailymotion
Huya
Twitter
LinkedIn (profile and page)
Trovo
Steam
Besides that, it supports RTMP-supported services that Restram doesn't directly support.
Evmux supports the following four platforms:
LinkedIn (profile and pages)
YouTube
Facebook (profile, pages, and groups)
Twitch
Streaming studio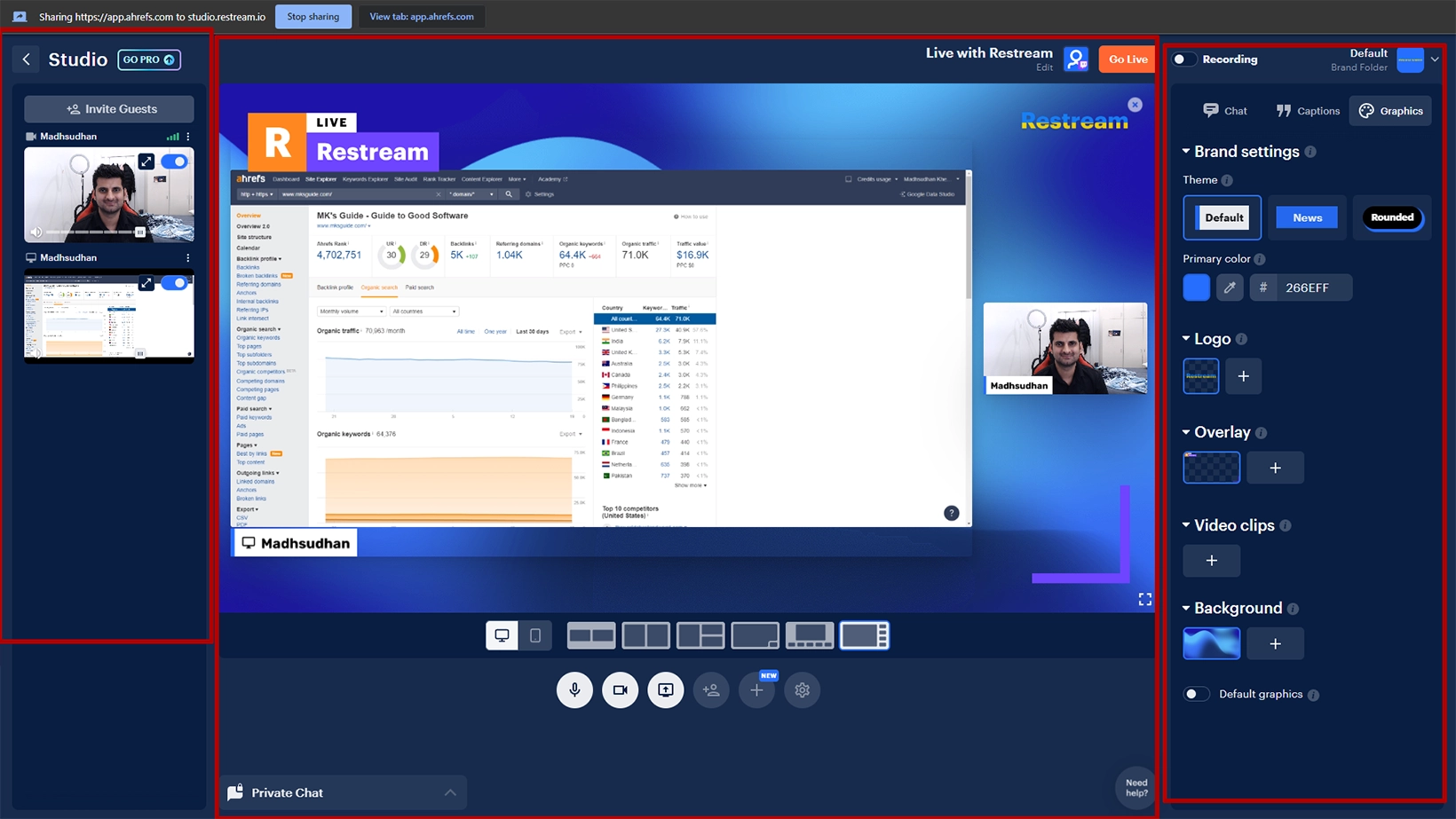 Both have a studio with many options, including:
Webcam
Microphone
Guests
Logo
Banners
Other brand settings
Both offer options to manage the webcam and microphone, reduce noise, and invite guests. Also, we find platform-specific options to personalize the stream.
Multi-streaming
Looking at Evmux vs. Restream, both support streaming on two social media platforms simultaneously. To stream on more platforms, you must subscribe to one of the premium plans.
Restream lets you stream on 9 platforms in the individual Professional plan ($41 per month), and Evmux supports 9 in the Pro plan ($39 per month).
For organizations, Restream has business plans supporting up to 20 platforms.
Before you go: Evmux versus StreamYard
Analytics
Only basic statistics are available on Evmux. The top section shows the total speakers, sessions, broadcast time, and storage.
Restream provides detailed graphical and textual analytics of streaming sessions and users.
The app also supports cross-platform analytics to get data from social media platforms and display it on a single screen.
Furthermore, it monitors the stream's health to ensure no interruptions. Here are a few supported data types:
Streaming sessions (viewers, followers, messages, chat trends, and monitor incoming and outgoing bit-rate and frame rate)
Stream metrics (all streams, average duration, and stream time)
Chat (messages, chatter, and chat trends)
Audience (average viewers, all viewers, and watched minutes)
Recording
Both do not support recording the studio or streams for free.
Customization
Interface
Evmux takes the lead when it comes to customization. It lets you customize in two ways: dynamic and pro scenes. In the dynamic scene, you can customize the following:
Banner theme and color
Lower thirds
Logo (premium)
Overlays, video clips, and backgrounds
Evmux offers 14 overlays, 12 video clips, and 26 background templates. The Pro scene allows for customization in multiple layers.
There are over 42 Pro Scene templates. You can add draggable layers consisting of the following elements:
Animated caption
Text
Slideshow
Media files
Guest and speakers
Host and guest's screen
Host and guest's local video
Restream's customization is similar to Evmux's dynamic scene management. You can customize the banner's theme, color, overlays, logos (premium), video clips, and backgrounds.
Unfortunately, you can't upload local files on the free plan. However, it offers 14 overlays, 12 video clips, and 31 background templates.
Background music
Both provide built-in background music. Evmux has over six sound effects and 17 audio options, whereas Restream offers four free and four paid background audio files.
Integrations
Restream is a massive program supporting many third-party apps. As mentioned, it supports tools like OBS, Zoom, and Streamlabs.
It also supports Streamlabs Mobile to stream from your phone and console apps to stream from gaming consoles.
Related: Restream or StreamYard
Pricing
Evmux's free plan includes 5 GB of storage, 12 on-screen guests, full HD streaming, 2 hours per stream limit, and multi-stream on two destinations. For premium features, there are two paid plans.
The basic plan costs $19 per month in the annual plan and $25 per month in the monthly bringing:
No hourly limitation
Multi-stream on four destinations
Remove Evmux branding
RTMP
Stream recording
20 GB storage
The Pro Plan is $39 monthly (paid yearly) or $49 monthly. It offers local recording, multi-stream on up to 9 devices, 50 GB of storage, and team collaboration.
---
With Restream's free version, you get six on-screen participants and multi-streaming on two sources. It offers two paid plans:
The Standard plan costs $16 or $19 if you want to go monthly. It provides these premium features:
Stream on up to 5 platforms
stream on Facebook pages and groups
Ten on-screen guests
Up to 6 hours of streaming
The Professional package costs $41 monthly ($49 if paid monthly). Along with standard plan features:
Multi-stream to 8 destinations
Record streams for up to 10 hours
Full HD streaming
Conclusion
The decision depends on what you want: more time or full HD + customizations. Evmux provides more customization options and supports HD streaming, but it limits streaming to two hours.
Restream streams are not full HD for free, but there is no limit.
Evmux is a new platform, hence cost-effective. Restream is an experienced service with more supported platforms and features. I suggest using Restream for general usage.
Evmux vs. Restream: Links
Madhsudhan Khemchandani has a bachelor's degree in Software Engineering (Honours). He has been writing articles on apps and software for over five years. He has also made over 200 videos on his YouTube channel. Read more about him on the about page.