Krita is an image editing and animating program, while Photoshop is a photo editing and manipulation program. This Krita vs. Photoshop debate compares the essential tools of both.
Quick overview
Krita is a drawing and animating program to draw, design, and animate characters, scenes, and more. Photoshop is a photo editor that supports a plethora of editing tools, so it should only be used for editing images.
Editing tools
The next major round of Krita vs. Photoshop is the tools. Below is the list of most of the features. Some are also mentioned in the features section.
Krita
Edit shapes tool
Calligraphy
Polyline tool
Bezier curve tool
Freehand path tool
Dynamic brush
Multibrush tool
Measure tool
Assistant tool
Freehand selection tool
Animation timeline
Photoshop
Layer blending
Artboard tool
Lasso tool
Polygonal lasso select
Magnetic lasso select
Magic wand
Quick selection
Object selection
Perspective crop
Slice tool
Slice select tool
Eyedropper
Ruler
Spot healing brush tool
Healing brush tool
Patch tool
Content-aware move tool
Red-eye tool
Color replacement
Clone tool
Paint bucket tool
Blur tool
Sharpen tool
Smudge tool
Dodge tool
Burn tool
Sponge tool
Type tool
Vertical type tool
Free pen
Curvature pen
Path select
Direct select
Line tool
Parametric shape
Custom shape tool
Hand tool
Rotate view
Swatches
Single-row select tool
Single column select tool
Magic eraser
Frame tool
3D material eyedropper tool
Colour sample tool
Note tool
Count tool
Mixer brush tool
Clone stamp tool
Pattern stamp tool
History brush tool
Art history brush tool
3D material drop tool
Add anchor point tool
Delete anchor point tool
Convert point tool
Vertical type mask tool
Horizontal type mask tool
Path selection tool
Direct selection tool
3D text
Subject selection tool
Common tools
Here are the options found in both:
Layers management
Layer opacity
Move tool
Zoom
Filters
Crop
Text
Brush
Pen tool
Pencil tool
Rectangle select
Ellipse select
Polygon tool
Gradient tool
Colour sampler
Fill tool
Rectangle selection
Ellipse selection tool
Polygon selection tool
Continuous selection tool
Magnetic selection tool
Pan
Eraser tool
Freeform paint tool
Features
Krita features
Animations: Along with photo editing, Krita supports excellent animation tools.
Extended brush options: Krita offers more brushes than Photoshop.
More painting: Like animation, you find great painting options.
Support for Photoshop files: Krita supports importing and exporting Photoshop files.
Image templates: The tool offers many image templates containing example content.
OpenGL: With the help of OpenGL, you get improved rotation and zooming tools.
Photoshop features
Over 30 file formats: Photoshop supports over 30 image formats.
Layer blending: Photoshop offers lots of layer blending tools, including shadows, color overlay, and stroke.
Plugins: The program supports plugins available in the Creative Cloud application. Some are free, while some cost money.
Excellent photo editing tools: Adobe Photoshop is a tool with many specific photo editing features that are not available in common software.
More filters: Both offer filters, but Photoshop has more.
3D text: Along with 2D images, Adobe Photoshop supports 3D text. The software layout changes when 3D is enabled.
Integrated with other Adobe apps: Photoshop is integrated with tools like Premiere Pro and After Effects.
Subject selection: You can quickly select the photo's subject and move it around.
Cloud and collaboration support: Photoshop allows uploading PSD files to its cloud storage platform. You can also add others to collaborate on projects.
Lots of image size presets: There are over 30 image size presets for prints, web, mobile, film and videos, and more.
Similar options
Cross-platform: Both are cross-platform, which means you can open the project created on one operating system on another (desktop to desktop).
Vector support: Both programs support vector files.
RAW support: Both support RAW editing.
Related: Krita vs. Clip Studio Paint
Ease of use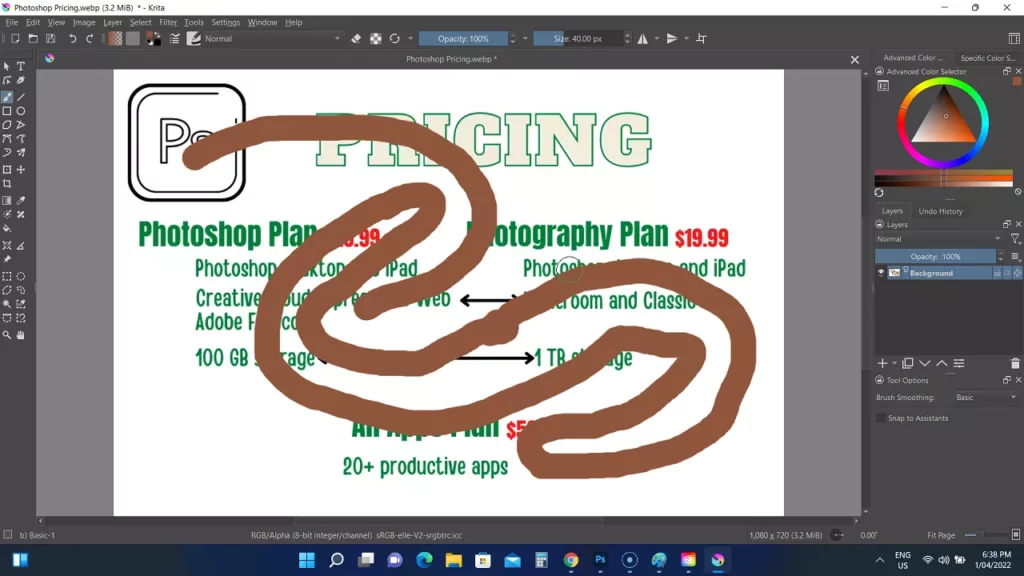 A new user will definitely find both unpleasant. If you have used one, learning the other one won't be hard. Both have a toolbar to the left with many panels to the right.
Krita has a few other options because it supports animations and stuff. It also offers a manual for people coming from Photoshop.
Photoshop supports videos, but it has always been a popular photo editing software. Online, you find more tutorials on Photoshop by independent YouTubers and bloggers because it is more popular.
Workspaces
The developers of both have added the workspace functionality to offer a more particular layout on the work type. As you choose a workspace in the Window navigation, the interface changes. Krita has nine workspaces, and some are:
Animation
Big Paint
Big Paint 2
Small Vector
Big Vector
Photoshop, on the other hand, offers five workspaces:
Essentials (default)
3D
Motion
Painting
Photography
Users can create their own workspaces as both programs allow customization of the interface.
Platforms
Krita is only a desktop application. It is offered on Windows, macOS, and Linux platforms. Photoshop, along with desktop, supports mobile. The iPad app is more powerful and feature-rich than the Android and iPhone apps.
Photoshop mobile app
The mobile app of Photoshop is called Photoshop Express. The iPhone version of Photoshop is more advanced than the Android as it offers features such as 3D text and premium presets. The Android version supports basic editing tools, and many of the options are in the premium plan.
Check out Clip Studio Paint and Photoshop comparison to learn which is best.
Pricing
Krita is open-source and free to use. Photoshop is a premium application using a monthly or yearly subscription model. Users have two plans offering different features. The Photoshop Plan comes with:
Photoshop desktop and iPad apps
Creative Cloud Express and Web (Adobe Spark)
Adobe Fresco
100GB cloud storage
One can pay $21.99 per month on the yearly contract. The second plan titled Photography Plan, offers different options:
Photoshop desktop and iPad apps
Lightroom and Lightroom Classic (desktop)
1TB cloud storage
The plan costs $19.99 per month on the annual contract. It is cheaper than the former plan and focuses only on Photoshop and Lightroom.
Which one is for you?
The first reason is clear: If you can't afford to pay for Photoshop, don't touch it. Even if you have six months' worth of money, don't buy it. You should have at least eight months of money to safely complete the 12 months.
Secondly, if you are learning to edit photos, start with Krita. It has many of the same tools that you find in Photoshop.
However, if you are an experienced photo editor and want a fully functional program (also afford), Photoshop is for you. It has many reliable tools to do hundreds of image edits.
Krita vs. Photoshop: Links
Summary
Users who can't afford tools like Photoshop turn to programs like Krita, and indeed, Krita has never disappointed me, and I believe the same is true for most people.
Anyway, Krita vs. Photoshop comparison covered basic to advanced options. Please share your thinking in the comments and subscribe to the newsletter to connect with my blog.