Clip Studio Paint is a painting and animating program, while Photoshop is an image editor with drawing features. As both are paid, choosing the right one may be hard, but this is the battle of Clip Studio Paint vs. Photoshop to help you decide.
The difference
Clip Studio Paint is developed to sketch, draw, paint, and animate designs, while Photoshop is a manipulation program to edit and export photos.
Clip Studio Paint is mostly used for Comics to bring characters to life. It supports 2D animation, but animating 3D is possible. Photoshop does not have any animation features, but you can work on 3D editing as long as you can.
Clip Studio Paint vs Photoshop: Tools
Editing tools
Both offer an array of editing tools. As mentioned, Photoshop is for photos, so you find more photo editing options. Some of the tools are:
Lasso and select tool
Magic wand
Quick and object selection
Slice tools
Eyedropper
Ruler
Spot healing brush tool
Healing brush tool
Patch tool
Content-aware move tool
Layers
Layer blending
Red-eye tool
Clone tool
Color replacement
Paint bucket tool
Blur, sharpen, smudge and dodge
Burn, sponge, type, and vertical type
Free pen
Curvature pen
Path select
Direct select
Line tool
Parametric shape
Custom shape tool
Hand tool
Rotate view
Swatches
Magic eraser
Single-row select tool
Single column select tool
Frame tool
3D material eyedropper tool
Color sample tool
Crop
Count tool
Mixer brush tool
Clone stamp tool
Pattern stamp tool
History brush tool
Art history brush tool
Add and delete anchor point tools
Convert point tool
Path selection tool
Direct selection tool
Vertical type mask tool
Horizontal type mask tool
3D text
Subject selection tool
Clip Studio Paint has fewer options, but compared to Photoshop, you find more brushes and shapes. Here are its standard tools:
Auto-select tools
Eyedropper
Six pen tools
Selection
Pencil and mechanical pencil
Seven brush tools
Airbrush
Decoration brushes
Eraser (6 brushes)
Blend (7 tools)
Fill
Gradient
Figure tool
Frame border tool
Ruler
Text tool
Balloon
Correct line tool
Animation timeline
Layers
Crop
Other than that, you can download additional brushes, images, and shapes to use in your projects. In total, the materials are over 10,000 in number and 2 GB in size.
Regarding tools, both closely resemble Krita. Check out Krita's comparison with Clip Studio Paint and Photoshop.
Winner: Tie
Animation
Clip Studio Paint has two programs: Clip Studio Paint PRO and Clip Studio Paint EX. The PRO supports up to 24 frames per animation, while the EX version supports unlimited.
You can draw on image sequences and animate them. It uses a timeline to add animation cells where each cell is a frame. The program also supports animation folders, keyframes, and onion skin.
Ease of use
Although the tools are properly categorized, both have a steep learning curve. If you look at both for the first time, you won't see many differences.
Compared to Photoshop, Clip Studio Paint has a crowded interface, but I feel that it is a little bit easier if you are just starting. The problem begins when you go deep into the tools.
Photoshop has fewer interface options, but most of those can easily confuse new users. It does not get as difficult as Clip Studio Paint but still makes you think.
Winner: Tie
Workspaces
As you know that both are highly customizable, so both have suitable workspaces. For example, Clip Studio Paint has an Illustration workspace that shows illustration-specific tools. Other workspaces are:
Photoshop has more workspaces than Clip Studio:
3D
Graphic and Web
Motion
Painting
Photography
You can save a customized interface as a workspace to speed up the editing process.
Winner: Photoshop
Related: Photoshop vs. Photoshop Elements 2022
Platforms
Both are offered on multiple platforms. Clip Studio Paint is available on:
Windows
macOS
Linux
iPad
iPhone
Android
Samsung Galaxy devices
Chromebook
The majority of options are available on Windows, macOS, and Linux. The tablet and mobile versions come with fewer but essential features.
Photoshop is available on Windows, Mac, Linux, iPad, iPhone, and Android. Like the opponent, the mobile versions have fewer options. The iPad has a few more, though.
Winner: Tie
Exporting files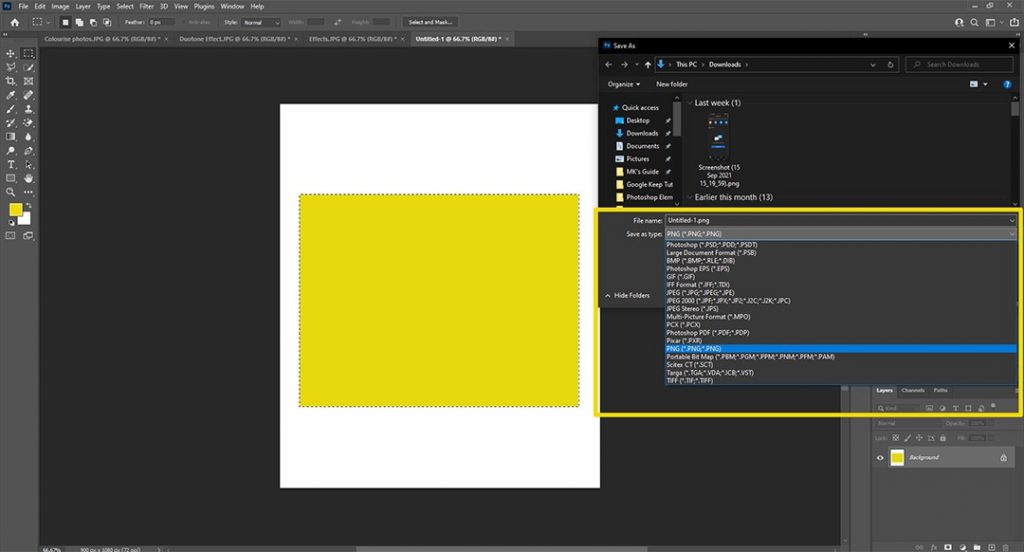 You can export files in common image formats, including JPEG, PNG, and TGA. Photoshop supports over 20 formats (given below), while Clip Studio Paint supports a few less, but you get to export animations as videos. It also brings exporting animation frames, cells, and image sequences.
Here are the common extensions:
BMP
JPEG
PNG
TIFF
TGA
PSB (Photoshop file)
PSD (Photoshop file)
PDF
GIF
Here are the formats that only Photoshop supports:
DCS 1.0 and 2.0
RAW
Portable Bitmap
SCT
Dicom
MPO
EPS
PCX
IFF
PXR
Finally, here are the formats that you only see in Clip Studio Paint:
Clip (own format)
MP4 (animation video)
QuickTime (only on Apple products)
Winner: Tie
Extra features
Both are cross-platform, so you can start a project on one platform and continue on a different one.
Cloud storage is a part of both tools. You get 10 GB with Clip Studio Paint, while Photoshop offers 20 GB to 1 TB.
Both offer a free trial.
Filters are available in both programs.
Pricing
Both separate desktop and mobile licenses. Clip Studio Paint PRO asks for a one-time fee of $50 for a Windows or macOS license. The EX version costs $219 in total. The iOS version is completely free, while you register separately on Android.
As discussed, the PRO has fewer animation options. Also, you can only create single-page illustrations, while EX supports creating multi-page.
Photoshop contrarily brings three options; each offering additional apps and pricing structures. The Photoshop plan has:
Photoshop desktop and iPad apps
Creative Cloud Express and Web
Adobe Fresco
100 GB online storage for Photoshop files.
The monthly plan on the annual contract costs $20.99 per month. The yearly plan costs $239.88, and the month-to-month plan costs $31.49 monthly.
The second a bit cheaper plan is Photography offering 20 GB or 1 TB storage. You pay $9.99 per month (annual contract) or $119.88 per year for 20 GB of storage.
The 1 TB plan costs $19.99/mo (yearly contract) or $239.88/yr. Along with Photoshop desktop and iPad, you get Lightroom and Lightroom Classic.
The final plan with over 20 Adobe apps costs $52 per month on the yearly contract.
Which one is for you?
The answer is in your needs. Clip Studio can do quick image edits, but for sketches, drawings, illustrations, and animations, Photoshop is nowhere near.
Photoshop has the power of image editing, and if this is something you want to pursue, this is the program you need.
Links
Wrap up
So, this is the wrap up for Clip Studio Paint vs Photoshop battle. Thanks for coming here, and please let me know if you have questions or suggestions in the comments, and keep designing.