Pros
✔️ 1 TB free storage
✔️ Time-based sharing
✔️ Desktop and mobile apps
✔️ Image, video, and music sections
✔️ Safe folder
Cons
❌ Videos play on a separate page
❌ 720 video size max
❌ No PDF support
❌ No Office and Google Workspace Support
❌ Not-so-good sharing tools
❌ 500 file limit
❌ No ZIP support
Final verdict
After using it and researching the internet, I suggest using the service for unimportant files. It offers 1 TB, but its past scares me a bit. It used to be Dubox, and they stored data in the Chinese and Hong Kong servers.
Specifications
Storage: 1 TB
Platforms: Windows, Android, and iOS
Offline access: On mobile
Sharing: Basic sharing options
Pricing: $0 to $38.99 per year
Rating
Rating: 2.5 out of 5
Interface with ads
TeraBox looks like the other cloud storage programs but with ads. The left navigation is okay, but it gives a random username on the top that you can't edit.
We also have a recycle bin option which seems to work fine. And, yes, you get a gift box that really is just a 7-day free premium trial box.
Sharing issues
One of the critical factors of cloud storage programs is sharing files. I tried sharing a couple of files to an email, but it got me an error. I tried sharing again, and the same error was displayed.
It also supports sharing links, but like the email issue, I could not share links. So, right now, there is no way of sharing files with users, which is sad.
Anyhow, you can use the link expiry (7 or 30 days) or leave it at permanent. The sharing option also has a password protection feature, but there wasn't any password field on the password screen.
Platforms
TeraBox has a desktop application, which more or less looks like the web version. You don't see ads on the interface, but sometimes, an ad pops up from the notification tray.
The desktop app has a few extra options like "folder backup." The app shows a floating icon that can quickly open the software. You can also drag and drop files to the icon to upload to the drive.
One thing missing is the folder in the navigation pane. I did not miss it a lot, but still, a folder to easily upload files would have been nice.
Android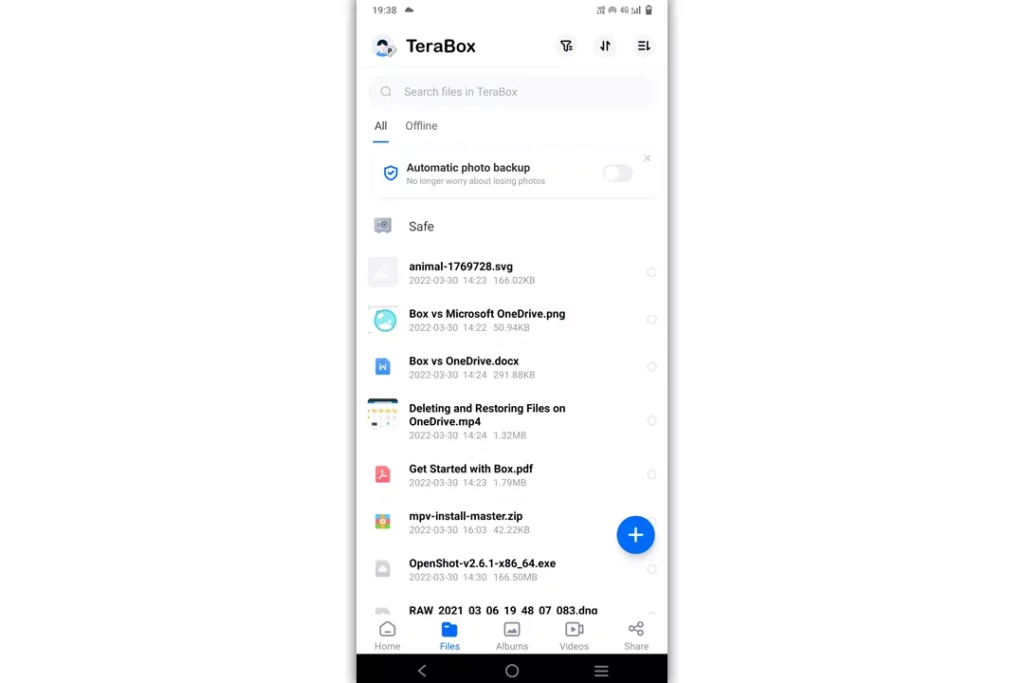 The Android app has over 100 million downloads, with an average rating of 4.7. The application has a home tab that shows the recently uploaded and recently viewed photos and videos.
The application also offers a night mode, which just reduces the phone's brightness. It does not change the interface or the text color.
Moreover, when you open the app, it shows a five-second non-skippable TeraBox premium ad. Finally, the app has an offline mode showing all the downloaded files.
Related: TeraBox vs. Google Drive
Video downloader
The Android app of TeraBox has an additional option of downloading videos from Facebook, TikTok, and Instagram. You can download videos by logging in to your social account or inserting the link to the video.
Signing up
Along with the email and phone number system, the app offers to log in through Google. If you sign up using an email or your phone number, the app does not ask for your name or any other details. As mentioned, you get a randomly generated username.
Sign-up note: If you sign up using your email, you must sign in with your email. If you choose Google to sign in, the app will create a separate account (two accounts in total). You can protect your account by enabling location-based security in the settings.
TeraBox review: Minimal file support
Yes, you read it. It does not offer to open many file types. You can upload any file, but opening files is not its operation.
You can open a few images and video formats, but the support for any document files (Microsoft Office, Google Workspace, PDF, etc.) is out of its reach.
Safe folder
Like OneDrive, TeraBox offers a safe folder that can be used to password-protect files. The folder requires a 4-digit PIN, and If you forget the PIN, there is no way to open the folder.
You can request a new safe folder; the action deletes the existing folder first.
Related: Google Drive vs. Photos vs. One
Downloading content
The company claims to limit downloads on the free tier. If you download large files from the web version, you most likely get the slowest speed.
The app recommends using the desktop version to download files, which offers better speed. However, I did not see any difference.
False advertising
So, their website suggests that we can store up to 300,000 photos with the space we get. They also send an email, but their free plan only offers to upload 500 files. So, you can save only 500 images if you want to upload photos only.
Can they access your data?
This is a grey topic for this review because they used to store data in China and Hong Kong, but they store content in Japan now. Their privacy policy suggests that they might share data with customer support and the IT department to provide support to our customers.
The privacy also says they may share data with authorities in special circumstances.
Premium
In the final section of the TeraBox review, we will discover the benefits of its premium plan. The free plan of TeraBox limits:
Videos streaming to 720px
No video backup on mobile phones
500 max number of files
4 GB file upload limit
200 MB safe folder space
10-day recycle bin limit
Slow download speed
The premium plan extends some while removing some limits:
2 TB of storage
Ad-free service
Ultra-fast downloading speed
1080p video streaming
50,000 file limit
20 GB file size limit
2 TB safe folder space
30-day recycle bin limit
Should you get it?
If you use online storage often, I recommend going elsewhere. TeraBox does not support some basic file formats, and it sometimes has issues while sharing files.
Other giant services like Google Drive, OneDrive, Dropbox, Box, etc. In fact, I have compared OneDrive and Box to find the ideal software.
Furthermore, I checked the homepage and other pages but could not find the about and customer support pages. They provide a blog page where most articles are in the Thai language.
So, it's a no from me. Except if you have some large files that are not that important, you can give it a go.