I have used many cloud storage platforms and even reviewed TeraBox a few months ago.
How would you compare TeraBox with Google Drive? This is the TeraBox vs. Google Drive article to see the differences between the two.
Quick comparison
TeraBox and Google Drive are cloud storage programs that store and share many file types.
TeraBox offers 1 TB of free storage, but it limits the total stored files and video quality. Google Drive offers 15 GB for free, and there is no file size or number limit.
Platforms
Both are available on Windows, macOS, Android, and iOS devices. TeraBox is offered on Linux and Google Drive on Chromebook.
Both do not add a file explorer folder as OneDrive does, but as mentioned above, Google Drive can sync folders and stuff automatically.
Sharing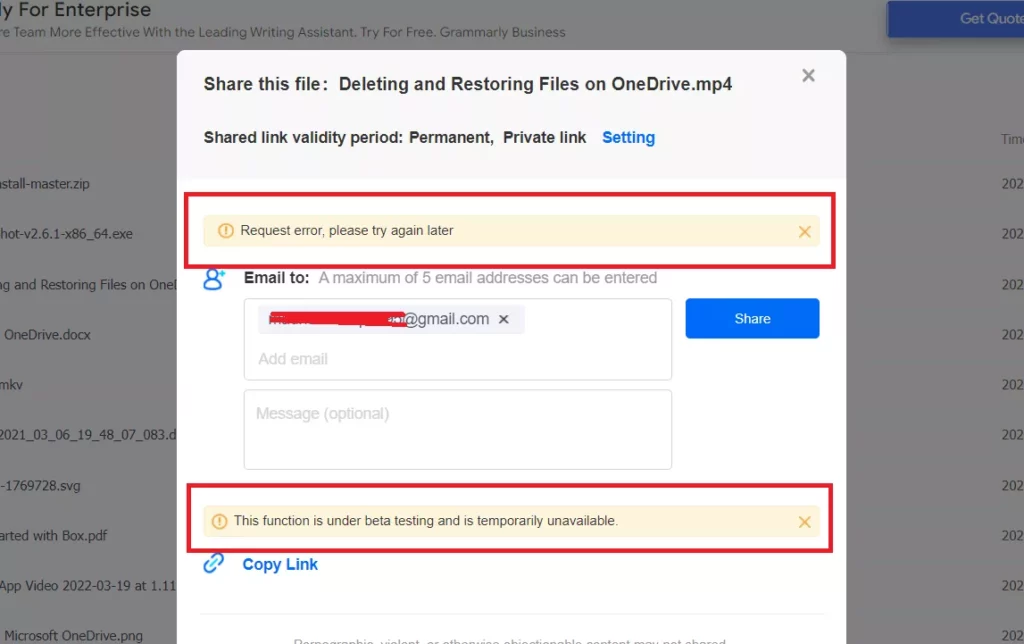 You can share any file stored on the drive. TeraBox is not so good at sharing because it mostly gives an error while generating a link.
Also, it supports a password-sharing link, but there is never a password field to insert the password. You can set the link expiry.
Google Drive does not support time-based sharing, but you can restrict links to specific users. It also has a feature that allows people to view, comment, or edit files.
Supported file formats
So, I tested lots of files in both, including the common and uncommon ones, and the below table is what I discovered.
| File type | TeraBox | Google Drive |
| --- | --- | --- |
| DNG (RAW image) | ❌ | ✔️ |
| SVG (Vector image) | ❌ | ✔️ |
| Docx | ❌ | ✔️ |
| MP4 | ✔️ | ✔️ |
| MKV (video) | ✔️ | ✔️ |
| RAR | ❌ | ✔️ |
| PNG | ✔️ | ✔️ |
| ZIP | ❌ | ✔️ |
| PDF | ❌ | ✔️ |
Supported format table
So, looking at the table, it is clear that Google Drive supports more formats. So, this round goes to Google Drive.
Unique features
Let's begin with the unique features that are available in both. If an option is missing in TeraBox, you will see it mentioned in the Google Drive section and vice versa.
TeraBox
Time-based sharing: TeraBox supports the time-based sharing of files.
Video downloader: The mobile app has a downloader to download videos from Facebook, TikTok, and Instagram.
Personal Vault: The TeraBox desktop and mobile has a password-protected safe folder for extra security.
Remote upload: The feature lets you upload files straight from the web. Using it is tricky, but once you learn to use it, you can upload files without downloading them to your device.
Password-protected sharing: TeraBox has the option to send password-protected files.
Google Drive
Fast video player: Google Drive has a faster video player than TeraBox.
No file limit: Google Drive does not limit files, whereas TeraBox allows uploading 500 files for free.
Same page video playback: TeraBox plays videos in a new tab. Google Drive plays the video in the same tab.
Extended file format support: Google Drive supports more image, video, and document formats.
File versions: Google Drive supports file versions to see and recover old file versions.
Open the file with installed apps: On Desktop PC, you can open Drive files with one of the installed apps on your computer.
Integrated with Google Workspace: The app is integrated with other Google products like Sheets and Slides. It can open Microsoft Office files too.
Computer backup: The desktop app of Google Drive can back up your computer files. The files are stored in a separate folder in the cloud.
Powerful search: The app can search through spreadsheets and slideshows.
No ads: TeraBox free has ads, while Google Drive does not display ads.
Collaboration: It offers collaboration in Sheets, Docs, Slides, and other Google products.
Track activity: You can track your activity of opened or changed files in your Drive and Docs.
Interface
TeraBox has a simple interface with a navigation panel on the left. The problem with TeraBox is ads popping out while working.
Google Drive has folders and a share bar on the top. The used and remaining storage capacity is shown at the end of the navigation panel, with the option to buy more storage easily.
Plugins and integrations
This is where Google Drive takes the cake in the TeraBox vs. Google Drive battle. Google Drive has many add-ons and plugins to open unsupported file types, sign documents, create diagrams, and more.
Some of the popular apps are:
Those plugins make Google Drive more potent than TeraBox because it does not support integrations.
Recycle bin
Both come with a recycle bin and like the above rounds, Google Drive takes this round. TeraBox saves files in the drive only for ten days.
You can extend the limit to 30 days in the premium subscription. Google Drive saves files for 30 days in the trash.
TeraBox does not disclose the total recycle bin size and whether it is used against your storage.
Google Drive has no recycle bin limit because the storage is used against your total storage.
So, to free up storage, you can check and delete items in your recycle bin.
While you are here: Google Drive versus Photos
TeraBox vs. Google Drive: Security
TeraBox used to save data in Hong Kong and China, but their policy now says the data is stored in Japan. They also haven't mentioned the security protocols in use.
On the other hand, Google Drive states that they store data in their world-class servers.
The files and file transfers are 256-bit encrypted, and the files remain encrypted in the cloud.
Also, files of up to 100 MB are scanned while downloading to ensure they don't contain malware. So, in terms of security, Google Drive is the winner.
Premium plans
Behind the 1 TB storage, TeraBox has hidden limits. The four most hurting are:
500 files at max
No over 4 GB file
Slow download speed
720p maximum video playback resolution
TeraBox Premium has four different pricing structures. It unlocks:
2 TB of storage
Ad-free app
Ultra-fast downloading
1080p video streaming
50,000 file limit
20 GB file size limit
2 TB safe folder space
30 days recycle bin period
You pay $2.99 monthly on the yearly plan and $3.49 monthly.
Google Drive, on the contrary, offers three premium subscriptions. The Basic one gives you 100 GB of storage for $1.99 per month or $19.99 per year.
The Standard plan comes with 200 GB of storage for $2.99 per month or $29.99 per year.
The Premium subscription costs $9.99 monthly or $99.99 yearly and gives 2 TB of cloud storage. Each premium plan can be shared with up to 5 users.
You get a 3% discount in the Google Store on the Standard plan and a 10% discount on the Premium plan.
Lastly, the Premium plan supports VPN on Android and iOS platforms. A few other plans give up to 30 TB of storage.
Google Drive prices and plans are country-based, so you might not see some of the above plans or see different ones not mentioned here.
Which one do you need
If you want to save important files to access later, Google Drive is the one you need. It's safe and secure and has powerful search features.
If you want a drive to upload big files that can be found easily online, use TeraBox.
Links
My name is Madhsudhan Khemchandani. I have a bachelor's degree in Software Engineering (Honours). I have been writing articles on apps and software for over five years. I have also made over 200 videos on YouTube. Read more about me on the About page.