Vivaldi is a newcomer, whereas Firefox is an old browser. Both have great options, but both have pros and cons.
So, which one is for you? This is the Vivaldi vs. Firefox battle to help you decide.
What are both
Firefox is an open-source web browser. Even with the latest update, it supports Google as its default web engine, although users can switch the web engines of their choice by going into the browser settings.
According to the recently collected data, Firefox has a 3.1% worldwide browser market share.
On the other hand, Vivaldi is a free browser bringing some unique options, such as notes and tasks.
Vivaldi is developed from the same Chromium project that fuels Google Chrome and many other browsers.
Platforms
Both are available on the following platforms. The problem with Vivaldi is that it is not supported on iPhone devices.
| Vivaldi | Firefox |
| --- | --- |
| Windows | Windows |
| macOS | macOS |
| GNU/Linux | Linux |
| Android and Android AutomotiveOS | Android |
| – | iOS |
| ChromeOS (through Linux support) | ChromeOS (through Linux support) |
Vivaldi Browser vs. Firefox Platforms
Winner: Firefox
Syncing
Both browsers come with Account options to log in to synchronize the data. Firefox supports the below synchronizing options:
passwords
bookmarks
tabs
add-ons
browsing history
On the other hand, Vivaldi has a wide range of syncing options such as bookmarks, speed dials, settings, passwords, autofill data, typed history, remote sessions, and notes.
The good thing about Firefox is that it provides a syncing option through QR code scanning with Android and iOS devices, compared to Vivaldi, which only has this feature available for Android.
Winner: Vivaldi
Related: Mozilla Firefox vs. Brave
Supported search engines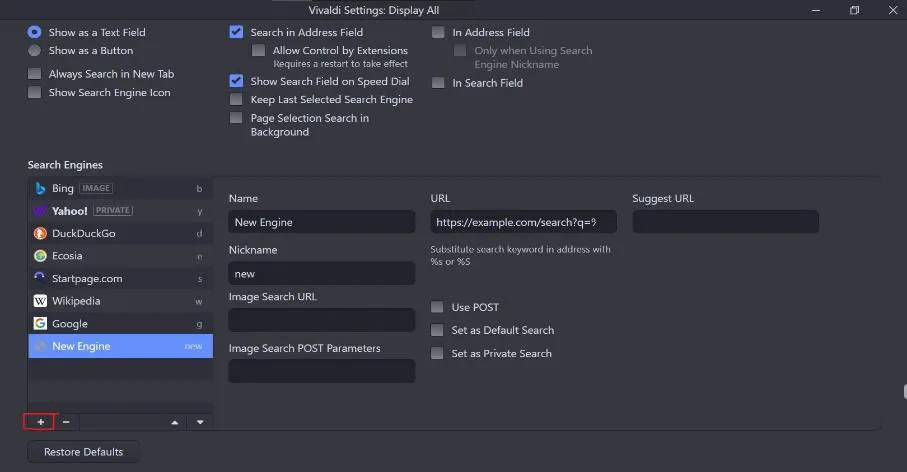 Firefox (left picture) supports Google as its default search engine. However, you can change it to DuckDuckGo, Wikipedia, Bing, and Amazon from the settings.
Similarly, on Vivaldi (right picture), Yahoo is the default search engine, but the users can change it to Bing, Google, DuckDuckGo, Ecosia, Startpage.com, and Wikipedia.
You can add custom websites on Firefox through add-ons, while on Vivaldi, you can add a custom web engine by going to the search settings and clicking on the (+) icon, which gives you access to add your favorite search engine.
Winner: Tie
Protection features
In this section of Vivaldi vs. Firefox, we cover the in-place privacy options.
Privacy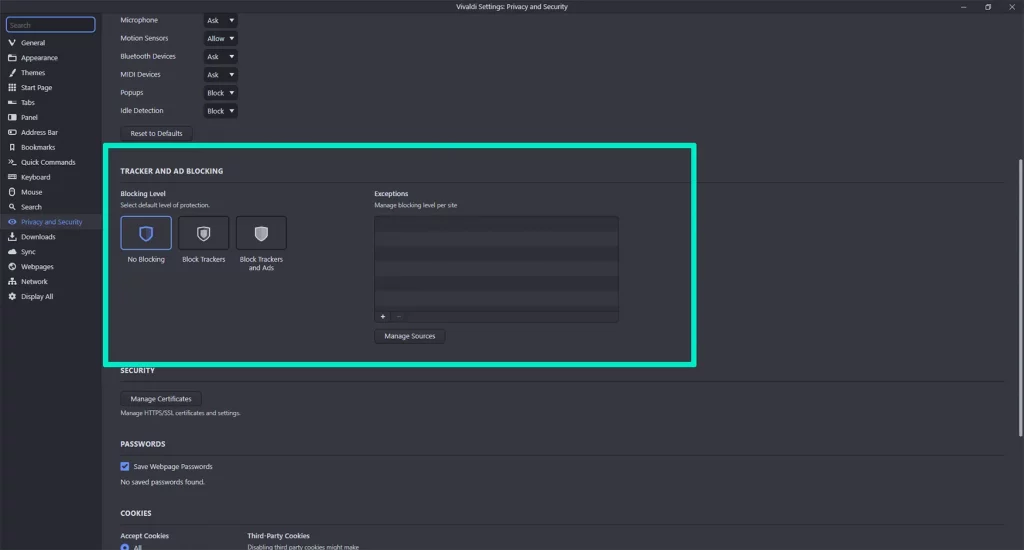 Firefox provides Enhanced Tracking Protection for desktops, multi-layered protection, cross-site cookies, crypto miners, and fingerprints.
It also blocks efforts to track the content in private windows.
The Strict Enhanced Tracking protection is for all windows, private or public, and allows the user to clear all third-party cookies more effectively and efficiently.
Custom Enhanced Tracking protection allows the users to customize and choose the trackers to block.
On the other hand, Vivaldi comes with multiple options for the user to select in their default level of protection.
The first level is No Blocking, the second level only blocks trackers, and the third level offers to block trackers and pushed ads. It also allows users to block third-party cookies according to their needs.
To summarize, the user has all the options in Vivaldi, so everything is a choice here. However, it does not state the protection in tracking fingerprints and crypto miners.
HTTPS
Firefox has HTTPS-only mode that allows the user to have a completely secure and encoded connection between the browser and the websites and lets the user manage the exception.
Vivaldi does not have a built-in option for HTTPS-only mode; however, it can be added through add-ons.
Winner: Firefox
Related: Google Chrome vs. Vivaldi Browser
Password protection
Firefox can save your passwords and the login credential to access and autofill in time of need. These passwords and credentials are further saved by a primary password, which stores all the information.
Users can use this primary password if sharing a computer with others. However, the primary password can't be synchronized between devices and profiles; hence different primary passwords are required for different profiles and devices.
Vivaldi also saves the webpage passwords in the user accounts, although it does not have the advanced function of the master password.
Winner: Firefox
Extensions and add-ons
Both Firefox and Vivaldi support extensions. You can access the extension in Firefox by clicking the three lines in the top right corner.
Firefox supports an extensive collection of add-ons that covers news, blogging, games, shopping, communication, and web developments.
Vivaldi, in contrast, has the power of the Chrome Web Store. The browser allows users to download add-ons from the Google Chrome web store, which makes it more extensive and provide better extensions.
Winner: Vivaldi
Speed test
Speed test is a part of the Vivaldi vs. Firefox fight as it shows which browser can deliver fast results. Although this test can't fully justify the two, it gives a glimpse of what both can do.
In the test, I went to my website (never visited in both browsers) to see how fast those can load. In my tests, Vivaldi Browser took 3.03 seconds, whereas Firefox took 3.3 seconds to load the website entirely.
Winner: Vivaldi
Customization features
Vivaldi and Firefox have many themes with light and dark color schemes. However, the options for customization are more in Vivaldi.
It also allows the user to customize their tabs and stack them in two rows, making space for more tabs in the toolbar.
It also allows the user to open two tabs simultaneously on one screen side-by-side.
Moreover, it has in-built translators, a note-taking tool, dual screen mode, and other features which eliminate the need for many extensions.
However, the nature of Vivaldi makes it a bit challenging browser. Vivaldi's interface is crowded, so it's harder to navigate and find the needed options.
Winner: Vivaldi
Which one is for you?
Vivaldi has many features but is too crowded for a typical user. If you use browsers for work, you should give Vivaldi a go.
Firefox is an all-in-one, experienced browser that will suit you better if you just use browsers to browse the web.
Vivaldi vs. Firefox: Links
Summary
This is it for this Vivaldi vs. Firefox battle. I hope I have helped you choose the ideal program. Please share your thoughts below and stay in touch by subscribing to the newsletter.
My name is Madhsudhan Khemchandani. I have a bachelor's degree in Software Engineering (Honours). I have been writing articles on apps and software for over five years. I have also made over 200 videos on YouTube. Read more about me on the About page.