Crunchyroll and AnimeLab are two popular anime services. From location to content, many features make both different. So, is AnimeLab better than Crunchyroll? The article explores the two and covers Crunchyroll vs. AnimeLab.
Important: AnimeLab is no longer available. It merged with Funimation in 2021, and Funimation is merging with Crunchyroll now. So, ultimately, Crunchyroll is the service you need.
Availability
This would be the most distinct section of Crunchyroll vs. AnimeLab. Crunchyroll is available in over 170 nations. The service is geo-restricted, which means you get the content depending on the region you are in.
AnimeLab is specific to Australia and New Zealand. The app's content is not geo-restricted because the app itself is geo-restricted.
Platforms
Crunchyroll concentrates on the platforms available worldwide, while AnimeLab has focused on the common and devices available in the Australian and New Zealand markets.
Crunchyroll
AnimeLab
Android
iOS
Windows (web)
macOS (web)
Linux (web)
PS4 / PS3
Xbox One /

Xbox 360




Wii U


Google Chromecast
Apple TV


Roku


Amazon Fire TV


Windows Phone

Android
iOS
Windows (web)
macOS (web)
Linux (web)
PS4 / PS3
Xbox One
Samsung TV
Telstra TV
Apple TV


Sony TV


Google Chromecast
Apple AirPlay
Foxtel Now Box
Platforms comparison
Related: 11 Best Anime Apps
Interface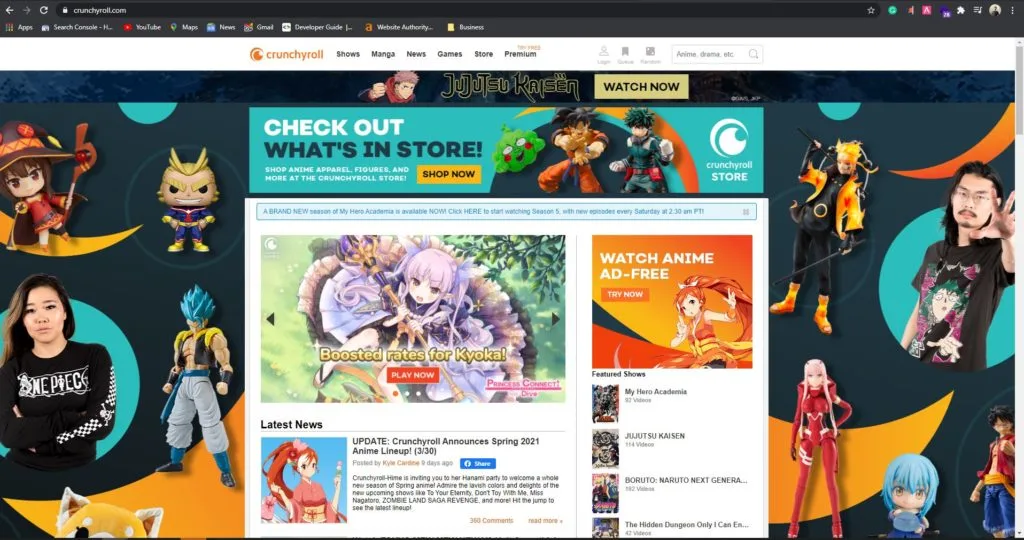 Crunchyroll's website reminds you of the time before 2005 when the internet was still developing. The website's interface is old, and navigating the site is a bit complicated.
The Crunchyroll apps on most platforms come with a friendly and easy-to-navigate layout.
AnimeLab's website and apps offer a modern layout. The site only comes with a few menu items, and the colors and style provide a present design.
Number of shows
Finding the total number of shows on Crunchyroll is challenging because, as discussed, the service is geo-restricted, and the company has not disclosed the total shows.
But, it is estimated that over 1000 shows are available to watch. You can browse the list of animes available in your region here.
As of writing this post, AnimeLab comes with 808 shows. The complete list can be found on the main page.
Type of content
The next round in Crunchyroll vs. AnimeLab is the type of content. After using both for a while, I can assure you that both services suit different types of audiences.
Crunchyroll focuses on the subtitles, so you will most likely find more subbed content.
It is a place for digital manga, which AnimeLab does not offer. Some of the popular shows available on Crunchyroll:
Attack on Titan
My Hero Academia
Ore Monogatari
Perfect Insider
Kyousougiga
Bleach
AnimeLab offers more dubbed content, but most dubbed shows are only available in the premium plan. If you don't like reading subtitles, AnimeLab is the app to pick.
The AnimeLab app also has an option to prioritize English animes over Japanese with subtitles and vice versa.
The list of the popular anime shows on AnimeLab:
My Hero Academia
Fairy Trail
Attack on Titan
One-Punch Man
Naruto Shippuden
Hunter x Hunter
Simulcasts
On the Crunchyroll website and apps, you see the simulcast option. New simulcasts are available for free subscribers after a week of airing, while for premium users, the new shows are available after about an hour.
AnimeLab takes the same approach. It takes about a week for simulcasts to be available on the free plan, while on the premium plan, you enjoy new animes in an hour.
Related: Crunchyroll vs. VRV
Pricing
AnimeLab is cost-effective on both monthly and yearly plans. Crunchyroll's Fan plan costs A$8 per month, which offers to stream on one device simultaneously.
AnimeLab's premium plan costs A$7, which, unlike Crunchyroll, allows streaming on multiple devices simultaneously.
Both offer a discount if you subscribe to the yearly plan. The Mega Fan plan of Crunchyroll comes with 16%, while AnimeLab's annual plan comes with a 15% discount.
Also read: Crunchyroll vs. Funimation
VPN
Both can be used by using a VPN. Crunchyroll is geo-restricted, so you can sign up in your region and use a VPN to watch the content available in the US or elsewhere. You can also use a VPN to watch the free anime.
I have tested CyberGhost and NordVPN, and both work fine after connecting to any server in the US.
With AnimeLab, you can't sign up for a paid plan if you live outside of the supported region because you will need an address and a payment method, but you can use a VPN to create a free account and unblock the service and watch all the free shows.
For Crunchyroll, I recommend ProtonVPN because it comes with servers in all the regions in Australia and over ten servers in Auckland, New Zealand. You can also use NordVPN, which offers servers in the same cities least.
Crunchyroll vs. AnimeLab: Final thoughts
A few things play an essential role:
Location: If you are in a country where AnimeLab is not accessible, you only have Crunchyroll.
Shows: The same applies to the type of shows.
Pricing: The pricing does not affect that much, but still, you get the same features with less cost on AnimeLab.
Plans
Summary
Anime is widespread, and millions of users worldwide enjoy dubbed and simulcast shows. Here is the end of the Crunchyroll vs. AnimeLab article.
I hope the information helped. Please share your final pick in the comments so other visitors can easily pick.