Adobe Premiere Rush and Elements are two video editors. Both will do the job if you want to edit videos for social media.
Still, for people looking for specific features, the article helps them choose the right tool. So, which one is better? Let's find out in Adobe Premiere Rush vs. Elements comparison.
Platforms
Premiere Rush
Premiere Elements
Windows
macOS
iOS
Android
Windows
macOS
Web
iOS
Android
Platform comparison
Both programs are available on desktops and mobile phones. Elements has a web version that is in beta.
Both programs support limited mobile devices due to their resource usage.
Interface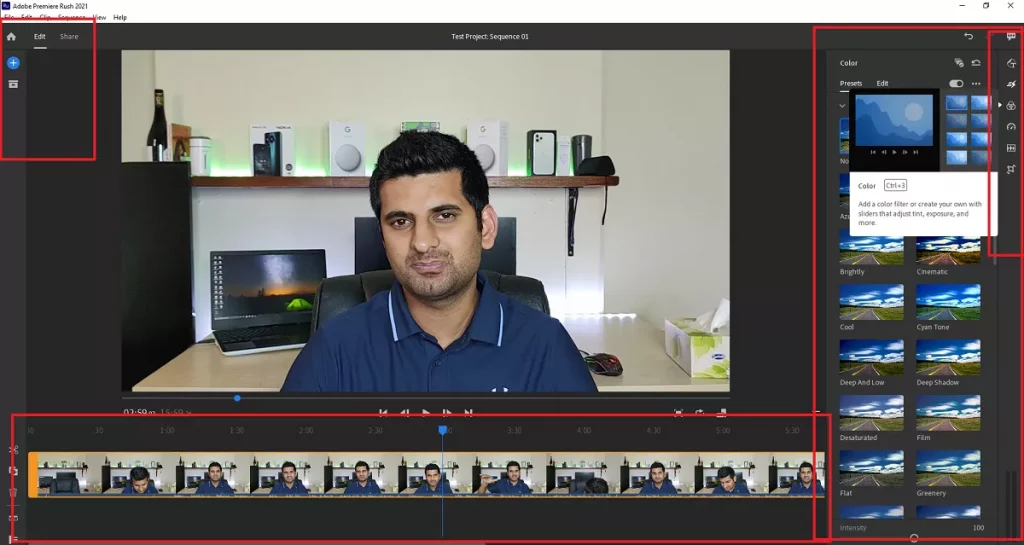 Regarding the Premiere Rush vs. Elements interface, both take a different approach. Premiere Rush is new; hence it has a modern design.
Premiere Elements comes in three modes: Quick, Guided, and Expert.
The Quick view has simple tools. The Guided mode comes with specific tools with tutorials alphabetically separated into categories.
For example, if you want to smooth out the jump cuts, the tutorial "Add transitions between clips" can guide you.
The Expert mode is where you take full control. You get advanced tools such as text editing, transitions, and graphics. The mode comes with video and audio tracks.
Tools
Rush does not have a chance to stand against Elements. Premiere Rush is a cloud-based tool, so some features are available when the internet is available. It supports:
Text editing: Many built-in titles, transition graphics, and overlays.
Transitions: Over 15 transitions
Color: Over 30 colors for clips
Speed: Clip speed adjustment
Audio: Voice type, background noise, background echo, and enhanced speech.
Crop: Crop and transform a clip.
Premiere Elements, on the other hand, provides:
Multi-track editing
Adjustments

Smart fix
Shake reduction
Auto smart tone
A few Colours for clips
RGB color adjustment
Gamma Correction
Lighting is separated into brightness, contrast, exposure, black, and white.
Temperature and Tint for video clips
Volume level
Balance
Treble
Bass to adjust the audio clip's bass
AudioGain to normalize clips audio to match others

Edit

Pan & Zoom
Freeze Frame
Candid Moments
Smart Trim
Time Remapping for slowing and speeding up a clip
Motion Tracking to follow an object and attach graphics tools
Movie Menu

Applied Effects
Effects

Over a hundred videos and over 15 audio effects

Transitions

Over a hundred video transitions and a couple of audio transitions

Titles

Over a hundred text titles

Graphics

Over a hundred graphic shapes
These tools make Elements a medium to advanced video editing tool.
Related: Photoshop vs. Photoshop Elements
Importing
Both support various files, including AVI, MP4, MP3, QuickTime Movie, WMA, PNG, JPG, etc.
Because both programs are from the same company, you can see the file formats of other Adobe products, such as Adobe Audition and Photoshop.
The same goes with Premiere Pro, where you can open both Premiere Rush and Elements projects.
Saving and exporting
Premiere Rush has support to upload videos to YouTube, Facebook, Instagram, and Behance platforms, while Elements offers YouTube and Vimeo.
Depending on the platform, you can export in 4K resolution. Both support the MPEG (MP4) file format.
One feature that separates Premiere Rush from Elements is cloud sync. You can save Premiere Rush projects on the cloud to access them on your mobile or a different device later.
This makes Premiere Rush an excellent tool for travelers.
Ease of use
Premiere Rush's interface is easier to understand, but I believe that's because of the reduced features.
Premiere Elements is not as crowded as Premiere Pro, but it has a hint of advanced features, making it a bit confusing.
Most of the tools on both programs have tooltips with animations to help you learn.
Video editing battle: Premiere Rush vs. Pro
Stock content
Stock content is a part of the Premiere Rush vs. Elements comparison. Both come with free music to add to the video.
Premiere Rush offers soundtracks, sound effects, and loops, whereas, Elements comes with music, sound effects, and audio tracks.
Pricing
Premiere Rush is a freemium program offering basic features with unlimited exports.
You can get a $9.99 monthly subscription for more stock content, advanced editing tools, and 100 GB of cloud storage.
Elements will suit you better if you don't like to pay monthly. With a one-time fee, you get access to the tool.
Elements costs $100. However, it's mainly at the discounted price of $70. Elements family (Photoshop and Premiere Elements) costs $150. Students and teachers can get a $70 discount on the family plan.
Which one is for you
I suggest going with Premiere Elements if you don't travel frequently. Premiere Rush has one advantage of editing on mobile, which is beneficial for vloggers and tourists.
Premiere Rush is the option if you want quick editing tools without going through the curve of leaving to edit videos.
If you believe that you will need some advanced tools in the future. Premiere Elements is the ideal choice.
It offers some advanced tools you might not need today, but someday when your audience grows, you will want to try different things. So, it's good to have those features in place.
Adobe Premiere Rush vs. Elements: Download
Final thoughts
Both get the job done, but Adobe developed both programs for specific purposes. Premiere Rush is for those who want to edit videos quickly and upload them to social media.
Premiere Elements is also for quick editing, but for those who wish to have good video editing features for crucial situations.
All right, here we end this Adobe Premiere Rush vs. Elements article. Do you have any comments or suggestions? Before you go, please drop them in the comments below.